PLANET ISKCON

 
Here are the latest updates for you
This is the Grassroots Harinama Revolution!!!!!
Starting outside of Govinda's Restaurtant at 99 Elisabeth St, Brisbane, the sounds of Sri Harinam split asunder the material covering shrouding the hearts of those within sight or sound of the procession of devotees.
Mayadevi came to the Harinam party bringing great spring weather, not too hot, and not too cold, just perfect for the excercising the body in the process of sharing the Holy Names.
The HOly Names proceeded down Elizabeth steet and onto Albert, then along Charlotte street into Edward, down Adelaide to George Street and then back to Elizabeth street. The very footseps of the devotees burning into material reality as they step across it into the transcendental world of calling on the Names of the Lord.
Fifteen dedicated revolutionaries stormed the walls of Kali Yuga distributing prasadam and books to a populace hungry and thirsty for finding the satisfaction and safety of surrender to the Yuga Dharma.
Be careful, this video is rated highly dangerous. People watching it have been reported to find themselves desiring and dreaming about Harinam. Some have found themselves joining the grassroots revolution and getting out on the street. Doctors report the condition is incurable. They say once you start you can't stop. Watch with care.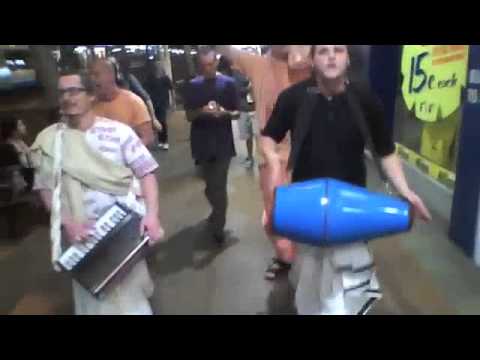 Thanks to Krishnapada Dasa for the video and story.
Share this story your way:
24 September 2010--It was such a glorious feeling landing in India today. Even though gross materialism has ravaged India, still the vestiges of Vedic culture are still very strong here. At the airport when we went through customs, the customs official seeing that we are devotees of Lord Krishna happily said "Hare Krishna" to us and offered us his respectful...
Sent by Dvarkadish Prabhu Dear Devotees, Hare Krsna! Please accept my humble obeisances. All glories to Srila Prabhupada! All glories to Sri Guru and Gauranga! Here is the link to pictures of our dear most Gurudeva's birthday festival. Click here I am sure that everyone would love to see how other Godbrothers and Godsisters celebrated [...]
Hello Everyone,
to invite a friend, click here
Jigger & Jolly update;
We are going to the Fair tomorrow!!! Thanks to everyone who stepped forward with offers to help and for your encouragement and well wishes. The boys will have a wonderful day and we will report back more next week.
Jones Field
Have a great weekend, in service to the oxen,
Chuck
Chant
Hare Kṛṣṇa Hare Kṛṣṇa Kṛṣṇa Kṛṣṇa Hare Hare
Hare Rāma Hare Rāma Rāma Rāma Hare Hare
When Srila Prabhupada first came to America he brought with him a trunk containing copies of the first three volumes of Srimad Bhagavatam. Some of these books, which were published in India by Prabhupada, are still traveling the world making a difference in the lives of devotees and others.
In the 1960s Srila Prabhupada began to translate and print the series of books which would be his life's work.
"With great difficulty I published the second and third volumes of Srimad-Bhagavatam until 1965, when I prepared myself to come to this country with some books," he wrote in a letter from Los Angeles in 1970.
"Some books," as Prabhupada put it, was actually 200 sets of the first three volumes of Srimad Bhagavatam. "I saw my books from Bombay arrived in five cases and the agents loaded them on the ship at 4 p.m. on 22/8/65," he wrote in his Jaladuta Diary.
It is unknown how many of these first books are still travelling the world. What we do know is that they are still making a difference in the lives of devotees and others.
Just recently Visnu Murti Dasa and Laksmipriya Dasi of Vanipedia.org had an encounter with one of these traveling Sannyasi books. Upon meeting Visnu Murti and Laksmipriya, the book immediately set about fundraising for the Vanipedia.org web site, which is the on-line extension of Prabhupada's books, letters and talks.
Laksmipriya tells the story: "We were at the Ratha Yatra in Paris, France and had set up our book table to interest well wishers and others in these jewels of Krishna consciousness.
"Now another devotee named Ambika, who owns a bookshop, also sets up her book stall at the Ratha Yatra to sell esoteric French books. Sometimes she has one or two second-hand English books.
At one point I slipped away from our book table for a minute to check out her stand," Laksmipriya says. "Just imagine what I saw – the first volume of the original Srimad Bhagavatam set that Prabhupada came to the USA with."
Laksmipriya's jaw dropped as she took the book in her hands. She couldn't believe what she was holding. She asked Ambika if she was selling the book. Ambika said yes. Laksmipriya checked the back of the book and there was a price—seven Euro. Incredulous, Laksmipriya said: "You're selling this book for seven euro?" Smiling, Ambika nodded.
"I ran back to our table like a mad woman," Laksmipriya recalls. "I yelled at Visnu Murti: 'You know what? You know what? That lady there is selling the first part of one of Srila Prabhupada's original Srimad Bhagavatam books… for seven Euro!' And Visnu Murti yelled right back at me: 'Go and get it!'"
Laksmipriya quickly made her way back to Ambika's table and rescued the book. Bringing it back, she offered it to Visnu Murti. "We were both looking through it with great delight, and relishing our good fortune. It was just so beautiful," Laksmipriya says.
Visnu Murti and Laksmipriya had only been relishing the Bhagavatam for a few minutes when another devotee, an old friend of Visnu Murti's, came by the table. They told him the whole story.
"So will you sell me the book for 21 Euro?" he said jokingly. "You get three times more for it like that, good profit for you." Then Srila Prabhupada's book began to weave its magic.
Visnu Murti and his friend sat down and spoke together for a few moments. Laksmipriya could not hear what they were saying. The two men got up and Visnu Murti explained that the devotee had just agreed to give a donation of 1008 Euro to the Vanipedia web site project in exchange for the book. Speechless, they agreed.
"So, there it is," says Laksmipriya. "At least we held Srila Prabhupada's original Bhagavatam in our hands for few moments. Who knows what is the path of that book, where it came from and where it will continue to go, travelling by land, or sea, city to city, country to country? It has its own path and goes where it wants to go. It has been travelling already for 48 years."
Laksmipriya and Visnu Murti returned to Ambika's stall and asked her if she had any more of the original books. But she didn't. She wasn't even quite sure how she'd gotten hold of the first one. It was all quite a mystery.
"I find this is a wonderful example of how Srila Prabhupada is directly assisting us in the mission of building Vanipedia." Laksmipriya says. "Lets see what his next glorious intervention will be."
Visnu Murti Dasa and Laksmipriya Dasi live in Radhadesh, Belguim. They lead a team of Krishna's devotees in presenting www.vanipedia.org, a dynamic online encyclopedia of Srila Prabhupada's teachings. Vanipedia aims to explore, discover and comprehensively compile these teachings from every angle of vision, presenting them in accessible and easily understandable ways.
You can assist the Vanipedia project by volunteering your services at www.vaniseva.org/.

To make a donation to assist with the work, please visit: www.vanipedia.org/wiki/Donations

Originally posted at ISKCON News. Click here to visit
Share this story your way:
By Antony Brennan for ISKCON News: The Mayapur Academy is located at ISKCON Mayapur, on the beautiful banks of the Ganges River, in Sridham Mayapur, West Bengal.
The Academy trains devotees to be capable of fulfilling the needs of ISKCON communities around the world. A joint educational initiative of the Mayapur Deity Department and the ISKCON Deity Worship Ministry, the Mayapur Academy offers a wide range of courses for devotees interested in developing their skills and ability as pujaris (priests) and brahmanas.
The Mayapur Academy, specializing in Deity worship and the development of brahminical culture, arts and sciences, cooking, and samskaras, was established to fulfill the desire of Srila Prabhupada for such a training centre.
"It was the desire of Srila Prabhupada to have a city here for 50,000 devotees," says Jananivasa Dasa, head teacher and one of the driving forces of the Academy. "Srila Prabhupada also said that there should be educational centers, and a university, teaching all branches of knowledge."
Former Academy student Ahladini Dasi says, "I had been hearing of an Academy that taught proper standards of worship and Deity dressing skills. I decided I had to be part of it—and fortunately, by the kindness of Jananivasa's twin brother Pankajanghri Dasa, I got the chance to take the course."
"I took three subjects," Ahladini says. "Temple worship, brahminical culture and Deity dressing. My favorite part of the course was the explanation of various aspects of Deity worship and Deity dressing by Jananivasa Dasa and Kurma Caitanya Dasa."
Ahladini adds: "Since completing the course I have been feeling more connection with my home Deities of Gaura Nitai. I have more understanding of and am more appreciative of the entire temple process, as I render service for the Deity department of ISKCON Mayapur's presiding Deities Sri Sri Radha Madhava."
Another student, Saci Kumar Dasa from South Africa, says, "Before the course began I was expecting it to deal exclusively with the worship of the Ddeity and different elements directly related to Deity worship. However I was surprised to find that it's actually aimed at developing all aspects of brahminical life. Particularly inspiring was the aspect of the cultivation of community through brahminical activity, which is a much needed function in our ISKCON communities worldwide. It was also quite striking to get a glimpse into the vastness of brahminical culture."
Kavi Karnapura Dasa from Lagos in Nigeria says, "How wonderful the Mayapur Academy is cannot be expressed in words. You just have to come and experience it for yourself. Allowing devotees to learn from the most advanced and experienced pujaris in ISKCON is so wonderful. What's more, I'm now fulfilling the order of my spiritual master to learn about puja!"
Anuradha Kesavi Dasi from Atlanta in the USA says, "Every tiny bit, every moment is so much fun, from staying late to finishing sewing to hearing the wonderful realizations of the teachers. In this course you not only learn so many wonderful things but also get so much opportunity to serve in the holy place Mayapur. I am fortunate to be learning how to serve Krishna under the guidance of all the wonderful Mayapur residents."
The Mayapur Academy is supported by a network of volunteers and well-wishers. Without their support in the form of service and donations the Academy would not be doing what it is today. You too can be part of the team, raising brahminical consciousness worldwide.
To download this year's training schedule, to volunteer your service, or to help with much needed donations please visit the Mayapur Academy online at http://www.mayapuracademy.org/

Originally posted at ISKCON News. Click Here to Visit.
Share this story your way:
Here Sacinandana Swami talks on Sri Namastakam - eight verse in glorification of the Holy Names.


This is really, really cool:

http://inquiryinstitute.com/resources/q-storming/
Motivation requires "motive."

Be clear about why you are doing what you are doing.

What you really want to accomplish?
What am I trying to do?
How am I trying to do it?
What are my assumptions?
What if my assumptions were wrong?
What would I have to do differently if my key assumptions were wrong?

Focal Point - Brian Tracy
| | |
| --- | --- |
| | We take a look at some of the greatest Gaudiya Vaishnava saints whose appearance and disappearance days we have recently observed: Shrila Jiva Gosvami, Bhaktivinode Thakur, and Namacharya Shrila Haridas Thakur. |
| | |
| --- | --- |
| | Some of the first books published in India by Prabhupada are still traveling the world, making a difference in the lives of devotees and others. |
| | |
| --- | --- |
| | It wasn't easy for me to organize such a huge festival in a town where there are only 25 - 30 Indian families. |
| | |
| --- | --- |
| | The Mayapur Academy is located at ISKCON Mayapur, on the beautiful banks of the Ganges River, in Sridham Mayapur, West Bengal. |
| | |
| --- | --- |
| | The Minister for Culture at the Indian High Commission in the United Kingdom hosted a presentation of ISKCON's new mega-project—the Temple of the Vedic Planetarium—on August 30th at the Nehru Centre, London. |
Srila Prabhupada wrote:
When we meditate on the transcendental pastimes of the Absolute Godhead, we are proud to feel that we are His eternal servitors, and we become jubilant and dance with joy.
>>> Ref. VedaBase => SSR 2b: The Absolute Necessity of a Spiritual Master
| | |
| --- | --- |
| | ISKCON's rural community in New Vrindaban, West Virginia is set to host its Ninth Annual Vaishnavi Retreat from October 1st to 3rd. The retreat is an opportunity for devotee women to nourish their bodies, minds, and souls in a safe, non-judgmental environment. |
Yet more serialising of recipes by my cooking guru, Yamuna Devi! Before attempting to cook any of her recipes, make sure you are aware of the difference between US measures and Australian/metric measures. See below*
Fresh hot green jalapenos, averaging 2½ inches (6.5 cm) long and 1 inch (2.5 cm) wide, are available in most areas. If their skin has begun to turn red but is still shiny and firm, they are still quite usable. Smaller chilies are inevitably the hottest, especially serranos, but they are next to impossible to seed and stuff.
Use jalapenos or the conical fresnos (usually limited to California markets). Srila Prabhupada once commented to his servant-cook Srutakirti das. "Chili pakoras and fried chilies are cooling in hot climates; they actually reduce the body temperature".
They are also recognized as appetite stimulators by inhabitants of the tropics. If you fancy hot foods, by all means give this dish a try on a full Vedic menu. Warn the unseasoned newcomer, and, depending on personal tolerance, allow 1 or 2 per person.
Preparation time: 15 minutes, Cooking time: 10 minutes, Makes: 12 chilies.
12 hot green jalapeno chilies, each about 2 ½ inches (6.5 cm) long, ½ teaspoon ground mustard, ½ teaspoon turmeric, ¼ teaspoon salt, ¼ teaspoon cumin, ¼ teaspoon garam masala, 1 tablespoon chickpea flour, about 1 tablespoon plain yogurt, 1 cup ghee or vegetable oil for deep-frying.
Wash the chilies and pat them dry. With a sharp paring knife, make a cut from the top to the bottom of each chili, cutting halfway through. Carefully pry out the seeds and membrane, then wash the cavity under running water and pat dry.
Combine the mustard, turmeric, salt, cumin, garam masala, chickpea flour and enough yogurt to make a paste. Mix well. Spread the paste evenly into the cavity of each chili.
Heat the ghee or oil in a 1-quart/liter saucepan over high heat until it reaches 360 F (180 C) on a deep-frying thermometer. Fry the chilies 4 at a time for 2-3 minutes or until they blister and turn brown. Remove with a slotted spoon and drain on paper towels.
*Note that since Yamuna wrote her recipes using US measurements, the weights are in US with metric in brackets.
More importantly, her tablespoons are US (15ml) whereas Australian/metric tablespoons are 20ml. So if you follow these recipes using metric measures, your tablespoons should be scant.
Similarly, the US cup is 240ml as distinct from the Australian/metric 250ml cup. The same scant measuring should thus apply to Australian/metric cup users.
The teaspoon is a universal 5ml.
Sent By Mukunda Prabhu *Guru Maharaj left Ujjain around noon on Monday 20th instant. His schedule for the next two months will be probably like this: From Mumbai on 20th night he leaves for Malaysia and two days later goes to China. From there he returns to Malaysia and then back to Mumbai. We can [...]
I have received numerous comments on my last post: Hinduization of ISKCON? What do you mean exactly?' It seems to have prompted a discussion in which many wanted to explain exactly what they did mean when they used the word 'Hinduization.'
I don't normally publish every comment I receive but this time I thought I would, and I hope readers learned something from the discussion.
This particular discussion is vigorously ongoing within certain parts of our movement, and completely non-existent or irrelevant in many other parts. That's what it means to be an international society I suppose: issues in one part of the world are not issues in another.
As I have mentioned before – at considerable length – our movement for Krishna consciousness has a wide variety of members from all different ages, nationalities, ethnic backgrounds and political persuasions. There are devotees of Krishna who are politically communist and who think that's just a wonderful combination; there are others who consider capitalism the only way forward. We have left-wingers, ultra-conservatives, and all shades of political colour in between.
Our ISKCON members come in all shapes, sizes, and types of religious practice: from 'ultra-liberal' through to 'ultra-orthodox' and everything in between. There are those you might describe as contemplatives, the devotees who want to live a peaceful, quiet existence where they can chant and study free from any social responsibilities. Then we have our outgoing missionary-spirited devotees who are only happy in a bustling urban crowd. Then there's our country community builders who see the importance of rural living and alternative economic sustainability.
Personally, I feel a movement such as ours requires all types of persons, and requires them to be all highly committed to their respective visions. Only that will produce the practical results we need for the next generation of devotees. Getting to the next generation is the challenge, of course. Other religious movements have been unable to handle the mix of such ideologically and politically diverse members. They split into various camps, unable to reconcile the differences between themselves.
Srila Prabhupada believed it was possible for all different types of people to live and work productively together if they had divine service to Krishna as their common purpose. No matter what their apparent differences might be, the common spirituality would bind them together.
But any type of society has to be organized in such a way as to harness the talents of the members, harmonize them into reaching agreed goals, and by doing so establish common good. We don't do that by artificially homogenizing the diversity; we do that by preserving their individuality, then seeing how best to arrange that different types of people can contribute their skills and labor to each others lives.
Srila Prabhupada tells the story of two men who were walking along a road together. One man paused, bent down, and picked up a piece of string. They carried on walking for another half mile and again the man paused, bent down and picked up, this time, a stick. The other man was slightly puzzled by this behaviour but said nothing. A little further down the road, the man picked up a dried up old gourd to add to his collection. As the men walked, still talking, the man fastened the stick and the string to the gourd in such a way as to make an ektar, a little one-stringed musical instrument. This story was told to illustrate the principle that apparently unusable items can become much more valuable by their intelligent combination.
Similarly, diverse people can be intelligently joined together to create a vibrant society. Just as the string, gourd and stick remain individuals with their own nature, so different types of people – with different opinions – retain their natures but function well together in a particular combination.
1970 September 24: "Regarding the Fiji Islands, you can open immediately a center in the very near future. If you take more interest in preaching work, absolutely you may be relieved from the Governing Body Commission."
Prabhupada Letters :: 1970
1971 September 24: "Pray to Krishna. Supersoul is sitting in everyone's heart, so when He hears, the effect of hearing is there. So it is to be understood that the Spiritual Master is also hearing."
Prabhupada Letters :: 1971
1971 September 24: "Caitanya Mahaprabhu sent His most confidential disciples out on the street and house to house. Even the magistrate would object, Caitanya Mahaprabhu would still send. He exhibited a great civil disobedience movement."
Prabhupada Letters :: 1971
1972 September 24: "Preach, sell books, you will feel yourself becoming perfectly happy. There is immense field for preaching. Do not hesitate to take the bold step forward and invite everyone to become a devotee of Krsna."
Prabhupada Letters :: 1972
1972 September 24: "The Bury Place house is small, so if there are too many men they may be dispatched to open new centers. We can hold one Hare Krsna Festival every night somewhere in London."
Prabhupada Letters :: 1972
1974 September 24: "By your prayers I am recovered. So let us go on with the spreading of this sublime cult. My only request is that you all remain enthusiastic and pure by strictly following all the the devotional practices."
Prabhupada Letters :: 1974
1975 September 24: "It is very good that the professor has recommended Krsna Book for undergraduate study. Our books are meant to educate people in consciousness. As soon as the book is discussed in class, students will purchase."
Prabhupada Letters :: 1975
1975 September 24: "That you have fulfilled my request without hesitation, this is your success in spiritual life. The translations I am not using. There is some fault. I am doing the translations. I have finished now the Sixth Canto and have started the Seventh Canto."
Prabhupada Letters :: 1975
By Parasuram das
In this Age of Kali, people who are endowed with sufficient intelligence will worship the Lord, who is accompanied by His associates, by performance of sankirtana-yajna.Ó Other yajnas prescribed in the Vedic literatures are not easy to perform in this Age of Kali, but the sankirtana-yajna is easy and sublime for all purposes, as recommended in Bhagavad-gita also (9.14).