Here are the latest updates for sricaitanyamahaprabhu.juanymecky@blogger.com
We went to an event called "food not bombs" today. There a gentleman came and stood behind our table. He looked kind of scruffy, not sure if he was homeless or hippie, but had that kind of look. He picked up a Higher Taste from our book box and started distributing to another person, saying "this is a great book and you should take it". We asked him who he was.
He said: "I met your master when he first landed in Boston"
We said: "really."
He said: "Yes. some where in Southie a big boat landed. (Commonwealth pier is in south boston, also known as southie. that's where Srila Prabhupada jaladuta docked). He was standing and looking at the ocean. He asked me to come with him. I told him, that I cannot. I have my own thing going. He looked tired and was wearing some strange robe. And some years later, I picked up this book (HT), it had a different cover back then and I have been a vegetarian since"
He did seem genuine. I did not see any reason he would make up a random story like this. We did invite him to come to the temple and such and told him about Prabhupada arrival festival we have every year in September.
I still cannot believe that we met someone who met Srila Prabhupada when he first landed in Boston. I am still in ecstasy thinking about it.
ys, - Nitin (Text D:2910018) -------------------------------------------
------- End of Forwarded Message ------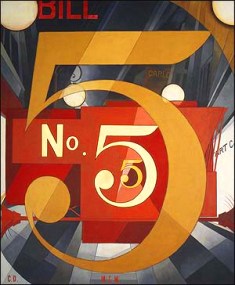 Blog Baby has come of age! As well as the day I head to Melbourne for my weekend of La Trobe University cooking classes, today is my Blog Birthday!! I started ye olde blogge exactly 5 years ago today.
In fact, here it is again...
"May 28, 2005. Welcome to my new web log (Blog). I'm in Melbourne at present, doing my twice-a-year Australia-wide teaching thang, and doing a bit of chilling out between teaching venues.
Since this is only day one of my Blogging life (I'm a veritable Blog Baby), I should slip in a few great photos of the early part of this tour, all taken by my good friend Radha Caran, who kindly drove me to all my country Victorian venues.
We started with a small, intimate class at Holmesglen Tafe in Moorabbin. A highlight of the day was the fabulous laksa, shown here in all its glory.
But my favourite was the succulent eggplant, red pepper, tomato, kalamata olive and capers dip from Sicily called Caponata. It was drizzled with some lovely organic Australian olive oil, strewn with fresh basil leaves and scooped up with crisp-toasted ciabatta bread. Heaven!
Next was a home cooking class near Ballarat. In this picture, the milk is just about to be transformed into panir cheese.
Lunch was a work of art. That's hot and sizzling haloumi steaks with toasted pine nuts, salad greens and roasted red peppers atop the crusty bread, scrambled panir, strawberries with yogurt cheese and balsamic, savoury pancakes with an avocado salsa, and poories.
Next stop was Wangaratta, affectionately called the "Wang". My class with 56 ecstatically enthusiastic "Wang-ites" at Goulburn Ovens Tafe was a real hit. Here's a few fired-up attendees doing a bit of mis-en-place.
But wait...there's more. Lunchtime was a real blast, with waiters and table service. You can see they were all really having fun - and that's only one table! Could this be the world's longest vegetarian dinner table?
A great day is never complete without a book signing. I sold my entire load of books, and even had some orders for more. (Check the date - Ed.)
Next day I cooked a special lunch with the year 12 girls at Methodist Ladies College in Kew. It was a regular event for the girls, where each time a Celebrity Chef gets to cook a fabulous meal with the budding chefettes for 50 special guests. Notable on the VIP table were Ian Parmenter of ABC TV cooking fame, and the well known and well-loved Elizabeth Chong. They congratulated me on the meal. Elizabeth graciously drove me home.
That night I flew to Sydney, where I taught a Vegetarian Barbecue class in Glebe the next morning and a great home class in Gerringong, near Nowra the day after. Boy was I wiped out!
I took a well-appreciated rest with my parents in Sydney, visited my daughter and grandson, and laid low for the next cooking wave.
Canberra's Cooking Co-ordinates in Belconnen was next stop. The chirpy upbeat Saturday morning crowd thoroughly enjoyed the menu:
Soft Cashew-Studded South-Indian Steamed Semolina Breads (Rawa Idli,
Spicy Hot-and-Sour Toor-dal Soup (Sambar),
Fresh Coconut Chutney,
Persian Gulf Curry of Roasted Potato, Cauliflower Tomato and Panir Cheese,
Fresh Basmati Rice,
Udaipur Spicy Stuffed Potato Triangles, (Samosas)
Hot, Sweet & Sour Eggplant Pickles,
North Indian Carrot Halava.

I returned to Sydney that night, and next day did one last sydney gig, a laid back dinner party in the home of Jude, a seasoned chef in her own right, with her lovely friends. A fantastic end to a busy jaunt in NSW!
That brought me to a very chilly Tasmania. Hobart was a grand success! I taught another edge-of-seat class at Drysdale Tafe on Collins Street. A big 'thank-you' to all the staff there for their warmth and hospitality!
Here's the menu I shared with my very enthusiastic Hobart groupies:
Moroccan Bean & Vegetable Soup (Harira),
Pan-warmed Wheat Turnovers Stuffed with Cream Cheese and Sundried Tomatoes (Quesadillas),
Israeli Warm Salad of Roasted Pumpkin, Spinach and Zhoug,
Mock Fried Crab Cakes with Spicy Thai Peanut & Cucumber Relish,
Moist and Savoury Vegetable-studded Semolina Pudding, (Upma)
Tex-Mex Corn Salsa,
Epiphany Doughnuts in Lemon-scented Rosewater & Orange-Blossom Syrup.
Pictured above is a massive piece of homemade cheese (panir) that found it's way, all golden brown and succulently deep-fried, into the Moroccan Harira."
Wow! say's I. Nothing much has changed in 5 years.
"The Smell" is is club in Los Angeles downtown. It seems to be a place of gathering for artists, musicians, youth, and creative folks.
For the past several weeks I've been corresponding on facebook with a fellow who just turned eighteen. He has become a devotee of Krishna and that is what we had in common and what brought us together on facebook. After corresponding with him for weeks I eventually found out that one of his first contacts with Krishna consciousness was a book he found at The Smell, this club in downtown Los Angeles. Guess what! The book was placed there by Sastra Dana!!! Woohoo!
Srila Prabhupada often said that our books are like time bombs. Once they are distributed, they are just waiting to go off and create a spiritual revolution in the harts of their readers.
Vibhavari Sesa by Srila Bhaktivinoda Thakur.

Length: 15:45


Srimad Bhagavatam 11.21.3
Susie Batt from Queensland, Australia wrote:
"Hello Kurma. I live in Cairns Queensland. Thank you for all the wonderful recipes that you share. I love to cook and especially love to share meals with friends, and your recipes always go down a treat.
I also like to use what is fresh and readily available to me so, I'm always on the lookout for local produce. Lately I have become aware of elephant apple trees. The local council has used them in street plantings and there is also a lovely large tree at the botanical gardens.
After some research I found that this tree originates from India and the green fruit is used to make chutneys, although I have not been able to find a recipe, so I was hoping you might be able to help me, if you have any knowledge of this fruit and it's culinary uses. I do look forward to hearing any suggestions; thank you for a great inspiring blog."
My reply:
Hello Susie, I've encountered this fruit in India. Elephant apple is also known as Bael fruit, matoom, Bengal quince, golden apple, holy fruit, and stone apple. I used to drink fresh ripe Bael fruit juice in Mayapur for breakfast. The fruit is also used for curries.
The tree is also very medicinal. Juice extracted from the leaves is given to relieve the symptoms of asthma and fever. Tea made from the flowers is used to cleanse eye infections. Tea made from the root are used to relieve heart palpitations, indigestion, bowel inflammations and to stop vomiting and relieve nausea.
Here's a link to a nice chutney recipe.
And here's more information about Elephant apples.
yadi dasyasi me kaman varams tvam varadarsabha kamanam hrdy asamroham bhavatas tu vrne varam
O my Lord, best of the givers of benediction, if You at all want to bestow a desirable benediction upon me, then I pray from Your Lordship that within the core of my heart there be no material desires.
>>> Ref. VedaBase => SB 7.10.7
| | |
| --- | --- |
| | Researchers in the US have developed the first synthetic living cell in what many scientists have called a landmark study towards the design and creation of new living things. |
www.sdgonline.org.
4:09 A.M.
I had a migraine headache early last evening but I was able to subdue it and slept peacefully. I got up at a quarter after two and began my rounds. They were slow and somewhat lethargic. This is a repetitive report from what I have been giving in recent days. I'm keeping my general optimistic outlook, however, with awareness that the chanting is powerful even when it's not perfect. I will chant my quota, and I will chant them better than the first eight. I will keep in mind the inspiring sections I am reading now of sankirtana in Caitanya-caritamrita of Lord Caitanya and His followers and the section from Srimad Bhagavatam of Yamaraja's instructions to his messengers. In those sections the importance of chanting is emphasized. I read them with the sense of it being a double-edged sword. On the one hand it is comforting to know that I am chanting, which is the only way out of material entanglement. But I am not doing it to the highest standard, so that is the other edge of the blade.
You are a chanter
and make it your daily
effort. But you don't
rise to the perfect stage.
There is good news
and bad news,
you chant relentlessly
but not with ecstasy.
Where will it end?
How much will be counted
in your favor, how
much will it be considered
that you failed? The
result will be decided by
Krishna, and the
effort depends on me.
www.sdgonline.org.
Prabhupada smaranam
Here is Prabhupada arriving at O'Hare airport in Chicago. He and his entourage delicately weave between two pot-bellied Chicago cops with their checkered caps and guns and holsters.  Prabhupada holds his hand in pranams and drops his eyes as he comes abreast of them, then clears through and opens his eyes with a compassionate smile with his mouth closed. The devotees were doing aggressive book distribution at O'Hare and had a tense relationship with the police. The head of the Hare Krishna movement walks past the police with no incident. The police played the dual role of protecting him and surveilling him. He passes through safely like a lotus atop the water in the pond. Krishna is protecting him. He has come to attend the ISKCON Ratha-yatra and to do interviews at the temple, and to lecture and hold kirtana with the devotees and visitors to the temple.
While in Chicago, Prabhupada talked with the police officer in charge of public relations. He asked the man to freely donate a specific building in Evanstown, Illinois (near the temple) and we would use it to check crime. Prabhupada explained to him how we would accommodate criminals in a peaceful program where they would follow the sadhana of Krishna consciousness and be reformed. The police officer listened respectfully and with apparent seriousness but said that the decision for the use of the building was not up to him, but the local government. During his Chicago stay, Prabhupada had a controversial interview with a woman reporter in which he told her that the woman's brain was smaller than a man's and that a woman has no specific standing in the varnasrama dharma except to be a submissive wife. The reporter printed a sarcastic, critical article in the newspaper, and a summation of the interview was broadcast on the radio. Prabhupada was not disturbed by it. He enjoyed his stay in Chicago, which was, for him, filled with preaching opportunities and a successful observation of the Ratha-yatra down the city streets.
From Dr. Walter Crinnion at The Huffington Post

What is amazing is that I wasn't the one to tell him this, nor was the first lady (although she quite likely already has). It was the President's Cancer Panel, working under the auspices of the National Cancer Institution. But, they were not just telling him to eat organic foods, they are recommending all of us "to choose, to the extent possible, food grown without pesticides or chemical fertilizers." This is not the Coalition for Alternative to Pesticides talking, but the President's Cancer Panel! (Be still my beating heart!)
Why are they saying this? And why are they sounding like they have been reading my book (Clean, Green and Lean)? Because they have actually been reviewing the same research that I have been studying for the last few decades. Multiple published studies have revealed the relationship of small daily doses of environmental toxins to health. In this case, the panel was looking directly at cancer risk.
There have been articles published over the last few decades showing that people who are exposed to certain pesticides, industrial chemicals and common air pollutants have higher rates of cancer. Dr. Devra Lee Davis published an article in the Journal of the American Medical Association in 1994 where she revealed that the boomer generation had twice the rates of cancer as their parents had, and that these cancers were NOT related to smoking but to other environmental toxins.
The President's Cancer Panel showed particular concern around pesticide and other chemical toxin exposure in children (and rightly so). They talked about parents and child-care providers being more active in reducing a child's exposure to toxic compounds. They also recommended that prior to becoming parents, that both the mother and father-to-be reduce their toxin exposures (and I would recommend that they lower their load as well). When it comes to pesticides this is very important, since organophosphate pesticide exposure (the most commonly used pesticide type today) has been strongly associated with childhood brain tumors in children. The occurrence of these brain cancers is far higher in children whose parents use these pesticides in their home or garden. One of these pesticides, diazinon, is the most commonly used pesticide for roses and other ornamental garden plants.
Our defense against these toxins includes enzymes in our bodies that clear such pesticides from our bloodstream, but we don't all produce the same amount of enzymes. We all have many genetic differences, but about 50 percent of us have different genetic coding leading to lower levels of the enzymes that break down organophosphate pesticides in the bloodstream. When children with this genetic difference are exposed to these pesticides, the toxins stay in their bloodstream much longer and their rates of childhood brain tumors go even higher.
The easiest way for us to avoid exposure to these organophosphate pesticides (which came out of nerve-gas warfare in the 1930's), is to stop eating the top 12 most toxic fruits and vegetables. These are (in order beginning with the most toxic): Peaches, Apples, Bell Peppers, Celery, Nectarines, Strawberries, Cherries, Kale, Lettuce, Imported Grapes, Carrots and Pears. See anything on that list that you regularly eat? For most of us, this list contains many of our most frequently eaten foods. So, if this includes you, then the first recommendation would be to spend a little extra for organic varieties of these foods. For those foods that can be peeled, this will reduce the pesticide load by about 95 percent! Your other option is to make an acid wash (more info on this is in the book: Clean, Green and Lean ) by mixing distilled vinegar with water in a bucket (about 10 percent vinegar), soak these fruits and veggies for a bit, and then scrub with a vegetable brush. Of course, that won't work well for strawberries or lettuce, so those you should just look for organic sources of.
As I wrote in my book Clean, Green and Lean, there are many very simple steps to reduce our daily exposure to all of the toxic chemicals that fill our environment. We don't need to be victims of our environment. We can reclaim our health! By taking active steps, we can prevent a number of health problems that are becoming more commonplace. Often these illnesses are seen as inevitable, sometimes they may even be prevalent in your family. But, by reducing your toxic load and living a healthier lifestyle you may very well avoid these problems. Do you really think it is a coincidence that the rates of cancers, heart disease, diabetes, obesity and autism have skyrocketed in the last 20 years as our world has become so polluted?
www.sdgonline.org.
1.
When the devotees came from
Bengal to be with Lord Caitanya
in Puri, He embraced each one
with ecstatic love. The chanters
ran straight to Lord Caitanya and
accepted prasadam from His hand
before washing or going to the temple.
Sarvabhauma asked why they behaved
like that. Caitanya Mahaprabhu said
there are two standards, one according
to the rituals, and one according to
spontaneous love. The devotees from
Bengal were acting on the level of
raganuga-bhakti. The king was
amazed at the effulgence of
the devotees and their
excellent standard of kirtana.
The Lord had special dealings
with Advaita Acarya and Haridas
Thakur and special words for
Vasudeva Datta. Everyone was
satisfied.
2.
I am doing alright,
waiting to write the poem,
involved with things of the
world. Gunagrahi Maharaja
told me the devotees in
Buffalo used to go out chanting
in the snow and sleet and
take short breaks going into
stores for warmth. I told him we didn't
go outside chanting in the
winter in Boston. "You
were in maya," he said,
and I felt hurt. It
was just too cold to stand
on the street in freezing
weather. Not maya,
just common sense.
3.
Today they are coming over for
a pizza party. "Be hungry,"
he says. I'll be able to eat
three pieces at most.
They are going to make special
small pies out of flat
rolls with cheese and sauce
and condiments. It's all
offered to Gaura-Nitai,
and then we'll talk about
how it tastes.
4.
Narada Muni came upon the
ten thousand sons of Daksa, the
Haryasvas, who were practicing
austerity to get ready to get
married and create progeny.
Narada thought these boys are so
austere and detached there is no
need for them to get entangled
in the maya of family life.
So he told them allegories,
and they understood them with
their own intelligence and decided
to remain unmarried like Narada.
The great sage captured them.
Daksa was outraged but let
it go. But when Narada
did the same thing with Daksa's
next batch of one thousand sons,
Daksa blew his stack and
vituperatively cursed Narada
that he could never stay
in one place for more than
three days. That was a
blessing for a preacher. But
Prabhupada says he personally
wants to stay in one place
and write his books, but he too is
cursed by the parents of his
disciples to always travel
and never enjoy the temple stay.
He asked his sannyasis
to take the curse so he can
write his books.
5.
Another letter from Bhakti–
lata. Will she curse me or
praise me, I never know.
Her life is not so bad if we
believe in Krishna consciousness.
I want to stay in one
place, in New York, and
not be cursed to always
move, like Narada.
You have to write everyday,
searching for the
topics to teach
the sons of Daksa,
though he will
be angry with you.
www.sdgonline.org.
Free write
Two pairs of wooden sandals. I'll say they belong to Radha and Krishna, although they could be Gaura-Nitai's. If they belong to Krishna, He doesn't wear them anyway. He goes barefoot in Vrindavana. This is a cause of great anxiety for the gopis. They think that Krishna's feet are so soft that He bruises them when He touches them to the gopis' hard breasts. They fear that when Krishna walks barefoot in the forest He steps on hard spots like pebbles, sticks, straw, and even objects like potshards or pieces of conch shells. They cry just thinking of the pain He endures by unnecessarily acting like this. Krishna tells the gopis that they should not worry, that He knows how to walk without getting cut. Some of the gopis also tell other ones not to worry. The non-worrying gopis say that Mother Earth places a perpetual covering of soft padding for her beloved, and that He never encounters hard objects. But the worrying gopis counter that the cows disregard this padding and wander blindly, and Krishna follows the cows and cuts His feet. The gopis argue back and forth about this and have no peace.
| | |
| --- | --- |
| | Martin Scorsese says he hopes to release his George Harrison documentary next year, and is promising plenty of unseen footage and unheard songs. |
| | |
| --- | --- |
| | Volunteers from "Food for Life" Charity Fund participated in 'Victory Day' celebrations in Russia on the 9th of May by distributing three thousand portions of porridge to veterans of the Second World War. |
| | |
| --- | --- |
| | After celebrating Diwali last year by lighting a ceremonial diya, US President Barack Obama celebrated Asian American and Pacific Islander Heritage Month with bhangra beats that he said had probably not been heard in the White House before. |
| | |
| --- | --- |
| | An ancient brass Ganesha sculpture was found buried underneath a residence in the Indian state of Goa on May 18. |
| | |
| --- | --- |
| | Thirty-seven law professors hailing from 11 countries have submitted written comments asking the Grand Chamber of the European Court of Human Rights to overturn a seven-judge panel's ruling that crucifixes may not be displayed in Italian classrooms. |


Krishna is not bound by time & space but 911 and other multitude support services which include friends and family are bound by time & space. They cannot come in time of need. But Krishna can come whenever, wherever.

Therefore, the most practical solution to all problems of life (as He is not bound by any law) is to seek the help of Krishna whole heartedly and cry out His names with love. He will surely come and save us from our problems. Lord Narasimhadev came when His most beloved devotee Prahlad was harassed. Similarly the Lord will come for us too if we cry out in love.

Lord Narasimha Bhagavan ki jay!

Hare Krishna
| | |
| --- | --- |
| | The 6th Annual Festival of the Chariots and Ratha Yatra Parade will be held on the sands of Jacksonville Beach on Sunday, June 6. |
Whatever your way of life may be, whether a businessman or a doctor or a lawyer, or whether it is housewife or a student or whether you have wife and children. And it is not that you must necessarily give up your responsibilities in this world; because there is a need for all these various professions for human society to function. But the greatest need for the people who are engaging in these activities are; doing it with the understanding of truth. Because truth awakens love, mercy and selfless service to all others, and that is the greatest need. In this world, there is not enough love, compassion and truth. In this world if that was there, everything else would have been provided. All shortages are due to greed and envy if you examine the situation of our planet today. So therefore to perform your duty in this state of divine consciousness, the consciousness of love, which is within you, that is the great gift, which is available in your life. So please we are not concerned with converting a person from one religion to another, we are not concerned with recruiting members. We are simply concerned with enlightening the persons to truly take advantage of the opportunity to realize the principles of universal truth and love; that is within your own heart. Thank you very much!

- H.H.Radhanath Swami
and the recent opening of two new houses for the families of two cowherd men.
6:00-6:35pm:
Arati
and
Nrsimha
Pranam
6:35-6:40pm: Welcome and Announcements
6:40-7:10pm: Class by
Vrindavan
Das
7:10-7:30pm: Dramatic Presentation
7:30-8:00pm:
Abhiskeka
(bathing ceremony)
8:00-8:30pm:
Arati
8:30pm:
Prasadam
(
vegetarian
feast)
*Subject to change
To reach offense­less chanting you have to chant much better than you're doing now. You push on earnestly and hope for the best. You repeat the mantras every day and avoid sinful activ­i­ties.

From Bhajan Kutir #447
Dear Devotees and Friends,
Sri Jagannath Swami Ki Jai!
Sri Jagannath Ratha Yatra Ki Jai!
This year, Lord Jagannath's Ratha-Yatra Festival will be celebrated on Saturday June 12, 2010, starting at 12pm from 45th Street and 5th Avenue, and will proceed down 5th Avenue to LaGuardia Place & Washington Square Park.
Please invite all of your friends, family members, associates, and relatives to spend a wonderful day with the devotees or Lord Jagannath (Krishna) in the heart of New York City.
for more information on the parade route, and how you can assist and volunteer for this festival, please visit the festival's website @
www . radhagovinda108 . com
(click on the 'Ratha Yatra' tab on the menu on the left of the webpage)
For further information please contact us at (718) 875-6127 or (347) 249-4064.
Your servants,
New York ISKCON
www . radhagovinda . net
www . radhagovinda108 . com
Dear Devotees and Friends,
Please Join us in the celebration of Lord Jagannath's Snana-Yatra (bathing) festival on Saturday May 29, 2010, starting at 6pm. All visitors will be given the chance to bathe the deities.
Preceding the Snana-Yatra festival, we request you to join us @ 12pm on Saturday May 29th, to celebrate the purifying festival of Gundica Marjana, by helping clean and beautify the temple. There will be plenty of service opportunities and cleaning supplies available for everyone who comes.
If you would like to help sponsor any part of the festival, please contact the temple at (718)875-6127
Please remember: Lord Jagannatha's Ratha-yatra is now less
than 3 weeks away and please consider committing to service and charity in support of New York Lord Jagannatha Ratha-yatra. We need your service to please Srila Prabhupada.For information on how to help via
charity and/or volunteering, please call the temple at the # above or visit the Ratha-Yatra website:
www .radhagovinda108 . com
your servants,
NY ISKCON
Dear Devotees and Friends,
You are cordially invited to join us in the celebrations of the auspicious
Appearance Day of Lord Nrsimhadeva at Sri Sri Radha Govinda Mandir on Wednesday May 26, 2010.  This festival celebrates the transcendental appearance of Lord Nrsimhadeva as he appeared to protect his dear devotee Prahlada and vanquish the evil tyrant Hiranyakashipu.  The festival will begin at 6:30pm with Bhajans, and will continue till 9:00pm.
Devotees are requested to fast from grains and beans until dusk: which is the
time when the Lord appeared.
Schedule of Events:
6:30pm - Bhajans
7:00pm - Arati & Abhisheka (Bathing ceremony) of Lord Nrsimhadeva
8:00pm - Glorification of Lord Nrsimhadeva Lecture by HH Radhanath Swami Maharaja
9:00pm – Prasadam Feast
Your Servants,
NY
ISKCON
www . radhagovinda . net
www . radhagovinda108 . com
PS:
For all of those who wish to volunteer some service for the festival or to sponsor some part of it, please call the temple @ (718) 875-6127 for more information.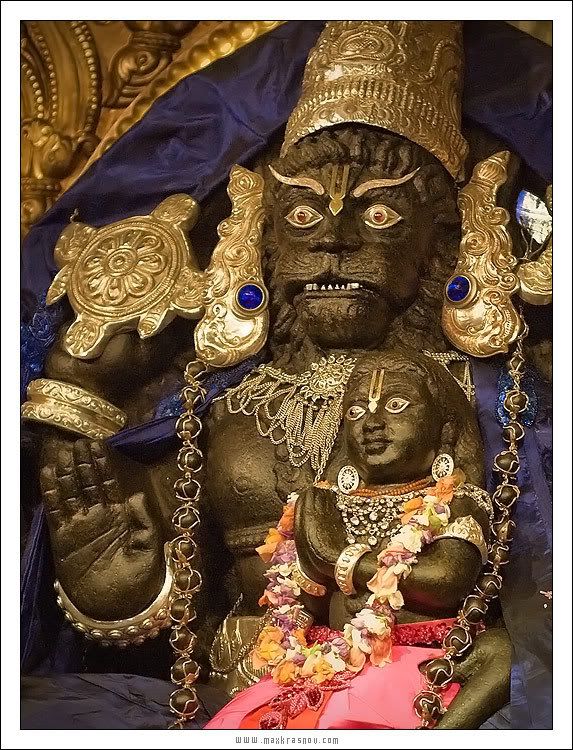 "Do musical instruments have souls when they are used in the service of Krishna? I feel this way regarding my flute."
Sounds In Owen Sound.

Owen Sound, Ontario

One goose was perched on top of the church roof. Another one stationed himself at the house next to it also comfortable on it's roof. They had a perfect back and forth dialogue. Who knows what they were saying? Cracking jokes maybe? But there they were, up before everyone else. Only this solitary monk walking by (me), a police officer sitting in the cab of his car waiting just in case and a quiet fisherman hoping for prospects seemed to be stirring about in the peaceful, clean harbor of Owen Sound.

I contemplated on the words of the local pastor who came to our chanting session last evening. I was impressed to see her interest and involvement with what appeared as a "different " religion. In her mind it's all the same objective-getting closer to you know who? She pointed to the statue on the home shrine of our host and said to her son, "look at the Dalai Lama".

"We do have some resemblance to Buddhism but there are some philosophical differences. That statue is the resemblance of our guru, Srila Prabhupada". She was happy to get informed. The engagement at Owen Sound was spiritually surcharged last evening. But in the life of the spiritualist the joy never ceases. Our little drama troupe, whom devotees insist on calling Swami Productions, drove to Scraborough to join the Bangledesh community in a 24 hour chanting session. Our commitment was 2 hours only. Calluses were popping on the drummers hands, chanters strained their voices and all those who danced deposited extra sweat drenching clothes and floors.

It was another day of glory as is everyday.

8 KM
Feel Good Event

Owen Sound, Ontario

Ruth is the mayor of Owen Sound, A small city bordered on Georgian Bay. What a charming lady she is. She and her husband take daily walks beginning at a nearby waterfall and religiously trek and trail. So her bio-sketch tells. I had no reason to doubt. I chatted with her at the Kelso Beach Shelter in the midst of her friends and my friends. We exchanged personal adventures of walking. She was present for a mini-festival.

When the Sun Times newspaper reps came they asked what the festival was all about. Rajesh Kaladia, a Krishnaite from the local area, organized the rather successful program. He wanted me to answer. Instead of grappling for an answer words flowed out even though no one thought to give the event a name.

"It's The Feel Good Spring Festival", I expressed rather confidently. Yes, Krishna made me say it. Turns out the journalist is a vegetarian. That became one of the main features of the Feel Good Festival-prasadam, nice veggie dishes.

Ruth enjoyed it. She spoke for a few minutes after being very gratified. Then our drama went on at the ampi-theatre, and a mantra rock kirtan, by the band Rajasi. People were dancing, they had a good time.

My dear god-brothers', Garuda and Drupada took to walking to Rajesh's home. The three of us joined Krishna Consciousness at around the same time and the same place-Toronto back in 72/73. Only I stayed single and took the monastic life seriously while they took to family life-seriously.

Anyway, it was dusk. A group of young people partying in the front of a residential home noticed my robes:

"Why the dress?" shouted one of the party goers.

"They are robes, I am a monk." , I replied

"Well, it looks sexy.", he said.

I just gave a thumbs up.

3.5 KM
A Real Treat

Toronto, Ontario

So many registered. Our visiting monk from South Africa, Bhakti Brhat Bhagavat Swami, organized a retreat and people were registering. "Retreat? No, it's not a retreat," he corrected me, "it's Prabhupada's program."

Basically he was telling me that he was simply implementing the good old fashioned Hare Krishna program and conducting a concentrated course of hearing and chanting.

I was impressed because for this first of a four day treat (cancel the word retreat then) about 60 people turned out. Women in sarees and men in dhotis and kurtas, the traditional dress code, came to participate. Some people took time off work to gain something more than just monetary gain.

Bhakti, or devotion to Krishna begins with sravanam, listening, followed by kirtanam, chanting, and that is primarily the intention of this program. One day the focus would be a marathon of eight hours of chanting known as 64 rounds or revolutions on the meditation beads. Each strand of beads has 108 beads to finger with the thumb and middle finger, the main tool for what's called japa.

The weekend would be a four day process of purification. I would not be in a position to be terribly involved due to prior devotional appointments set up. I did take a peek in Govinda's hall where most of the program is being held. Everyone was sitting nicely chanting. Inside my heart I thought, "I wish I could be inside the circle of japa chanters, but I can't sit for very long."

You see, I have a condition. It's called itchy feet.

9 KM
Rivers & Parks

Winnipeg, Manitoba

Daruka, Doug and I took more than a stroll along the Assiniboine River and its juncture with Red River. This place is called the Forks where the two rivers meet and for hundreds of years the Sioux and Assiniboine tribes met here for trading goods. How things have changed since those times! you have to imagine how everything had its natural green growth. Now, thanks to the city, a great effort has been put out to revive the waterfront with decent trails smartly marked with interspersed quarry stone from the area. It's all a mix of manicured and wild nature pleasant to walk through. They have created trails of mental peace.

Interesting is a huge constellation dial in a depressed portion of earth. There on the side of this structured wall is imprinted the story of Vamana, a form of Vishnu, who as a dwarf was offered in charity from the demon-king, Bali, three steps of land covering heaven, earth and finally the last step, the head of Bali. This meant Bali's surrender.

There are three engraved images rendered so artistically and set into the brick. Just seeing that became an inspiration for further walking along the Red River.

Again, nice job done on the river parkland. One observation is that although pretty, parks in most places appear to be underused. Our guru, Srila Prabhupada, made a remark about that; a rat burrows a hole and the snake comes to live in it. A city designs a park and sadhus (mendicants) come to walk there.

5 KM
Good Press

Winnipeg Manitoba

It excites me when I see Krishna devotees mentioned in the news. For example, some of our monks and lay members were declared 'heroes of the week' in Vancouver for the distribution of that good ol' prasadam (blessed veggies) on television.

I also snipped out of the Chronicle Journal newpaper from Thunder Bay an article highlighting its Yoga fest and our showing of the play "Lonely People". And when I arrived here at Winnipeg, Vrinda, the stalwart guardian of our vibrant and quaint centre, handed me on of the more recent editions of The New Wine Press Collection, a publication for the Catholic Winnipeg Archdiocese, which focused on an Interfaith program. At that event I was the honoured guest speaker giving a presentation on the traditional nine devotional paths. I recall after the event was over how listeners appreciated the universality of or Vedic culture.
Lo and behold the media struck Krishna once again (gently) when CNN announced the list of the most successful people who made it big after 50. Our guru, Srila Prabhupada, came #7. It was around his birthday at 69 when he came penniless to America off the Jaladuta boat and started what was to be a fledgling society of Krishna monastics and married folks.

It was all good news.

7 KM
On Narasimha Caturdasi day, the program schedule is as follows: After darshan aarthi,from 7.45 a.m., there will be Sri Nrsimha Katha until 9.30 a.m. Satakoti Nama Yajna ,for the recovery of health of HHJayapataka Swami will be conducted from10 a.m. till 11.30 a.m. Even if you are not in Mayapur, you can particiapte in this japa from your home.At the same time, in the temple courtyard, grand Sudharshana Yajna will be conducted by Gurukul students and HH Bhakti Vidya Purna Swami at 10 a.m. There will be puja offerings and sahasranama archana in the temple until noon. Maha Abhisheka will begin from 4.30 p.m. onwards and continue till late evening. Watch Online Sri Narasimha Caturdasi celebrations at Mayapur Live.
See a slideshow of images from New Vrindaban taken yesterday here.
Our thanks to Jayamurari for taking and sharing them.
The potatoes are ready to bloom which means they are starting to make tubers.  These will be harvested for new potatoes plus if the yield is good we will have some left for storage. New potatoes are a different vegetable then the ones you buy in the store and no, the small ones they sell aren't necessarily new potatoes, they are just small, usually.
New potatoes you can rub the skin off with your finger applying only a small amount of pressure.
The flea beetles are back at eating the leaves of the potato plants so I will reapply neem as an organic pesticide today.  It has rained and been a few days since last application.  It seems to keep their numbers down.  Sprayer ready neem is available in the big box stores anymore even here in the Northern Temperate zone.
Later Vidya will pick a bunch of the peonies and we will drop them off at the temple for the Lord Nrshimadev festivities this evening.
Filed under:
Cows and Environment
"Famous folks launched careers after 50″
Cultural programs are going on nightly at the festival stage, as a part of Narasimha Caturdasi festival celebrations. Smt. Rhada, principal of Pushpanjali dance school, Chennai & several award winner including Sangeetha Nataka Academy award from President of India,Natya Rathnakara by Cleveland Bhairavi society, Nritya Ratna , Kalaimamani , visited Mayapur with her disciples to perform the pleasure of Their Lordships in Mayapur. A beautiful Bharatnatyam dance recital for 1.30 hours on pastimes
1966 May 26: "Saptami: Today Paul showed his crazy mind but he was sorry later on for his breaking the keertan performaces in the morning service. Today I went to Dr. Mishra to dine with him."
Prabhupada Letters :: 1966
1969 May 26: "I am sure our program will be very successful because you are all sincere workers. In our Krishna Consciousness Movement, anyone who has got full blessings and confidence of the bona fide Spiritual Master, and therefore Krishna, his success is sure."
Prabhupada Letters :: 1969
1969 May 26: "We don't require anyone who is very musically talented. Here they have organized very nice kirtana party chanting thrice daily very, very nicely. So if you think you are all deficient, I can send you a tape recording of playing techniques and you may learn from this."
Prabhupada Letters :: 1969
1972 May 26: "Now I want that my GBC representatives shall travel extensively without stopping, to give encouragement to the devotees in their zone and to see that the spiritual standard is maintained very high. Organize one traveling party and go all over your zone opening new centers wherever possible."
Prabhupada Letters :: 1972
1974 may 26: "We must be very careful on recommending gayatri initiation. They do not have to be brahmana if they are not inclined to the brahminical standards. Now that we are more and more trying to implement the varnasrama divisions of society, we should not think that everyone has to become a brahmana."
Prabhupada Letters :: 1974
1974 may 26: "Even though you experienced difficulty you are remaining pure in Krsna Consciousness and keeping faith in Krishna and the Spiritual Master. This faithfulness has pleased me very much."
Prabhupada Letters :: 1974
1975 May 26: "There is no need for this type of poetry. There are so many poems written by our great acaryas. Why concoct something? It is not in our line. If you desire to write poetry, read one chapter of Krsna Book very carefully then put it into poetry. If you do this, it will be appreciated nicely."
Prabhupada Letters :: 1975
1975 May 26: "The Deity worship must be done very gorgeously. LA standard is good, but still you should have a better standard. Please continue all as I have given you and send me a weekly report of how things are going on. The twenty-four hour chanting is very encouraging."
Prabhupada Letters :: 1975
A tree may bear many fruits, but selflessly offers them to others. All year round, the tree dutifully offers shade to all beings regardless of disfavours by man or nature. Chapter three defines the practice of Karma-yoga - the art of working in this world, whilst simultaneously remaining aloof from its influences. As the Bible affirms, "In the world but not of it." The tree reminds us of this spirit.

T – Tyaga (Renunciation) (Verses 1-9) - Arjuna displays the typical confusion of an immature spiritualist. He thinks of spirituality as retirement from active life and the adoption of asceticism in strict seclusion. Often, the easiest response in times of difficulty is one of escapism. Worldly life entails dealings with money, possessions, other people, and career to name but a few. One may understandably develop the notion that such a lifestyle is incompatible with spiritual goals. Krishna, however, explains that real renunciation does not entail a mere abandonment of external activities. Real renunciation is to give up the mentality that one is the 'controller' and 'enjoyer' of all that he surveys. Thus, by offering the results of one's daily work (money, knowledge, influence, and other such benefits) in service to God, knowing God to be the ultimate enjoyer and controller, one achieves this state of renunciation.

R – Rungs (on the Yoga Ladder) (10-16) - This, however, is undoubtedly an advanced stage of spiritual insight - to work without any personal motivation. Thus, Krishna explains how to progress to that level. He describes a 'yoga ladder' with different rungs which represent progressively higher levels of advancement in this understanding. On the lowest level, one is solely interested in materialistic enjoyment. Experiencing frustration, one may progress onto first rung known as Karma-kanda. At this stage one still desires materialistic enjoyment but now tries to achieve it via religious observances. When one realises the futility of material enjoyment, one comes to the second rung entitled Sakama-Karma-yoga. One begins to offer the results of his activities to God, but still maintains some selfish motivation. After further progression, one moves to the next rung, known as Niskama-Karma-yoga. One accepts whatever necessities he requires to maintain himself, and offers everything else to the source of all benefits – God. Those on this rung break free of the karmic implication in this world, and become peaceful and liberated.

E – Exemplary (17-35) - Thus, Karma-yoga is explained as the practical process by which one overcomes his material attachments through working in the world. So what about one who has achieved perfection through Karma-yoga? Do they need to continue working? Surely their renunciation has been awakened, and now they can simply meditate on God. Perfected spiritualists, however, continue working to set the proper example for others to follow. Being exemplary is the biggest teaching tool we have. As they say "example before precept, walk your talk, practice what you preach." Ultimately, the spiritualist embodies the change that he wishes to see in others.

E – Enemy of the soul (36-43) - After hearing this wonderfully practical and logical process, the natural reaction is to enthusiastically dedicate oneself to it. Arjuna, playing the part of the aspiring spiritualist however, is extremely streetwise in this regard. He asks Krishna, "In life, even though I know the best course of action, what is it that impels me time and time again to act improperly and against my good intelligence?" Krishna then explains the root cause of this phenomenon is the eternal enemy of the aspiring spiritualist in the form of lust. The natural quality of the soul is love - to selflessly serve God and those around us. However, when the soul descends to this world, that love is perverted into lust, and one untiringly tries to enjoy in a self-centred way without regard for others. The voice of the enemy lust, impels one to seek immediate gratification and abandon activities that will be for ones ultimate benefit. In this way, lust diverts one from the most progressive and happy life, in return for meagre and instantaneous gratification. To overcome this enemy, Krishna explains that one must tolerate such urges of lust, and simultaneously strengthen ones intelligence to become convinced of the higher pursuits in life.
By Shyamasundara Dasa
Yasoda Mata's 85-year-old foster father passed away two months ago. During his stay in the hospital, Yasoda Mata prepared a tape recorder and played the Hare Krsna Maha Mantra all day long in his ward.
Malati Dasi: Malati Dasi: This is your invitation to experience a sweet time with Lord Jagannath in the hills of West Virginia
Vasudeva Dasa: The Bhaktivedanta Ashram was founded in 1998 in New York City's Lower East Side by Yajna Purusha Dasa. The ashram is based on the principles of the brahmacari-ashram of the Chowpatty temple in Mumbai, adapted to the Western world.
Narendra Gadhamsetty: Researchers at HP Labs have come up with an idea for an environmentally friendly data center powered by cow manure.
Dr Prayag Narayan Misra: The festival took place on Sunday- and the feast on this day is termed as Love Feast. On the occasion of Mohini Ekadashi, Ekadashi prasadam was served consisting of fruits and vegetables but no grains or beans. It was attended by over 100 congregational devotees including few American guests.
Expect a workout and some freedom for your mind in this fully charged yoga sequence
We will be flowing through a variety of postures with surya namaskar (sun salutations) as the basis. Rhythmic music of mrdanga (traditional indian drum), guitar & violin will be played live and in tune with the pace of the postures. Enhance your yoga practise by allowing the music to aid release and reach heights you have yet to experience!
After 45min of intensive yoga, we'll sink into deep relaxation and cap it all off with some kirtan, the most secret jewel of yoga practise. Kirtan is easy. It's a mix of music and meditation to cultivate inner strength and clarity of mind. There's basic Sanskrit mantra, the leader calls and the rest can respond. Sometimes it's soft and meditative and sometimes it can get a little wild, all to make you feel good!
Starting May 27 on Thursdays at 6pm
2 for 1! till the end of June 2010. Cost: $18 at door
2 for 1 does not apply for online bookings, so get here early to get a mat
Includes dinner
For a limited time only

Braja-Raja-Suta Dasa: I am Braja-Raja-Suta Dasa of Nashville, Tennessee. I would love you to show you a nice slideshow presentation I just put together from photographs I took this past Saturday at theISKCON Murari Farm as we celebrated Nrsingha Chaturdasi.
By Partha prana govinda das
Most of us take to book distribution on roads and to houses on holidays or we allocate a time separately for that. What if we can distribute books during our travel in busses and trains, when we are going to our workplace.
By The Nrsimhadeva. com Team
... Where you can get all the Nrsimha pictures, music, lectures, videos and links. You can also be a member (it can also link up with your Facebook account, if you have one) and access the Nrsimha Caturdasi lectures and kirtans and you can also upload pictures and videos to the website.
Nitaj-Gauranga Festival 4/9 Czech deity installation


A kind reminder that tomorrow is Nrsimhadeva Chaturdasi.

The festivities will start at 4.30pm with kirtana and arati, followed by class on Lord Nrsimhadeva's pastimes at 5pm and His oil abhishek at 5.45pm. Following suggestions and feedback from the previous years, the abhishek this year will last for 45 minutes only; therefore there will be kirtana from 6.30pm until the long awaited feast time, i.e., 7.30pm. Please note that sunset will be at 5.11pm.

You are all invited to seek the blessings of the all-merciful Lord in His form as a half-man, half-lion on the most-auspicious occasion of His appearance day.

More Recent Articles
---
Click here to safely unsubscribe now from "Planet ISKCON" or change your subscription or subscribe

---
---
Unsubscribe from all current and future newsletters
powered by
FeedBlitz
---
Your requested content delivery powered by FeedBlitz, LLC, 9 Thoreau Way, Sudbury, MA 01776, USA. +1.978.776.9498