PLANET ISKCON


Here are the latest updates for
| | |
| --- | --- |
| | BON SECOUR, Alabama — In a small white building along the baptizing Bon Secour River, a building that once housed a shrimp-net business, the congregation of the Fishermen Baptist Church gathered for another Sunday service, with the preacher presiding from a pulpit designed to look like a ship captain's wheel. |
BY RADHANATH SWAMI DISCIPLES NETWORK VRINDAVAN, INDIA – We just got sad news from Vrindavan that His Grace Aindra prabhu suddenly left his body in Vrindavan few hours back. There was an accidental gas leak in his room in Vrindavan. He was found by devotees looking for him to be paying his obeisances to his Deity and [...]
| | |
| --- | --- |
| | An estimated 20,000 devotees, congregational members, and well-wishers including local politicians and celebrities are expected to visit ISKCON's new Vedic-style temple in Houston, Texas for its grand opening from Thursday November 4th through Sunday November 7th this year. |
Free live streaming by Ustream
Anjani Devi Dasi: The parade will begin at 1:00 pm sharp from the corner of Liberty Avenue and 123 street, and will continue all the way to our Mandir at 111-14 101 Avenue at 3:00 pm, followed by a festival of India until 8:00 pm
Check out the live stream at http://radio.kirtanaustralia.com:8000/kirtanradio.m3u.
If that doesn't work for you, go to the Kirtan Australia website and use either the embedded flash player, or one of the little icons to the right side. There are icons for Winamp, Windows Media Player, iTunes, and a Flash player pop-up. One of those should work for you.
The Canberra 24 hour kirtan goes from 9am Saturday to 9am Sunday, and features devotees from all over Australia with special guest Amala Kirtan das.
Canberra is GMT -10. Below is the roster for the 24 hours.
Devotee Name
Time
Vedavyasa Das (Canberra) – Siksastakam
8.45 am-9.00am
Vedavyasa Das (Canberra)
9.00am-9.30am
Kanapathy prabhu (Melbourne)
9.30am-10.00am
Ayodhyadeva Das (Canberra)
10.00am-10.30 am
Bacchu Krishna (Sydney)
10.30am -11.00am
Sandhya Mata ji (Canberra)
11.00am -11.15am
Vrindavan Chandra Das (Canberra)
11.15am-11.30am
Atulya Amrita Krsna Das (Canberra)
11.30am -12.00pm
Girish prabhu (Melbourne)
12.0pm -12.30pm
Tapan Biswas (Canberra)
12.30pm -1.00pm
Vikas Gupta (Canberra)
1.00pm -1.30pm
Janardan prabhu (Brisbane)
1.30pm -2.00pm
Amala Kirtan Das ( Dallas, USA)
2.00pm -3.00pm
Ananda Devi Dasi (Canberra)
3.00pm -3.30pm
Naveen Gupta (Canberra)
3.30pm -4.00pm
Tina Mataji (Sydney)
4.00pm -4.30pm
Karthik Vallabhji (Sydney)
4.30pm -5.00pm
Janna Mataji (Brisbane)
5.00pm -5.30pm
Abhiram Baba (Brisbane)
5.30pm -6.00pm
Ananda Kirtan Band (Sydney)
6.00pm -6.30pm
Ananda Kirtan Band (Sydney)
6.30pm -7.00pm
Amala Kirtan Das ( Dallas, USA)
7.00pm -8.00pm
Krsnapada Das (Brisbane)
8.00pm -9.00pm
Sitapati Das (Brisbane)
9.00pm-10.00pm
Bacchu Krishna (Sydney)
10.00pm-10.30pm
Karthik Vallabhji (Sydney)
10.30pm-11.00pm
Abhirama Baba (Brisbane)
11.00pm-11.30pm
Janna Mataji (Brisbane)
11.30pm-12.00am
Akash Durbarry (Melbourne)
12.00am -12.30am
Bacchu Krishna (Sydney)
12.30am -1.00am
Harsh prabhu (Sydney)
1.00am -1.30am
Vishnu Charan Das (Canberra)
1.30am -2.00am
Nimai prabhu (Cessnock)
2.00am -2.30 am
Kaliya Krishna Das (Cessnock)
2.30am -3.00am
Nimai prabhu (Cessnock)
3.00am -3.30am
Girish prabhu (Melbourne)
3.30am -4.00am
Kanapathy prabhu (Melbourne)
4.00am -4.30am
Ranganath Das (Canberra)
4.30am -5.00am
Harsh Prabhu (Sydney)
5.00am -5.30am
Vedavyasa das (Canberra)
5.30am -6.00am
Svayambhur das (Canberra)
6.00am -6.30am
Akash Durbarry (Melbourne)
6.30am -7.00am
Krsnapada das (Brisbane)
7.00am -7.30am
Sitapati Das (Brisbane)
7.30am -8.00am
Janardan prabhu (Brisbane)
8.00am -8.30am
Amala Kirtan Das ( Dallas, USA)
8.30am -9.00am
Srimad Bhagavatam 11.22.20-25 - Preaching is the essence.

1966 July 16: "In the Absolute field both success and failure are glorious. Even Lord Nityananda pretended to be a failure to convert Jagai and Madhai and was personally injured in the first attempt but that was certainly not ludicrous. The whole thing was transcendental and it was glorious for all parties concerned."
Prabhupada Letters :: 1966
1966 July 16: "We are not always successful but such failures are certainly not ludicrous. He desired to have the property in joint name with Kunjababa so I became silent and left the whole scheme. Let us now forget all these past incidences and go forward with present responsibility."
Prabhupada Letters :: 1966
1968 July 16: "I understand he is leading a nice Kirtana party in the streets and there is good response. Here in the World Expo they have performed Kirtana for two days and it is wonderfully successful. The time is fast approaching when we will have to perform such public Kirtana in all the important cities of the world."
Prabhupada Letters :: 1968
1969 July 16: "If you can increase the number of BTG's to 25,000 monthly, that is the nicest idea. We want to distribute as many issues as possible, so the more you can print and distribute, the more my Guru Maharaja will be pleased to see His Great Dream being fulfilled."
Prabhupada Letters :: 1969
1970 July 16: "Calcutta is my birthplace, our house was at 151 Harrison Road, now Mahatma Gandhi road. I was educated in Scottish Churches College, appeared for my B.A. in 1920 and then joined Gandhi's movement and gave up education."
Prabhupada Letters :: 1970
1970 July 16: "They are very intelligent and qualified so they understand that Krishna Consciousness Movement is neither Indian nor Hindu, but of course because it is coming from India it has Indian and Hindu touch."
Prabhupada Letters :: 1970
1975 July 16: "If the farm cannot be utilized, then it may be sold. What is the use of keeping a bad cow? Somehow or other you have to keep the men who are there engaged. If they are allowed to become idle gradually they will again become hippies."
Prabhupada Letters :: 1975
1975 July 16: "Why they should get salary? There should be no salary. You are working without salary, so why they should take. So after this month arrange for no one to get any salary there. That will be nice."
Prabhupada Letters :: 1975
My chanting was not in a mood of Radha and Krishna, but it was efficient "just hear" chanting at a rapid pace. It's a satisfaction having com­pleted the full quota so early in a morning.
From
Bhajan Kutir #9
...inquisitiveness can lead him to the proper knowledge. And where to get that proper knowledge? That is guru. Tad-vijnanartham sa gurum evabhigacchet [MU 1.2.12]. But if there is no inquiry, if one is dull like stone and tree, then how there will be inquiry?
So our education at the present moment is given just dull like stone and trees. Trees standing, cutting. No inquiry, no... "Why you are cutting?" He cannot. So dull. But this inquisitiveness should be enthused. People should be enthused to inquire: adau gurvasrayam sad-dharma prcchat. Sad-dharma prcchat. To accept guru means the disciple should be very very eager to know.
>>> Ref. VedaBase => Srimad-Bhagavatam 5.5.5 -- Vrndavana, October 27, 1976
BBT press release
"The changes" for chapter four of Bhagavad-Gita As It Is are now online at www.BBTedit.com/changes.
You'll see:
Several purports where missing text has been restored. In the purport to Text 6, restored to the book are more than forty words left out when a typist skipped from one instance of "causeless mercy" to the next.
Spelling errors corrected, both for Sanskrit (texts 5, 11, and 12) and for English (text 10).
In the word meanings for text 31, a word meaning left out by Srila Prabhupada and replaced by the editor with a meaning that was totally wrong. Fixed for the second edition.
Also:
In text 12 you'll see "hrt-anjana" ("heart ointment"?) properly restored to "hrta-jnana" ("deprived of knowledge").
In text 10 you'll see how "negligence of spiritual life" wrongly came to be one of the "three stages of attachment to the material world." And you'll see for yourself whether Srila Prabhupada meant to say that the conception of void "underlies" frustration or arises from it.
Also included is the complete manuscript page for text 34.
Check it out.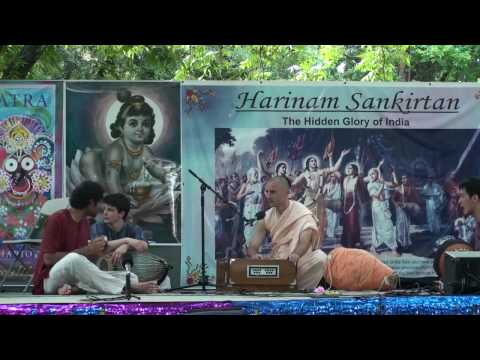 Advaita Acharya das singing a Hare Krishna bhajan at Rathayatra.
Dallas, TX
2010-05-22
Download:
2010-05-22 - Dallas Rathayatra - 05 - Bhajan - Advaita Acharya.mp3
Dear Devotees,
Please accept our humble obeisances. All Glories to Srila Prabhupada.
Here is a another opportunity where we can cleanse our hearts by participating in a MAHA CLEAN UP at GOVARDHAN HILL ( H.H Varsana Maharaja's Land)
We will be welcoming the Six Goswamis on Sunday the 25th of July so we wanted to clean up before that.
THE CLEANUP WILL BE ON THE 21st of JULY 2010.
Please meet us at Govardhan Hill ( Maharaja's Land) at 9:30am right after Breakfast.
Thank you very much for your enthusiasm and service.
Your servant
Atma Devi Dasi.
In case you need to reach us Please call 304 845 6945.
| | |
| --- | --- |
| | Sergio Escafuller hopes to change the way people think about fruit and veggies. He's landed his first job at The Veggie Project, which brings farmers' markets to communities that tend to have the lowest concentrations of grocery stores and poor produce selection. |
| | |
| --- | --- |
| | Researchers have discovered stone tools in Norfolk, UK, that suggest that early humans arrived in Britain nearly a million years ago - or even earlier. |
It is always humbling to be reminded of the service undertaken and it's importance along with your duty; this happened to me this week in regards to the development of a Prison Ministry here in the UK. The plans are big, but it appears I am not up to the mark and lack some knowledge to [...]
I just received the following message from Akhandadhi prabhu:
July 15 2010
Hari Bol Devotees,
Thanks again for all your prayers and messages. They not only gave solace to Vici but also to his children and family.
Your servant
Akhandadhi das
——————————————————-
By Krsna and Srila Prabhupada's grace I was able to visit Vicitravirya prabhu at the beginning of June. It was the first time I had seen him since March 1982. I was keen to see him because I heard he was in the final stages and I wanted to see him one last time and express my sincere well-wishes and support. I am very glad I was able to  do so.
I went to his place in Wales with my old friend Bhagavat Asraya prabhu, and another friend whom I had not seen for many years, the author of the above message, Akhandadhi prabhu.
Vici was happy to pose for a couple of shots to remember him by:
With Vici: Hsd, Vicitravirya prabhu, Bhagavat Asraya prabhu, Akhandadhi prabhu.
Our meeting was sweet and deep. Vici was pleased to see us, and he still remembered me with affection even though we had never done any service together. I had no trouble remembering him because he was the kind of person whom once having met, you didn't forget. He left an indelible impression on the heart.
When last I saw him he was the temple president at Bhaktivedanta Manor and I was the new GBC for New York. We had flown back to Europe together from India after a crisis erupted in the yatra in England. After that we lost touch.
Then a few years ago I heard that Vici had contracted amyotrophic lateral sclerosis (ALS) commonly know as Lou Gehrig's disease, a famous baseball player who died of it in the early 1940s. ALS is a type of motor-neuron disease with no cure. It brings about a rapidly increasing paralysis, difficulty in swallowing and speaking and a life expectancy of 3-5 years. However, mental functions remain intact and unimpaired.
Vici was brought back to Wales by his two sons a couple of years ago and they performed wonderful service, giving up their jobs to become the full time carers for their father. I am sure that Krsna will give them unlimited blessings for their sacrifice and devotion.
Vici became gradually fully incapacitated and when I arrived in England at the end of May I heard he was in the final stages. I had a strong desire to see him one last time, and by Srila Prabhupada's mercy it was fulfilled.
Together with Bhagavat Asraya prabhu we drove to Wales. We stayed overnight at Buckland Hall, a resort and convention center where Akhandadhi prabhu is the manager. The following day we went over to Vici's house and spent an hour, reminiscing and talking seriously about his coming departure.
Vici was as I always remembered him, the perfect British gentleman. He was sober, clear and focused, gentle and polite and without any fear, resentment or bitterness about his condition. We talked frankly, asking whether he was ready to let go and move on. He assured us he was. I told him about the recent departures of several other godbrothers-Padmalocan prabhu, Grahila prabhu and Dhami prabhu in Australia. All of them had cheerfully faced up to their imminent departures, preparing themselves mentally by detaching themselves from any worldly connections, and placing themselves consciously at the lotus feet of Srila Prabhupada.  He was grateful for the news and took solace and encouragement from it.
I particularly remember his response to Bhagavat Asraya prabhu's question: "What are you hoping for Vici prabhu, at the moment when you have to leave?"
His reply: "That Srila Prabhupada will come for me and take me to where he is preaching. I want to join in the sankirtan movement again."
He reminisced briefly how wonderful it would be if the old days of sankirtan chanting and book distribution in Oxford Street, and at the Manor, could again be manifest with all the devotees.
At the end we had a short but sweet kirtana and then we took our leave. Now Vici prabhu has taken his leave, and we sincerely pray to Srila Prabhupada to make all arrangements for the fulfilment of his desire. We are quite sure he has.
May Sri Caitanya Mahaprabhu, Srila Prabhupada, and Vici's beloved Sri Sri Radha Londonisvara/ Radha Gokulananda shower Their unlimited blessings on this wonderful soul!
www.sdgonline.org.
3:53 A.M.
I'm having a bad time. I woke from a nightmare at 10:30 last night. A godbrother was burning Prabhupada's books and my books. I got back to sleep but couldn't sleep past 1:30 A.M. I woke with a headache. Although I took medicine, which usually subdues the pain, this morning the pain did not go down, even after taking second medicine. Having gotten up so early, I still could not chant many rounds and only chanted eight. It was slow going. I maintained the mental presence of determination, and that is the one good thing I can say. But I am still waiting for relief from my head.
Japa with pain is
an inconvenience and
hampers the harinama
performance. You go slower
and with distraction. But
you keep your assurance that
it will be temporary and in
any case you will finish
your sixteen rounds before
the day is over. I look forward
to better days and pray to Krishna
to accept my crippled offering.
I know He is kind, and
will do so, in any condition.
www.sdgonline.org.
Prabhupada Smaranam
I love my Srila Prabhupada, even when externally he does not appear happy and his mouth is a bit distorted. I know that internally he is always all right, surrendered to guru and Krishna and feeling transcendental bliss. He appeared to tolerate old age and disease, but in actuality he had a spiritualized body. It is always wrong to judge him as an ordinary man. He took deep pleasure and satisfaction in fulfilling his expanding duties of traveling to temples and tending to disciples and creating new followers for Lord Caitanya.
Here he is again on a vyasasana (it looks like New Vrindavana), playing karatalas and prepared to speak Srimad-Bhagavatam. He never tired of his routine of kirtana and lecture and neither did his disciples. There was always something new, something deepening in the process and in the relationship. He was situated far above us, but he patiently fed us the nectar of Vedic topics and helped us gradually advance from our novice status.
The devotees prepared beautiful chairs with pillows and upholstery, and he fit into them perfectly, fulfilling the role of founder–acarya wherever he went. He played the karatalas expertly, and the devotees' hearts rang with joy. They were completely respectful and submissive to him, and he commanded this, he didn't demand it. A crowded temple room full of devotees watch his every move, and some of them think he is looking at them only. This was a phenomenon that regularly occurred. In fact, his eyes roamed throughout the room to each and every soul. They knew they were fortunate to be in his presence, and their hearts and minds went out to him, just wishing to be accepted as his student and servant. In the somber visage of Prabhupada, he controls all those devotees who are fortunate enough to attend this occasion and surrender to him.
www.sdgonline.org.
The residents of Vraja
don't think of Krishna as
God. Even when He does
something wonderful, they
think maybe He's a
demigod. They think of
Krishna only as their very
intimate friend, or child,
or lover. They think
of Him with love.
And what is my Krishna
like? What is He to me?
He's what I've learned and
imbibed from my spiritual
master. He's living in my
heart as the inner guide.
He's the Lord of the gopis
as I've heard it from
the scriptures and acaryas.
I take it on faith and
try to approach Him,
but I'm far away.
Krishna is my Allah,
my Jesus, my
impersonal Brahman.
I know He's Bhagavan,
the supreme personality.
It's just that I
can't see His lotus
feet, I have cataracts
over my eyes.
I lack the pure love
ointment which enables
you to see. I haven't
worked hard enough
to tell others about
His glories, so
He's shutting me out.
But there's a little peephole.
Sometimes I see Him in a picture or a
murti or a description.
I'm not entirely without
hope. He has lowered
a rope down to me
and told me to catch it.
It's the guru's mercy.
My Guru Maharaja knows Krishna,
and I know my Guru Maharaja.
I've massaged his head and
his back and his chest
and his lotus feet and
talked with him. I
still hear his lectures.
I have a connection with
the one who knows the
Lord.
He'll speak up for me at
my death, be there for
me, and it won't be all
void or rotting in the
grave or burnt to ashes.
I'll rise again as a
spirit soul and see my Krishna
dancing with the gopis,
playing hand-to-hand wrestle
with the gopas,
kissed on the head by Nanda
and killing demons.
I'll see Krishna again
with my improved eyes
in the future. I
don't know how long
it will take, but
I'll have my darsana,
and He'll take me
on His lap and
comfort me. I
have faith.
www.sdgonline.org.
Free Write
Lord Caitanya taught Rupa Goswami for ten days at Dasasvamedha ghata in Prayag. He taught him that out of all human beings it is very rare to find a liberated soul, and out of millions of liberated souls there is hardly one pure devotee of Krishna. The living entities are wandering throughout the universe in repeated births, but one who is very fortunate gets the opportunity to associate with a bona fide spiritual master by the grace of Krishna. Such a person receives the seed of the creeper of devotional service. If a person waters the seed by the process of hearing and chanting, the seed will begin to sprout. The creeper then grows to the point where it penetrates the walls of the universe and goes beyond the Viraja River, lying between the spiritual and material worlds. It then penetrates the Brahman effulgence and reaches the spiritual planet, Goloka Vrndavana. The creeper grows more and more and attains the shelter of the lotus feet of Krishna. The creeper expands in Goloka Vrndavana and produces the fruit of love for Krishna.
One has to be on guard, however, against offenses at the feet of a Vaisnava while cultivating devotional service. If he commits this offense, the leaves of his creeper will dry up. Also, unnecessary, unwanted creepers grow up along with the bhakti creeper, and these weeds must be cut immediately. Then the real creeper, the bhakti-lata, grows nicely and returns home, back to Godhead. Serving the lotus feet of the Lord, a person becomes eternally happy.
"When first class devotional service develops, one must be devoid of all material desire, knowledge obtained by monistic philosophy and fruitive actions. The devotee must constantly serve Krishna as Krishna desires" (Cc. Madhya 19.167). One must engage all one's purified senses in the service of the Lord. If one reaches such pure devotional service, he develops his original love for Krishna in due course of time. One then develops attraction for Krishna in one of the five rasas, of which conjugal rasa is the highest. Lord Caitanya elaborated on conjugal love and then told Rupa Goswami that He had simply given him a general survey of the mellows of devotional service. It was up to Rupa to consider how to adjust and expand it. "When one thinks of Krishna constantly, love for Him manifests within the heart. Then one can reach the far shore of transcendental love by Lord Krishna's mercy" (Cc. Madhya 19.236). After saying this, Lord Caitanya embraced Srila Rupa Goswami.

read more from SDGonline - daily updates Viraha Bhavan journal 
The cats gather by my kitchen door,
rubbing ribs against a box of overshoes
and spewing curses that waver
like an organ's vibrato. I've given them
every left-over in the fridge—none of it
seems to soothe them, though when we enter
the dairy room where a sour scent still lingers
they hush and assume places, calico
sphinxes against the wall.
I switch on the radio, wait for
the first ones to lumber through—black
and white boulders—larger than you'd imagine
watching them in the field. If only
we could call them back, but by now
they must be past the beltway of Indianapolis,
peering through slats with eyes bewildered
as on the day we pulled them from their mothers.
Filed under:
Poetry
These days people often ask me, "So how's married life treating you?" (Well actually not so much anymore but I actually started writing this last October)
I'm honestly bit puzzled by the question, because I really don't fundamentally feel like my life is any different. Certain superficial aspects of my life are different, I have certain privilidges and certain responsibilities which are different from my previous ashram, but the basic fundamental task of being executing our moral duties as an offering of love and devotion to God are the same. And for me the experience is fundamentally the same. The existential experience of being in the world and how I experience my relationship to God and to other human being is exactly the same. The fundamental task of treating every living entity with kindness and respect as spirit soul part and parcel of God is the same no matter what social situation we find ourselves in.
I'm not sure what people are expecting to hear.
Maybe it is one of those thing that people sort of mindlessly say?
| | |
| --- | --- |
| | The July 4th weekend is a day of celebration for all Americans; but for ISKCON Chicago devotees, it was especially joyous this year, as they opened their new center in the suburb of Naperville. |
| | |
| --- | --- |
| | About 4,000 people will stream in through the gates of ISKCON Utah onto its spacious grounds this July 17th, to spend the afternoon in the shadow of the enormous Vedic temple with its fifty-foot dome. But they'll be attending for possibly the last reason one might expect to visit a Hare Krishna temple—the 16th annual Llama Fest. |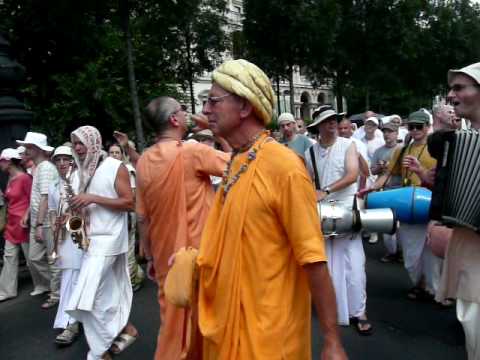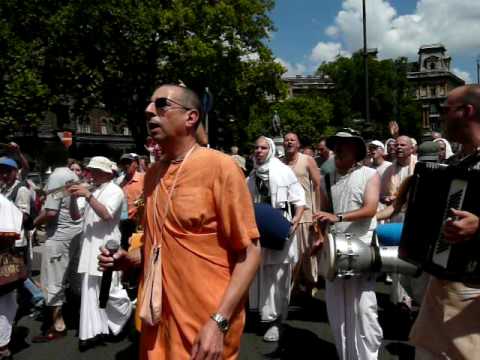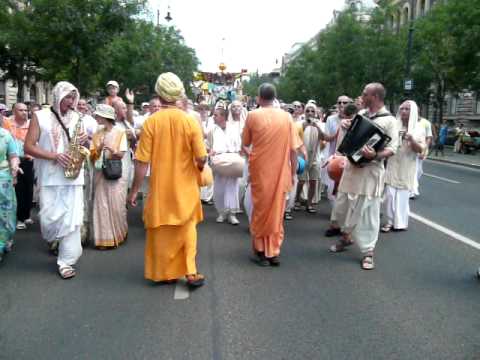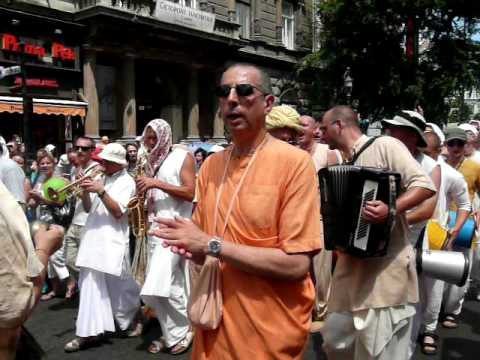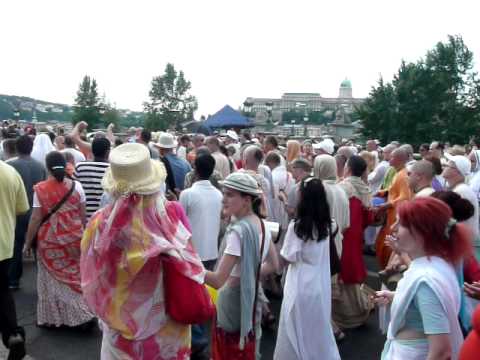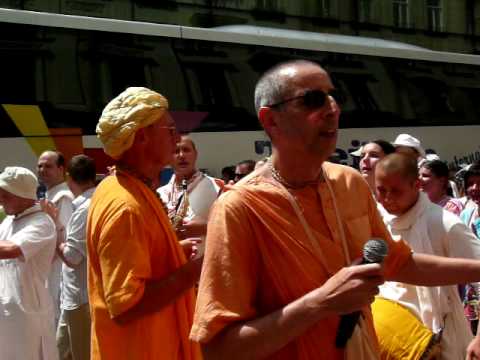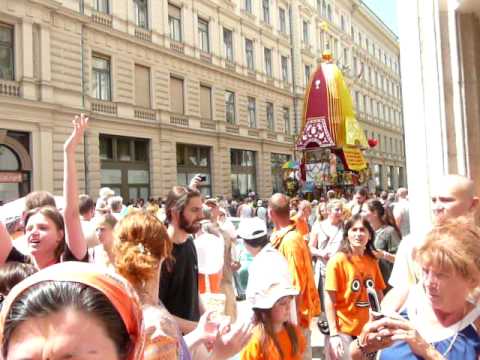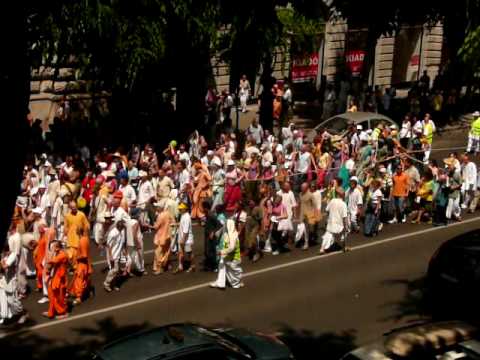 | | |
| --- | --- |
| | Over the past two weeks, ISKCON devotees held several chariot festivals all over the world. Reports from Malaysia, India, Hungary and the USA. |
By Braja-Raja-Suta Dasa I've now added several more photo albums from the 2010 Vraj Retreat. Guru maharaja at vraj temple, kids ramayana, appreciation ceremony photos at Brooklyn Temple Photos at 26 2nd Ave. Harinam from 26 2 nd Ave. to Thompkins Square Park Photos at the Bhakti Center Photos at ISKCON Towaco
These are recordings of a darshan and evening class given by H.H. Bhakti Charu Swami, 12-15 July 2010, Rotterdam, The Netherlands and Radhadesh, Belgium. H.G. Candrasekhara Acharya Prabhu writes: Guru Maharaja arrived in Amsterdam this afternoon and was driven to Krsna Karuna prabhu's house in Rotherdam. After tomorow Guru Maharaja will go to Radhadesh for two days, before returning to London for the weekend, after which he will fly to Malaga on the 20th. On the 2nd of August he will return to London, and on the 3d he will fly to India. The darshan had H.G. Raghunath Prabhu translating into Dutch for some devotees. The file has been edited where the translation parts where removed. However when Maharaja and the translator spoke the same time, that is preserved in order tonbsp; understand van Maharaja was saying. Bhakti Charu Swami gave a wonderful and loving darshan talk where he visits The Netherlands after three years. He stressed the importance of this talk which will be transcribed as soon as possible. The final parts are the talks Maharaja gave when in Radhadesh, Belgium. As H.G. Ramananda Raya Prabhu reports: Guru Maharaja's visit to the Benelux was unprecedented. Maharaja displayed such a deep love that everyone simply understood and surrendered. nbsp;The hearts of all present melted by GuruMaharaja's unique display of Love Of Godhead (read Srila Prabhupada) which made one forget all material nonsense. Coincidentally there was a huge rain and thunder storm when Guru Maharaja entered the Chacirc;teau de Petite Somme in Radhadesh, the place was flooded. And when Guru Maharaja left the temple room yesterday evening, the about two hundred nbsp;devotees present greeted him with heartfelt appreciation and love, under an aqua-blue sky. Everybody surrendered to Guru Maharaja's love. Pictures of Gurumaharaja in Rotterdam - day 1. @ Airport @ H.G. Krsna Karuna Prabhu's house Pictures of Gurumaharaja in Rotterdam - day 2. @ Audarya Dhaam Temple, Rotterdam
These are talks about Srila Prabhupada given by H.H. Bhakti Charu Swami, July 2010, New York and Manhattan, USA. Kindly provided by H.G. Candrasekhara Acharya Prabhu. Wonderful 'must'-hear recordings! H.G. Candrasekhara Acharya Prabhu writes: Guru Maharaja spent the last week at the Bhakti Center in Manhattan. He said, about the center, 'There is such a nice mood here.'
Tuesday 6th, July 2010. I was dreaming one of those strange dreams. All I wanted do was put my hand in my bead bag. I finally slotted my hand into the bag and began to chant. One bead, two beads, three beads and then my alarm clock went off. I used my compactable bucket to shower, a strategy I had used in previous tours. I would save myself a quarter of an hour simply by taking a bucket bath on occasion. Dina Dayal had donated me the bucket some years before and I had been travelling with it ever since. Now Dina Dayal was in need to borrow the bucket so he could save himself some time also so I was more than happy to repay the service.
I changed into my dhoti and chada, and I put on my apron for the kitchen. HH Indradyumna Swami exited his room just as I was leaving my own. I explained I was going to knead samosa dough and I had to miss Mangala Arati to do this service (that way he wouldn't think I was slacking off or sleeping in). He registered what I said and then replied "you look kind of cute in that apron" in a teasing way. I expressed lacking modesty by agreeing with him, just to join in on his joke, and then I ran off to the kitchen.
I caught the end of the class. It was spoken by Rucira, Adikarta Prabhu's wife. She touched nicely on the temporariness of the body and how it is merely gross substances. I returned to my room, where Mahavana obliged us with an endless supply of sweets. "I will not stop until you are totally satisfied" he said in a jolly yet subtly sinister voice. I never endeavoured with the lines of breakfast but Krsna provided nonetheless.
Today we were going to Mrzezyno, aka: Port Town (indeed Maharaja has only started to attempt pronouncing the town name this year so don't feel too bad if the Polish names are hard to catch). I was a little confused when we arrived because we had changed site location. Our previous location was now a beautiful, grassy knoll park, which had been rolled over the gritty sand that was once there before. Now we were down on the other end of the port, catching the salty breeze of the fishermen's nets. The wind was unbearable on its own, despite the smell, because it was carrying a chilly hand from far north, from over the sea.
I took Pulkit for a walk through the town, reminiscing our last year's ventures. We barely made it back on time for the show. I quickly jumped in the mixing chair. I was being scorched by cold (if the expression can be used) but I had no real relief. As for now, all I could do was tolerate and be detached from my situation.
In previous years I had maintained steady reading and chanting on the tour. I had chanted many inattentive rounds, behind the desk, and slotted in my reading at early and late hours of the day. This year I was chanting all my rounds before the festivals and reading sastra behind the mixing desk. I had a handy stopwatch and it really made bliss out of mixed devotional service; whilst I was playing tracks I was floating away into the nectar pastimes of Caitanya Caritamrta and the intense spiritual logic of the Eleventh Canto of Srimad Bhagavatam.
HH Indradyumna Swami stepped into the sound tent. He made a comment that the cold winds would probably make the crowds leave early. I took note of his prophetic words and admired his practical knowledge, accumulated over so many years of service. Braja came to the tent and asked Gurudeva if he liked the new touch to the play. The puppets had all been replaced with human actors. Maharaja seemed a bit confused and then Braja admitted that they had forgotten all the puppets back at the school. Later Indradyumna Swami commented that the play was a little strange and noted some technical errors that needed some attention.
Indradyumna Swami returned to the sound tent, a little later in the day and, looking at my study notes, commented "what are they, hieroglyphics?" (For those who don't know, my hand writing is atrocious and Indradyumna Swami was picking on me for my illegible sastra notes.) I commented that it was "genius handwriting" but I don't think he made much of my cheap comeback.
We had a few technical problems, as per usual. Dina Dayal had a new edited track for his latest drama, but the track simply didn't work. There were parts with music and then total lengths of silence. Next we had problems with the Gita play; it still wasn't cooperating with the player and we needed Dominik's computer yet again. Dominik had to rush to the tent, otherwise I had no way to start up the track. Tribuvanesvara Prabhu almost came back out on the stage to announce a change of schedule, an emergency procedure we sometimes expel in needful times.
The crowd killing winds that Maharaja had warned about were now settling in. I didn't have enough chadas to battle the beating of the wind on my body. I asked one of the boys to fetch me some tea from our restaurant tent but it was cold. It seemed like it was Krsna's arrangement that I freeze. Eventually Navina, our trusty electrician, saved me by providing a sufficiently warm rain jacket. I think it was only due to this that I managed to survive the evening.
We started the lecture…but there was no signal? Dominik used quick thinking and plugged the microphone straight to the main channel box, on the side of the stage, just in time for Maharaja to speak. The kirtana blasted on like there was no tomorrow. The roaring winds simply enthused the acoustics, creating an amazing sound. The devotees enthusiastically danced as the winds raged about them. When it was all over, we followed the same enthusiastic crowds back to the bus and shivered out the cold for a good few minutes. The battle against the wind was over for now, as we were heading back to the warmth of base, but I was sure I would meet it yet again tomorrow.
Wednesday 7th, July 2010. I was a little exhausted from the cold winds so I couldn't even recognise my own alarm clock. I woke up, almost a minute into the usual chime, and jumped up onto my knees. Almost instantly, Maharaja entered the room. "Maddy is Mahavana there?" he said. Braja and Mahavana jumped to their feet in a start. Maharaja looked at me and we both laughed. Braja lay back down and Mahavana jumped off.
I returned to the room after my samosa seva. Radheya was in the room and he pulled a secret stash of Maha Prasadam out. He had a bag of grade A, Mayapur Nrsimha Candan. I popped a few pieces in my mouth faster than a rabbit ducking into its hole. We walked downstairs and caught the end of Sitala Mataji's class. Just as I sat down my mind caught on a thought. I just induced Maha candan that was smeared on the spiritual body of Nrsimhadeva's arcavigraha, located in the holy land of Mayapur, the spiritual world. I chastised myself for not even attempting to fathom the inconceivable mercy I had been given and so now put a short thought into appreciating this wonderful Maha Prasadam. It seemed like, due to the observation of the potency of the Prasadam, I was blessed with the mercy intact within the Prasadam itself and my whole chest felt a warming sensation. Feeling this new spiritual energy surcharging my being, I turned to Sitala Mataji's class on Srivasa Thakura, which she filled with nectar pastimes all the way until the Deity greeting.
Today some devotees from Vrdnavana had arrived. Ganga Mata, our receptionist, handed me a package from Radha Mohana! Radha Mohana had been with us for the previous Polish tour. He had been there in the thick and thin of it all and we had all bonded in our spiritual seva. He was now back in the Holy Dham of Vrndavana, where he belonged, and was sending out the mercy by his own selflessness. I ripped open his package with great enthusiasm. There was a note with some instructions. "The dhoti is for Nila" it said (that was obvious) "and here is some maha Prasadam from Radha Syamasundara for you." There was small piece of broken jewellery from the Deities and I was so honoured to receive it. There was one more item in the package and I turned the note over to find some more instructions, saying "the shirt is yours."
I returned to the room to give Nila his dhoti. Nila was very gracious and quickly put it on, looking like a shining new Vaisnava. I unwrapped the shirt so I could have a closer look. It was an awesome face of Nrsimhadeva on the front and a Nrsimha yantra on the back, with mantras written in Sanskrit! I felt so fortunate, doing so little to receive so much. It was tribute to Radha Mohana's generous nature and the astonishing proof of the reciprocation for actually honouring Maha Prasadam from the Deity. I simply reminded myself that the candan I had consumed was Nrsimhadeva himself and now he had manifest to protect me. I was so enthusiastic by this shower of mercy that I decided I would embark on my first harinam in Poland, even though my physical energy might have otherwise not permitted such spontaneity. Now I was operating on spiritual energy. Naturally, to add to the amazing experience, I was given the opportunity to sing the prayer to Nrsimhadeva, on the bus trip, and I relished every word.
We unloaded into the festival site at Mrzezyno, Port Town. I was happy to soon find myself with a pair of karatalas. It wasn't long before they beckoned us up to the front of the harinam, just behind the dancing matajis. Sri Nama Vanamali and I were kicking out dance steps and holding a solid beat. The holy name slipped off our tongues like a constant flowing waterfall. The people responded enthusiastically but seemed a little cautious. I reminded myself that we had been doing harinam here, every year, for a long span of time now. Surely they knew who the Festiwal Indii was?
The lunch Prasadam came early and we quickly congregated for some Krsna katha. Our roommate and Prabhupada disciple, Kaliyapani Prabhu started the conversation. He talked about the dramas (this being his expertise) and we tried to follow along. He was asking if anyone had acquired proper stage training but we were unsure. I wished deep down that more young devotees would pursue such things so that we could utilize it in the effective spreading of Srila Prabhupada's movement. I know that Srila Prabhupada was very fond of dramas and I had seen for myself the effect of them on the people. We ended the conversation, again, talking about New Govardhana with Adikarta Prabhu. I was happy to talk with such senior devotees on aspects of the continuation of ISKCON.
I took Pulkit to the town to show him some of the national prestige of Poland. I made him purchase a Mleko (literally translates as: Milk, but also means Condensed Milk. In this case it was condensed milk in a toothpaste tube). Last year we had consumed too many of these to count but this year we were attempting to be detached, only finding opportunity to enjoy through the mouths of others. I let Pulkit go on his way, as he was going to meet Sri Nama Vanamali Krsna Dasa for a horse ride on the other side of town.
I was pretty slow on the desk. I made a lot of small errors at the start of the show and I just couldn't play the tracks on time. I was squinting with tired eyes and battling the battering winds on my back. Sankya group came up on the schedule and I pressed play. No one came onto the stage but one dancer came running, at full speed, crying out "this is the wrong track" over and over again. I checked my board and it seemed right. I looked again, due to their persistence, and found that I had misread the line. I corrected the track and played the proper one, named "Tillana". "No this is also the wrong track" she demanded. She began to push in front of me, covering my access to the mixer and tried to make sense of the computer. Braja was with us by now and he told her to calm down and let me do my job. I could understand her desperation but as soon as they gave me some distance I found the mental space to focus and solved the problem. We had four different traditional dancing groups and every single one of them have a track called "Tillana" and I simply made another mistake by playing the Tillana track of Sanatani & Sivanjali. I corrected the mistake, for the final time, and it all went on as usual.
I was now recognizing the cold winds as a distraction. The sleep deprivation, partially caused by my own neglect and partially caused by early adjustment to the tour. I couldn't nap at the sound desk but I came more prepared to deal with the wind. I wrapped myself with chada after chada until I became a big bundle of cloth. Even dressed like this, the winds were still slightly unbearable. Maharaja entered the tent. "Maddy you look like a Persian. Don't you have a normal jacket?" he asked. I took the subtle chastisement and decided I would bring my jacket the next day and renounce the multiple chadas that went with my traditional garb.
Dina Dayal played one of his new acts from the Le Carnaval Sprituel Tour in Australia. In Australia he had used Jhotish and Tulsi Manipuri but was now replacing them with HG Devaprastha Prabhu. The dynamics of the act had a different flavour from the original but it still managed to create another amazing Dina Dayal piece. I took a moment to recall our good friend Tulsi, who was off in Manipur, most likely practicing skills to improve his Ninja-Brahmana persona and for serving Srila Prabhupada. His association was missed on this year's tour.
We were having some complications with the tracks. Dominik was trying to remove his computer from our new seemingly flawless mixing system but, unfortunately for Dominik, every time he tried to take away his laptop, I was calling him back in need of it. Every time he would walk away there would be no track on the player or some other strange complication
The lecture came on, even though we didn't have a sound check organized for them. I shivered away in the cold as HH Indradyumna Swami laid out flawless philosophy for the people. I was trying to focus on his words of wisdom so I could deal with the pangs of temporary material misery in the guise of intense coastal winds of Mrzezyno.
The kirtana went on again like a whirlwind. After, we finished up and then the devotees raided the pancake tent, which was giving out freebies to the devotees. Tribuvanesvara Prabhu was talking onstage, as Dominik was testing Dina Dayal's sound sampler. There were faint sounds of punches and swords coming over the speakers and we laughed to ourselves about the little prank. We ran off to the bus, like children, forgetting that we were under the observation of all the senior Vaisnavas on tour (ie Prabhupada disciples). We contained ourselves, with difficulty, only to retain whatever remaining dignity that we had left.
We hopped on the bus in a busy push. We soon found that it was overpopulated and had to abandon ship. I bumped into my service charge from the samosa section and she told me that we were having a late shift tomorrow. I thanked her for the opportunity to rest and reset my body, and possibly sleep off a potential cold. It seemed Krsna was looking after me, only giving me what I could handle. On the way to the second bus, Radheya tripped and grazed his knee. It caused some mild commotion but, when everything died down, we found out that he was now missing his shoe. We looked on the floor of the bus for some time but had to submit that he must have lost it when he tripped.
At base, we turned lights out but were still talking away. We were making elaborate plans to rescue Radheya's lost sandal. Eventually we winded down and lay in our separate beds. I had an unbearable headache; I prayed like anything that I wasn't coming down with a cold but I was helplessly surrendered to Krsna's mercy now. Eventually, after a lot of tossing and turning, I fell asleep.
Thursday 8th, July 2010. HH Indradyumna Swami woke us up again. "Common boys, it's Mangala Arati time, rise and shine. Don't miss the nectar." I lost most of my planned sleep in but I was happy to be healthy, having a seriously good night's sleep. It seemed Krsna adjusted the material circumstances so I could come out ok. After Indradyumna Swami's petition, only two rose from their beds (Braja and I).
I had a little time before my service this morning so I took the opportunity to join the general populous for the short, morning japa session. I saw HH Indradyumna Swami, HG Adikarta Prabhu and HG Kaliyapani Prabhu leading the japa from the front of the Gymnasium. They looked like three spiritual generals, holding their army in rank, ready to lay down their lives for Krsna. Their intense japa was inspiring for the inattentive, offensive chanter like myself.
I went back to the room shortly at 8:00AM, experimented with samosas for an hour and a half and returned back to the room at 9:30AM. Pulkit left to the bathroom at 9:00AM and returned at 9:30AM to meet me. Pulkit had put his bag in the corner before he left and now it was gone! I also noticed some loose change was missing. Have we been robbed? I told Pulkit to check Sakhi Rai's room, in case one of the Aussie devotees moved it, before we made any accusations. I was about to inform HH Indradyumna Swami, hoping to catch the culprit before he made a thorough getaway. Maharaja was too busy to have a meeting with straight away and Pulkit was taking some time. Pulkit came back, with his bag in hand. "I found it in the Russian room downstairs!" he said. We were about to report the whole thing to Maharaja when Gaura Mohana spoke up. He had mixed the bags up and, filling Pulkit's bag with flyers, had taken it downstairs for the harinam party to take on harinam. If we hadn't have found it when we did then there would have either had a school lockdown or Pulkit's bad would have went on harinam, all day, and Pulkit would have been in total anxiety.
I published the first diary. I was still a little bit anxious, as I always am, if I would have the time and energy to produce another crazy adventure story. Surely Krsna would provide the material (or as I call it "the spiritual") but was I capable of maintaining it? I realize, in the end, that it's only due to Krsna's mercy - preserving what I have and compensating for what I lack - that I can even attempt to produce anything on these matters. It was merely by the desire of Krsna and the Vaisnavas that I have any opportunity to speak on such affairs.
We made our way to the front of the bus lines and I could feel the mood of yet another tour. I searched with Radheya for his lost shoe but to no avail. We had Prasadam in the sound tent, listening to the famous stories of Akbar and Birbal. After Prasadam, Radheya and I went hunting in the stores for some new sandals. Radheya wanted to quickly acquire footwear so he wouldn't miss anymore of the harinam, which he was so eager to participate in. Now that his souls were sufficiently intact he could enjoy the blissful, soul pleasing nectar of the congregational chanting in the perpetual, Polish kirtana party.
I arrived at the sound tent before the show. I played some warm up music, to help build the mood. I found a track on the player by Jai Utal and MC Yogi, the same track we used at the Parliament of World Religions in Australia. Indeed the track had become like our tour theme song and it seemed like it might pervade yet another tour here in Poland. As I played the track, reminiscing all our Aussie memories, heaps of the tour devotees came over to the tent and asked for the track name. Within no time it would be on every MP3 and Ipod on tour.
This time I brought my jacket, taking HH Indradyumna Swami's hint. I hoped to dress more for the occasion of chilly winds but something strange had happened; the weather had changed. It was now a beautiful and sunny day, with only a light sea breeze. My health and heart were happy with the change and it seemed that the wardrobe change wasn't going to come so much in handy just yet. The whole ordeal of wrangling winds reminded me a little of our Rathayatra in Antwerp, Belgium and the bone chilling winds that pervaded the wriggling roads there. It was only a couple weeks ago that I was in Belgium, on a totally different adventure.
All day we had been hearing complaints that the monitors were too quiet. I had cranked them to full volume but it didn't seem to help. Now Dominik was reporting that they were broken and hadn't even been on for the whole festival. This was happening every year and this time Dominik was promising that, some time soon, we would have some new speakers, to end all troubles.
HH Indradyumna Swami entered the tent. I felt a little uneasy, knowing that his watchful eyes were pervading my awkward movements. Indeed the first track I played didn't work. The Supersoul saved me, as I did some quick handwork, saving myself from a serious blunder. The propensity to make mistakes was not the best thing to take along with you to the sound desk in Poland. I took the opportunity to reassure Maharaja that our new system this year was the easiest and effective that I had experienced yet. It was user friendly and virtually glitch free. Maharaja barely seemed interested in what I had to say and showed more concern on why the light show wasn't going on this year. I reassured him that Dominik was planning some programming and hopefully we would have a new and improved light show in no time.
Dominik set up the lecture but, again, there was no signal? Dominik tried to switch it to one of the other channels and there was still nothing! He came running to the sound tent, just as Maharaja was edging towards the microphone. Dominik found that eight of the wires were not plugged into the back of the consol, something neglected at setup, and so he found the right wire just as HH Indradyumna Swami spoke his first words. It was a close call but it seemed that Krsna favoured us on this dispute. In the lecture, Maharaja mentioned that our three days in Mrzezyno were coming to an end. I felt like the time had passed so fast. Tomorrow we were off to Kolobrzeg, for yet another adventure.
[http://maddmonk.wordpress.com]
This is a talk given by H.H. Bhakti Charu Swami on 27 June 2010, Philadelphia, USA. Kindly provided by Candrasekhara Acharya Prabhu.
This is a recording of a talk given by H.H. Bhakti Charu Swami on 4 July 2010, Towaco, USA. Kindly provided by Candrasekhara Acharya Prabhu.
This is a recording of a SB Class given by H.H. Bhakti Charu Swami on 4 July 2010, Brooklyn, USA. Kindly provided by Candrasekhara Acharya Prabhu.
This is a recording of a talk given by H.H. Bhakti Charu Swami on 4 July 2010, New York, USA. Kindly provided by Candrasekhara Acharya Prabhu.
Why does Lord Siva chant on rudraksa beads as opposed to tulasi beads? Is there any difference between the two? And Vraja-kumara dasa asks: Some devotees say that Tulasi leaves can only be offered to installed Deities. Please could you clarify if grhastas can put Tulasi on their bhoga offered to Deities or pictures?
2 weeks of book distribution in winterly melbourne. i was finally able to visit my spiritual birthplace and catch up with my dear friend tirthapada prabhu who is now in saffron rendering a lot of service for the pleasure of sri sri radha valabha!
By Lakshman das
The significance of rathayatra reached the far corners of the globe now and especially where ISKCON temples are located ever since Srila Prabhupada organised the first rathayatra in San Francisco in 1967 as briefed below
Euro GBC Secretary: We would like to call nominations for the second ISKCON Europe Excellence Awards (IEEA) for the year 2009-2010. IEEA are meant to recognize the sincere devotees who have dedicated their lives to the mission of Srila Prabhupada in Europe. These awards are to encourage such exemplary devotees
Ortrun Gates: Please check out the latest Gita Nagari Newsletter by clicking on the link below. We hope to see many of you at the Gita Nagari Ratha Yatra on July 31st!
Candidasa dasa: I have created a proposal to create a new Question & Answer website for Hare Krishna devotees and need your help
Visvambhara Dasa: We have uploaded a website (http://www.syamart.com) of our art work and we would like to take an opportunity to invite all of you to visit us there
Pandava: Two devotees in Dallas Texas were part of making a hit movie. Sacisuta deals in first edition and collector books
For a person who has suitable shoes on his feet, there is no danger even when he walks on pebbles and thorns. For him, everything is auspicious. Similarly, for one who is always self-satisfied there is no distress; indeed, he feels happiness everywhere.
- Narada Muni
"According to a christian prayer evil is our false ego's tendency to be independent of Krsna" 2.

More Recent Articles
---
Click here to safely unsubscribe now from "Planet ISKCON" or change your subscription or subscribe

---
---
Unsubscribe from all current and future newsletters
powered by
FeedBlitz
---
Your requested content delivery powered by FeedBlitz, LLC, 9 Thoreau Way, Sudbury, MA 01776, USA. +1.978.776.9498
TABLA - FUENTES - FONTS
SOUV2
Balaram
ScaGoudy
FOLIO 4.2
Biblica Font

Disculpen las Molestias
Planet ISKCON - 2010
·
Planet ISKCON - 2011