PLANET ISKCON


Here are the latest updates for
class given on Saturday 21-8-2010
Sriamd Bhagavatam 11.23.12 - Glories of Srila Rupa Gosvami.
Please share your realisations with other devotees from around the world...simply send me an introduction email and I will be happy to make you a member:

rasa108@gmail.com

ys

Rasa Rasika dasa
The Preparation.

The festival.

The Personal Service
The feast
Check out the rest of the photos

Click here to see the Brisbane Temple web site
Here they are the Holy Couple riding the swing for their own personal pleasure at Mahaprabhu Mandir in Sydney Australia. These are the first Jhulan Yatra pictures I have seen this year. Let's see who's next. Have you posted yours? These hit Facebook last night.
You can see the devotees really enjoy the intimate and personal nature of this festival.
Here they are lining up and taking their own turn in personally serving their Lordships.
See the rest on Facebook

Check out the web site for Mahaprabhu Mandir here
Share this story your way:
I recovered from the condition and managed to chant 13 rounds. My rounds were decent also, as I paid attention with out undue distractions. I know how impor­tant it is to cling to the holy name, and even in a dilapidated condition I was able to do so.
From
Bhajan Kutir #46
You are correct in thinking that simply by this full-time preaching activity all other problems will be solved very easily in the matter of financial and other problems. What is that financial security? Real security is only there at the Lotus Feet of Krishna, and Krishna is most pleased of all upon His devotee who is always preaching His message.
>>> Ref. VedaBase => Letter to: Amarendra -- Los Angeles 12 June, 1972
The Vegan Mini-Series concludes.
Yet more Raw Pride...
www.sdgonline.org.
2:59 A.M.
From Namamrta by A.C. Bhaktivedanta Swami Prabhupada:
"By hearing the transcendental vibration of the maha-mantra, a sincere person can make spiritual advancement:
"[Lord Krishna to Arjuna]:
Again there are those who, although not conversant in spiritual knowledge, begin to worship the Supreme Person upon hearing about Him from others. Because of their tendency to hear from authorities, they also transcend the path of birth and death.
"This verse is particularly applicable to modern society because in modern society there is practically no education in spiritual matters. Some of the people may appear to be atheistic or agnostic or philosophical, but actually there is no knowledge of philosophy. As for the common man, if he is a good soul, then there is a chance for advancement by hearing. This hearing process is very important. Lord Caitanya, who preached Krishna consciousness in the modern world, gave great stress to hearing because if the common man simply hears from authoritative sources, he can progress, especially, according to Lord Caitanya, if he hears the transcendental vibration Hare Krishna, Hare Krishna, Krishna Krishna, Hare Hare/ Hare Rama, Hare Rama, Rama Rama, Hare Hare. It is stated, therefore, that all men should take advantage of hearing from realized souls and gradually become able to understand everything. The worship of the Supreme Lord will then undoubtedly take place. Lord Caitanya has said that in this age no one needs to change his position, but one should give up the endeavor to understand the Absolute Truth by speculative reasoning. One should learn to become the servant of those who are in knowledge of the Supreme Lord. If one is fortunate enough to take shelter of a pure devotee, hear from him about self-realization and follow in his footsteps, he will be gradually elevated to the position of a pure devotee. In this verse particularly the process of hearing is strongly recommended, and this is very appropriate. Although the common man is often not as capable as so-called philosophers, faithful hearing from an authoritative person will help one transcend this material existence and go back to home, back to Godhead. (Bhagavad-gita As It Is, 13.26)
This purport particularly reminds me of the early days of my coming to Krishna consciousness in the summer of 1966. Hearing was the most important thing. Although we had the three volumes of Srimad Bhagavatam, we did not do a systematic study of them. The important thing was hearing Prabhupada's systematic treatment of Bhagavad-gita in his lectures. And hearing him speak in his room. Three nights a week he would lead us in kirtana of the holy name, and every morning he would lead us in a round of chanting japa. We were the "common men" that Prabhupada refers to in this verse and purport. We did not have the philosophical education, but we had a submissiveness to Prabhupada and good intentions.
Last night I had a good night's sleep and woke up at a quarter after 1:00 A.M. I felt wide awake and had no headache pain, but in the beginning my hearing process was mechanical. I was not hearing with the "inner ear." It was mechanical without deep attention. I was spaced out. But gradually I began to attain a better state. The pace of my chanting was very good, and I have chanted all 16 rounds. Even when I was spaced out I heard the syllables in my mind, and then I heard them better and better. The more you chant, the better you hear, and so it is good to accumulate numerical strength. It is like warming up in physical exercise. You get better as you go along. By the time I finished my 16 rounds, I was paying keen attention to the mantras and starting to reach higher levels. I was treating Nama Prabhu with respect. And so hearing from the authorities is the most important thing for unqualified people in this age, and I can testify to this by my own practice. I have been fortunate enough to take shelter of a pure devotee, and if I continue to follow in his footsteps I will gradually be elevated. One has to hear with faith and concentration.
The more you chant the
better it gets. You clear
away inattention and
start to hear with the
"inner ear." Your mind
calms down, stops spacing
out and fixes on the name
like strongly-bonded glue.
When you are wide awake
and pain-free, this adds
to the good performance
and you start to understand
that Namni is more
merciful than the Lord Himself.
You enter the sacred space.
www.sdgonline.org.
Prabhupada Smaranam

Prabhupada without me – is it possible?
He walked up the hill in Moscow, yet he wrote
me a letter about it, said selling Back to Godhead was
more important than than our Boston incense business.
Prabhupada with Hari Sauri, traveling, India, America,
1975 and '76. I was not there, except in
brief moments on the outskirts.
But now I read the Diary and I can join him.
Prabhupada is without me in his nitya-lila.
No, that doesn't sound right; he doesn't forget us.
He has left behind the boat so we can cross
and join him. He simultaneously exists
in both worlds,
wherever his sincere devotees practice.
I can go with him and think of him,
get more information on what he is doing;
it depends on my desire. Let me meditate on my
spiritual master who is always in blissful Krishna
consciousness…
don't get left behind.
Ask yourself: "Me without Prabhupada?"
It's your choice. Don't be so foolish.
Stay with your teacher
in the capacity of his student, trusting him
and growing up to do some work for him.
Total commitment,
don't be without your master.
www.sdgonline.org.
1.
This one requires some prior explanation.
My editor turned against me. He said,
"Your writing used to be desperate, near
hopeless, but you would always pull through
with prayers and cries to God, giving the readers courage. Now, however, that spirit has waned
and you seem defeated. You don't even cry
out, you just tell of what you do every day—
feed the cat, go for a walk, get headaches—
where is the spiritual cry? Some didn't agree
and said I was still good, except a little more
self-assertive, and that was fine.
I said, "I dunno. I believe that if people
think the writing is terrific, regardless of
the subject, they will say,
"That was done by a Hare Krishna person,"
and the Lord will get all the credit.
2.
Here's the poem from the book:
"Hey man, dark clouds could blow away quick
in Ireland, anyplace, Italy,
is good, anywhere is Vrndavana if you're a pure devotee.
You need some tapas. I don't
have much here except my mission.
If I hurt you, just tell me and
I'll communicate or not.
"Oh, he sounds so nice.
Put stuff in his letter
like 'I'm going to the dentist, I'm getting two cats,
and a room for painting.'"
I read your statement on nurturing
and therapy and they jeered.
Thanks for the prayers. I appreciate you're not mean, like so-and-so.
You call that a letter or a come-on or a put-on?
"I gotta twelve children, six are gone into your automatic beds!" Groucho:
"How much do you earn a week?"
Fat Man: "$25."
Groucho:
"How can you afford twelve kids at $25 a week?"
The dope goes back to his wife (she's twice his size) and says, "The man says I can only afford six children."
She belts him in the mouth
and throws herself down on a bed
wailing out the names
of the "missing" children.
Fiorello! Maria! Etc.
They turn on the machine
and the kids come out
from the automatic bed.
Fat ginzo:"Are you makin' funna my accent?"
Chico: "No, I'm Italian too, from Naples!"
A Hare Krishna did this.
3.
The first lines are mental exchanges
with my editor. Then I go into a
routine from a Marx Brothers movie.
I tell straight through with a wop
exchange between Chico, Groucho
and an Italian family of twelve children
that takes place in a department store.
It's the best in all the Marx Brothers movies.
The brothers put the
12 children in
some automatic bed and
they all disappear.
The family's all distressed,
and the brothers joke it
through until they return
the 12 kids. It's hilarious,
although not Krishna conscious.
But the clincher is at
the end: "A Hare Krishna did this."
It's high old-time comedy
as presented by a devotee.
The audience is rolling
in the aisles. "Who
did this?" they want to
know and the secret
comes out: it was
one of the Krishna people.
So they're happy with
Krishna, and the writing
is not waning. Now
if you don't like the
Marx Brothers, that's
a different thing, and I'm
sorry for you.
"A Night at the Opera"
is the best.
www.sdgonline.org.
Free Write
The Caitanya Bhagavata announces the advent of Lord Caitanya in ecstatic language—"The people were wild with bliss." He appeared on a full moon night when there was a total eclipse. Because of the moon's eclipse, all the people of Navadvipa were chanting "Haribol!" and "Hari!" Even those who never chanted. In this way, Lord Caitanya made a trick to inaugurate the sankirtana movement simultaneous to His birth. He was so beautiful that the demigods and their wives took human births to visit Jagannatha Misra's house and see the baby and offer their blessings. His horoscope revealed that He was as good as Narayana.
Free write: I never saw any of the "Star Wars" movies. Did I miss anything? I don't think so. I was busy serving in the sankirtana movement. Don't know all the popular songs of the generation or who won the World Series. Some call the devotees escapists and dropouts, but we were busy with the progress and upheavals of the Hare Krishna movement. Busy with maintaining temples and distributing books and dealing with schisms and the struggle to maintain personal sadhana and follow the four rules, visiting India, attending managerial meetings, giving lectures, writing books. Divorced from the currents of the worldly ways. A minority trying to save the planet from its sinful activities and pending karma. Convinced of a truth most people ignored. Seen as an extreme cult. We worked hard serving our guru as our means of serving society and country. We tried to convince people that the peace formula is to recognize that everything belongs to Krishna. A person attains peace by accepting Krishna as the proprietor of all planets, the object of all sacrifices, and everyone's well-wishing friend. We distributed the transcendental knowledge of Bhagavad-gita, which gives the answers to all life's crucial questions. Knowledge of the soul and transmigration and the Supreme soul. We were busy serving the principles of Bhagavad-gita, Krishna consciousness. In this Age of Quarrel, the best and easiest method of God consciousness is to chant the holy names of God. We were occupied with that.
I'm having an exciting and satisfying correspondence with my old poet friend, Steve Kowit, from Brooklyn College and Lower East Side days. We are in touch again after ten years. We're going to exchange books in the mail. I told him in a previous letter that I'm satisfied to write for a Krishna-devotee audience, as did the great Vaisnava poets in the past. Steve had previously referred to my poetry as "fatally parochial." He just wrote me, "It's interesting that you don't want to reach a more general audience. If only for the purpose of teaching the general public about Krishna consciousness, or giving them some insight into that practice and belief system. I think of Gerard Manley Hopkins, a Catholic priest who managed to become a widely-admired poet. I like Mary Oliver's poetry better when she's not explicitly discussing her faith (she's a Unitarian), and it seems more universally religious—religious in that real sense, when she doesn't mention Christ, etc. She's usually very circumspect, but one book just after her mate died was a bit more 'Christian' than was good for the poetry." Sure, I'd like to be more widely read, but not at the cost of taking Krishna out of the writing. I feel I have to bear the burden of theism. Radhanatha Swami is reaching a wider audience with his "The Journey Home," but he's doing it on the strength of his incredible true life story, which is so compelling. Although I write in a colloquial voice, I feel I must follow in the footsteps of the Goswamis, Narotthama dasa Thakura, etc., and outwardly glorify Radha and Krishna. I don't know another "religious" sense, nor do I wish to learn one. I'll continue to try to reach the audience of those who like to hear of a person aspiring to be Krishna conscious. But in order to do so I think my voice is improved by reading contemporary poets.
1968 August 21: "There are so many cheap gurus and cheap disciples, without any substantial knowledge, manufacturing new sampradayas, with all service activities stopped, and all spiritual progress choked up. Don't be allured by cheap disciples."
Prabhupada Letters :: 1968
1968 August 21: "The first thing, I warn you, do not try to initiate. You are not in a proper position now to initiate anyone. Don't be allured by such maya. I am training you all but do not be in a hurry."
Prabhupada Letters :: 1968
1969 August 21: "I see the acharya shall be entitled to nominate in writing his successive acharya. But we do not find any record where our Srila Prabhupada nominated any acharya after Him. Different persons have interpreted on this point, and now every one of our Godbrothers are acting as acharya."
Prabhupada Letters :: 1969
1970 August 21: "You are now elected as one of the Commissioners of the GBC, so you have got great responsibility. In the disciplic succession of Lord Caitanya, if we simply abide by the order of the Acarya in disciplic succession, then things are made very easy."
Prabhupada Letters :: 1970
1971 August 21: "If the higher section says yes, it is a nice movement, we will progress very quickly. It takes a little time to convince the higher section of society. Still, that is our business because unless the higher section understands this movement, we will make progress slowly."
Prabhupada Letters :: 1971
1975 August 21: "No, remarriage should be always discouraged. Remarriage means encouraging sense gratification. Our mission is to curtail sense gratification. Three times marrying in a year, this is not good, and they are doing this."
Prabhupada Letters :: 1975
1975 August 21: "No, the large Deity can never be moved, not at all. Why are you selling the present building? Why are you changing it? We are not businessmen that we sell for profit and then move the Deity."
Prabhupada Letters :: 1975
1975 August 21: "You do not know this? One of the GBC articles says it. Big GBC man and it is not detected? You are all mudhas, what can I do? Anyway it is better to remain a mudha before your Spiritual Master."
Prabhupada Letters :: 1975
1965 August 20:
"The ship is stranded on the Arabian Sea about four miles from the coast. On account of Janmastami day I spoke for an hour on the philosophy and teachings of Lord Sri Krishna. All the officers attended and there was distribution of Prasadam."
Jaladuta Journal :: 1965
1970 August 20: "We have to push forward this philosophy throughout the whole world. There are so many ideas put forth by so many philosophers but all of them are considered as illusion or zeros if there is no Krsna Consciousness."
Prabhupada Letters :: 1970
1971 August 20: "The majority vote and my opinion should be taken. When the majority opinion is present, my opinion will be yes or no. In most cases it will be yes - unless it is grievously against our principles."
Prabhupada Letters :: 1971
1971 August 20: "I have seen your financial statement, the same thing is going on since the beginning. Collection is Rs 21,000/ but deposit Rs 15,000/. Therefore Rs 6,000/ was eaten up. If 25% of the collection is spent up in this way how things can be managed?"
Prabhupada Letters :: 1971
1971 August 20: "In his last letter he has informed me that he was sick but since then I have not heard from him. How is he? I am anxious to know. His health should be taken good care of. He is an important worker and a good soul."
Prabhupada Letters :: 1971
1974 August 20: "In teaching the children, you should refer very carefully to my books. You must teach by your personal example and automatically they will do as you are doing. Then they will become strong Vaisnavas."
Prabhupada Letters :: 1974
1974 August 20: "Chanting offenselessly is the remedy for all of these diseases. Therefore I have established that the duty of each Temple President and the duty of each GBC is to see that each devotee may be spiritually fit."
Prabhupada Letters :: 1974
1974 August 20: "This is preaching. This is your real success - to convince the local men to become Krishna Conscious. I went to your country alone. No one helped me but I was able to convince you. Now you convince others. This is Krishna Consciousness."
Prabhupada Letters :: 1974
Watch the 12 Hour Kirtan from NYC live right now!
It's the auspicious event of the Supreme Personality of Godhead's transcendental appearance on Thursday 2nd of September (Sri Krishna Janmastami) and the Appearance of the foremost preacher of Krishna Consciousness, His Divine Grace, A.C. Bhaktivedanta Swami Prabhupada (Sri Vyasa-puja) on the very next day Friday 3rd of September.
This is the most fortunate opportunity to glorify the Lord and His pure devotee, receiving His limitless blessings by chanting and hearing of His glorious qualities and pastimes.
Everyone is cordially invited to attend the functions at Sri Sri Radha Gokulananda's home in the Hunter Valley – New Gokula farm.
There will be Aratis, Kirtan and Prasadam throughout the day on Thursday for Janmastami with a full evening program of worship, Bhajans, Abhishek bathing ceremony and narrations of the pastimes of Krishna.
Evening festivities begin at 6pm and roll on til the midnight candlelight arati, followed by the sumptuous Janmastami feast.
We are eagerly anticipating your company in commemorating the most important event in the universe. Please come for a darshan or for the entire evening of ecstatic chanting.
Presents can be offered to Their Lordships in the form of decorative jewellery, offerings of grains, ghee, sugar, spices, incense, scented oils, kitchen utensils, donations, flowering plants, fruit trees or any other items useful for the Lord's service.
There will be a morning program from 10.30 am on Friday for Sri Vyasa-puja (worship of Srila Prabhupada) ending at 1pm with a wonderful prasadam feast.
It's Festival season. Tuesday the 24th of August is the Appearance celebration of Lord Sri Balarama, which will be celebrated at New Gokula temple from 6pm through to 8 pm. Please come along and hear about The Lord's wonderful qualities and pastimes and honour the favourite prasadam of Lord Baladev – Varuni juice and Gulab Jamuns!
Have a look at the New Gokula Farm web site to stay up to date
Share this story your way: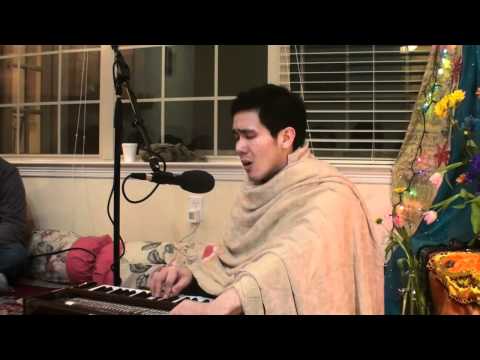 Hari das singing the bhajan Gaura Hari Bol.
Dallas, TX
2010-01-09 
Download:
2010-01-09 - 2 - Home Program - Hari das - Gaura Hari Bol.mp3
Why is it so that you Gaudiya Vasihnavas never do pranayama as an immportant practise? It is said that the anna maya kosha and prana maya kosha are easier to see than the mind, so the first thing we should do is pranayama, and after that we can go more into the mind and chant Hare Krishna. Is that true?
…on Tuesday 24th August, 2010. Sydney, Sri Sri Radha Gopinatha Mandir.
Vaishnavas celebrate the full moon day of Shravan month (August-September) as the appearance day of Lord Balarama. It falls exactly eight days before the appearance of Lord Sri Krishna.
Sri Balarama Jayanti is celebrated as a mark of advent of Balarama who is the elder brother of the Supreme Lord Sri Krishna. Balarama was the seventh child of Vasudeva and Devaki who were confined to prison by the evil king Kamsa. Kamsa killed six children of Devaki and the seventh child was transferred miraculously from Devaki's womb to the womb of Rohini, who desired a child of her own. Balarama is also called as Sankarsana which describes the transfer of the child from one womb to another. The child was named Rama, but because of the child's strength he was called Balarama (Strong Rama), Baladeva or Balabhadra.
Balarama spent his childhood as a cowherd boy with his brother Krishna and friends. He killed several demons like Dhenakasura. Balarama's chief weapon is ploughshare (hal). He is also called as 'Haldhari'. He is also considered as the Lord of agriculture. Balarama likes honey very much, and on the festival day a special beverage called Varuni is made from milk and honey.
Please join us in celebrating the special occasion of Balarama Jayanti: The Divine Appearance of Lord Balarama at Sri Sri Radha Gopinatha Mandir, in Sydney, on Tuesday 24th August, 2010. (fast till noon)
The festival starts from 6pm. This is also the last day of Jhulan Yatra.
See the Newsletter for more details
Here's a map to the front door
Tuesday 24th August 2010
Share this story your way:
New – Aindra Prabhu Kirtan – I Lost my heart in Aindra Kirtans 3

More Recent Articles
---
Click here to safely unsubscribe now from "Planet ISKCON" or change your subscription or subscribe

---
---
Unsubscribe from all current and future newsletters
powered by
FeedBlitz
---
Your requested content delivery powered by FeedBlitz, LLC, 9 Thoreau Way, Sudbury, MA 01776, USA. +1.978.776.9498
TABLA - FUENTES - FONTS
SOUV2
Balaram
ScaGoudy
FOLIO 4.2
Biblica Font

Disculpen las Molestias
Planet ISKCON - 2010
·
Planet ISKCON - 2011