PLANET ISKCON


Here are the latest updates for
Mmmm. These were good! Wouldn't it be nice if I had a proper recipe for you? Sure it would, but that isn't going to happen. I made these on the fly since I had an over ripe Georgia peach sitting on my table and a few ounces of cream cheese resting in my fridge.
The dough. 'Twas 2-3 cups of organic white flour, approx. 2 tablespoons of softened butter and about a cup and a half of water. Mix mix mix and rest.
The filling. Possibly 6 ounces of cream cheese. About 1/4 cup of sugar. A wallop of arrowroot powder. Mix mix mix. One peach, chopped.
Dough was kneaded into a thick rope and cut into fours. Squash a four, roll into a disc, a few tablespoons cream cheese in the center, water around the edges and peach on top of the cream and pleat.
Into the oven, bake about 15 minutes somewhere between 375 and 400. Remove, cool, sprinkle with pixie dust and enjoy!
The Babu and I celebrated 9 years of legal marriage on the 15th!
I thought our anniversary was on a Monday and had a whole breakfast feast planned.
And then my mother called on Sunday afternoon to wish us a happy anniversary.
I was a day off.
So, I nixed the idea of serving the Babu leftovers for dinner and got cracking in the kitchen. Remember how I had to make pakoras without chickpea (besan) flour? Well, there I was, working on pasta with no semolina flour.
I felt really dumb. And stupid. And dumb for being that person who doesn't know what day of the week it is. So, without much thinking or planning, I just started prepping. That doesn't always work out very well for me but on this day, the clouds were raining and that suited me just fine!
It's been a week since we returned from our ambitious trip north. We visited friends and fam, including my husband's 98 year old grandmother. She's doing well and my husband will probably live a very long life, but let me tell you, I don't envy those genes. Ninety-eight is
old
, if you know what I mean.
The trip was hard for many reasons, some being that my kids just were sick of being cooped up in the car and, well, I am pregnant and the car was not very fun for me either. Poor poor husband! A huge hardship for me (oh, the drama!) was not being able to get a hot meal when I wanted/needed it. Road trips usually mean lots of snackity snacks but I just want to eat real meals.
So, when we got home in the afternoon, I headed straight to the kitchen. Well, first to the store to buy milk, then to the kitchen. Would have been better if I took some inventory before cooking, since I was missing a few key ingredients (besan), but I subbed and improvised and fried so really, no harm done.
The next day I buckled down and got into full on pregnant woman nesting mode. Everyone got their beds made with Rahu Brown new bedding, garbage bags were filled with cast offs for the thrift shop and the whole place got turned upside down. Unfortunately, I ran out of energy a few days into the project, so the house is still a mess and I am trying to save up energy to get this place together before this new baby comes out. Thankfully, I have about 5 more months to pull that off.
Up north some really nice friends loaded me up with baby hand-me-downs. Thank you, Lavanga, Seva Priya and Kadamba! I had a great time sorting baby clothes and folding the cottony cuteness for new baby! Also, I raided my mother-in-law's attic, where Mm's and Vm's baby stuff was stashed. Ahhh, looking through their clothes from the first few years of their life really was nostalgic and tear jerking for me. All I can say is baby Bindu is going to look adorable reusing her sister and brothers togs.
I have a few more posts worth of pics to upload. I am hesitant to do so because, truthfully, I am boring even myself. But just out of habit to keep me active and interacting, I am keeping up with this blog. Just forgive me if I kind of suck at the interacting part. Not feeling very energetic or social these pregnant hot Florida days. *Yawn*
New Gokula Farm
The devotees at New Gokula Farm will be celebrating the auspicious events of Shri Balaram Jayanti on Tuesday August 24th, Shri Krishna Janmastami on Thursday September 2nd and Shri Radhastami on Wednesday September 15th. Please come along to these events and get the blessings of Shri Shri Radha Gokulananda by chanting in the association of devotees.
Click here to find out more at the web site
Share this story your way:

Jhulan-Yatra
Sri Sri Radha-Gopinatha's Swing Festival
Friday 20th August to Tuesday 24th August 2010
Jhulan Yatra is a special festival where everyone gets to participate directly in serving in one of the eternal pastimes that Sri Sri Radha-Krishna and Their associates perform daily in Goloka Vrindavana. As recommended by Parasara Muni, in the Parasara Samhita, one should observe this festival every day, or at least from the day of Ekadasi to Balaram purnima. Radha and Krishna are offered the use of a swing for their personal pleasure in temples all over the world. This Jhulan festival gives everyone the very rare opportunity of serving Their Lordships personally, after the 7 o'clock arati each evening, by swinging Them gently. So get yourself down to the temple for the 7 o'clock arati on any night from the 20th to the 24th of August.
Jhulan is a wonderful event, with the swings in temples often highly decorated with forest creepers, jasmine and other flowers. There are streamers and garlands and other decorations. Sometimes they use a fine spray of rose water and direct it toward the Divine couple of Radha and Krishna on Their swing. In this way everyone is observing Jhulana-yatra and remembering the sweet pastimes of the Divine couple Sri Sri Radha and Krishna.
Today in Iskcon temples all over the world, by the mercy of his Divine Grace Srila A.C. Bhaktivedanta Swami Prabhupada, all the devotees get the opportunity to come forward and, after purifying their hands assist in the direct personal service of their Lordships.
On the last day of the Jhulan, on the Purnima (full moon) is Lord Balaram's appearance day festival.
Jhulan Yatra one of the most popular events in the holy town of Vrindavan, India – where Lord Krishna appeared 5,000 years ago. In Vrindavan, among the local villagers and inhabitants, this festival lasts for 13 days. In This is one of the biggest festivals of the year and Vrindavana is very crowded at this time, literally hundreds of thousands of people from surrounding towns and villages visit during this period in the auspicious sacred month of Shravana (July-Aug). Opulence or simplicity, everything is used in Vrindavan for the service of the Divine couple, so during this time you may see swings made simply, out of love, but often the swings are made of gold or silver.
Click here to keep up to date with the Sydney Temple program.
Share this story your way:
Hello Blog-groupies! Yes, I am back from the blog-dead. And this is not a recycled-entry!
Things have been crazy-busy at Kurma Central, and a little weird. Anyway...Yesterday I googled myself. Admit it, you've all tried it. I did, and after sifting through some of the 226,000 entries, I struck edible gold.
Notwithstanding all the risque and self-indulgent bovine imagery, and the fact that my recipe has been improved, this is an interesting little website/blog entry, and worth a look.
There are a few entries actually, all loosely collected under the banner of raw-food/vegan dips. Although I am not a raw-food sorta guy, nor a vegan, a good number of my recipes do fit this description.
"What on earth are you rambling about", you snort?
Here, stop grunting, read this.
Bliss in Krishna consciousness comes in various forms and through various means. We are usually accustomed to experiencing bliss only in a particular way. You could be that kind of devotee who 'feels' it - that ecstasy, that pure joy, the feeling that your soul is completely drenched in satisfaction of being connected to Krishna only by book distribution, waking up early to chant rounds, an ecstatic dancing kirtan, a meditative absorbing kirtan, dressing deities, doing an arati, being involved in management during a huge festival etc etc - or a mixture of any of the above.

Being an addict to this soul-satisfying ecstasy, joy, bliss - we often tend to get attached to only that particular service which gives us this bliss. And then, like opening our eyes to a new dimension, Krishna somehow throws us into something else. According to our level of maturity, we experience the bliss slowly or immediately. But when our stubborn mind releases its claws on old attachments - oh krishna, we realize the actual meaning of the term 'ever-increasing' bliss. It is a new dimension of joy in KC. "Bliss in KC is ever-increasing".

Today, I experienced a new dimension of pleasure and satisfaction in Krishna consciousness. I did not get my usual 'high' from being absorbed in Kirtan. Nor did I realize some brilliant philosophical angle by listening to a Maharaj or senior devotee. I was not remotely connected with doing anything for the deities. I did not dance ecstatically in a super crazy kirtan. I did not make garlands.

I served the Vaishnavas.

....my soul is super-drenched in satisfaction and bliss right now. :) Thank you everyone for accepting our invitation, coming home and giving us an opportunity to experience this bliss.
in Zürich 27.04.2010.

ONLINE
http://kadamba.net/akruraprabhu.html
or
http://vimeo.com/13768473

VIDEO DOWNLOAD
http://kadamba.net/akruradas.mp4

AUDIO DOWNLOAD
http://kadamba.net/akruradas.mp3
Prabhupada: Material life means sex pleasure. You told me you were in Mexico, in the street they are having sex? Brahmananda: They have it with..., you mean with the asses? Prabhupada: Public street. Because they do not know except sex, they think this kind of sex is very nice. Punah punas carvita-carvananam: [SB 7.5.30] chewing the chewed. Brahmananda: They're not satisfied with sex with a man, so they have it with an ass. Prabhupada: Their center is sex -- this sex or that sex or that sex, even ordinarily. In Paris, Paris you know it is a city of prostitutes. On the roads there are prostitutes. Where we have got our temple, so many prostitutes are standing. And those who are prostitute-hunter, they go to Paris. From our childhood I know about one family physician. We are at that time boy, 8 or 10 years old. He was talking with his another Muhammadan friend how he toured many countries and how many different types of prostitutes he tasted. This was his talk. So he was talking of Paris, "Though you are boy...," this we could understand." This is the talk. Old men, retired men, they will also talk of the sex (indistinct), and they will enjoy. Now they could not enjoy sex, but by talking... And we have practically seen when we were young, our grandmother-in-law, my mother-in-law's mother, old lady, she would talk freely about sex. She will ask me, "You capture the breast of your wife." She would make a pun and enjoy. "You do like that, you do like that." She teaches like that. We were... I was twenty, twenty-three years, so I was just married, but she will enjoy sex. She had other grandchildren. My father-in-law were two brothers. So my father-in-law, he was younger brother, and his elder brother, her daughter also the same age, she would enjoy (indistinct) son-in-law. Brahmananda: (indistinct) Prabhupada: (indistinct) So Akbar (indistinct) asked Birbal, "What is your idea of sex life? How long it continues?" He answered, "Up to the point of death." "No, no. I don't believe it." "All right." So one day all of a sudden Birbal came to Akbar (indistinct) house, "Sir, you have to go with me immediately with your youngest daughter." So Akbar (indistinct)'s daughter, king's daughter, very (indistinct). So the father and the daughter and Birbal went to see one dying man. The man was dying, and he asked, Birbal (indistinct) that "You simply see his face." So when he was entering, that man was looking to that young girl, not the Akbar (indistinct). He was looking over that young girl. Both of them were intelligent. Then Akbar (indistinct) said, "Yes." And our sastra says yan maithunadi-grhamedhi-sukham hi tuccham [SB 7.9.45]. What is the happiness of the grhastha life? Grhastha is different, grhamedhi. There are two words. Grhastha means living husband and wife together, but the aim is Krsna consciousness. And grhamedhi means he has no Krsna consciousness; therefore his life is sex. That is the difference. Therefore, this word is used, grhamedhi. Yan maithunadi. What is the standard of happiness? Maithu, sex, that's all. Yan maithunadi. All these grhasthas, you will find they are accumulating money, they are enjoying sex life, then daughter's sex life, son's sex life, grandson's sex life. They are busy. Especially in India you will find, they spend thousands lakhs of rupees for son's and daughter's and grandson's sex life. Is it not? That is their happiness. "I am enjoying sex life." Just like my grandmother-in-law. She is concentrating on sex life. She was old, she had no opportunity. Let grandson-in-law, granddaughter. One who is impotent, he wants to see others enjoying sex life. You know this? He enjoys. He cannot do it. There are many persons, he is impotent, so he brings another man to his wife, then he watches. You know this? This is going on. Sex. They will see the dog's sex life, very (indistinct), how he is enjoying. Cow's sex life. Dog is having sex, and there will be crowd. This is the basic principle of material life: sex. In this way, prostitution, this way, that way, that way, that way, this is the only point. There is no other aim. Yan maithunadi-grhamedhi-sukham hi tuccham [SB 7.9.45]. And this kind of happiness is most abominable. Most abominable. But that is the center of life. Is it not? Yan maithunadi-grhamedhi-sukham hi tuccham. Most abominable part of the body for passing urine, obnoxious smell, but that is the point of life. How much degraded this material life. Yan maithunadi-grhamedhi-sukham. The sastra has picked up most abominable thing: that is the point of pleasure. Yan maithunadi. Maithunadi, either he himself, or for his son, for his grandson, for his great-grandson, the family. Very aristocratic. So if we study analytically, we can understand that how much we are in illusion. ...This most abominable thing, we are taking it is the center of happiness. Now you enjoy sex as human being, next as dog, next as monkey, next as flies, next as this, next as that. The center is sex, but you have to change according to your mental condition at the time of death in different body. That is not eternal. Bhutva bhutva praliyate [Bg. 8.19]. You accept one type of body, enjoy sex according to that body, then you can accept another body. Sex life is there. As human being, sex life; and as a dog, there is sex life; as a fly, sex life. Fly also enjoys sex life. You have seen? Brahmananda: Yes, in (indistinct). Prabhupada: The center is sex. The birds. Brahmananda: The birds are also. Prabhupada: Everyone. yad-avadhi mama cetah krsna-padaravinde nava-nava-rasa-dhamany (udyatam) rantum asit tad-avadhi bata nari-sangame smaryamane bhavati mukha-vikarah susthu nisthivanam ca Yamunacarya, he was a great king. So his.... As king, his life was sex. But when he became a devotee, he admits, yad-avadhi mama cetah krsna-padaravinde: "Since I have learned how to enjoy association with the lotus feet of Krsna and I get more and more eternal transcendental bliss, since that time," bata nari-sangame smaryamane, "even if I think of sex life with woman," bhavati mukha-vikarah, mukha-vikarah, "I taste that (indistinct)," susthu nisthivanam, (makes spitting sound). This is Krsna consciousness. When the mind will be fixed up, (spitting sound), these things, then you enter Krsna's (indistinct). Otherwise, it is mixed up. You have to purify. When this attitude, we (spitting noise) -- "What is this?" -- then Krsna consciousness is beginning. This is the proof, Yamunacarya. Tadavadhi bata nari-sangame smaryamane. So not actually doing, simply by thinking, "Oh, I was doing this. (spitting noise). What I was?" this is liberation. Even if I think mentally, that means I will have to take birth again. Again and again. This is the criteria. They think mentally. They read so many novels, fiction. The same thing -- the sex life. And these ordinary men, they read Bhagavata, hear Bhagavata, rasa-lila. They think, "Here is the same thing. Krsna and the gopis do like this, the same thing. So why not hear this?" But actually, sastra says if one hears rasa-lila, then that lusty desires will be finished. vikriditam idam ca visnoh vraja-vadhubhir sraddhanvito 'nusrnuyad atha varnayed yah bhaktim param (bhagavati) pratilabhya kamam hrd-rogam asv apahinoty acirena dhirah That is the result. If one actually hears from the right source (indistinct), then this lusty desire of sex life will be finished. No more. Hrd-rogam kamam apahinoty acirena dhirah. Sober. But these people, they are hearing life after life by the sex concentration, making offense that Krsna is also doing the same thing. They publish book. One rascal, Bhattacarya(?), has published. In Paris we saw. Devotee (2): The Myth of Krsna? Prabhupada: Yes. Rascal, sex life. Radharani naked, he has given the first picture, and that is published by the United Nations. Gurudasa: The United Nations is also encouraging sex. Prabhupada: They do not know except this thing, anyone. Anyone. They have no other desire. That without sex life there can be higher transcendental, eternal pleasure, they do not know it. Whole world, whole universe, whole material creation is centered around that. It is the pivot. That I have already explained. Yan maithunadi-grhamedhi-sukham hi tuccham [SB 7.9.45]. That is there. They do not know anything else. Brahmananda: That was one of your first instructions to me when I came to see you. I was telling you about a professor, one of my professors who saw that all literature, all culture, all poetry, everything was simply motivated by sex life, and you said that he was right. I thought he was wrong, but you said no, he was right, and you explained about the same point. Prabhupäda: Therefore the Freud's philosophy is centered around sex.
>>> Ref. VedaBase => Room Conversations -- September 11, 1974, Vrndavana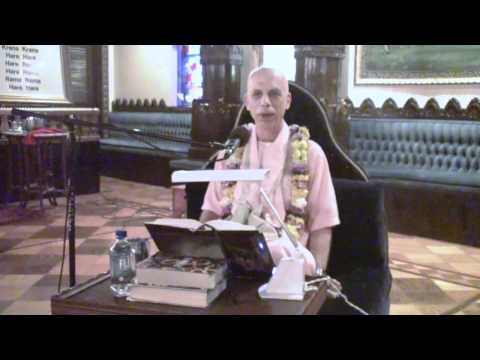 Lecture on Srimad Bhagavatam, Canto 9, Chapter 11, Texts 27-36 and Chapter 12 Summary through Text 6 by Prahladananda Swami.  Titled "Nothing new."
Dallas, TX
2010-07-09 
Chapter 2, Text 6
TRANSLATION
Having achieved perfection in the power of mystic yoga, Maru still lives in a place known as Kalapa-grama. At the end of Kali-yuga, he will revive the lost Surya dynasty by begetting a son.
PURPORT
At least five thousand years ago, Srila Sukadeva Gosvami ascertained the existence of Maru in Kalapa-grama and said that Maru, having achieved a yoga-siddha body, would continue to exist until the end of Kali-yuga, which is calculated to continue for 432,000 years. Such is the perfection of mystic power. By controlling the breath, the perfect yogi can continue his life for as long as he likes. Sometimes we hear from the Vedic literature that some personalities from the Vedic age, such as Vyasadeva and Asvatthama, are still living. Here we understand that Maru is also still living. We are sometimes surprised that a mortal body can live for such a long time. The explanation of this longevity is given here by the word yoga-siddha. If one becomes perfect in the practice of yoga, he can live as long as he likes. The demonstration of some trifling yoga-siddha does not constitute perfection. Here is a factual example of perfection: a yoga-siddha can live as long as he likes.
Download:
2010-07-09 - Lecture - Prahladananda Swami - SB 9.11.27-36 - 12.sum-6 Nothing new.mp3
www.sdgonline.org.
3:40 A.M.
From Namamrta, by A.C. Bhaktivedanta Swami Prabhupada:
"The universal religious practice for the Kali-yuga is the chanting of the holy name:
"The religious practice for the age of Kali is to broadcast the glories of the holy name. Only for this purpose has the Lord, in a yellow color, descended as Lord Caitanya.
"In this age of Kali the practical system of religion for everyone is the chanting of the name of Godhead. This was introduced in this age by Lord Caitanya. Bhakti-yoga actually begins with the chanting of the holy name, as confirmed by Madhvacarya in his commentary on the Mundaka Upanishad. He quotes this verse from the Narayana-samhita:
"'In the Dvarapa-yuga people should worship Lord Visnu only by the regulative principles of the Narada-pancaratra and other such authorized books. In the age of Kali, however, people should simply chant the names of the Supreme Personality of Godhead.'"
It is significant that all the Vedic literatures recommend the chanting of the holy names for the age of Kali. People are unaware of this, and the Krishna consciousness movement is trying to enlighten them. People can chant any name according to their bona-fide religion, but they should take to the practice of uttering the holy names of God. It sounds so simple, almost too simple  to be taken as profound. But we are so disqualified that no more complex process is possible for us. We should not disregard the chanting but be very happy that we have such an easy process and take it up. Regarding how easy it is, I remember Ravindra-Svarupa Prabhu saying that the word "easy" is relative. Chanting Hare Krishna is not as easy as ordering a pizza over the telephone. It does require some effort and is difficult for people in this age. We can cover our ears and cover our eyes when we chant, but we still have to deal with our minds. So the easy becomes difficult, and yet it is still easy.
This morning I woke at 12:30 with a headache.  I took medicine and went back to bed until 1:40 A.M. My chanting was rapid and mechanical, with a little bit of a feeling that I was late. I compared myself to a cash register person at Wal-Mart, sliding the purchased items down the counter and noting their price. It's done mechanically and handled quickly, but without devotion. However, the comparison is incomplete. In my favor is the fact that all the items being "purchased" or processed are the Hare Krishna mantra. So I am credited with nama-abhasya as I pass the Hare Krishna mantra quickly through my mind. It is not a loss, it is a great gain, but I have a long way to go to handling these mantras in the mood of prema bhakti.
You chant your mantras
with devotion? Yes
to a degree. The fact
that I am always up early
at my japa post is
a symptom of earnestness.
But when I actually utter
Nama Prabhu I cannot
concentrate as I desire.
I cannot dive deeply
into bhakti's ocean.
I will continue to try
and petition my Lord
to grant me my wish,
make me sincere.
www.sdgonline.org.
Prabhupada Smaranam
2.
I'm starting these poems while reading
of your life. You are on the Jaladuta
coming to America. For 10,000 years,
this act of yours stands out—
greater than Christopher Columbus sailing to
America. You brought the richest freight,
your volumes of Srimad Bhagavatam.
You braved the New York City winters,
and whatever they threw at you–
the indifference and scorn, and the thief
who broke into your room and took
your typewriter and tape recorder. 
I want to remember you tenderly,
not just to look good as a Prabhupada-praiser.
Clear the decks, clean out
the workshop of your heart,
search with labor for the images
and the impressions of Srila Prabhupada
as he is now for you.
Where do you find him?
First I find him in his books.
The photos are helpful,
they're required, but they certainly don't
capture the whole person.
The purports do more, but neither can you
capture them—
they are best honored by reading.
Prabhupada is in his books.
www.sdgonline.org.
1.
They appear out of the prose
like sudden eruptions. They
take off bold and handsome
and always with a dare. You
have faith that from wherever
you begin you will soon
reach Krishna and that's not
just writer's luck or preacher's
intention but the fact of life.
The Lord is everywhere, and one
who sees Him is never lost
to Him and He is never lost
to them. The combination of prose and poem makes the
prose poetic–it is already
so–and the poems are embedded like jewels.
2.Here is the poem from Under Dark Stars:
"A drunken sailor's poems are hard to dictate.
Early to be enough early the Central Park dancing there
alone without fear that muggers might get me.
I was prepared dancing
all night naïve to the well-being of the dangers.
"People taking you now I don't understand
please let's be friends
'Two bourbons, please!'
Your shouting ruins the music.
I jumped to where Charlie
said I contribute only because he did want the
kids to laugh at the boring lectures all over the world.
Noble Noah? Unable to fit
all the animals in the boat
taking care but
laughing makes it easier.
How could it be I said
It's not my spot
of talent to fill the boat of Noah.
Swans keep walking up the plank.
We're making progress, but
the rains are unabated.
Krishna, Prabhupada taught me the holy name
carefree unbelievable to believe
once you're on their side.
And they have that remarkable
way of attaching you
with the guy or the whole
sastra's now backing me with
a drummer and I think that's dumb if
he wants me to give it up.
She's a beautiful girl
with an egg he gave to her
he's the star of the show again
(Charlie Chaplin and Edna Purviance play bluff
Holy Couple. It's an allegory for Radha and Krishna)."
3.
I admit it's not all Krishna-kathah, but it's a
poem by a Krishna conscious boy, and
there are references throughout.
In my pre-Prabhupada days,
I actually drew a self-portrait with
a lotus at my navel and took
it with me to Central Park where
I danced all night naïve to
the fact that it was a dangerous place.
A narcissistic pace, nothing
to be proud of but confessed
in a poem. The reference
to boring lectures is important.
We can break them up with
humor and autobiographical asides.
The sudden switch to Noah
needs no justification. Let
the world come in. The
picture of the swan's slow progress
up the plank is somehow beatific.
(You'll have to forgive me for all
this praise. I'm in love with
words)
And there!—"Krishna,
Prabhupada taught me the
holy name." Full Krishna
consciousness takes up the
slack, breaks forth with
talk of being on the right side,
the side of the sastras,
supported by God and guru.
"The whole sastra's now backing me."
It ends with an allegory to
Radha and Krishna taken from
the silent film of Charlie Chaplin. 
Edna Purviance was a tightrope walker
mistreated by the circusmaster, and although
Charlie was only a tramp, he boiled
an egg for her and gave her comfort.
It was romantic, although in Charlie's
case, platonic toward the lovely girl.
All young romance emanates, I
say, from the transcendental passionate
attraction of the Divine Couple. And this funny, quirky
poem ends with the serious
elevated words, "It's an allegory
for Radha and Krishna"
and justifies itself as
in the canon of srngara-rasa.
www.sdgonline.org.
Free Write
I am an authorial voice. I write aware that I am writing for readers.  But I want it to be for myself too. I am an aspiring Krishna conscious person. I like to write things about Them, Radha and Krishna. I seek the honest voice. The Prabhupada Smaranam is too hard to keep up on a daily basis. I'll do it by using my 100 Prabhupada Poems. Healing House, with its fictional elements, was too demanding to keep up. I got in a certain groove with my poems, borrowing from old ones. But I think I'll have to stop. I'll write poems as they come to me. I need a new section like the "Free Write" section. You just write what comes to your mind. Free write. Maybe I should get out more and attend functions, but I like to stay by myself if I can think of things to write.
Free write. Samantha and Balaram-candra came by. Baladeva likes to feed the neighborhood. He distributes prasadam and socializes. Radhanatha Swami is coming in September and will do a program with Syamdas at the Omega center. I don't think I'll go or write about it. The Bhajana Belt is not something I take part in. I sit in my room and spin words. I take from the books we are reading. Now we have started the Caitanya Bhagavata. I can write about my "heart." Am I lonely? I was occupied when I had all my writing projects. Swami Rupa is finished. I write about myself in the first person.
I must make a writing project or I have no Krishna consciousness except my japa. I have to revive a writing project. Now I have Japa Review, Prabhupada Smaranam, Poem, and hope for Free Write.
Summer heat will soon be gone unless there is an Indian Summer.
I won't sweat up on a walk. The skin is the biggest organ in the body, and when you sweat it releases the toxins.
I'm continuing Prabhupada Smaranam and accompanying the photos with the book One Hundred Prabhupada Poems, published in 1996. It was distributed with several other Prabhupada books of mine in a package at the Centennial celebration of Prabhupada's birth at the Mayapura Festival. GN Press sold 20,000 books in two weeks. It begins with poems written while traveling in a van in Eastern Europe. I was getting migraines but still traveling and lecturing. Pretty gutsy. Sometimes I would lie in the van parked at the temple with a 24-hour headache and then come out and give a Bhagavatam lecture.   
We started reading Caitanya Bhagavata. In Navadvipa, all the people were materialistic. Advaita Acarya cried out for Krishna to personally come to save them, and his cries caused the descent of Lord Caitanya Mahaprabhu. Narayana Kavaca mentioned that I am writing for posterity. He referred to a poem where I really revealed my heart but decided it was too controversial to publish. He said I shouldn't throw the poem away but should save it and "publish it in your 80s" (if I live that long). I had already put the poem in the garbage pail, but I'll fetch it out and save it. But the point is I'm responsible to set the best example for my readers.
LA Ratha Yatra 2010 from Prananatha Das on Vimeo. This is an edited music video showing not only the 2010 LA Ratha Yatra, but some of the setting up of the Rath Carts, young Dhruva's annual kids Ratha Yatra, Snana Yatra, and a few scenes of the Festival area and packing away the Rath Carts. [...]
Arcita Prabhu, whose service is with the BBT, recived a call from a lady who wanted to pay for the daily prasadam of the devotees at the New Dwaraka temple in Los Angeles.
He asked her, "How did you become interested in Krsna consciousness?"
She said, "When I was seven, I died, but then, mysteriously, someone took me around to different amazing places and I came back to life. When I was fifty, someone gave me a book about Krsna. As soon as I saw Krsna's picture I knew that He was the person that took me around and then brought me back to life. I bought the book and then went to the temple. Eventually I bought all the books available. I've read the Srimad-Bhagavatam, and I'm now reading the Caitanya Caritamrta. I'm retired and spend most of my time reading the books of Srila Prabhupada."
What if she had never met a sankirtana devotee? She would never have known who it was that took her and brought her back. It's so important that we go out and meet people.
your servant, Vijaya das
It is especially mentioned here, nāma-sańkīrtanā ca: one should chant the holy names of the Lord — Hare Kṛṣṇa, Hare Kṛṣṇa, Kṛṣṇa Kṛṣṇa, Hare Hare/ Hare Rāma, Hare Rāma, Rāma Rāma, Hare Hare — either individually or with others. Lord Caitanya has given special stress to chanting of these holy names of the Lord as the basic principle of spiritual advancement.
Śrīmad Bhāgavatam 3.29.18
Arcita Prabhu, whose service is with the BBT, recived a call from a lady who wanted to pay for the daily prasadam of the devotees at the New Dwaraka temple in Los Angeles.
He asked her, "How did you become interested in Krsna consciousness?"
She said, "When I was seven, I died, but then, mysteriously, someone took me around to different amazing places and I came back to life. When I was fifty, someone gave me a book about Krsna. As soon as I saw Krsna's picture I knew that He was the person that took me around and then brought me back to life. I bought the book and then went to the temple. Eventually I bought all the books available. I've read the Srimad-Bhagavatam, and I'm now reading the Caitanya Caritamrta. I'm retired and spend most of my time reading the books of Srila Prabhupada."
What if she had never met a sankirtana devotee? She would never have known who it was that took her and brought her back. It's so important that we go out and meet people.
your servant, Vijaya das
| | |
| --- | --- |
| | In celebration of Janmashtami 2010, Krishna.com will be re-launching the Deity Photo Gallery in its Photos section. |
| | |
| --- | --- |
| | BBT announces new revisions for Prabhupada`s Bhagavad-gita Chapter Five. |
| | |
| --- | --- |
| | In a profoundly sad development, the death of a devotee in ISKCON's New Mayapur community in France has been deemed a suicide. According to temple authorities, on July 23 Citra devi Dasi, a devotee for more then twenty years, committed suicide by setting her body on fire. |
| | |
| --- | --- |
| | I conducted a wedding yesterday in the glass-domed Paul Hamlyn Hall of the Royal Opera House in London. At the height of the ceremonies, at the purna-huti of the fire sacrifice, to have hundreds enthusiastically singing the Hare Krishna mantra was an unexpected pleasure. |
| | |
| --- | --- |
| | In the Vedic model, good government is never solely at the mercy of either natural or man-made crisis. Recognizing that we live in a less than perfect world, good government takes a proactive role in planning the protection of its citizens. |
http://www.youtube.com/user/SacisutaDasa
1965 August 19: "Captain Pandia was very kind to take me to the shore in a motor launch. A Gujarati gentleman arranged a good car to go round the city. I saw the Governor General's House, the Parliament House, the Town Hall. The culture and civilization is Indian cent per cent but artificially India and Ceylon is divided."
Jaladuta Journal :: 1965
1968 August 19: "Please ask all the devotees to wait and in the meantime, enjoy chanting Hare Krishna. The chanting of Hare Krishna is our main business, that is real initiation. And as you are all following my instruction, in that matter, the initiator is already there."
Prabhupada Letters :: 1968
1968 August 19: "I am serious about starting a press as soon as possible. There is no other alternative, we must have a good press. It is the biggest mrdanga, recognized by my Guru Maharaja, so let us start it as soon as possible."
Prabhupada Letters :: 1968
1968 August 19: "I have no objection if you go there. But wherever you may go, the point should be that our main business is service to Krishna and awkward circumstances may happen anywhere but we should be able to hold up to all such circumstances and steadfastly go on with our business of service to Krishna."
Prabhupada Letters :: 1968
1968 August 19: "All of you should take care of this poor girl. She has left her parents and she is unmarried, no husband. Of course, she is not poor, because she has got so many God-brothers, and sisters, and above all Krsna. In spite of that, we should care about her health. That is our duty."
Prabhupada Letters :: 1968
1969 August 19: "In ordinary administration the Temple Presidents may consult amongst themselves and make certain general procedures by mutual agreement. But when there is some more important factor, that must be referred to me."
Prabhupada Letters :: 1969
1971 August 19: "You can live strictly and make advancement in Krishna Consciousness by chanting and reading the books. There is no question of your fall down. Chant sixteen rounds regularly and no power in all three worlds will make you fall down."
Prabhupada Letters :: 1971
1973 August 19: "You should know by now if you break one of the four regulative principles then you cannot advance. There is no use in writing to me that you are doing something sinful and then you continue to do it on some plea. Stop sinful life and be Krishna Conscious, that's all."
Prabhupada Letters :: 1973
On Saturday, August 21, New Vrindaban Community will host Devananda Pandit, formerly Denis Moreau, live in concert at Prabhupada's Palace of Gold. The concert will begin at 7:45 pm. Devananda will be playing his own original contemporary folk songs, with which many of his fans are already familiar. He will also be including a new element to his repertoire – kirtan – a genre of music with a call and response format that is becoming trendy in the US and Europe.
Born in Quebec, Canada, in 1955, Devananda is a bi-lingual singer, songwriter, and recording artist. "I started playing the guitar and writing lyrics when I was 16. I started playing music full-time in 1994 while I was living in New York City," said Devananda. In 2000, he released his first CD, Pearl Without a Price, which has sold 10,000 copies. His second CD, Borrowed Goods, was released in 2003. He is working on a third CD, Windows to the Other World.
"Playing at Prabhupada's Palace of Gold is like playing at the Taj Mahal," said Devananda with excitement. "The Palace is gorgeous at sunset. It will be lit up for the concert, and the fountains in the rose garden will stay on." The Palace will stay open during the concert, and guided tours will be available throughout the show. Guests are also invited to visit the award-winning rose garden, and other attractions in New Vrindaban.
Concessions will be available during the concert, including World's Best Cookies and veggie burgers produced by local businesswoman Dharma Dasi of New Vrindaban. Guests are also invited to bring their own vegetarian snacks and non-alcoholic beverages, as well as lawn chairs and cushions for outdoor sitting.
Devananda is a folk rock singer with a style reminiscent of Bob Dylan. His lyrics, which have a definite spiritual message, are broad enough to appeal to Christians, Hindus, Jews, Muslims, Buddhists and agnostics alike. He plays at inter-faith events, pubs, and coffee houses. One fan said about Devananda's first CD Pearl Without a Price (2000), "There's a couple tracks on here with a Native American theme, but most are thoughtful examinations of his own inner-life. He doesn't shy away from tackling the 'big questions.' But he's not preachy, preferring instead to view these subjects through a more personal prism."
The Sunset Concert marks a turning point in Devananda's career, who up until now, has been known professionally as Denis Moreau. From the Sunset Concert onward, he will be performing exclusively under the name Devananda Pandit, the name he received when he took spiritual initiation into the International Society for Krishna Consciousness (ISKCON) in 1981 in New Vrindaban. "I was living in Ottawa at the time, and I traveled to New Vrindaban to receive initiation," says Devananda.
Why is he making a name change mid-career? "I want to enter the kirtan venue, both locally and internationally," explained Devananda. "My personal experience is that West Virginians love kirtan – and it's not just the young people. When I play at retirement homes, I chant the Hare Krishna maha-mantra. Those folks get up, and they sing and dance with me. The holy name is universal," said Devananda, referring to the names Hare, Krishna, and Rama in the now-famous Hare Krishna maha-mantra: Hare Krsna, Hare Krsna, Krsna Krsna, Hare Hare / Hare Rama, Hare Rama, Rama Rama, Hare Hare.
"The Sunset Concert at Prabhupada's Palace of Gold will be very special," confided Devananda. "I have fond memories of the Palace when it first opened." Devananda is one of the many Hare Krishna devotees who helped build the Palace. "I did a lot of sanding – I sanded the columns in the former restaurant, among other things."
The Sunset Concert on August 21 will begin at 7:45pm. Admission is $5 for ages 16 and over, and free for 15 and under. Guests are invited to bring lawn chairs and cushions for this outdoor event.
Prabhupada's Palace of Gold is located south of Moundsville – Wheeling, off Route 250. For more information, contact (304) 843-1812 or www.PalaceOfGold.com.
An early tract distributed by Krishna devotees issued the challenge 'Who is Crazy?' Having frequently encountered taunts regarding their mental state, the devotees responded with this well reasoned argument from Srila Prabhupada on the definition of insanity.
Although no longer an acceptable medical term, the word insanity generally means mental illness where a person poses a threat to him or herself, or to others. In that sense merely violating societal norms should not be sufficient cause to be called insane, but often in common parlance this is the case. Hence the sight of unusually clad persons singing and dancing along the street to the clash of cymbals was enough for many to consider them quite mad. Especially as, unlike most persons trudging along the street, they appeared strangely happy, another sure sign of the madman.
But just how mad are the devotees? Considering it in terms of causing harm to themselves or others, they surely cannot be so labelled, in contrast to most of their accusers.
There are different ways we can harm ourselves but all of them stem from one root cause, ignorance. This is the essential point of the 'Who is Crazy' leaflet. If we do not understand our real self interest then we will likely act against it and do ourselves harm. So what then is that interest? Do we really know?
Before we can answer that we have to ask another question; what am I, what is the self? The underlying assumption that drives most people today in their daily struggle is that we are the material body. This corporeal form we currently inhabit comprises the sum total of our existence. The mind and senses are therefore seen as the means of our enjoyment and happiness, and we work diligently to satisfy them.
Vedic knowledge immediately challenges this assumption, positing that we are spiritual beings encaged in material forms. In his tract Prabhupada describes us as eternal parts of Krishna, asleep to our real existence with him. Our fleeting material lives are a dreamlike condition. Forgetful of our real identities, we believe ourselves to be the temporary, ever-changing forms we occupy. This is an illusion and the result is that we strive for illusory happiness in association with the body, never finding the satisfaction we crave and indeed quite often achieving serious amounts of misery.
Surely this is a kind of madness. In fact not knowing who you are seems by itself to be enough to earn that description. The classic image of the madman is the fellow with his hand thrust into his jacket, declaring that he is Napoleon. Or if I was to march up to 10 Downing Street and announce that I was David Cameron and demand entry that would probably do the trick. Men in white coats would soon pronounce me as having a psychopathological disorder, or in other words, insane.
But almost everyone is convinced they are something or someone they are not. We have nothing to do with this world and all of its ephemeral designations. Today I may think I am John Brown, a man with a wife and two point four children (going for the average here), but who knows what I will be tomorrow? If I were to die then I must leave behind that body and move on to another one, about which I presently know nothing at all. This is sure to happen sooner or later, and it has already happened so many times before. In our dreaming state we transit from one life to another, never knowing our true and eternal self, identifying with a collection of chemicals that has no relation to us.
In truth we belong with God in his supreme abode. Not knowing this we are certainly harming ourselves inasmuch as we act in ways that perpetuate the material illusion. As long as we consider ourselves to be the body we avidly feed our material desires and they simply grow stronger. As long as we have such desires we will have to accept repeated material births so we can indulge our wants, and as we all know material life is always afflicted with all kinds of suffering.
So what then of the devotees, gleefully cavorting along the high street and chanting Krishna's names? Well, according to the Vedas this is how we can awaken the sleeping soul. By calling to God we re-establish our loving relationship with him. The dream dissolves and we see the truth of the self, as an undying, blissful being forever free of pain. So this is not only a completely harmless activity, but also a greatly philanthropic one as it shares the awakening process with others.
That sounds like sanity to me; freedom from illusion and knowledge of the self. Right there on your high street. Find out more next time you see the devotees pirouetting past you. You would be crazy not to.
May 13 I left Zagreb and flew to Luton, England, to be picked up by my old and dear friend Bhagavat Asraya prabhu, who everyone knows has a heart as big as his belly
Uncle Bhaggy is always a genial host and I am happy to say he is my best friend in Krsna consciousness. We have known each other since he joined in Melbourne in late 1974. He has hosted me on numberless occasions and his wife Sarva Mangala is one of my wife's best friends.
I stayed the night at Bhaktivedanta Manor and the next afternoon I hired a car and drove up to the famous, ancient, hallowed university city of  Cambridge.
There I picked up my oldest daughter Sachi.
She is 25 years old, and two years ago graduated in engineering from Cambridge university. She likes it so much she decided to settle there and just recently she and her Mum bought a house there.
Before going up I had a surprise exchange about Sachi with one of the veteran sankirtan devotees at the Manor, Sriman Dayal Nitai prabhu. Without knowing I was about to meet her he told me he had been up in Cambridge in early March this year selling books. He had  bumped into a small group of young women on the street. He started chatting with them, and asked each one their name. When one of them replied "Sachi" he told her, "That's great, that's a spiritual name." To his great surprise she smiled and told him she knew, and that her father was Hari-sauri dasa. They had a good exchange, she was happy to give a donation and accept a book, and it turned out that it was Sachi's birthday and the other girls were visiting friends. [Sachi was born on Gaura Purnima in 1985 in London, that's why she got the name.]
Dayal Nitai told me, "I have to tell you, she was so well spoken, polite and intelligent, I was really impressed with her. She really came across as a decent, caring human being."
I was very happy to hear his assessment because I split up with her Mum in 1986 and although I always kept in touch Sachi hasn't had any direct contact with the devotees and doesn't know very much at all about Krsna consciousness. I confess it remains a regret on my part that I wasn't able to offer her a spiritual upbringing, although I understand that Krsna has His plan and we all have our own karma to fulfil.
Nevertheless, she was well brought up, is a life-long vegetarian, and went to an exclusive girl's school called Haberdasher's Aske's School for Girls [see http://www.habsgirls.org.uk/index.php] which rather ironically is just down the road from Bhaktivedanta Manor.  She is extremely bright, won a scholarship to Cambridge, graduated in engineering manufacturing processes, and has spent most of the last year and half doing research on alternative energy.
Anyway, we had arranged to drive up together to visit my Mum and spend the weekend with her in the ancient, famous, hallowed precincts of Scunthorpe, North Lincs., which I will write about in the next part of this blog.
I thought this was a funny carton, just a note for all my friends out there, beware unemployment is going up and things are going to get much much worse for the economy, stocks are going to be losing their value, cash savings are going to be losing their value, if you do have money in either of these things I would suggest getting it out and putting it into precious metals. Now is not a time to spend money on any unnecessary luxuries. Save whatever money you can, because things are going to be rough for quite a while here in the US. Ultimately these things are not important but if you live in the material world you have to be aware of these types of things and take the necessary precautions.
Deveotees at ISKCON Canberra will hold the 66th Vyasa Puja celebrations of HH Vadavyasapriya Swami. It all happens on August, 21st, 2010. Everything kicks off at 9.00am and celebrations continue until 2.30pm. There will be kirtan, arati, homages, pushpanjali, and prasadam.
Find out more at ISKCON Canberra
Share this story your way:
ISKCON Mayapur is the spiritual world headquarters of the International Society for Krishna Consciousness.
Check out the web site to find out more about this important temple community where the Deities of Sri Sri Radha Madhava, Pancha-tattva and Prahlada-Nrsimhadeva preside over the temple, and where each day thousands enjoy congregational chanting
Look at the photos in the galleries, find out whats happening in the Mayapur community, read about all the festivals and investigate the online education.
Click here to get to Sri Mayapur spiritual capital of the world
The Mayapur Academy has been established to fulfil Srila Prabhupada's desires for deity worship and the development of brahminical culture in ISKCON.
By creating an educational institution of excellence in Sri Mayapur, to teach the brahminicalculture, arts and sciences, deity worship, cooking, samskaras etc. will help fulfil this vision.
The Mayapur Academy is open to all initiated devotees. Its prime function is to train devotees who aspire to take the role of temple pujaris and brahmanas in ISKCON communities.
For more information about our courses, please takesome time to browse our website, or contact us with any questions you have about studying with the Mayapur Academy.
Click here to get the the Mayapur Academy web site
Click here to get to the Mayapur Academy blog
Mayapur.tv is the 24/7 LIVE streaming Internet service operating from Sri Dham Mayapur, at the head heart-quarters of the International Society for Krishna consciousness. Mayapur TV also hosts live broadcasts from Mayapur and from other ISKCON temples and projects around the world.
Click here and you'll soon be watching Mayapur TV
Share this story your way:
Monday 9th, August 2010.
I awoke and checked my clock. I had slept in an hour and I was supposed to be in the kitchen right now! Today was our first Monday on the coast that wasn't going to be a day off. Normally Monday was free but we usually axed it for the end of the tour. It seemed like this year it might be a bit too much for some. I rushed down to the kitchen and found out that no one was bothered that I was late. Mrzezyno (Port Town) was a small venue so the there wasn't so much samosa business anyway.
I went on the internet, to check on my blog (Messages from Madd Monk). I found out that my diary had ten times the usual hits! At first, I thought it was Pulkit, who had used his web browser to falsely inflate my statistics once, as a joke. I checked tables and found out that the hits had all come from a link posted on Dandavats.com Dandavats is a well known, devotional blog site and they had published a link to my entry: Opening of Krsna's Village of Peace, under the title "30 tonnes of bhoga, a ratha-yatra daily and a huge army of vaishnavas against Maya at this year's Woodstock festival". I thanked Krsna for arranging some publicity for my humble offering. I curiously speculated how the site coordinators managed to find my blog page and post it up.
While I was checking on the cyber world, there were wasps hovering around me. This year, there had been a noticeable increase in the population of wasps. Normally there are a few in Poland and you learn to live alongside them but this year it seemed the weather was more favourable for them. There were half a dozen wasps hovering around me, stuck on the large window above me, trying to escape. All of a sudden, one was caught in my dhoti. He panicked, he had no way out, he had no choice, so he stung me. I let him loose and quickly set off to the bhoga room to try and score a lemon. I leant my leg on the lemon for a quarter of an hour and that seemed to be the end of it. My memories of wasp stings were rather unpleasant but this one didn't cause too much trouble due to the counteracting effects of the alkaline fruit.
I had lunch with Bhakta Sumit, back at the base. I decided to take a few days off, one for each festival, while I had the chance. HH Indradyumna Swami walked out, making his way to the festival. He gave a bit of a smile and a chuckle, as he saw me casually sitting, speaking philosophy. I'm sure, if he had time, he would have teased me for not making it to the festival.
Tuesday 10th, August 2010.
Today was the holy day (on the solar calendar) of my brother's birthday. Rupa Goswami Prabhu, my youngest brother, was turning eighteen. I sent him loving birthday wishes and begged the Vaisnavas on tour for their blessings. Again, on this diary, I will ask all you merciful Vaisnavas to bless him with all your Bhakti shakti.
I was sitting casually in my room, as I told the devotees the news of my brother's birthday, when Krsna Kripa Prabhu came in. "You're Maddy, right?" he asked. I nodded in consent. "Maharaja wants to see you" he said. I went to Maharaja's room and he told me to close the door behind me. Was I in trouble? Was someone else in trouble? It seemed there were some other dramas going on, nothing to do with my direct circle, and he wanted me to keep an eye on it. It mostly seemed political but Maharaja was on top of it. Indradyumna Swami deals tactfully when it comes to matters on his tours, and this was not going to slip under his radar.
I was upstairs, showing some of the boys some silly videos I uploaded from tour. I became a little carried away and decided to put a video on full volume. "What is that?" I heard a call, which was Maharaja. I closed the computer and the noise stopped. I decided to open it again and try to shut it down completely, but, all of a sudden, it began to play again. It was total embarrassment for me and Maharaja wasn't happy. By the time I managed to shut the silly machine down, it was certainly too late. I felt terrible, disturbing HH Indradyumna Swami and causing so much commotion.
We all ran off to the bus. We took the whole backseat, like we used to in other tours. Dina Dayal Prabhu joined us and we had him lead the Nrsimha prayers. Soon we arrived, back in Port Town. We danced with the harinam, when it returned, and it seemed to be endless. After this, I arranged one of the tents for our group to take Prasadam, closing it off from the outside. We jokingly called our gathering the Rasa Tattva Society, which had a bit of a sahajiya kind of tinge to it.
We went for endless walks to the skleps, which finished in some epic games of air hockey. Radheya, Vana and I, beat away at the little puck, trying to think of Lord Caitanya to make it semi spiritual. It reminded me of the previous year, at the same arcade, with Radha Mohana, Cid and Myself. Indeed the crew was rather similar - a Vrndavana Vasi (ie Radheya or Radha Mohana), an Ecuadorian prince (ie Cid or Vana) and the mangy monk (ie Me!). History seemed to be repeating itself in the crazy Port Town.
I left the group, after all was said and done, and made my way to the old festival site, which we had used in previous years. It was now a beautiful, grassy knoll; a perfect place to sit in asana and chant serious japa. It was quite possibly the best japa I had chanted, so far, on the whole tour. It created a bit of a stir amongst the passer-bys. Who would expect to see a saffron yogi (although I am a pretender), in the middle of Poland?
I began to write, absorbing myself in diaries about Woodstock. I was writing away about the epic kirtanas when I began to hear an epic kirtana in the present. HH Indradyumna Swami was leading us off into another finale. I jumped out into the crowd and we danced away in the fishy breeze. There was a massive crowd at our festival and it was full of smiles and colour. It was hard not to taste the bliss in that kirtana, feeling a great reward from all the seva we had been doing. We set sail, in our bus, from Port Town, feeling that it was sufficiently drenched in mercy. It seemed that even we managed to get our hands wet in this amazing waterfall of Lord Caitanya's ecstasy .
[http://maddmonk.wordpress.com/2010/08/19/p22-meditating-in-mrzezyno]
"Lonely People" Grows

Bellingham, Washington

It wasn't exactly a grueling wait, a long hour with traffic crawling through the US customs, but it was a bit unnerving knowing that cooped up in a car gets you through slower than if you were to walk.

Our venue today was an old foundry converted into an artist's community centre called "Anything Grows". Harmony is the name of the kind woman who hosted us for our troupe's presentation of "Lonely People". Our facilitators are Trikalajna (people call him 'Tree') and wife, Sudevi. The centre reached full capacity, a modest seventy chairs. We received a standing ovation. People loved it. The follow up was kirtan, chanting , and optional event held in another room. Everyone came. They sang and danced giving their everything.

Here are the comments by our troupe about the drama:

Actor, Nitai: "The energy we gave out came back to us in the form of the crowd's appreciation."

Actress, Nitai Priya: "It was the best performance yet and one of the best crowds."

Actor, Goura: "It was an intimate setting and everyone was so receptive."

Sound person, Gillian: "The actors were amazing. Very comical."

About the kirtan:

Nitai: "The audience filed into the back room of their own accord. All inhibitions faded out as the dance steps faded in."

Nitai Priya: "We kept having to tighten the circle to accommodate the increase of eager participants."

Goura: "It was hot in there but we didn't care."

Gillian: "People were absorbing the holy name. They were blissed out, man."

2 KM
Farmer Singh

Kelowna, British Columbia

I crossed Highway 97 leaving behind me suburbia and entered orchard land. What's exciting about each new day and each new place is that there's a new road to explore.

Down this windy rural route, A Sikh farmer on his tractor shouted, "Bhagavan ki jayho!" He recognized my cloth and felt that some good fortune had come his way. He stopped the tractor, turned off the engine, descended the machine and proceeded to greet me. With a high wire fence between us we talked as best we could, he is pure Punjabi and me in English with some attempt at miniscule Hindi.

The farmer was exceedingly excited. To see a Vaishnav monk on his turf was a first for him. After some communication I walked on until I came to a cul-de-sac. Upon my passing by the farmer's cherry orchard once again the farmer, who identified himself as Singh, halted his tractor again to see me once more. This time he insisted he feed me but I couldn't oblige as I had to return to Vancouver with my crew.

What I did learn from this encounter is that at the heart of Indian culture is this remarkable warm hospitality. It's something we can learn from in the west. Of course, there is something to be said about the softness people of Indian origins have for the Sadhu (monk). Respect or reverence is to be commended and not demanded.

I hope that one day I can fit the shoes of a genuine sadhu. We certainly have to go beyond dress code and decorate ourselves with true quality.

I was happy to have met farmer Singh. I made a friend because I went for a walk.

8 KM
The Enjoyable way to learn how to sing the Gita.
This course is designed to give participants the ability to pronounce Sanskrit verses
confidently with up to 70% accuracy. No knowledge of Sanskrit is necessary.
The medium of instruction is Simple English. An insight into the course can be had by viewing this interview:
www.dina-gj.on.to
For Registration or Inquiries please contact:
Syamarani dd : 33795455
or
Jaya Radhika dd: 0402991168
Check out the Brisbane Temple web site for more information
Share this story your way:
But after 4 years his parents still don't know he is a devotee.
New – Aindra Prabhu Kirtan – I Lost my heart in Aindra Kirtans 1

More Recent Articles
---
Click here to safely unsubscribe now from "Planet ISKCON" or change your subscription or subscribe

---
---
Unsubscribe from all current and future newsletters
powered by
FeedBlitz
---
Your requested content delivery powered by FeedBlitz, LLC, 9 Thoreau Way, Sudbury, MA 01776, USA. +1.978.776.9498
TABLA - FUENTES - FONTS
SOUV2
Balaram
ScaGoudy
FOLIO 4.2
Biblica Font

Disculpen las Molestias
Planet ISKCON - 2010
·
Planet ISKCON - 2011