PLANET ISKCON


Here are the latest updates for
Svarupa Sakti Mataji just came back from Botswana and has kindly shared a little report about the temple there:

"Arriving at the place where 5 years ago I had met Krsna Balarama for the first time, it was still the same. I had wondered how I will survive a sad yet uplifting event like a funeral to a very memorable experience.Little did I know.
Upon arrival to ISKCON Botswana, I came across the Temple President Devakinandana Prabhu and his family who greeted me with such love and kindness. Everyday I would honour prasadam at a devotee's house, Narayan Dasa and his wife, who were my high school physics and biology teachers.


That same week, the Kala Hari Youth Group, made up of the young devotees, had invited the Krsna Balaram youth from South Africa for a Kirtan festival. There was Harinam in the city centre which was very well received and prasadam distribution. In the evening we all made it back to the new temple building site for a night of Kirtan and Feasting.

The commmunity there is growing, books are distributed and the chanting of the holy names heard all over the city. Now when I tell the locals that I am a Hare Krsna , they smile and always remark about how beautiful the new Temple is. So there is no doubt, Krsna Consciousness is coming out into the streets of Gaborone. The glories of Krsna Balaram will soon be revealed to all."

Here is a link to the Krishna Balaram Mandir in Botswana.

My chanting was relaxed and wide awake. I settled into the rou tine with regular attention to the names, and my mind did not wander to other things. The bhajana-kutir is a suitable place, as good as the Yellow Subma­rine, for soli tary chanting. I have completed 12 rounds.
From
Bhajan Kutir #4
The initial years were joyful and exuberant but now the tendency to watch porn has comeback to haunt. Earlier I used to watch these unmentionable things for hours on the internet. Coincidently I have some work related to internet and I end up getting side tracked on the net due to my flickering mind. This is my disease. Please cure it."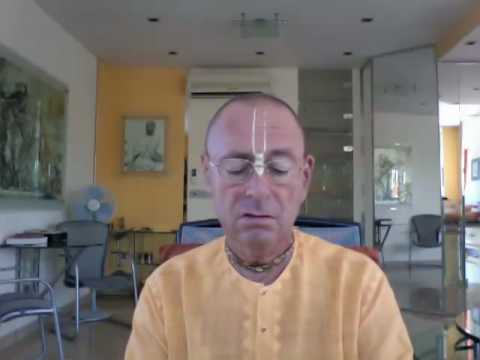 The other day I was reminded of how easy it can be to be lulled into a false sense of security especially when it comes to our devotional life, thinking one self secure or more elevated than we truly are. My mind wondered to a devotee who I knew some time ago, he was one of [...]
Shortly before the end of his visit in 1975 to Atlanta, where he had clearly been pleased with the temple and the devotees, Srila Prabhupada was asked "What was it about Atlanta that was so pleasing to you?"
Srila Prabhupada replied, "When I saw all the devotees working together in a cooperative spirit."
Told by Gokula Ranjana Prabhu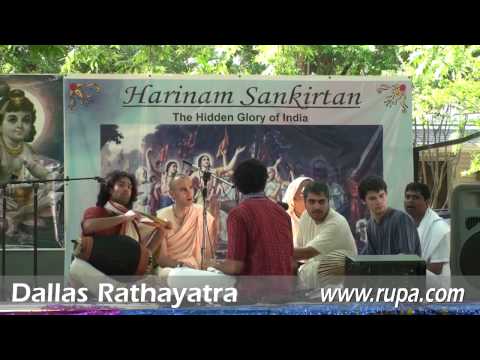 Amala Kirtan das singing a Hare Krishna bhajan at Rathayatra.  
Dallas, TX
2010-05-22 
Download:
2010-05-22 - Dallas Rathayatra - 02 - Bhajan - Amala Kirtan.mp3
Friday 2nd, July 2010. I awoke early and chanted all my rounds in a single sitting. I felt refreshed and renewed. I had the renewed realization from this experience that I could only endeavour but ultimately it was up to Krsna's mercy and intervention. As I chanted, I could feel the vibes of the tour. I heard the devotees doing "the march" from their rooms to the bathrooms near the gymnasium. Things were really starting to fit into their place.
The Mangala Arati was lead softly sweet. Many devotees who were on harinam yesterday, when we arrived, were now present so it felt a bit more lively. After the arati, Jayatam Prabhu gave some announcements. Mathuresvari stepped up to translate, a long time tour veteran and one timer to Australian tour. Jayatam pointed out that our numbers were less this year, which meant that we would most likely have to put in extra effort to keep everything running as smoothly as usual.
The morning kirtana was lead by Tribhuvanesvara Prabhu (Tribi). I spent two months living with Tribi, in Australia, and his kirtanas were something to relish. I couldn't help but dance along to the maha mantra as we all belted it out at the top of our lungs. Sitala Mataji gave the morning Bhagavatam class. She decided to read from the Madhya-Lila, about the devotees performing kirtana in Jagannatha Puri. I was shocked because it was barely a couple texts past what I was reading that very same morning. Devotees were coming together in kirtana in Poland just like they were five hundred years ago in the times of Lord Caitanya and His associates. Sitala Mataji had excellently selected a powerful part of the text to enthuse all the devotees as they came together in the modern day pastimes of the Golden Avatara. She also included stories about Srila Prabhupada shooting tears of ecstasy, once whilst greeting Radha Parisesvara and once whilst teaching the devotees the Radha Madhava bhajan.
While the Guru was gone the Gurukulis came out to play. When I say "out", what I really mean is "in". I had been given a Frisbee, on sankirtana in Australia, and now I was going to use it in mischief making. We played a vicious game of branding (a game in which you throw a ball or object at others) in our room, amongst all furniture and the like. It was a once in a lifetime opportunity, considering we would have to apply volume control when HH Indradyumna Swami and other senior devotees arrived.
I took the boys for a walk to the local shops, to show them the scene. For some, to survive Polish tour, they need a regular supply of junk food. Others take the option of stashing large quantities of Prasadam, whilst others go for stealing Prasadam and some even simply surrender to austerity. Either way, it was my duty to show the boys the methods to execute whichever of these paths they chose. While we were off to the shops, Jayatam was asking around if anyone had seen thirty asafoetida bottles that had gone missing. It was a mystery and that was all I heard of it.
The devotees headed out to harinam in the afternoon but I stayed at the base to sort myself out. The illustrious dance group, Sankya, entered the school. They had brightened up our stage in the previous year and were here to honour us yet again. They had replaced almost half of their dancers, mostly the males, and were going to be performing a variety of new dances for the pleasure of our audiences. Also to arrive were the famous tour couple Mandakini and Jananivasa. We had lined up for our train out of Poland with these two and they were back for another round. Jananivasa had grown his hair out rather wild, like a rock star; indeed the thing that had changed the most about the tour devotees' externals this year would be, in my opinion, their hair cuts. No one had aged a day but they had definitely all spent some time on their headpieces.
I looked at Vanamali, directing yet another drama. He was redirecting HH Bhaktimarga Swami's play - Gita. I wondered to myself what my service would be this year so I approached Jayatam Prabhu without delay. He called over Rasikendra Prabhu, the head of the restaurant tent, so they could inform me that I was going to be kneading samosa dough. I was now Dough Boy for the tour and was rather enthusiastic about the task. It wasn't long on hours, had a bit of muscle involved and it was in the kitchen, which was good for cooking experience. It seemed Krsna had made this my fate for the tour but I was still going to leave my mind open to divine intervention, although I did like the idea of early mornings and solid sadhana for the whole tour. The day was wrapping up and tomorrow was our first show. HH Indradyumna Swami was going to arrive some time on the same day and it seemed that the tour would really be rolling.
[http://maddmonk.wordpress.com]
From April 28- May 1st I was in Ljubljana (pronounced Yubyana)
Its a two hour car ride from Rijeka through some stunningly beautiful country side to Slovenia's capital.
Slovenia has a small population, about 2.8 million, and until recent decades its main economy was all agrarian. People are very nice, friendly and the country is well maintained. New highways enable you to zip from one place to another without anxiety.
The temple in Ljubljana is excellent.  Its a complex of large old stone buildings, with walls about 2-3 feet thick. There's one main building for the temple and asrama. And another for offices, guest quarters etc.
The presiding Deities are gorgeous 4′  forms of  Sri Sri Panca-tattva.
It was my second visit-I was here a few years ago-and recognized a few familiar faces. Its nice to see the same devotees whenever you go back to a temple, it shows steadiness and solidity in the yatra.
One face I was very happy to see was Madhusudana prabhu, who used to be my secretary when I was Co-Director in Mayapur in 1999-2001. He's been off doing his own thing for the last few years but he came over to spend a day and catch up.
He was a young man when we parted company, now he's creeping into middle age and he's had a few good realizations, mainly about the limited nature of material happiness.
He told me how during the recent economic recession so many people in Slovenia lost their jobs and businesses, including his own, went bust. He told about a contractor he knew who had a company which employed 70 people. The hapless fellow, whom he had a friendly relationship with, did a job worth $2 million, and then ended up committing suicide because he couldn't pay their wages. They had done the job and then the customer failed to pay. Very sobering.
Now this week Madhu is paying his first visit back to India in many years. [believe it or not, he just rang me from Delhi as I was writing this blog]
One new and very wonderful addition to the Ljubljana temple complex is Govinda's restaurant. Its privately run by devotees but adjoins the temple buildings. Its beautifully decorated, and in two years has become the number one vegetarian restaurant in the city. Its very popular and the food is – divine!
Now you know why I have been putting on weight recently!
Another 'must visit' if you are thinking of going to Europe.
I did six sessions on Chanting from my seminar, again well received and I was sad to leave.
The devotees also hold many congregational meetings in nearby cities, and we paid a visit to Kranj, about an hour's drive from Ljubljana, for a successful evening program in a small hired hall. A small but enthusiastic crowd of about 20 turned up for couple of hours of Prabhupada katha.
One pleasant surprise was meeting HH Chandramauli Swami who arrived from Zagreb just minutes before I left to go there, and we shared a few pleasant moments before I headed off to Croatia's capital.
BY JAI SITA RANI DEVI DASI VIDEO BY MULAKARANAM DASA PHOTOS BY ISKCON MALAYSIA DEVOTEES CAMERON HIGHLANDS, MALAYSIA – For the first time, a Ratha Yatra or Chariot Festival was held in Cameron Highlands. Malaysia's largest and best-known hill resort, once the retreat of 19th century British settlers and today easily reached by road from [...]
From April 24- 28 I was in Rijeka.
I flew from Prague to an airport near Venice, and then drove 3 hrs. over the border to Rijeka. Nice place, on the Adriatic coast. It was my first visit. The temple is a spacious rented flat in an excellent location right in the down town area, exactly opposite the Opera House.
Here's the view of the opera house from the temple room balcony:
And next to it is the main city square:
Only one devotee and the Deities of Lord Jagannatha, Baladeva and Subhadra devi stay there,
But we had a good turn out, especially for the Sunday feast.
I presented the module on 'Association' from my "Srila Prabhupada The Living Bhagavatam" seminar series and the devotees seemed to  appreciate it alot. It was the first time for most of them to hear  a few hours of Prabhupada-katha.
If you are ever in Croatia, pay a visit, you'll like it, and the devotees will appreciate your association.
www.sdgonline.org.
3:50 A.M.
I have been struggling overnight and in the morning. I woke at 12:30 with a headache and took medicine. I stayed in bed and the headache went down, but I could not sleep. I got up from bed at 1:15 and began chanting. The chanting was good and clear and rapid. But after a while another headache began, this time a migraine in the right eye. I took medicine for it, but the headache remained. I then pushed on like a soldier with a bullet wound, and I have completed all my 16 rounds. Despite my physical difficulty, I kept my mind fixed on the Names and simply persisted. There are days like this when you have no recourse but to go on chanting and remain sober. I feel a good sense of accomplishment that it is early in the morning and I have already finished my vow, but I don't know if I will be able to do all my required writing on time now that I feel so tired and pained. I will try to do my best.
Chanting with a
handicap, you look
for a clear space
to push the mantras through.
Because you are sincere,
Krishna permits you to persevere
and get your quota done.
He allows you to take your
mind off your pain
and fix it on the flow
of Nama Prabhu. For this
you are very grateful,
and even lighthearted,
despite the body's heaviness.
www.sdgonline.org.

Srila Prabhupada plays karatalas with a somber expression. Four microphones are set up beside him on a large vyasasana. The book is placed before him on the desk. When the kirtana is over he will begin his lecture. He is always confident in what he speaks. He recites a verse from the Srimad-Bhagavatam and starts from there. But he expands the topic from the original subject matter and freely improvises with related Krishna conscious slokas, examples, stories and lessons as they occur to him. He ranges widely and spontaneously but never wanders off the parampara, never enters speculation or mundane talk.
The solution to all the world's problems is Krishna consciousness. He doesn't avoid Krishna or speak in a vague way. Rather, he emphasizes personalism, bhakti, or devotional service to Krishna.
In describing Lord Caitanya speaking to a Muslim saintly person, Prabhupada told how Mahaprabhu defeated the Muslim's attempt to establish impersonalism on the basis of the Koran. He proved that in its ultimate conclusion, the Koran teaches that God or Allah is the Supreme Person, and all energies come from Him. He always taught against impersonalism, especially the Mayavadi doctrines taught by Vedic practitioners coming from Sankara. He usually spared some time to speak on the nectar of Krishna's pastimes in Vraja and point out that in Vrndavana Krishna displays His all-attractive form. Here he appears to be in samadhi, with his eyes closed, relishing the holy names and anticipating his impromptu and yet deeply prepared speech on his beloved, govindam-adi-purusam-tam-aham-bhajami.
www.sdgonline.org.
In the bathroom on the tape cassette
I heard Prabhupada say,
"It is natural for a young man in
this material world to always want to
please his girlfriend, because the
original desire is there in Krishna.
Radha is His female counterpart,
His hladini-sakti or pleasure potency,
and He always desires to please Her."
Krishna has many potencies
and they're in the humans and even the
animals have multipotencies.
Little insects can fly without a
machine, and fish can swim in the
ocean. Men can't act as
expertly as some animals. And
God can manipulate better than
a trailer truck, and He can
far outdo the puny efforts
of humans to travel in outer
space, as He spins gigantic
self-sufficient planets in the sky.
Nobody can compete with
God. The scientist is proud
that he can send a rocket into
space, but it is nothing compared
to the sun planet or the
millions of planets coming
from the effulgence of Krishna's body.
Let us consider who is
great and worship Him.
Let us hear of His
wonderful activities and
aspire to one day render
direct service in the
spiritual sky.
Krishna's energies work apart
from Him. He has nothing
to do, and no one is greater
than Him. He simply
engages in sports as a cowherd
boy with no responsibilities
except to please the gopas and
gopis and cows and protect
them from demons sent by Kamsa.
Krishna is the greatest and
everyone is subordinate to Him.
"Even in this meeting," Prabhupada
said, "someone is the greatest.
Say for argument 'you' are
the greatest, but you have your
spiritual master and he has his
spiritual master, and you go back
to Lord Brahma, who is the
original spiritual master. But
he says isvara parama krishna
Krishna is the greatest,
the original person, and the
cause of all causes."
It is reassuring to hear Prabhupada
establish Krishna's supremacy.
It is scientific fact, and it
comes from our master, so we
do not doubt it.
www.sdgonline.org.
Free Write

The way this young man is dressed, he does not look like a policeman carrying a gun to enforce law and order. He appears to be a ruffian hunter. In the days of old, the ksatriyas used to be allowed to hunt to practice their fighting skills for battles against invading armies. But they would hunt ferocious animals like lions and tigers, and arm themselves with a sword. When they killed a tiger, the animal would be given a royal funeral. With the invention of gunpowder and bullets and rifles, the danger of hunting wild animals was reduced. The result was the slaughter of innocent beasts who had no chance to protect themselves. The extreme example was the annihilation of the whole species of wild bisons or buffalo in the West of America. The hunting was so uncontrolled and easy that parties of men used to shoot the buffaloes from moving trains. The animals were killed for no useful purpose and were left to rot, or sometimes their skins were used for various purposes. The population of bisons is almost extinct, and the lions, tigers and elephants are becoming endangered species. Despite attempts to protect them in sanctuaries, poachers continue to kill them for their marketable by-products and for the sheer sport of blowing off the heads of these creatures with high-powered guns.
Despite the great support for hunting, and the powerful political lobby of the National Rifle Association, hunters are considered sinful by Vedic standards.
There was once a hunter named Mrgrari who was so cruel that he took pleasure in leaving animals half-dead, to writhe in pain (a habit he learned from his father and which he considered non-objectionable). Mrgrari was fortunate enough to meet up with the great saint Narada, who saw the half-dead animals lying on the path. Narada taught Mrgrari that he would have to face painful karma in his next life for his mistreatment of animals, and just by Narada's powerful influence, the hunter gave up his profession and became a great Vaisnava. It is unlikely that today's hunters will give up their killing, but the Krishna consciousness movement and other nonviolent associations make vigorous propaganda for SAK (Stop All Killing). If people can be educated in the danger they cause themselves by karmic violence, there is hope they will put down their rifles and take to activities that are actually pleasing to God.
DHARMA THE CAT SAYS: "Comparisons are odious!"
Filed under:
Jokes
By DAN BARRY from the New York Times


Between September 13th and 22nd in New Vrindavan, there will be a ten day art seminar taught by veteran ISKCON-BBT artists, Dhriti Dasi and Ram Dasa Abhirama Das.
"The people today are fascinated by so much of the glimmering so-called beauty of the external energy, and there is necessity of seeing beautiful pictures of Krishna and His devotees and His pastimes, in order to attract them to the spiritual process. So this is a great service, and there is an urgent need for such paintings." (A. C. Bhaktivedanta Swami Prabhupada)
Dhriti Dasi and Ram Dasa Abhirama Das are disciples of Srila Prabhupada with over 35 years experience in painting Krishna Art. They have worked directly on Srila Prabhupada's book, learning his desire for devotional art paintings and wish to share that with other devotees. This seminar is intended to help aspiring artists learn the basics of drawing and painting with figures and landscapes and be able to utilize it for transcendental paintings.
The application for the seminar is now open. Attendees should have the basic drawing and painting skills and experience. Everyone will have their own painting project that they will develop, with the assistance of Ram Das and Dhrti. They offer in-depth stories of BBT art production, sharing and discussing Srila Prabhupada's view on Krishna art, which is enlivening and informative.
The atmosphere will be free from city lights and distractions in the scenic setting of New Vrindaban, nestled in the Appalachian foothills. Highlights of the Seminar includes the most auspicious occasion of Srimate Radharani's Appearance Day, celebrated in a uniquely interactive festive mood. In addition, the Appearance Days of Sri Vamana Dev and Srila Bhaktivinode Thakur along with the Acceptance of Sannyas by Srila Prabhuapda will be observed. These occasions will bless your efforts with surcharged spiritual energy. You can expect delicious organic based prasadam coming from local gardens and fresh pure milk from Radha Vrindaban Chandra's protected cows.
For more information and application please call (1) 304-845-9591 for details and ask for Malati dasi servingkrisna@aol.com
A few years back, my friends Radharadhya and Kiriti and I had a discussion that could have been aptly titled, "Where Have All the Vegetarians Gone?".
Back in our day, thoughtful, alternative, artsy, crunchy, hipster types were vegetarian. The uniform was easy to spot and usually consisted of one or more of the following–dreadlocks on white people, dyed black hair, messenger bag, thick black plastic glasses frames, chain wallet,  tiny vintage t-shirts, canvas vans. These days, the dress is more or less the same but the diet has changed.
Beets and chard and broccolini are still there, but now served alongside free range chickens and organic local veal cutlets. Just as the straight edge kids grew up and now post what bar they are headed to on Facebook, the vegetarians too felt the social strain of a limited, plant based diet and "branched out" to more accessible fare. But of course, there has to be a hook.
And the new hook these days is eating locally. Somehow, killing animals for food is okay, as long as the animals have been raised nearby and have plenty of grass. People who read John Robbins Diet for a New America back in high school have now dumped that book at Goodwill to clear room on their bookshelves for the latest Michael Pollan hardback, shipped from Powells.com, as opposed to Amazon. Local is the new vegetarian. If you can personally butcher the meat yourself, hey, that's proof that civilization is advancing!
This morning I read an editorial on the Huff Post by Victoria Moran that reminded me of this conversation I had with my friends years ago. Please check it out:
"Vegetarianism is good. And meat is like you are eating your own body. Because if you kill an animal, it is like killing yourself."
The above is a quote from my 6 year old son. He asked me what I was writing about and when I told him  I was posting abut vegetarianism, he asked me to add his thoughts. Gladly.
At first glance, Vm's musings may seem naive, but I find them startlingly profound. "Because if you kill an animal, it is like killing yourself." The empathy in this boy runs deep. He does not see the difference between eating human flesh and eating animal flesh. There is no hierarchy of bodily designation. Suffering is suffering, across the species. One entity's suffering is wrapped up another entity's suffering. Just how open are you to acknowledging that pain?
I could take credit for brainwashing my son into a vegetarian doctrine, but that isn't the case. He didn't know he was a vegetarian until he was three. He had no idea people ate meat until we were at the supermarket around Thanksgiving time and he saw people loading large, bulbous white plastic wrapped packages into their car. He asked me what that was and I had to tell him: dead turkey. To eat.
The look of shock on his face was devastating. Without any prompting, my children instinctually knew meat eating was, to be frank, a grotesque abomination. I told my kids that there were dead bodies of animals wrapped in packages in the store. That most of the people shopping here bought, cooked and ate those dead bodies. That how we eat is called vegetarianism and most people don't eat that way.
Over the years I have tried to brainwash them to have courteous social skills so they can get along in a society where meat is the dominant culture. I never feared them wanting to taste or experiment with meat. Their humanity runs too deep for that.
1) ISKCON is still a relatively new religious society, members are not yet reaching elderly age. What system is set up or to be set up for aging Vaisnavas?
2) Varnaprastha ashram is also a relatively unknown concept. Where should one who is approaching this ashram expect to live, eg. temple life, or his own residence on his own, but contributing to the temple eg. service or preaching?
3) For men does this ashram ultimately lead to the sannyasa ashram?
4) What will happen to woman after there husbands decide to enter the varnaprastha ashram?
In response to our previous announcement <http://mayapur.com/node/1356>about our scholarship scheme Vidya-dana, a few devotees<http://courses.mayapur.com/vidya-dana/vidya-dana-donors>have donated to help financially incapable devotees study Srila Prabhupada's books through Mayapur Online Education. We are very grateful to these donors for their help. We also request others to kindly consider donating for this noble cause of helping devotees deeply study Srila Prabhupada's books.
Another Great Ratha Yatra

Toronto, Ontario

I picked up a copy at the reception desk of the "India Observer" newspaper. On page 18 is an article called "Another Great Ratha Yatra" written by yours truly. Here it is:

Every summer the city of Toronto hosts events that appear to the public like layers upon layers of flavours of delectable ice cream scoops stacked onto a delicious crusty cone. There are events such as a Caribana with the flavour of the islands' music and dance; the Jazz Festival with its New Orleans musical flair; reflections of Athens with the Greek festival; the light heartedness of the comedic Just For Laughs. The scoops keep coming. But perhaps one of Toronto's best kept secret events is Ratha Yatra (translated as "The Festival of Chariots"), which has its rootes deep down, stemming from the eastern part of India.

There's everything "Indian" about Ratha Yatra festival like the large temple-domed chariots with colours loud enough to make you gawk for a while. There are sari-clad ladies swaying to music and men who take to serious finger tapping on two headed drums. Then there's the food; everything hit by some spice, yellowed with curry, and beckoning you to want seconds.

And there's also everything not so "Indian" about the festival, like the usual Toronto potpourri or kichari; people participating from (I hate to say the over-used phrase) all walks of life. There are men in pants as well as dhotis. African djembes are popping out beats in the air. Ancient mantras are vibrated sometimes with the twist of Bollywood, but you'll find vocals in crooner tones as well, and sometimes catch a dash of rock on the instrumentals.

Here is one of the most stunning attributes of Ratha Yatra – it's booze free. Please don't get me wrong. There's no free booze. In fact drinking is taboo here. And if someone is found 'high' on something he or she may even be escorted out, lovingly of course. That is unique!

The event is billed as a chance to "Feed Your Soul" and it's the spirtual overtones that make this party stand out. What to do? You can't make any excuses for the overtones because anything that is sourced from India, especially the oldie-but-goodie stuff, has that undeniable mystic edge to it.

How so?

Well, for case in point, let's just take the original story of the Ratha Yatra itself. King Indradyumna was a man hoping to get closer to God. He heard of an extraordinary beautiful icon of Krishna secretively worshipped by a tribal chief in a place tucked away in the eastern hills of the district of Orissa, India. The king was intensely curious but his search for this sacred icon went in vain when he discovered it missing. The icon was never found (Maybe hijacked by the chief?). The king then took the next course of action.

He commissioned the most expert sculpture of the time to carve out of a wooden log an image of Krishna in whom he could repose his love. Since Krishna is usually never alone, two companions, Krishna's brother and sister, Balarama and Subhadra respectively, were also whittled out of the one log. The monarch could not get a better-packaged deal. In the end, you have a happy king who accepted three, very crude and simple, but adorable images who reflect the joy of each other's company as demonstrated by their wide eyes and oceanic smiles.

Now, how does a chariot ride fit into the story? The Puranas tell us that once, on a solar eclipse, the three famous siblings, Krishna, Balaram, and Subhadra went on a journey via chariot to the north in Kurukshetra. This pleasure ride is reenacted annually in the city of Puri situated on the shores of the Bay of Bengal. It's an event that has gone on for at least two millennia and pilgrims come from far and wide anticipating a chance to pull one of the three celestial ropes attached to the chariots.

There you have the story in brief.

What if some innocent bystander was to come along and ask, "Just what is this all about?" Well, I would say, "It's a rope-pulling event but much more. One day, Krishna, along with his brother and sister wished to go for a pleasure cruise to catch the favourable breezes and receive their followers. This momentous occasion is being re-enacted right here on Yonge St. moving south to the Toronto Harbour. It's a story from India. If you pull the rope you'll make the king happy."

By the way, Toronto, which now boasts the 38th Annual Ratha Yatra festival, has no monopoly on the program. Ratha Yatra – the festival of chariots – occurs in cities around the world and is sponsored by ISKCON, better known as the Hare Krishna movement. And the Toronto community just happens to host one of the largest Ratha Yatra gatherings in the western hemisphere. If you travel around and check those other sites, then you'll see that the added feature here is the ecstatic kirtan (chanting session) as it moves and resounds uproariously at the bast of Yonge, under the Gardiner Expressway. The youth call it the 'Toronto Tunnel'. That portion of the event is like the cherry on top of all the flavourful scoops of ice cream.

Oops! I forgot about Centre Island. I don't know how we can fit this portion of the event on top of the cherry. That takes a whole new ice cream cone by itself. Let's call it a tofu mango ice dream. Oh, and the kitchen department did inform me that the free feast on the island includes delicious edibles for vegans as well. Other features are Yoga Meltdown (an outdoor yoga festival), live theatre and music, kirtan chanting, exhibits, and an active kiddie corner too.

To wrap this up (before the ice cream melts), I have a confession to make – I have been involved in Toronto's Ratha Yatra almost since its inception. The event is growing and seeing a good future. We just don't need city strikes and torrential rains to visit us for this splendid outdoor event. The history shows that spirits have never been dampened. It's extremely popular. It's high energy. Throughout the year, wherever I go in the GTA area, dressed in my robes, I have people come up to me reciting like a mantra "Hare Krishna Ratha Yatra, Centre Island". That's a good sign, because they and their family members and friends have had the experience of their lives – a good time, a social gathering and a pilgrimage of sorts.

Do come and pull the rope! Make the king happy!

Ratha Yatra: Festival of India

Saturday, July 17th and 18th, 2010

Parade starts at 11 AM on Saturday @ Yonge & Bloor to Centre Island.
Festivities take place on Centre Island all weekend – Saturday 12 – 9 PM and
Sunday 12 – 6 PM
Hot Days!

Toronto, Ontario

It is steaming hot and a trip, a short drive to the lake at 5:15 AM offers some relief. Today it is Lakeshore west where a trail lies in the area of Sunnyside Beach. It is rather nauseous in a way with traffic whizzing by for the greater part of the trail.

Kayaks glide along the water for those who have found the paddling a meditation. And gulls take breakfast spotting it from the air. At least one did swoop down to make a catch, a tiny flopping doomed fish. Prey and predator were moving frantically until the swallow was completed.

Back to the ashram and you'll find the heat is on again. We Canadians are not so accustomed to the high 30 degree Celsius weather with the humidity factor. Most of my day is preoccupied in working on our latest production, "The Three Lives of Bharat", a drama set for outdoor stage in Montreal this weekend. It is very engaging keeping me out of trouble. The actors perceive it as hard work but work they love.

Between practices the water intake has increased. The tap runs more these days for making lemonade and for taking extra showers. This ordeal cannot compare to the scorching heat of India's balmy weather and when I reflect on what was sweltering days of my youth working for eight intense hours a day in the tobacco harvest. That was the ultimate austerity. As a student earning a small income I learned much about toughness from the tobacco field work. In some ways the physical workout and good sweat set the stage for my Krishna consciousness.

I'm grateful for the hard work.

6 KM
Place of Pilgrimage

Toronto, Ontario

I make it an annual trip there. It's not far. East on Lakeshore Boulevard is a trail which is a place of pilgrimage. In the summer of '75 our guru, Srila Prabhupada trekked here on the same boardwalk that we now have the fortune to experience. Edged at the beach of Lake Ontario is plank against plank set in the sand.

Since that time, now 35 years later, hundreds of thousands of people have lightly pounded on the same path as this pure devotee had done. Some benefit does come to the numerous walkers and runners that tread the same track of this most remarkable soul. Wherever the great pious soul wanders a spiritual power is deposited. That power can be absorbed by all subsequent foot travelers. That is their good fortune.

One of my favourite verses from the book, Bhagavatam, regarding sacred space is as follows:

Bhavad- vidha bhagavatas
Tirtha bhutah svayam vibho
Tirthi kurvanti tirthani
Svantah-stena gadabhrita

Translation:

My Lord, devotees like your good self are verily holy places personified. Because you carry the Personality of Godhead within your heart, you turn all places into places of pilgrimage.

7 KM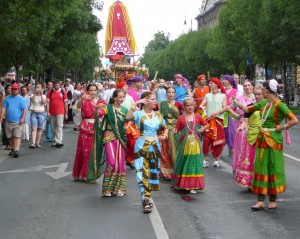 Idén tizenhetedik alkalommal vonulnak Krisna-hívők és a velük ünneplők a Hősök terétől a Vörösmarty térig. A Hair című musicalből is sokak által ismert Hare Krisnát éneklik a keleti vallás követői a zenés-táncos felvonulás alkalmával. Az indiai történelmi hagyomány szerint évente egyszer Krisna hívei színpompás körmenetet tartanak, melyen gyönyörű dalokkal és tánccal kísérve egy díszes szekéren Isten különleges formáját: Dzsagannáth-ot ("az Univerzum Urát") városnézésre invitálják. Azt tartják, ekkor minden élőlény, aki megpillantja Őt, a jószerencse áldásában részesül.
A Szekérfesztivál (Rátha-játrá) világszerte hatalmas kulturális fesztivállá nőtte ki magát, és a béke szimbólumává vált. Budapesten immár a 17. alkalommal rendezik meg ezt az ünnepet – idén július 11-én, 11 órai kezdettel indul a menet a Hősök terétől és érkezik meg délután két óra körül a Vörösmarty térre.
As a result my chanting was hampered and not so quick, but I remained determined and kept fighting to keep attention and devo tion in harinama. I have chanted about eleven rounds. I was able to keep focus on the syllables and not become panicky.
From
Bhajan Kutir #3
1968 July 10: "Our mission is to reach the Supreme Planet, in the Spiritual Sky, namely the Abode of Krishna. As such, we cannot compromise that all sorts of meditation gives the same result. There is no Vedic evidence, neither any proof of the Acharya principles."
Prabhupada Letters :: 1968
1969 July 10: "One who has implicit faith in Krishna and the Spiritual Master, to such person the real import of the Vedas is revealed. At present your most important duty is to compose books. You have written nothing about your training in working the composer machine."
Prabhupada Letters :: 1969
1969 July 10: "There is no question of any separation or divorce. The basic principle of married life in Krishna Consciousness is not whimsical lusts, but it is the eternal principle of rendering devotional service to Krishna."
Prabhupada Letters :: 1969
1969 July 10: "So far human frailties are concerned, they can all be adjusted by dovetailing everything in Krishna Consciousness. Our Krishna is a great family Personality and our ambition is to enter into Krishna's family."
Prabhupada Letters :: 1969
1970 July 10: "I am very glad that both of you went to Babu Ghat for chanting Hare Krsna. The same process I adopted when I started my Sankirtana in Tompkins Square. After all it is not a question of the place, but it is the person who chants which is important."
Prabhupada Letters :: 1970
1973 July 10: "The Rathayatra in London was very successful. The Guardian had a front page picture of our cart and how we are competition to the Lord Nelson monument in Trafalgar Square."
Prabhupada Letters :: 1973
1973 July 10: "I talked with a very famous sculptor and today George Harrison is going to visit. They are arranging for visits by other famous men. This policy of important men being invited to talk with me should be implemented wherever I go."
Prabhupada Letters :: 1973
1975 July 10: "Enclosed are some photographs of a lake here where I take morning walk. Now I want that our lake in Mayapur should be like this. You can make the stone stairway on four sides, one at each end and one at the middle of each side."
Prabhupada Letters :: 1975
1963 July 9: "His Excellency Dr. S. Radhakrishnan, President of India: the Governor Of U.P., the Congress President and others all have sent their valued comments on my Srimad-Bhagavatam. I am also expecting your opinion on the publication. This will help me very much."
Prabhupada Letters :: 1947-64
1968 July 9: "I am anxious about you because you are conducting one of the important departments of our activities and this will make your life successful. Keep yourself always healthy because you have to work so much for Krishna, and whenever you feel some difficulty, you may immediately inform me."
Prabhupada Letters :: 1968
1969 July 9: "So far as I am concerned, I have accepted you as my disciple and you have accepted me as your Spiritual Father. This relationship cannot be ended anymore. It is eternal. So it will be my duty always to pray to Krishna for your further and further improvement."
Prabhupada Letters :: 1969
1970 July 9: "It is very difficult to deal with these misguided people. We don't accept manufactured avatara. If Meher Baba or any other Baba claims to be Krsna, why will any intelligent man will go to the substitute leaving aside the original?"
Prabhupada Letters :: 1970
1971 July 9: "You have been in this movement since the very beginning and you say that you don't understand. And you have so many questions, but you will go on questioning throughout your whole life and never understand. So what is the use of asking questions?"
Prabhupada Letters :: 1971
1971 July 9: "GBC members are simply to see that things are going on. They are simply to examine that things are going on nicely, that is all. Other centers have got president, secretary, etc. and they are managing separately. That is the formula."
Prabhupada Letters :: 1971
1972 July 9: "Now you GBC members, and other leaders must become very serious to actually give the human kind the greatest welfare. Your task ahead is very huge, but it will be quite simple and easy if you simply do as I am doing."
Prabhupada Letters :: 1972
1974 July 9: "I think the convent is suitable for us and it is possible we can purchase it. How much financial help you require from the BBT you can talk on this and we should do the needful."
Prabhupada Letters :: 1974
24hr Kirtan ISKCON Coventry Sandipani Muni Das & Gurusevak Das

ISKCON's 2nd Generation Go Green at French Kuli Mela
An article written by Madhava Smullen for ISKCON News and originally posted on July 9th, 2010.
This August, 350 "Kulis," or members of ISKCON's second generation, from France, England, Italy, Spain, Germany and Belgium will converge on the rural community of New Mayapur two hours south of Paris, France.
In a way, their journey will be a spiritual trek; one that will end at Europe's second Kuli Mela in as many years. Kuli Mela—meaning a gathering of community—arose from an effort to mature annual Kuli reunions from mere social events into productive sharing of attendees' lives and talents.
After its inaugurative festival in New Vrindaban, West Virginia in 2006, Kuli Mela became something of a phenomenon, kicking off a spate of regional events around the world—each with its own theme and mission.
And France's Kuli Mela promises one of the most interesting themes yet: Ecology. "With high pollution levels around the world, global warming, environmental disasters such as the BP oil spill, and general mistreatment of Mother Earth, it's an extremely important subject," says Chandra Bellamy, one of Kuli Mela France's ten-strong organizational team.
It's no accident that the team has chosen New Mayapur, an 85-hectare rural community set around a historic castle, as the location for the event. "Srila Prabhupada's dream for New Mayapur when it was established in the 1970s was to have it become a self-sufficient community," Chandra says. "And our goal at this Mela is to inspire a return to the simple life of gardening, working the land, and taking care of cows that he taught."
Many of the workshops offered over the five days of the Mela, from August 5th to 8th, will pursue this goal. Dhanesvara Dasa, author of Lessons in Spiritual Economics from the Bhagavad-gita and inspiration behind village communities in Lithuania and Ukraine, will speak on spiritual economics and how to understand and apply Vedic Dharma in managing a rural community.
Yamuna Dasi from the UK, meanwhile, will speak about climate change, and about how to resist a globalized and capitalized world.
And French native Prema Rasa Dasa, herbalist and author of The Art of Cooking With Wild Plants, will conduct an experiential workshop were attendees will learn how to recognize, choose and pick wild herbs in the forest land around New Mayapur, before cooking up and eating them.
Several films with ecological themes will also be shown at the event. There's "The Lost Village," a documentary produced by Bhakti Vaibhava Swami and starring Lokanath Swami, which examines the destruction of traditional village life in India by urbanization. There's Food, Inc., an Oscar-nominated documentary that explores the food industry's detrimental effects on our health and environment. And there's Solutions Locales pour un Désordre Global—or "Local Solutions for a Global Disorder"—a French film by director Coline Serreau, who traveled around the world for three years with her camera, seeking community village initiatives across India, Brazil, and Russia.
The environmental consciousness of Kuli Mela France even extends as far as dinnerware. "We will give each attendee their own plate and cup bearing the Kuli Mela logo, which they will use for the entire event," Chandra says. "At the end of the Mela, they will either keep them as souvenirs, or we will return them to the company they came from for recycling."
The meals themselves—breakfast, lunch, and a light dinner every day—will be organic, with half of the vegetables used to be grown by Kulis themselves or donated by devotee farmer Kutastha Dasa, and the other half to be purchased locally. Chef duties will be performed by Rupanuga Dasa, an expert with five years of experience cooking for organic fair crowds.
"Even the snacks we serve will be organic and healthy," says Chandra, ticking off a list of delicacies including French crêpes and Indian chaat snacks such as pani puris, dahi puris, and aloo tikkis. "You won't find any pizza, Coca-Cola, or fries at this event!"
As well as emphasizing the importance of self-sufficiency, the Kuli Mela France organizers hope to create a consciousness of valuing ISKCON's rural farm communities, and to inspire Kulis to get involved so that they don't disappear.
This is not merely theoretical—after fifteen years in decline, the New Mayapur property narrowly missed getting sold off several years ago. And the community—which many French Kulis grew up in—is still struggling, with only a handful of devotees living in the temple and maintaining the Deities.
"We see this Kuli Mela as an opportunity to get the community back on track," Chandra says. "A group of youth are already interested in settling in New Mayapur and building up the project. And we feel that the Mela may attract more young people to start something there, or at least contribute six months of their time.
And little by little, something can happen."
That vision will start with hundreds of Kulis arriving at New Mayapur for the Mela's opening ceremony on August 4th. The next day, meanwhile, will begin bright and early.
"Our Deities at New Mayapur—Sri-Sri Radha Govinda, Krishna-Balarama, and Gaura-Nitai— are so beautiful, adorned with locally grown flowers and beautifully decorated by the head pujari (priest) Visesa Dasi," says Chandra. "But They don't see many devotees throughout the year. So we're really encouraging all the Kulis to attend the temple program every morning and give Them as much devotion and attention as possible."
Breakfast on each day of the Mela will be served at 9am, followed by workshops from 10:00am to 1pm. After lunch, another session will follow, from 3pm until 6pm. As well as those with an ecological theme, a total of fifteen workshops will cover a wide variety of topics such as yoga, massage, dance therapy, pottery, transformative communication, and self defense using martial arts.
Bhajan singing will be held throughout the day in the temple room, while evenings from 7pm till midnight will see a wide variety of musical entertainment.
Singer Prana Ji and guitarist Mathura Dasa of the Bindoo Babas, an alternative reggae/jazz band based in the UK, will have Kulis jiving to their '70s inspired easy-going grooves. Michi, former frontman of the Spanish hip-hop group Dhira, will appear solo with his energetic and catchy melodies and rhymes. Hardcore metal band Bhimal from Poland are sure to inspire a head-banging mosh pit. And acoustic folk artists Jaya and Govinda from France and Chakrini from the UK will bring a more chilled-out vibe with their soulful sets.
Meanwhile, kirtan singer Madhava Naidoo will have everyone chanting and dancing their hearts out, sending the Holy Name of Krishna soaring into the sky.
"There will also be a lot of electronic music and DJs," Chandra says, "Including Ashirvad, who will play a set based on their epic musical journey across sacred India; Silly Pundit and Haridas from the UK, DJ Veda from France, and DJ Sanj with his Bollywood beats."
The festival will be rounded out with an evening of Indian music and dance featuring dancers from France and Belgium, including bhajans, classical Odissi dance and Bollywood Dance.
"As well as Kulis, the Mela will be attended by friends of ours from neighbouring cities whom we've invited to experience our culture," says Chandra, "So we hope the event will bring everyone together."
Senior devotees from around the world will also be a strong presence at the event—ISKCON had a large, thriving community in France in the 1980s, and Kuli Mela will be an opportunity for all those who have since moved to the US, Australia, and other countries to reunite at New Mayapur and spend some time together.
"We would like this Mela to leave people with an enthusiastic feeling of happiness and creativity, and to inspire them to become active in the New Mayapura community," says Chandra.
The New Mayapur guesthouse has already sold out for Kuli Mela, although space remains in two large tents to be used as men's and women's dormitories. Attendees also have the option to camp using their own tents or to stay at one of several hotels in the area. Shower and toilet facilities will be provided on site. For more information, please write to contact@francekulimela.com.
More Recent Articles
---
Click here to safely unsubscribe now from "Planet ISKCON" or change your subscription or subscribe

---
---
Unsubscribe from all current and future newsletters
powered by
FeedBlitz
---
Your requested content delivery powered by FeedBlitz, LLC, 9 Thoreau Way, Sudbury, MA 01776, USA. +1.978.776.9498
TABLA - FUENTES - FONTS
SOUV2
Balaram
ScaGoudy
FOLIO 4.2
Biblica Font

Disculpen las Molestias
Planet ISKCON - 2010
·
Planet ISKCON - 2011