PLANET ISKCON


Here are the latest updates for
| | |
| --- | --- |
| | Festival of India, which puts on twenty Ratha Yatra festivals annually across the US and Canada, has never held back on gifts with which to thank its donors: books by Srila Prabhupada, various audio CDs or videos. But since April 2010, the organization has begun offering a new gift to donors which adds just that much more of a personal touch: a beautiful, wonderfully detailed bust of ISKCON's founder. |
| | |
| --- | --- |
| | After the successful "Spiritual Warrior" trip to Guyana (ISKCON News, July 15) Vilasa-Manjari Dasi and Paramananda Das are organizing another preaching mission to Guyana, South America in September, 2010. This project is entitled "Food For Life: the Spiritual Warriors Feed the Children Marathon". |
From
Bhajan Kutir #16
Srimad Bhagavatam 11.22.32

On Wednesday 21 July 2010, it was the first time that Lokanath Maharaja's Vyasa Puja was celebrated in Melbourne.


Maharaja's disciples here, namely Jaspal Prabhu, Nitesh Prabhu, Ravi Prabhu and Sunita Mataji organised their spiritual master's appearance day with great vigour with the help of their friends and well-wishers of Maharaja. The 'Lost Village', a documentary realised and produced by Lokanath Swami was projected during the ceremony followed by the reading of deep and heartfelt offerings by Maharaja himself and his disciples and friends. One that was most striking was Maharaja's hommage to HG Aindra Prabhu.

The highlight of the celebration was, of course, the elaborate Ekadasi feast prepared by our dedicated cooks: Vaisnava Carana Prabhu, Sammohini Mataji, Balagaura Prabhu and their dedicated assistants.
Here is a slideshow of the event.

The other day for some reason an old song sung to me as a child entered my head by the Scoffolds, I though it at the time to be a simple but nonsensical song that made me laugh the chorus line went: well drink a drink a drink to Lily the pink a pink a [...]
The 38th Annual Ratha-Yatra: Festival of India took place on July 17-18, 2010 bringing a splash of colour to the city of Toronto. It is difficult to capture the entire festival in a few words, so we hope these pictures do the trick! More pictures and a full report coming soon!
There is a little story, very interesting. So one poor boy, he was student in a school, and the teacher's annual ceremony of father's death would be held. So he requested all his student, "What you will give me, contribution?" Formerly the teacher was not taking any salary. But whatever he wanted, the students will bring either from parents' house or by begging. That was the system. The teacher would not charge anything. A brahmana cannot be..., charge anything.
So this teacher, the original story, the teacher asked the student for... Somebody said, "I will contribute this cloth," somebody said, "I'll rice," somebody said something, something, something. There was one poor student, he had no means. He was very poor. So when he was asked, so he replied that "I cannot say anything without asking my mother." "All right, you ask your mother and tell me tomorrow." So he asked, "My dear mother, all my class friend has promised the teacher to contribute this, that, this, that. So my turn is there. What shall I promise?" The mother said, "My dear son, we are so poor, we cannot give anything. But if Krsna gives, He is dina-bandhu, the friend of the poor. So if He gives something to you, you can promise." "Oh, where is Krsna? What is His name?" "Now, His name is Dinabandhu, friend of the poor." "Where He is?" "I understand that He is in the forest." So he went to the forest and called, "Dinabandhu brother, Dinabandhu brother, where You?" He began to cry. So Krsna came. When a devotee is very much eager to see Him, Krsna comes. He very is kind. So "Why you are asking?" "My mother... You are Dinabandhu?" "Yes." "So this is my condition, sir. What can I promise?" So He said that "You promise that you will supply yogurt, dahi. You will supply dahi." So he was very much satisfied. And he came to the teacher that "My Dinabandhu brother, dada, He will supply dahi, or yogurt, for whatever you require." "Oh, that's nice. Very good."
So on the day of ceremony, so he went to the forest again and called Dinabandhu dada, and He gave him a small pot of dahi, yogurt, a small pot. Oh, he was a child. He did not know. And the..., he brought it to the teacher, "Now, this is my contribution. My Dinabandhu brother has given. So you take." "The hundreds and thousands of people will be given foodstuff and this much dahi?" He became very angry. He became angry, he did not care, and the pot fell down, and the yogurt also fell down. But after some time, when he came, he saw that although the yogurt has fallen down, the pot is full. Then he again dropped it; again it is full. He dropped it; again it is full. Then he could understand it is spiritual. Purnasya purnam adaya purnam eva avasisyate [Iso Invocation]. You take the whole thing; still, the whole thing is there. That is Krsna. Not that because you have taken something, one minus one equal to zero. No. In the spiritual world, one minus one equal to one. And one plus one equal to one. That is called advaya-jnana. There is no duality. Plus and minus, they are two things. But in the spiritual world, either plus or minus, the same. That is to be understood. That is called Absolute, advaya-jnana.
>>> Ref. VedaBase => Srimad-Bhagavatam 3.25.38 -- Bombay, December 7, 1974
Daily at GMT 4.45 a.m. and 2 p.m., 22 to 26 July. 24 July there will be no afternoon lecture.
vedamedia.ru\kazan
By Badrinarayan dasa
Hare Krishna. I am writing to announce a wonderful opportunity. By the efforts of Romapada Maharaja (who has arranged the donor / funding) we can offer a 90% three year scholarship to Bhaktivedanta College at Radhadesa
Our life has been lacking order, quality time and sweets. So I am really trying, despite feeling old and pregnant and totally impatient at times, to correct that.
Order is rough. Still getting stuff put away but with a throbbing varicose vein (sexy) I am not that ambitious.
Quality time. Bought some glue. Spilled some beans on a plate. Outlined a shark. Go! My son likes crafties, so I got him started on a second bean mosaic. Remember the first?
My pet project usually involves shrikand. I had a master plan for perfecting the perfect frozen shrikand recipe, but then I bought a bunch of cherries on sale at Publix and thought, what the hell, let me just wing it. I gathered my ingredients, let my five year old daughter cup up the cherries, and shoved it all in the ice cream maker.
The flavor was excellent. The texture….hmmm. Straight out of the ice cream maker, it was very gelato-ish. I put it in the freezer overnite and then it was super hard. Maybe a little too hard. But the taste was divinity. Tart and rich, like the frozen yogurt I had as a kid at Saks with my mom. Not all fat-free skinny assed like the frozen yogurt being sold in chains across America.
With both the donuts and frozen shrikand, I need to experiment more. But before that, I should probably get everything put away.
Other things cooked this week–lots of buckwheat cake, with cherries thrown in for some extra summer sweetness, artichokes (of course) and a killer stuffed baked potato made with pepper jack cheese. The dinner table tonite will include some fresh organic kale and a lovely green salad. Calcium, iron and folic acid makes for a happy baby in-utero.
www.sdgonline.org.
3:44 A.M.
I slept peacefully and woke at 2:00 A.M. My chanting has been very efficient. I've chanted all 16 rounds. I was conscious of each round, chanting it rapidly and hearing the syllables. It was better than most days, with no drowsiness, but it was mechanical in that I didn't delve deeper into the mysteries of the holy name but concentrated on the accumulation of numbers of mantras. I bordered on deeper thinking, and that was good. If I could do this well every day, then I could increase on its quality, but the quantity was fine.
Quantity and quality,
the quality is more
important. I chanted
them as quickly as
possible and aware
of each mantra as it
passed through my mind.
Sooner than usual,
I finished 16.
But something was missing,
and it's elusive to gain,
The heart fixed on Radha
and Krishna. You solace
yourself, "But the names
are Radha and Krishna"—
and yet
and yet …
www.sdgonline.org.
Prabhupada Smaranam
Here are Prabhupada and Sri Sri Radha-Londonisvara in the first Bury Street temple in London. The devotees used to remark how intimate it was because the vyasasana was placed to the right of the Deities and nearby Them. Prabhupada could see Them close up, unlike many temples where his vyasasana is placed at the opposite end of the temple. The devotees would sit crowded and wedged in between Prabhupada and the Deities. The ceiling of the temple was constructed by Syamasundara Prabhu and was shaped like a boat and made of redwood timber from California. Prabhupada gave many strong and intimate lectures from this setting.
The acquiring of these Deities is well known. An Indian man had Them in his possession, and he volunteered to give Them to the devotees for their temple. The devotees went to the man's house to see the Deities. Prabhupada loved the Deities and wanted to take them immediately. But the man hesitated. He said there was a little chip on Radharani's finger, and he would fix it first. Prabhupada insisted on taking the Deities, and while the man was still protesting they weren't ready, Prabhupada asked his men disciples to pick up the Deities and carry Them to the car. Thus Prabhupada "absconded" with the Deities. He drove a little away from the house and then stopped and looked at the Deities. He was very satisfied with Them and said the chip on the finger was insignificant. He said Krishna looked like a young innocent boy. Fancy clothes were made for the Deities, and They were installed in a grand ceremony on December of 1969. Here Prabhupada looks fondly and closely at Their Lordships from his nearby perch.
On his last visit to London in 1977, shortly before his passing away, he made a special day-visit to see Londonisvara. He had been wearing dark glasses during his whole trip to Bhaktivedanta Manor, but when he came before Radha-Londonisvara he took off his glasses, and the devotees could clearly see the tears running down his cheeks. Surely he had a special relationship with these Deities, which he so forcibly acquired back in his early days of the movement in England.
www.sdgonline.org.
Krishna is His name in the
maha-mantra. It's the best
name for God because it means
"all-attractive," better than
Narayana or Vishnu. My
Godbrother, Jayadwaita Swami
says "Krishna, Krishna" often while
he's eating, an idiosyncratic
habit but no doubt dear
to the Lord. "I do not know
how much nectar these two
syllables contain," said Rupa
Goswami.
And he said that if he had millions of
tongues and millions of heads
he might understand.  Just one off-hand
"Hare Krishna" can save you
from the Yamadutas at
death.
But my own "Hare Krishnas"
sag in my brain, and
they fall on deaf ears.
I chant like a mechanical
machine. No, don't
say that. Don't put
yourself down. Say
"Krishna" with verve and devotion.
You can do it. You do
when you're chanting early
in the morning.
Then God is there,
the Lord Himself.
Take care and say
it lovingly. Like
Miles on "'Round Midnight."
Like Coltrane on the
improvised score.
Like the best poetry
you know. Like the
pleasure of your nap
when you are tired.
Like the best thing you
know. You are a small–
time bhakta, and
I ask you to find these special moments
in your life and rise in your
utterance of "Krishna." It's
easy as that,
and then you will go beyond.
Enjoy it like you do the
chirping of the many birds
at dark pre-dawn in
this tree-filled neighborhood.
Like your early morning japa
when it's going well.
Do it with love, I
know you can.
You just have to put
a little attention and
intention in your heart.
"Krishna" will come out of
hiding, He'll fill your
body with rays of goodness,
even ecstasy is possible
if you'll chant with discipline
and practice and use your
longtime knowledge of
how to do it. It's so
simple and sublime.
It just requires the patience
of a saint. So you are
no saint? Still you
can utter "Hare Krishna" with sincerity,
I know you can.
www.sdgonline.org.
Free Write
This is the cover of the first long-playing record made by the Hare Krishna movement.  A man named Alan Kallman and his wife came to an evening kirtana at 26 Second Avenue in 1966, and he was impressed with the kirtana. He was a producer of records, and he thought the kirtana had the potential for a selling record. He went to see Swamiji to talk about it. Prabhupada talked over the financial conditions of how much we would get for it, and he was satisfied. I forget the terms of the contract, but we would buy the record at a low price and sell it ourselves. The recording evening was a wonderful event. About a dozen of us went with Prabhupada to a studio around 42nd St. and Times Square. Before we went into the studio, we had a marching harinama around Times Square, with Hayagriva playing our big bass drum and some of us playing karatalas. In the studio a rock band just finished playing, and as the young men came out they asked us what was the name of our group. Hayagriva said we were the "Hare Krishna Chanters." We practiced chanting with the studio engineer. He thought we had too many karatalas, and he reduced them and gave us some sticks to play. Prabhupada played a big wooden khol which a friend of the movement had lent him. After about fifteen minutes of practice, we cut the record just one time through. Prabhupada led with a few prayers and then led the Hare Krishna mantra, and we joined in chorus. It was a thrill singing with him in those conditions. The Hare Krishna mantra lasted about 12 minutes, and then they stopped it. Then they recorded a second side of the record. Prabhupada sang by himself Samsara-dava-nala-lidha-loka (Guruvastakam), with Kirtanananda playing the harmonium as a drone. He also spoke an introduction to the mantra.  The engineers played the recording out loud in the studio. We were so happy, we all got up and danced to the music.
The artwork was done by an artist at "Happening Records." It had a nice photo of Prabhupada on the back. He liked it and said, "A swami should look philosophical." There was a long delay in Mr. Kallman producing the record, which strained his relationship with Prabhupada, but when it finally came out it was worth it.  We sold all the records, and many people got to hear the Hare Krishna mantra. The Beatles got a copy and liked it very much. It was our last commercial record, and a disciple named Dinesh produced the second LP, Vande 'Ham, with a sitar player from the Ali Akbar School of Music. That record featured Srila Prabhupada singing "The Prayer of the Six Goswamis," but nothing ever matched going to Times Square with Srila Prabhupada and recording the first Hare Krishna album. The swami's voice was strong, and his khol–playing was expert. Our chorus was pretty good too. Ravindra Svarupa heard the recording at a friends and thought it was a "timeless experience."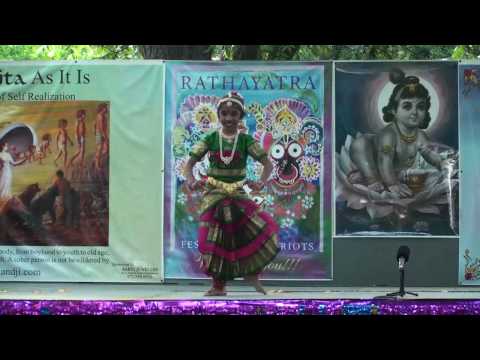 Bharatnatyam dance performed by Sanskriti Trivedi at the Dallas Rathayatra.
Dallas, TX
2010-05-22 
By Manu das
The local people thronged in their hundreds to visit the island retreat of Sri Sri Radha Govinda. It is not an annual pilgrimage as some years we are not geared up to host the event, but the Hare Krsna "open Day" still attracts many locals to take a cultural step in the direction of Krsna, and experience first hand the Hare Krsna Temple
By Manu dasa
Govindadvipa Vraja Mandala Parikrama will run from July 23 till 25 and will be presented by our own ISKCON, best of the Brijbasis, His Grace Deena Bandhu prabhu. So come and immerse yourself for a few days in some wonderful Krsna Katha on our beautiful,Sacred Island Mandir, Govindadwipa
By Abhaya Mudra Dasi
Who would not miss Aindra Prabhu? Even the dham of Vrindavan will miss him. Whoever has listened to his bhajan has been transferred into the Vaikunta realm by a unique and outer-worldly sound vibration. I remember the times in Bulgaria when we were living under very austere temple conditions: taking baths in snow water, freezing in the winter and squashing body to body in the small rooms.
By Vrajendra - nandan Das
On 13th of July, ISKCON Kolkatta had organized a colorful Rathyatra starting at Park Circus Maidan. The Kolkatta Rathyatra happens to a one of the few in country where 3 Chariots with Lord Balaladeva, Srimati Subhadra Devi and Lord Jagannath seated on them are taken on the procession.
A SPANISH Teacher was explaining to her class that in Spanish, unlike English, nouns are designated as either masculine or feminine.
'House' for instance, is feminine: 'la Casa.'
'Pencil,' however, is masculine: 'el lapiz.'
A student asked, 'What gender is 'computer'?'
Instead of giving the answer, the teacher split the class into two groups, male and female, and asked them to decide for themselves whether 'computer' should be a masculine or a feminine noun. Each group was asked to give four reasons for its recommendation.
The men's group decided that 'computer' should definitely be of the feminine gender ('la computadora'), because:
1. No one but their creator understands their internal logic;
2.The native language they use to communicate with other computers is incomprehensible to everyone else;
3. Even the smallest mistakes are stored in long term memory for possible later retrieval; and
4. As soon as you make a commitment to one, you find yourself spending half your pay check on accessories for it.
The women's group, however, concluded that computers should be Masculine ('el computador'), because:
1. In order to do anything with them, you have to turn them on;
2. They have a lot of data but still can't think for themselves;
3. They are supposed to help you solve problems, but half the time they ARE the problem; and
4. As soon as you commit to one, you realize that if you had waited a little longer, you could have gotten a better model…
Filed under:
Jokes
1967 July 22: "Due to my indifferent health, for the time being I am going to India; and even if I cannot come back, I will work for an American house there so all you transcendental children can come there and learn and be strong enough to preach this cult for the benefit of all the human society."
Prabhupada Letters :: 1967
1969 July 22: "Unless one is highly elevated in spiritual understanding it is risky to discuss Radha Krishna Pastimes. To understand Radha Krishna's Pastimes, that is our aim, but we should not indulge in this at present. Then there is sure to be misunderstanding."
Prabhupada Letters :: 1969
1972 July 22: "The books are coming at no cost to you, you simply sell them and utilize the entire money for building. That will be the real task ahead, to sell many, many books all over India and use all the money for building. Why do you see any difficulty?"
Prabhupada Letters :: 1972
1972 July 22: "Regarding Lalita Prasad Thakura, unless he keeps his promise than we are not interested to publish any of Bhaktivinode Thakura's books. That animosity against Guru Maharaja is going on, so we shall have nothing to do with it."
Prabhupada Letters :: 1972
1972 July 22: "Yes, the reading of Krsna Book and chanting at his bedside must go on. Now continue to offer prayers and chant Hare Krsna always for him and this will save him under any conditions."
Prabhupada Letters :: 1972
1972 July 22: "Avoid publishing my writings in hodge-podge journals. These so-called Hindus are generally impersonalists, and we do not want to have anything to do with them. Better we stick to our own standard, and eventually they will all come to us for learning what is God."
Prabhupada Letters :: 1972
1973 July 22: "The translating of my books is of the utmost importance and I am very thankful that you are seriously taking on this practical work for spreading Krsna Consciousness in your zone."
Prabhupada Letters :: 1973
1973 July 22: "You have done a nice job with the French edition of Back to Godhead, and I am especially looking forward to the next issue which will be color 32 pages. You should more and more improve this magazine until it becomes superior to all other magazines in the French language."
Prabhupada Letters :: 1973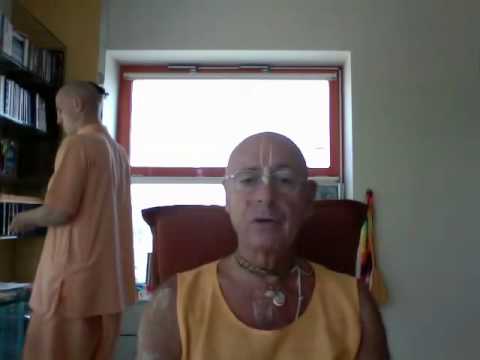 In the summer of 2006, this blog was created when several of us decided to go to Vrindavan to participate in VIHE courses and live in the dham for several months. I can't speak for the others, but for me that was only really a cover reason for going as my main motivation was to participate in HG Aindra Prabhu's kirtans. I had been fascinated with his kirtan for several years before that, eagerly awaiting any new live recordings or videos that would come out of Vrindavan. Back in those days there were hardly any ISKCON related media sites so these tracks were just passed person to person, and they became something to treasure. When I arrived in Vrindavan, what struck me was how simple the kirtan was. What I really mean by this is not the kirtan itself, but everything that seemed to go into it. Aindra Prabhu would sit right down on the floor with his little harmonium, mridanga and kartal players and a mind blowing melody would result from it. For over four months I had the fortune of being able to participate on a daily basis, and it is an experience that I will treasure my entire life.
While in India, I was also fortunate enough to get Aindra Prabhu's association and what struck me about him was just how humble he was. He viewed kirtan as his upmost service, and if anyone asked him to perform it, he would take every possible measure to do so. I remember going to do kirtan with him in several home programs, a jail in Agra and several new temples in Vrindavan and other areas. When Gopal Prabhu had an extra "aindra" harmonium he told me I could have it, and that I should just get it from Aindra Prabhu when it was delivered in a few weeks. When I went to collect it, Aindra Prabhu was sitting there with the harmonium wala demanding that every note was perfectly in key. The wala eventually gave up, but Aindra Prabhu wouldn't give it to me until he was satisfied, so he said that he would just have to tune it himself and told me to come back in a day or two. I couldn't believe that he was putting so much time into this harmonium for me especially when it seemed as if he had a never ending list of things to do. While he did kirtan, Aindra kept two things on his harmonium. Fisherman's Friends which are lozenges to strengthen your throat while singing, and necessary if you sing as much as he did, and a small picture of the pancatatva. It was so simple, yet so perfect, for me a simple reminder that he was just carrying out Caitanya Mahaprabhu's mission in chanting the Maha Mantra to as many people as he possibly could. When I was last in India in January of 2009, I was standing against one of the pillars in the KB mandir after Aindra's kirtan, staring at the wonderful forms of Krishna and Balaram during aroti when I felt someone come up behind me and poke me in the back. When I turned around, it was Aindra Prabhu asking me how long I was there and telling me that when I graduate university I should come for longer.
I was looking forward to the next time I would have the opportunity to Vrindavan and take part in his kirtan again when I received news of his tragic departure this past weekend. I am upset now because I will never be able to do this again, and I cannot imagine Vrindavan without him. Anyone who has ever been to Vrindavan with me knows that it is almost impossible to go do darshan of any of the presiding deities of the dham in the evening because I made it a priority to be in Aindra's kirtans. While I am upset for selfish reasons, I know that Aindra Prabhu is now with Radha-Syamsundara where he belongs. From Krishna Balaram mandir, Aindra Prabhu affected the way kirtan is performed all across our movement as many of our tunes can somehow be traced back to him. He was a legend and he will be missed in ways we still do not know today. I will miss him dearly as well.

Chaitanya
To the ecstatic beats of Pndu vijaya, Lord Jaganantha, Baladeva and Subhdra devi were carried from Gundica Mandir and mounted Their divine chariots, blessing the thousands and thousands of visitors with Their merciful glance and opportunity to pull Their Chariots. Scriptures states that just by pulling the ratha or even following the ratha, one attains great spiritual benefit. Bahuda Jathra or Return Ratha Yatra is the festival when Lord Jagannath after spending a week in Gundica ( sundrachal) returns  to Nilachal.
www.sdgonline.org.
Video of this month's reading from the book Remembering Srila Prabhupada.
[See post to watch Flash video]
Go Tamal Go! Go Go!

Toronto, Ontario

One special assignment for me today was the preparation for a narration of Chaitanya's eight verse prayer called "Shishastakam". With the English translation I read the famous devotional lines queued to music selected by hip hop dancers, Tamal Krsna.

Tamal, from Harrisburg, Pennsylvania, was a former teacher of dance. With a little persuasion he became convinced to take it up for this devotional try out in preparation for Detroit's Ratha Yatra festival. He and I are collaborators on this dance narrative. I'm glad the arm twisting on him worked because here I could see a person of skill who needed to channel his gifts.

One contemporary of Chaitanya, Rupa Goswami, expressed that the highest form of renunciation is to use your talents and assets in the service to the Creator. If you have some extraordinary shakti (power) it can only be wasted away if not used in the service to others. Each and every one of us shines in a certain category of activities. Why block or suppress this sun?

If the sun wants to shine, then let it. Don't cloud it over with inactivity or with ego. We are expected to be animated with our propensities.

Tamal was apprehensive in the beginning but then began to realize the worth of dovetailing or channeling your abilities in the service of others. I could tell he was burning with desire inside to display his talents. Now it could be directed to the soul rather than for a selfish purpose.

So this Saturday, Detroit will see an exciting new approach to hip hop.

Go! Tamal, Go! Go Go!

7 KM
| | |
| --- | --- |
| | An Indian court has ruled that Hindu gods cannot deal in stocks and shares, after an application for trading accounts to be set up in their names. |
| | |
| --- | --- |
| | Solar Impulse, piloted by André Borschberg, flew for 26 hours and reached a height of 28,543 feet, setting a record for the longest and highest flight ever made by a solar plane. |
| | |
| --- | --- |
| | These yoga retreats will allow the participants to get a deeper understanding of the real meaning of "yoga", to realize and appreciate what is inside the world of yoga (and what are the yoga "ladders"), including bhakti-yoga, asanas, pranayama, meditation, yoga philosophy, yogic lifestyle, yogic diet, vedic culture, to obtain full satisfaction through yoga. |
| | |
| --- | --- |
| | The Lotus Trust, the welfare arm of Bhaktivedanta Manor, UK raised thousands for local charities, including the Great Ormond Street Hospital during a Charity Walk on Sunday 18th July. This year's Walk was themed 'walking with the cows' as there were over fifty walkers dressed as cows. |
| | |
| --- | --- |
| | Aindra had complete conviction. Conviction that Vrindavan was the highest spiritual abode. Conviction that kirtan was no ordinary music - it was the divine name, descended from above, non-different from Radha and Krishna. He had no interest to be anywhere else or do anything else. He was convinced that by sitting in that spot he could change the world through his song. |
By Giriraj Swami
Hearing the news of Aindra Prabhu's sudden departure was a great shock, and I could feel what a great loss it was for us all. He was a dear friend and well-wisher of all, and through his kirtana he gave shelter to devotees throughout the world. Ultimately, he gave protection and life to the whole planet
The latest from our friends at the Care For Cows goshala in Vrndavana. Click here to read.

Click here to go to the Care For Cows website.
Mayapur Sankirtan department has purchased two new buses to distribute more books of Srila Prabhupada. On the auspicious day of Bahuda Ratha Yatra, the inauguration of buses took place with the blessings of HH Jayapataka Swami, HH Bhakti Purusottama Swami, HH Gauranga Prem Swami , HG Jananivas prabhu and other devotees. Mayapur Sankirtan department ranks top in the world book distribution scores and devotees are so committed to distribute books far and wide in the  eastern India taking up several austerities for the pleasure of Srila Prabhupada.
The most important thing for spiritual realization is the company of realized souls or pure devotees of the Lord. Anyhow, print books, distribute profusely, and that will be the best preaching work. What will your three minutes preaching do? But if they buy one book it may turn their life.
-Srila Prabhupada
| | |
| --- | --- |
| | Srila Prabhupada instructed the devotees that they were not spiritually ready to be candidates for political office, and that it would be better to not get diverted from the core activities of the Krishna Consciousness Movement. Yet, questions remained; should Hare Krishna devotees vote in political elections, what role do the devotees play in participatory forms of government? |
Drama – The Rose of Vidarbha

| | |
| --- | --- |
| | The North American GBC is looking for future leaders, intelligent and devotionally-inclined young men and women who would like serve Lord Chaitanya's sankirtan movement by making a career of full time service in ISKCON USA America. To help fulfill this aim, the North American GBC is offering a two-year scholarship to Bhaktivedanta College in Radhadesa, Belgium. |
By Bhakti-lata Dasi
"Yes, I truly am searching for pure knowledge of the Absolute Truth. I have been down a great many paths; I have studied Christianity and Islam, but they DO NOT explain our true relationship with God (Krsna) as has been shown to me through Krsna consciousness…."
By Sri Nandanandana dasa
Jeffrey Armstrong is known to many of us older devotees as Jamadagni das, a disciple of Srila Prabhupada and the lyricist for many of the songs by Mangalananda dasa. He has been working in his own way for years to spread the teachings of Vedic Dharma and Krishna consciousness.
Chirag Dangarwala: For those who have accepted the boat of the lotus feet of the Lord, who is the shelter of the cosmic manifestation and is famous as Murari, the enemy of the Mura demon, the ocean of the material world is like the water contained in a calf's hoof-print
Krishna Gopal das: Many devotees around the world have come to cherish Aindra prabhu's kirtans and uncomplicated nature. I got chance to visit Vrindaban two years ago and one of the things I cherished most on that visit was to sit with my old god brother from Washington, DC and chant the holy name
Bhaktivedanta Manor: The Lotus Trust, the welfare arm of Bhaktivedanta Manor Hare Krishna Temple raised thousands for local charities, including the Great Ormond Street Hospital during a Charity Walk on Sunday 18th July.
Ananta Ram das: Gurukula Project Team strives to please Srila Prabhupada by bringing together Vaishnava children and parents in a non-sectarian environment. Many have questioned the feasibility and practicality of this project
Vaisnava Das: I have few sets of gold plated imprint of Lotus Feet from Sri Sri Radha Syamsundara or Sri Sri Gaura Nitai. There is a small one which can be sticked in the car, in front (as is done in India) and the other bigger one can be hanged on a wall or placed in altar
By Rupanuga das and Shyama-mohini devi dasi This is the digital copy of the appreciation book which was made available during the Vail Retreat. Download here (5.3MB PDF file – Don't have a PDF viewer? Download Adobe Reader) or View online (Scribd.com)
More Recent Articles
---
Click here to safely unsubscribe now from "Planet ISKCON" or change your subscription or subscribe

---
---
Unsubscribe from all current and future newsletters
powered by
FeedBlitz
---
Your requested content delivery powered by FeedBlitz, LLC, 9 Thoreau Way, Sudbury, MA 01776, USA. +1.978.776.9498
TABLA - FUENTES - FONTS
SOUV2
Balaram
ScaGoudy
FOLIO 4.2
Biblica Font

Disculpen las Molestias
Planet ISKCON - 2010
·
Planet ISKCON - 2011