PLANET ISKCON


Here are the latest updates for
By Priyavrata das
Food for Life Global is committed to providing support to disaster relief efforts managed by ISKCON or Food for Life projects. If we can get a confirmation that there is a team willing and able to head up a prasadam relief project to help survivors of the floods, Food for Life Global will initiate a fundraising campaign through our social network. We will also solicit for volunteer help as needed
By ISKCON Vaishnava Research Forum
There was a wealth of interest generated in the recent Vedic Ecology Convention held by the ISKCON Vaishnava Research Forum at the University of Kwa Zulu Natal, in Durban, South Africa. The event was attended by about 200 delegates and everyone was enthused by the brilliant presentations on the Vedic culture which reflected various ecological processes of ancient India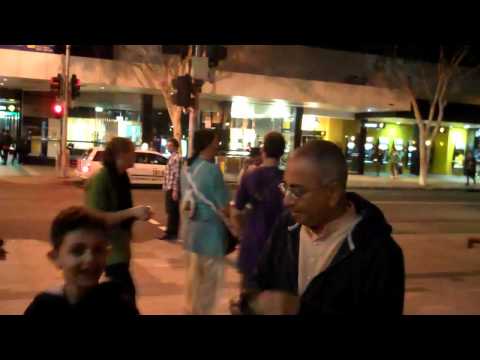 In the last two weeks we have installed sixteen new racks in the city of San Diego. This video was recorded by a few devotees that went out and installed a rack at the busiest intersection in Pacific Beach, San Diego.
A few stills from the video:

"Cold and wet in Brisbane but 13 devotees still go out to distribute the Holy Names! Lots of Janmastami flyers distributed and two books. Gaura Premanandi!"
This is a report from Brisbane Devotees after a succesful Grass Roots Harinama Revolution. Dancing in the street and singing the names of the Lord. Due to the activities of Devotees in Brisbane many suburbs receive the nectar of the Holy Names. They know how to get it in on in Brisbane.
So where are your Harinam photo's? Let us know so we can share them with everyone and further the cause of the Grass Roots Harinama Revolution. Get on board.
Check out the rest of the photos here on facebook
Whilst you are there check out the cool video
Share this story your way:



The latest ISCOWP News is now available online in PDF file.

Check it out at this link:

http://www.iscowp.org/uploads/NLVOLUMNE20_ISSUE%202.pdf
WLTV-14 visited the Palace Rose Garden this morning and interviewed Damadara dasa.
They discussed a number of different items, including Prabhupada's Palace of Gold, Janmastami, and Prabhupada's Appearance Day.
This 30-minute interview will appear on "Your Town with Steve Mazure." The show will air for one week, beginning Friday, August 20 at 9:30 pm. "Your Town" airs eight times each day, and Damodara's interview will probably run during most of those airings.
The crew said "the camera loved Damodara." Please tune in to this show if you get the chance.
Friday, August 20 @ 9:30 pm — Friday, August 27 )begins
10:30 am
1:00 pm
3:00 pm
5:00 pm
9:30 pm
12:30 am
2:30 am
4:30 am


This is a guide to prasadam restaurants around the country. If something is missing let us know.
Govinda's Brisbane
Govinda's Restaurant, 99 Elizabeth St, Brisbane City
11.00 am – 3.00 pm Monday – Thursday
5.00 pm – 7.30 pm Monday – Thursday
11.00 am – 8.30 pm Friday
11.00 am – 2.30 pm Saturday
Govinda's Cafe 2/302, Logan Rd, Stones Corner
09.00 am – 3.00 pm Monday – Saturday
9.00 am – 8.00 pm Thursday – Friday
Buffet lunch from 11.00 am
Govinda's West End 82 Vulture St, West End
11.30 am – 2.00 pm Monday – Saturday
Check out the Brisbane Govinda's web site
Govindas Restaurant and Cinema Sydney
Govindas is an edgy Sydney inner city restaurant, famous worldwide for its delicious international vegetarian buffet, warm friendly ambience and ultra comfortable boutique cinema, The Movie Room. Here guests enjoy the sumptuous vegetarian cuisine and then sink into luxurious cushions to watch the best of world cinema in blissful, heavenly comfort.
Govindas Lotus Room
Visit the Lotus Room, a serene and tranquil space, dedicated to uplifting the consciousness beyond the mundane. We offer kirtan (musical meditative chants), guided meditation evenings, workshops, vegetarian cooking classes and Bhagavad-Gita courses.

Follow this link to get the opening times and much more

Heres a map to help find your way there
Govinda's Melbourne
Situated in the heart of Melbourne city, on Swanton Street, Gopal's Pure Vegetarian provides an atmosphere of peace and balance, where you can get away from the busyness of the city and enjoy a nutritious tasty meal. We serve a wide variety of vegetarian and vegan cuisine. Our menu has an international influence with dishes from India, Europe and Asia. All dishes are prepared from selected natural and fresh ingredients.
At Gopal's we have an additional unique feature: our preparations are freshly made and sanctified by offering to Lord Krishna before being served. Hence we provide a truly blessed and karma-free meal. We also cater for any size function, large or small. Give us a call and speak to our manager Peter for further details and
Address: 139 Swanton Street, Melbourne (Upstairs 1st Floor)
Monday – Saturday 10.30am – 8.30pm

Check out the web site for more information
Situated in the heart of Melbourne, on Swanston Street, Crossways provides wholesome hearty sanctified vegetarian lunches with discounts for students, the elderly and other concession card holders. Many come for the friendly warm ambiance.
There's a large lounge area (2nd floor – aka The Loft) where you can put your feet up, pick up a book and get away from the stresses of the city. Browse our collection of books on ancient Indian spiritual knowledge at your leisure. Our staff are always happy to answer any queries on spiritual subjects.
123 Swanston Street, Melbourne
(Upstairs on 1st Floor)
Monday – Saturday 11.30 – 2.30pm
Check out the web site for more information
More places to eat
Darwin
Gopal's Mental Lentil
Shop 20 Transit Centre, Mitchell Street, Darwin
Phone: (08) 8981 1377
Newcastle
Krishna's Vegetarian Cafe
110 King Street, cnr King & Wolf Streets, Newcastle, NSW 2300
Phone: (02) 4929 6900
Hours: Lunch 11.30am – 2.30am Monday – Saturday
Dinner 6.00pm – 8.30pm Thursday – Sunday
Perth
Govinda's Restaurant
200 William Street, North bridge, Just before the Horseshoe bridge going towards Perth
Phone: 9227 1684
Open: Lunch Times Monday to Friday 12 pm to 2:30 pm. All You Can Eat
Budget Meals Monday to Friday 5 pm to 6 pm ( Takeaways only).
Hare Krishna Food For Life
200 William Street, Northbridge, Perth, WA 6003
Phone: (08) 9227 1684
Sydney
Gopinatha's Restaurant
North Sydney Temple, 180 Falcon Street
Phone: (02) 9959 4558
Hours: 6pm – 8pm Monday – Saturday
Share this story your way:
Class given on 15-08-2010
Srimad Bhagavatam 11.23.1 - Although a devotee is nitya-siddha, he appears as one of the conditioned souls to teach us Krishna consciousness.


New Govardhana, Murwillumbah
Please come and celebrate Jhulana Yatra with us in the temple room every morning at 7:30am and every evening at 6:30pm. Everyone is invited to swing Radha and Krishna.
Click here to check out the web site for more information
Here are the directions for how you can get there
Share this story your way:
Love is our life; everyone wants to love. Everyone is hankering to love someone. But we do not know where to place our love. Krsna, however, is the ultimate object of love. We are trying to maintain this body, but the body is not actually the proper object of our love. Rather, it is the life within the body that is the real object of love. Similarly, the central point is Krsna. As soon as we somehow or other place our love with Krsna, our path of happiness, eternity and bliss opens.
Srila Prabhupada, from BTG no. 37, 1970
| | |
| --- | --- |
| | The physical scars may still be there, but thankfully, the fear, the pangs of sorrow and the wounds inflicted on little Mritika's mind after militants triggered a bloody bomb attack at Imphal ISKCON temple four years ago, no longer haunts her. |
Bovine delights? Say what? This won't make any sense at all unless you have read yesterday's blog (below). Did you? If so, proceed on.
This will set it all in perspective.
| | |
| --- | --- |
| | A group of ISKCON devotees and congregational members at the New Varshana Farm near Auckland, New Zealand—calling themselves the ISKCON Performing Arts Program—demonstrate how powerful the arts are as a medium to introduce people to the path of Bhakti Yoga. |
This, our book distribution is the most important task in our society. Therefore I am giving so much stress and I am working so hard on this. Because this is my life and soul according to the order of my Guru Maharaja. And by his grace it is to some extent successful. And I took it seriously. I take it seriously still now. That is my life and soul. I never tried in India to construct big temples or even in your country we didn't. I never tried. But I was selling personally books. That is the history. Sometimes they are criticizing, "What kind of sannyasi? He is doing book business."
>>> Ref. VedaBase => Room Conversation -- December 31, 1976, Bombay
Sent by Bhakti Vikasa Swami
| | |
| --- | --- |
| | ISKCON will be one of the many organizations participating in Yogathon, a one-day campaign that will see community and worship centers across the U.S. offering free one or two-hour introductory yoga classes on Sunday, August 29th. |
| | |
| --- | --- |
| | Trustees of the birth site of Sripad Shankaracharya in Kelady, South India invited Bhakti Vinoda Swami to speak as the Chief Guest at one of their widely known educational institutions. |
| | |
| --- | --- |
| | Politicians across New York and beyond are debating the proposed construction of an Islamic center and prayer space two blocks from the World Trade Center site. |
Wednesday 11th, August 2010.
Maharaja woke us up. He was looking for Krsna Das. "Phone call" he said. We were all wondering why Maharaja had a phone call for Krsna Das. It reminded me of Maharaja's joke on me, pretending he had a phone call waiting for me so he could steal my spot on the servers' bench for Prasadam. What had happened this occasion is that Krsna Das's mother had called him on one of the matajis' phones. Maharaja was outside the room when she was looking for Krsna Das so he entered instead. It was a rather comical situation, confusing all of us in the room, but it was interesting to see Maharaja as a middle man. Krsna Das jumped up, answered the phone and then came back in the room. He was so startled that he didn't know what to do next. "Can I go back to bed?" he asked. "Of course you can" I replied, seeing as it was so early that I hadn't even gone to my service yet.
We had breakfast with some newly arrived Prabhupada disciples. Misra Bhagavan Prabhu had come on the previous Polish tour and Anutama Prabhu was just new. They were both passing through, for a few days, just to check on the tour first hand, and then they would soon be on their ways, each going their separate ways. It seemed to be a symptomatic thing on tour, that many people would come for a few days, see the situation and then pass along their European travels. It was intersecting to compare the different circumstances to that of Australia. In Australia, most temples were around a thousand kilometres from each other, so you rarely caught sight of devotees touring the countryside; but Europe, which had many countries in a smaller area than the whole subcontinent of Australia, this type of thing seemed to happen all the time.
Later, in the room, Caitanya Vallabha Prabhu and I were talking about something he had heard. His joking concern was that, in traditional Gurukula, long before now, they were taught cock fighting. I remembered reading the list of the sixty four arts, in the Tenth Canto of Srimad Bhagavatam, written in the purports of HH Hrdayananda Goswami. I searched the Canto on VedaBase and quickly found what I was looking for. We read out the list, making comical (but non-offensive) comments on each item. Indeed there was the art of training rams, quails and cocks to fight. It was somewhat humorous what was taught but many of the arts were amazing, almost inconceivable in today's world. There were also some things that were considered a full trade of their own (which in Australia meant three to four years of training), which were covered in the training given in Gurukula, including carpentry and hair dressing, as well as a variety of other amazing items. I wondered what it would be like if we could finally teach these sixty four arts, in expertise, at our ISKCON schools today. That would be a great feat.
I sat by my computer, while various devotees sat next to me (I had the best spot, right next to the router). Anutama Prabhu came by. We had a quick chat , while he was checking his emails. I told him a little about my experience in Gurukula and he also told a little about his own children's experiences. Soon he was beckoned off and we said our goodbyes. I still sat at the computer screen, as a few wasps flew around. They were attracted by the breakfast scene, and one found himself caught in my chada (which I was wearing in a shirt like fashion). I saw him coming. I had been in this situation before. He flew deeper and deeper, before I could no longer assist him. Soon enough he was caught at an end, just on my ribs, and he let one little sting loose. It was a strangely familiar to the last wasp sting; I had even kept the lemon, sensing it would happen again. It was strike two for me, making a new record for me on the Polish tours (one sting a season is usually my limit).
I was deciding whether or not I would go to the festival or not. The deciding factor was a computer upload, that had been going for four hours (while I leant out my computer to others to use), which just managed to finish about five minutes before the bus. I ran and made it, just in the nick of time. The driver took us on a strange and winding way to Ustronie Morskie. Poland was a labyrinth of country roads and there was no set way to go anyway. We simply relied on the drivers' good, ole fashion navigational skills. I still hadn't seen a soul, from the local population, use a GPS in Poland, so it was impressive how we managed to get around most of the time.
We arrived to a chaotic scene. There were materials everywhere and the setup seemed to be hours behind. I found HH Indradyumna Swami and asked him for an update. He told me they had an extended site crew meeting, dealing with a few political issues and other trinkets. Maharaja had called me into his room, days before, to ask me about this very same thing. I hoped today was the only day this would be a problem, because this was the last thing the tour needed, so close to the end.
Radheya passed by, secretly slipping me a Princess (chocolate bar). Radheya was fast but not as fast as Maharaja. Indradyumna Swami snatched it off the top of my bag. "That's what I've wanted all day!" he exclaimed. With that, he slipped it into his pocket and walked off, hand in his bead bag. I waited for a few minutes and Maharaja strolled back over. "Do you like these things?" he asked, holding out the Princess, pretending to be mildly disgusted. I simply laughed and he returned it to me.
The festival was soon to start and I had a lot of rounds. I had such a nice session, chanting in the park at Mrzezyno, that I wanted to keep up the good habit. I picked a road and simply walked for half an hour, until I was out of town. I passed one Polish man, who said "Salam Aleikum". I chuckled to myself at his innocence. I thought of the notion, that a Vaisnava is one who reminds someone of Krsna, simply by his appearance. I seemed to be close, in this case, reminding them of God, in another tongue, but I wasn't sure if the people were attentive enough to recognise my background based on my dress. Later I passed another man, who was riding with his young daughter . He indicated at me to his young daughter and began to explain. I heard him say "Hare Krsna" amongst his explanation and I smiled at them, appreciating that they were closer to the mark. I felt privileged to do a little preaching, simply by dressing like a Vaisnava, even if some didn't recognise what it represented. I finally found a nice spot to sit, occupying it as long as it took for the mosquitoes to stir. Once it was too much to tolerate, I walked back, finishing my leftover rounds just as I returned to the township.
I passed a couple bike riders on the way. I heard them speaking in a thick American accent. They paused on their journey, thinking they might turn around. I kept walking, but something was pulling within. While I had been walking earlier, I cried out to Krsna, to give me an opportunity to preach. Although I was involved in a massive preaching program, I hadn't had a chance to do much front line preaching. Maybe this was my chance? I nearly put it off but in the end I couldn't resist. I marched over and broke into some small talk with them. "You guys from the states?" I asked. "Yeah." they replied, "we're just doing a bit of an outback trip." "Oh really" I replied, "I come from the real outback, Australia." "Oh yeah?" They looked down at my robes kind of curiously. I mentioned that I was involved in a spiritual festival from India, just down the road. "What kind of festival? Are you Buddhist?" they asked. "No. Hare Krsna" I said, knowing they would be familiar. "Oh yeah? Good food" they murmured. "Check out the festival. There is a restaurant tent" I insisted. I never knew if they went to the festival or not but they certainly changed their direction, heading towards the festival, as apposed to their original intention to head back out of town.
It was Caitanya Vallabha's last night on tour. He was catching a train from Ustronie Morskie after the festival and that would be the last that we saw of him. We had a final Radhe Shyam from the restaurant and then joined in the ecstatic kirtana. We laughed, as we joked bout whether or not my dhoti would fall off. The dhoti held up, for the whole kirtana and it was a blissful affair.
We were quickly running for the bus, all of us forgetting to say a proper goodbye to Caitanya Vallabha. It became a tour syndrome, to run to the bus, thinking you would miss out on a seat. Maharaja had already warned us in an Istha Goshti but we were quick to forget. We all felt regretful, as we sat together on the bus, missing our good friend Caitanya Vallabha. Krsna Das began to lead an epically beautiful Nrsimha prayers and we all prayed for Caitanya Vallabha Prabhu's safe journey home. We returned to the usual, hot steamy milk, back at base, and then hit the lights.
Thursday 12th, August 2010.
Cidananda Gaura sat with me in the room, after I had rolled the usual quota of samosas. He had saved some hot milk in a thermos and he wanted to share it with me. The hot milk, from the night before, was laid with spices and other things, and when Cid poured it from the canister it came out solid. "Cid, you made yogurt" I said and we laughed. I snapped off for a super nap, trying to catch up on days of missed sleep. While I slept, the boys went off for another site meeting, this time in Maharaja's room. When I awoke, they debriefed me on the meeting. Gurudeva fired them up with some extra encouragement and they did some political damage repair from the previous day's awkward meeting on site. I was admiring Indradyumna Swami's skills at keeping this whole operation together. It was the position of Visnu to maintain, and His devotees were also blessed with this trait, symptomatic of the mode of Goodness.
I was walking around the school. I passed one of the senior matajis from the samosa division. She confronted me, with the help of a translator and informed me that I had kneaded the day's batch much too wet. The sad thing was that I knew I had done it. A few days earlier, one of the matas in the service was telling us that the previous day's samosas were the best ever. The day she was suggesting, I had also made the dough kind of wet so I suspected maybe they liked it like that (it might have been a little easier to roll or something?). Today I learned that this was not the case and, in fact, the other mataji wasn't even talking about the dough at all (probably just the filling or something totally irrelevant to my efforts). I apologized and promised not to do it again. I waved goodbye to the convenience of kneading insanely soft dough for the rest of the tour and mentally reprimanded myself for my mistake.
I sat to lunch again with Sumit. I skipped out on the bus to Ustronie Morskie. Maharaja passed again, on the way to the festival that I had skipped out on, and he was really laughing this time. I took it as a subtle hint that Maharaja wanted me to try harder to attend the festivals. I took it to heart and decided that, in the future, I would make a better attempt, although I knew I was still going to take off a day or so, wherever my frail body needed it. Another set of festivals down and only three more, three day festivals remaining. Polish tour was starting to come to a close.
[http://maddmonk.wordpress.com/2010/08/20/p23-back-on-the-pavement-ustronie-morskie]
This, our book distribution is the most important task in our society. Therefore I am giving so much stress and I am working so hard on this. Because this is my life and soul according to the order of my Guru Maharaja. And by his grace it is to some extent successful. And I took it seriously. I take it seriously still now. That is my life and soul. I never tried in India to construct big temples or even in your country we didn't. I never tried. But I was selling personally books. That is the history. Sometimes they are criticizing, "What kind of sannyasi? He is doing book business."
>>> Ref. VedaBase => Room Conversation -- December 31, 1976, Bombay
Sent by Bhakti Vikasa Swami
| | |
| --- | --- |
| | Turmeric has been used for over two thousand years in India as a food and medicine - called Holy Powder. Ayurvedic medicine has used turmeric to treat many conditions, including wound healing and infections. |
www.sdgonline.org.
3:45 A.M.
From Namamrta by A. C. Bhaktivedanta Swami Prabhupada:
"Because Kali-yuga is such a degraded and miserable age, Lord Caitanya advises everyone simply to chant Hare Krishna:
"According to the Vedic conception, there must be men in society who are factually brahmanas, capable of expounding the real truth. If everyone becomes a sudra, the Absolute Truth cannot be understood. It is said that at the present moment in Kali-yuga everyone is a sudra (kalau sudra-sambhavaḥ), and it is very difficult in this age to find qualified brahmanas, for they are very rare. There is practically not a single qualified brahmana in this age:
"'O learned one, in this iron age of Kali men have but short
lives. They are quarrelsome, lazy, misguided, unlucky and,
above all, always disturbed.'
(S.B.1.1.10)
"The people in this age are very short-lived and slow in understanding spiritual life. Actually human life is meant for understanding spiritual values, but because everyone in this age is a sudra, no one is interested. People have forgotten life's real purpose. The word manda means both slow and bad, and everyone in this age is either bad or slow or a combination of both. People are unfortunate and disturbed by so many things. According to Srimad-Bhagavatam there will eventually be no rain and consequently a scarcity of food. The governments will also levy very heavy taxes. The characteristics of this age predicted by Srimad-Bhagavatam are already being experienced to some degree. Since Kali-yuga is a very miserable age, Caitanya Mahaprabhu, who is Krsna Himself, advises everyone simply to chant Hare Krsna.
harer nama harer nama
harer namaiva kevalam
kalau nasty eva nasty eva
nasty eva gatir anyatha
(Adi 17.21)
"'In this age of Kali there is no alternative, there is no
alternative, there is no alternative for spiritual progress than
the holy name, the holy name, the holy name of the Lord.'
(Bṛhan-naradiya Purana)
"This process is not Caitanya Mahaprabhu's invention, but is advised by the sastras, the puranas. The process for this age is very simple. One need only chant the Hare Krsna maha-mantra."
(Teachings of Lord Kapila, the son of Devahuti)
Kali-yuga is like a desert for spiritual life. It is said that eventually people will be midget-sized, and spiritually speaking they are already like that. Although these changes take place over long distances of time, I can see in my own lifetime how the degradation of Kali has radically advanced from my boyhood to my old age. Simple life and piety and decency were once standard in the home and in the community, and now these places are ganglands, drug enclaves, and dangerous places for sane living. In this purport Prabhupada makes it clear from Vedic evidence that people are not at all interested in spiritual life. If they are interested, they will be tricked by cheaters sent by Krishna, and they will be inclined to be cheated also. And so Lord Caitanya has come mercifully to give a very easy process. A devotee recently asked me whether there was really no alternative to chanting, or whether chanting was just the best method. But according to the hare nama verse, the chanting is not just the best, but it is the only alternative. It is emphasized three times, indicating that karma, jnana and yoga will not produce good results. Only bhakti, and within bhakti only the chanting of the holy name, will produce the best results. So why should we try for anything else?
Last night I woke up at 10:00 P.M. out of a nightmare. I dreamt I was in a big concert hall and all the walls were caving in, and the people were in a panic. I came out of my dream with a headache and took medicine, but I couldn't sleep properly anymore. I got up from bed at midnight and wrote a poem. Then I began my chanting. The lack of sleep made it hard to chant with full alertness. When Narayana Kavaca came up, he said I looked "war-torn." My eyes were red. But I recovered from the condition and managed to chant 13 rounds. My rounds were decent also, as I paid attention without undue distractions. I know how important it is to cling to the holy name, and even in a dilapidated condition I was able to do so.
You wake from nightmares
but proceed to chant. Krishna
gives you equilibrium
even in a damaged state.
The holy names pass through
your mind a little shaky
but basically on course.
Years of practice have enabled
you to handle rough weather.
So you reach for your quota
with an earnest appeal.
Prabhupada has taught you
how to do it and the
Supersoul cooperates.
A little jiva survives
his japa session.
www.sdgonline.org.
Prabhupada Smaranam
3.
I find Prabhupada in his books.
Pure love of God for anyone who will take it up.
Srnvatam-sva-kathah-krsnah…
Just chant Hare Krishna, hear about Krishna,
and give up sinful life.
Whoever does it will know Prabhupada and Krishna.
Can words themselves serve? Yes,
Yes, why not? But don't cheat on the currency.
Words should be backed by experience.
I heard him lecture and my mind shivered
as he cut down the representative of the Rosicrucians.
He said he was "vague…had no goal…useless,
bogus." In his books, lectures and my response,
find him every day.
www.sdgonline.org.
1.
I continue them because they have
got a certain pizzazz, and as
I'll explain, even when they're not
katha of Hari, they lead to
Krishna consciousness. I like the
world of jamming poetic
lines that are not obvious but
carrying a certain energy that
blows your mind of cobwebs.
It's all within the sustained
high-energy of Under Dark
Stars, which is itself  one
big poem written with
the energy of a steam train
by a Hare Krishna aspirant.
2.
Here is the poem from page 21:"The birdie robin in our yard
I will not be happy living alone
with you everything that you are takes
better care of me. Take your medicine,
fool! I HAVE YET TO HEAR
YOU PRAY! And you have been
up an hour! Schmuck!
Wednesday night horror show.
It will not last long.
He will not have to sing the
bird pecks on your shoulder and
squeaks for seeds and laddus.
She likes being with Fred.
Goshes,Dondi we were on the
same piece of track as we were in Detroit—
there's Grand Central Station.
Do you know what to do now
to keep from being mugged,
going to the subways? I hope you don't flinch
from some unintelligent move.
That God work kicks at you
in the dining room
of the grim house and you'll never forget
you had a softer plea
for service.
It's for the gun. Some other.
Yeah, but I can't do it my way with
some prizes in it.
She's like my sister. She's my
Madeline, who I so much loved.
How bothersome and square the parents are.
And when she learned at Hunter
College but I was miles ahead in knowing
what to write and leave the karmi world–
they would never dare, afraid
they'd wind up in a shack
like Charlie Chaplin, so they worshiped
money and regular
subtle life for the goals
one can venture.
We stopped our intimacy just
you and me
even our best moments when we Catholic
siblings watched the horror show on Wednesday, and
I gave her a little protection in-
between laughs.
3.
There was actually a robin in
Ireland who pecked on my shoulder
and begged for seeds.
I had to take medicine but
prayers should come first.
"Dondi" was a Korean refugee
living in America in a Sunday
News comic strip. He used to say, "Goshes."
Fear of being mugged in the subways is always in the air,
and so you ask to be spared,
"a softer plea for service."
This is actually a poem about
my sister and the memory of
when we were closest watching the
Wednesday night horror movie on
the TV in my room. She
grew a little hip when she
went to Hunter College but
eventually lost her nerve
and married a Wall
Street stock analyst and moved
to Westchester. I claim
I was miles ahead continuing
to dare and not worrying
about money, and that
enabled me to walk into
the storefront at 26 Second Avenue
and take seriously the Swami's
invitation to leave the world
and depend on Krishna.
That's what the poem's
all about—not being
afraid you'll wind up in
a shack like Charlie Chaplin.
Staying true to your artist's ideals which
gave you the courage to be
a free man which gave you
the opportunity to be picked
up from all danger and whimsy
and placed solid at the lotus
feet of guru and Gauranga.
www.sdgonline.org.

This is my second day of free writing. I lay in wait for ideas to come. Baladeva cooks chocolate chip cookies, although the GBC is indecisive about whether chocolate is bona-fide. He says you can't make carob chip cookies because the carob burns. Yesterday he made ravioli. He says it takes so long to prepare and it is so hard to make that it is a "near-death" experience" to do it. He plays Italian music while he prepares it. Citra-rupini in Italy makes them regularly. Baladeva learned from her. It is one preparation he doesn't distribute to the neighbors but keeps confined to our family of three.
I'm still using the old poems I wrote within prose books and inserting them within poems I write now. I give the poem and then make a commentary on it. Why don't I just write fresh ones? Because I don't know if I'm able to write like that now. They were a special genre. I dared to do something I've stopped daring to do. Write indirect, coded stories. But they were interesting, tantalizing, so I'm republishing them and adding a purport. That way they can be shared.
Keli-lalita has three cement Buddhas on her grounds; one is a head only, the other two are full forms. They stand out in the rain and snow. It goes along with the ambience of the yoga studio. Indoors,they have Radha-Krishna deities and a Prabhupada murti on a very nice altar. At our Viraha Bhavan, we have big neem Gaura-Nitai deities along with little Jagannatha and Nsrimhadeva. Upstairs in my room are small Radha-Govinda deities right in front of my chair, and a Prabhupada murti on the bookcase. They receive simple worship and offerings.
God is going, if you want me to leave
because you are having breakfast,
I'll take the hint and leave you.
You're having fruit–
only so you won't get constipated.
Baladeva will stay and read the
explanation of the atma-rama verse
in C.c. , a very technical but
also merciful chapter. Over
60 meanings are given to the verse.
I am a madman, says Lord Caitanya,
and by your presence, Sanatana, I am
thinking of these new meanings.
One word means "rascal or "wise man."
Saci's family has gone for the week camping in Cape Cod, and it's quiet around here. We took a walk in their backyard yesterday, and their neighbor's young kids came and rode bikes in the asphalt playground and basketball court. Then this morning I saw the cats sitting outdoors in front of the house as if they are lonely.
Freewrite
Lord Caitanya gives Sanatana Goswami a synopsis of how to write the Hari-bhakti-vilasa. Sanatana said he had no power to write such a book on Vaisnava behavior. Lord Caitanya then embraced him and said, "Whatever I have taught you, you will be able to manifest it. I empower you with the ability to write." I wish I could be empowered like that. Lord Vishnu touched Dhruva Maharaja with His conchshell and Dhruva was suddenly enlightened and eloquent to speak to speak all the Vedic conclusions. That is a special force of mercy given to those who perform austerities under the order of the spiritual master. He simply chooses to bless them, and they become aware. So be aware that the mudhas will never be able to hear the truth, even after you have been touched by Vishnu. But those who are honest will hear and become enlivened. Prabhupada wrote a poem expressing his hesitancy when he arrived in Boston harbor in September of 1965. He spoke to Krishna and questioned: "How will I be able to reach these people? Their ways are demoniac, and they are entangled in the modes of passion and ignorance (he had taken a walk into Boston with the captain and saw the city). I don't speak their language expertly. But You must have sent me here for some purpose. I am just Your puppet, so if you want me to dance, please make me dance." Then he took heart that the message of the Bhagavatam would pierce their coverings.
| | |
| --- | --- |
| | The year is 1925; the time 1:00 am. Niagara Falls has frozen over. The silence is so deafening that thousands have to see what`s up. The roar has ceased, and the people must discover what`s gone wrong. No sound! Sound. Love or hate it, it`s all around. |
Fate of Universe revealed by galactic lens
By Howard Falcon-Lang
Science reporter
The huge galactic cluster known as Abell 1689 acted as a cosmic magnifying glass. A "galactic lens" has revealed that the Universe will probably expand forever.
Astronomers used the way that light from distant stars was distorted by a huge galactic cluster known as Abell 1689 to work out the amount of dark energy in the cosmos.
Understanding the distribution of this force revealed that the likely fate of the Universe was to keep on expanding.
It will eventually become a cold, dead wasteland, researchers say.
The study, conducted by an international team led by Professor Eric Jullo of Nasa's Jet Propulsion Laboratory in California, is published in the journal Science.
Dark energy makes up three-quarters of our Universe but is totally invisible. We only know it exists because of its effect on the expansion of the Universe.
To work out how dark energy is spread through space, astronomers used the Hubble Space Telescope to observe the way that light from distant stars was distorted around Abell 1689, a nearby cluster of galaxies.
Abell 1689, found in the constellation of Virgo, is one of the biggest galactic clusters known to science.
Light bends around massive galaxy clusters, allowing distant objects to be seen
Because of its huge mass, the cluster acts as a cosmic magnifying glass, causing light to bend around it.
The way in which light is distorted by this cosmic lens depends on three factors: how far away the distant object is; the mass of Abell 1689; and the distribution of dark energy.
The astronomers were able to measure the first two variables using the European Southern Observatory's Very Large Telescope, enabling them to calculate this crucial third factor.
Cold comfort
Knowing the distribution of dark energy tells astronomers that the Universe will continue to get bigger indefinitely.
Eventually it will become a cold, dead wasteland with a temperature approaching what scientists term "absolute zero".
My take on the above:
I am shivering already! (not)
> Professor Priyamvada Natarajan of Yale University, a leading cosmologist and
> co-author of this study, said that the findings finally proved "exactly what
> the fate of the Universe will be".
LOL, At least the fate of the Universe until Vishnu stops exhaling and starts inhaling. :-)
Jagad-anda-nathah means… Jagad-anda means universe. In each universe there is a natha, or the supervisor, or the manager, or the supreme person. Just like for management we are. Similarly, in each universe there is Lord Brahma. He is the supreme creature, manager. So these managers live only to that period when Maha-Visnu exhales. When the nisvasita-kalam. Just like we exhale and inhale, so… But exhaling the all these universes are created, and at His inhale they go into the Maha-Visnu, in the… The coming and going.
Srimad-Bhagavatam 3.25.37 — Bombay, December 6, 1974
> Dark energy is a mysterious force that speeds up the expansion of the
> Universe.
Oooh! So mysterious!  Although Europeans often misinterpreted the Lakota word "Wakan Tanka" as "Great Spirit" it is more properly translated as "Great Mystery".
"O supreme great one! O Supreme Personality of Godhead! O Supersoul, master of all mystic power! Your pastimes are taking place continuously in these three worlds, but who can estimate where, how and when You are employing Your spiritual energy and performing these innumerable pastimes? No one can understand the mystery of how Your spiritual energy acts."
SB 10.14.21
Filed under:
Science
| | |
| --- | --- |
| | Every now and then the question arises: "where are the youths of ISKCON?". During mangal arotiks or Srimad Bhagavatam classes is not easy to find Vaishnavas from the second or third generations. Nevertheless, as soon as the kirtan starts, groups of teenager devotees gather to listen, dance, play mrdanga and even to lead the chant. 
 |
| | |
| --- | --- |
| | When New Vrindaban was founded, we used ox carts for transportation, just like people use in rural India. Later, however, the focus of the community shifted away from agriculture. |
Radhanath Swami is on a North American book tour from August 1st to December 1st this year, to promote the US trade release of his autobiography The Journey Home. Recently, he visited Seattle, where he appeared on the local Fox News TV Channel.


World's highest place of worship of Lord Krishna for devotees which also accepted by Buddhists.

If you reach Muktinath, it is said your liberation is guaranteed in this lifetime.
in Zürich 27.04.2010.

ONLINE
http://kadamba.net/akruraprabhu.html
or
http://vimeo.com/13768473

VIDEO DOWNLOAD
http://kadamba.net/akruradas.mp4

AUDIO DOWNLOAD
http://kadamba.net/akruradas.mp3
Do they just prolong karma, effect our consciousness, acceptable for making service possible and so on.

The "Bhakti Centre Gold Coast" was established early April 2007 in Surfers Paradise Gold Coast Australia by two local ISKCON devotees, Yamalarjuna Das (Ian Salter) and Subhangi Devi Dasi (Susan Manning). It is however their humbleness that they always give all credits to "Lord Krsna" and kindly say that by the mercy of "Srila Prabhupada" this spiritual project had been possible.
The aim to set-up the Bhakti Centre was to spread "Krishna Consciousness" through conducting Bhagavat-Gita Classes, Kirtan and Bhajans, Meditation and Chanting Techniques, and of course enjoying the higher taste of Pure Vegetarian Prashadam as a final conclusion to the twice weekly programs. The Temple also holds special events and festivals as per the Vaisnav Calendar.
Follow this link to check out the web site.
Share this story your way:
Surfers Paradise: Julan Yatra – Swing Festival. Address: 3070 Surfers Paradise Blvd. Surfers Paradise.
August 21st, 2010, from 6.30pm until 9.30pm
First floor Trust House Temple room, rocking Kirtan and everyone will be able to have the personal association of Radha Krishna and experience Their pastime and push Them on Their swing. Yummy Prasadam feast, please all come and enjoy
Check in with the facebook page.
Share this story your way:
I am invited to present a Bhakti-vriksha seminar in the Middle East, at the
beginning of October, and so I am combing my thoughts and reconnecting to
the spirit, patterns and goals of the program. Somehow in doing so I am
infused with a sense of nostalgia; the mind savors the times when
introducing Bhakti-vriksha (BV) in the world was my main service and focus.
Why the sense of "past"? Isn't the BV still one of the best and most
innovative ideas in the field of Vaisnava community building? Yes, but my
experience in introducing the idea in various parts of the globe taught me
that most communities weren't ready for it. Most temples and centers lacked
the leadership to build a viable, progressive BV. So I stopped pushing the idea - not because of anything wrong with the idea
itself - but because I observed that most places weren't ready. Why should
anyone try to enroll kindergarten students in university courses? I won't get into the details (there is a lot of history, sociology and
psychology involved - and not all of it is pleasant, healthy, inspiring or
progressive). Let me just enjoy the thought that I am going back to present
a BV seminar, like in the "old times," and it feels good; it feels like
going back home, back to Bhakti-vriksha. [For more on BV you can download the whole manual for free here:
http://namahatta.org/en/node/120
]
We need a "no mercy" harinam program. ;-)

Click here to head on over to the ISCOWP (International Society For Cow Protection) website for more details.

Dear devotees and friends, Please accept my best wishes. All glories to Srila Prabhupada. My Godbrother Dhirashanta prabhu and I flew from Vilnius to Moscow early in the morning of August 2nd, following the Baltics Summer Festival, and then stayed the day at the house of Dayal Caitanya prabhu, Kamalalocana mataji, their daughter Karunamayi [...]
New – Aindra Prabhu Kirtan – I Lost my heart in Aindra Kirtans 2

More Recent Articles
---
Click here to safely unsubscribe now from "Planet ISKCON" or change your subscription or subscribe

---
---
Unsubscribe from all current and future newsletters
powered by
FeedBlitz
---
Your requested content delivery powered by FeedBlitz, LLC, 9 Thoreau Way, Sudbury, MA 01776, USA. +1.978.776.9498