Here are the latest updates for sricaitanyamahaprabhu.juanymecky@blogger.com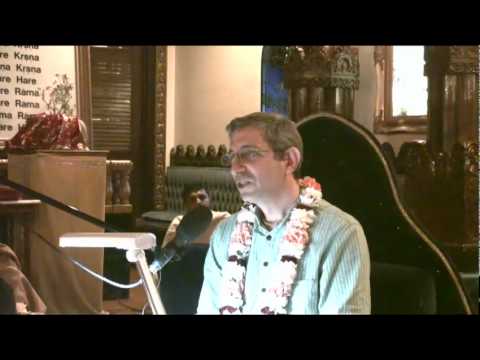 Lecture on Karma and Earth Day from the Bhagavad Gita.  Given by Braja BIhari das for the Sunday Feast Lecture.
Dallas, TX
2010-05-25 
Download:
2010-04-18 - Braja Bihari das - Sunday Feast - Karma and Earth Day.mp3
Today is Nrsimha Caturdasi, the appearance anniversary of Lord Nrsimhadeva, the half-man, half-lion incarnation of the Supreme Lord. On this day fasting is observed until dusk, and then followed by feasting. This is a most auspicious day to remember the great mercy the Lord has upon His pure devotees to protect them from all varieties of dangerous ........................... ================================================================== Thought...
again I have to postpone more detailed information... I'm off to Auckland to get some association of some of the most exalted brahmacaris I've met so far! My flight goes in two hours so I better get going (with a heavy heart...). These pictures are a few impressions from the last nights of kirtanyoga...
1974 May 25: "So I am glad that you are fully absorbed in your work and very concerned that it be executed just to my satisfaction in parampara standard. This is your perfection."
Prabhupada Letters :: 1974
1966 May 25:
"In the evening there was meeting the attendance was about 18 heads. After the meeting there was consultations about incorporation of The International Society for Krishna consciousness."
Prabhupada Journals :: 1966
1969 May 25: "Here it is a very nice spot for developing our community project. There is sufficient land for building great temples and houses for devotees. There is pasturing land, and sufficient grass and vegetables for the grazing of cows."
Prabhupada Letters :: 1969
1969 May 25: "In everything we do, devotion and sincerity are the real things. The procedure may not be very right - but the desire being sincere - the Lord accepts our offering."
Prabhupada Letters :: 1969
1970 May 25: "You have asked some specific mantra. Srila Bhaktivinode says, 'When I chant Hare Krsna all my dangers are gone immediately.' So what other mantra can be more effective than Hare Krsna?"
Prabhupada Letters :: 1970
1970 May 25: "Regarding using our Temple for marriage ceremonies for the Hindu community, we cannot take responsibility for marrying others who are not initiated by us."
Prabhupada Letters :: 1970
1972 May 25: "We can never expect any kind of utopia, even in the spiritual world. Wherever there are persons there are bound to be differences. We should not expect any kind of perfect arrangement in this material world."
Prabhupada Letters :: 1972
1974 May 25: "Temple presidents must be very careful on recommending gayatri initiation. After all, we are criticizing false cast brahmanas, if we ourselves are bogus brahmanas then our position is very bad."
Prabhupada Letters :: 1974
Srimad Bhagavatam 11.21.2 - Piety and impiety is both bad. Also the glorification of His Grace Jayananda Prabhu.
svasty astu viśvasya khalaḥ prasīdatāḿ
dhyāyantu bhūtāni śivaḿ mitho dhiyā
manaś ca bhadraḿ bhajatād adhokṣaje
āveśyatāḿ no matir apy ahaitukī
"May there be good fortune throughout the universe, and may all envious persons be pacified. May all living entities become calm by practicing bhakti-yoga, for by accepting devotional service they will think of each other's welfare. Therefore let us all engage in the service of the supreme transcendence, Lord Śrī Kṛṣṇa, and always remain absorbed in thought of Him."
Srimad Bhagavatam 5.18.9 Prahlad Maharaj's prayers to Lord Nrisimhadeva
Jayananda was always saying, "Somehow, you just have to have faith in the Holy Name." He said this to everybody, at all times it was his panacea cure for all the pains and problems of this material existence.
from "Jayanananda Thakur" by Visoka Dasa
26 May is Jayananda Prabhu's disappearance day in the location I am in
www.sdgonline.org.
4:09 A.M.
I had a migraine headache yesterday afternoon and another mild one at 9 P.M., but I slept well and woke up at a quarter after two A.M. I've chanted eight rounds. The rounds seem a bit slow but they're fairly clear and attentive in my mind. We've finished reading the chapter on Yamaraja's instructions to his messengers. A chanter is safe and the Yamadutas are afraid to approach him. They've been warned by Yamaraja that they'll be killed by Vishnu if they try to approach His devotees. So on one hand my position is safe but krsna-prema is far away. To reach offenseless chanting you have to chant much better than you're doing now. You push on earnestly and hope for the best. You repeat the mantras every day and avoid sinful activities. Your destination is auspicious although you may not reach the highest goal in this lifetime. Perfect chanting is rare and it comes to a devotee who chants in the mood of the Siksastakam and advances to love of Krishna and Radha.
Your chanting keeps away
the messengers of Yamaraja
who come to pull out the
soul at death and deliver
him for punishment.
You pray that the Vishnudutas
will come for you and
deliver you back to Godhead
or at least to a Vaisnava
human birth. So much
depends upon chanting with
attention and devotion.
Can you do it? Can you do
the right thing? Sometimes
you assess yourself as
doing the right process
but doing it poorly and
you don't know your destination.
Only try harder and
keep awake, whisper
the names and concentrate.
www.sdgonline.org.
Prabhupada Smaranam
Prabhupada is in his residential room, in Vrndavana. A plaque indicated that this is his home. He has many temples around the world, but this is the place he calls his home. It is where he came when he felt it was time for him to leave this world and he spent his last months and days here. Here he is in relatively good health. He is sitting at his low desk, talking to some devotees and guests. There are small devotional pictures to keep his attention fixed on guru and Krishna. He gestures gracefully with his two hands, relaxedly speaking the parampara. He is natural and at ease, at home. The table and bolster are just to his liking as is the situation in Vrndavana where he can hear the birds and parrots and follow a sublime routine while the routine of worship of Krishna-Balarama Deities goes on and preaching goes on under his supervision. He is the mahant or residing leader of the grand matha and when he is present the Vrndavana devotees are especially enlivened and he scrutinizes the operations and management.
He is explaining the philosophy which he knows so well. This means he contradicts opposing theories in the debating mood, just as he has imbibed from his spiritual master and the previous acaryas. He has the discussion well in control and is guiding his listeners to accept Krishna consciousness as the conclusion of all the scriptures.
Krishna-Balarama Mandir is safe and sound. The first admiral is present and in control.
You may have read and enjoyed my green blog about New Govardhana Farm and one of its gardeners extraordinaire, Trev. Well, he's back with more photos of the beautiful gardens of the Hare Krishna Farming Community and Temple just outside of Murwillumbah, Northern New South Wales.
These are huge, juicy oranges in the garden managed by Ian for the last 20 years. And this is Ian.
Ian supplied the temple with copious amounts of flowers and fruits. Unfortunately Ian had to retire from his duties due to health problems, and he now resides in Port Elliot, South Australia, with his daughter.
Replacing Ian is Bill, who's back at the farm after a ten year absence in Perth. He has taken on a lot of Ian's duties, like mowing, whipper-snipping, tree trimming and composting. He is doing his best to maintain the beautiful garden Ian established.
Here's a selection of produce: different varieties of lettuce, Fordhook silverbeet, chilies, bittermelon and lemons.
These are Cavendish bananas grown by my old friend Lagudi, a keen gardener at the farm for over 25 years.
And here's the man himself, the irrepressible Lagudi, approaching 70 years of age but still going strong.
A view through the garden showing the tip of the famous Mount Warning, 1156 metres high. It's the very first point on the Australian mainland to receive the rays of the morning sun.
Healthy Fordhook silverbeet (Swiss chard to all my US readers).
An amazingly productive chili bush.
This is lettuce grown in a weed mat, with T-tape drip irrigation under the weed mat. Very ingenious.
More lettuce in weed mat.
Another selection: Tomitoe tomatoes, rainbow silver-beet, lettuce and lemons.
Meet Jai Rama from Kenya, and Mario from Australia (Eugene Levy's doppelganger!!) both happy Wwoofers (willing workers on organic farms). For just 4 hours work a day they get free basic accommodation and three sumptuous traditional Hare Krishna vegetarian meals a day. What a deal!
www.sdgonline.org.
1.
Krishna, to me, is sentences,
is the whole section in the
Second Canto describing the virat–
rupa, it's hard to understand
and believe. Everything in existence
is conceived as His body, the
lower planets are His soles,
the upper planet is His head,
but none of this is purely
spiritual Krishna who is not
there, who is in the aprakrta
world in a middle size.
Krishna, to me, is hearing the
Bhagavatam and rolling with
the punches, going with the flow.
How could a chicken come out
of an egg? How does He devour
all the warriors in His teeth
at Kurukshetra? What had
He to do with the Nazis
military success at Dunkirk
in World War II? How is
it there are still old survivors who tell of
that tale, how
the weather affected the
battle and they are still
alone living in a flat in
London under a great grand–
uncle's care?
My eyes are
so heavy, but I know
He's there.
2.
Krishna, to me, is the chance
to relax another day,
with the pressure to write
the journal. I'll write
about that picture of
skeletons and try to make it
Krishna conscious. Gary
Snyder said he slipped
on the ice in Seattle and
fell from his bicycle breaking
nine bottles of milk.
They say Mount Rainier
will one day erupt in
a volcano much worse
than Mount St. Helen's
and there is little the people
can do to prepare but
thousands keep building little
cities at the foot of the
mountain. Does Krishna
cause the volcano and
the mudslides?
3.
Krishna, to me, is this poem,
attempting to capture Him although
He is uncaptureable. The songs come
to an end but there is always
another one. Krishna is eternal music
and movement. He pitches baseball
for the Mets and the Yankees
in the subway rivalry.
He's the outcome of the game.
Krishna, to me, is the ultimate
truth, but somehow I only
read Him and search Him
out sparingly. I chant my sixteen
rounds
4.
Krishna, to me, is my tired eyes
and halting tongue. But I'm
willing to give up my life to maintain
His honor. We will see if
that is true, whether I can
come through as I've been taught.
Because remember, He
is your spiritual master
and you love him
My problem is my headaches
come regularly, but they
are not so bad. I am
living out my last years
in relative ease so far,
although they will check me
for heartstrain in a
few weeks. You have
to stay there all day
and bring your own
sandwich.
5.
Krishna, to me, is my sadhana,
my japa, and hearing
about Him at mealtimes
and believing in Him.
You believe in God because
He must be true. There
cannot be life without Him.
And He is specifically
Krishna, the cowherd boy.
Krishna, to me, is that
monsoon cloud cowherd boy
loved by Radharani
He said he keeps reading the Venu-gita,
it's his favorite
and "I have to read what
I like." I like to read the purports of Prabhupada
and try to figure them out,
like the perfection of pantheism
is seeing Him in all things, yet knowing
He is one apart, alone.
Krishna, to me, is in Prabhupada's books
and I keep going there to find Him.
I pray for the faith to find Him
in the obvious place, in the dependent
heart of the Prabhupada–cela
The following lecture was given by H.H. Bhakti Caru Swami Maharaja on January 30th, 2010, in ISKCON Ujjain. Śrīmad Bhāgavatam Canto 3: The Status Quondash; Chapter 19: The Killing of the Demon Hiraṇyākṣandash; Text 33
The following lecture was given by H.H. Bhakti Caru Swami Maharaja on January 29th, 2010, in ISKCON Ujjain. Śrīmad Bhāgavatam Canto 3: The Status Quondash; Chapter 19: The Killing of the Demon Hiraṇyākṣandash; Text 32
www.sdgonline.org.
This is macabre humor. They have placed skeletons in chairs around a table and put smoking pipes in their mouths and glasses on the table. They are like gentlemen at a club, except they have no life. The souls have left the bodies,
the flesh has rotted from the forms. Could the souls still be in the bodies and the skeletons be alive? Yes it's possible, but highly unlikely. There are no hearts in the skeletons, and the soul resides in the heart with the Supersoul. That is the usual arrangement, and I would not like to tamper with ghostly experiments to try to put a soul back into a skeleton without a body. That sounds like black art performed by demons.
Yogis are able to bring bodies back to life, but it is a mystical art and is only temporary. The only way to have eternal life is to get a spiritual body (sat-cit-ananda vigraha). That occurs when a human being perfects devotional service to Krishna. He then gets a beautiful form like Krishna's and sports with Him in Vrindavana.
Puja to Sri Nrsimha in Mayapur, performed by brothers Jananivas and Pankajanghri prabhus.
So today, Wednesday 26th 2010, is the annual festival marking the day when God appeared in order to protect His beloved devotee. In the Bhagavad-gita God makes it very clear that this is not a one-time affair, that He is actually doing this time after time, in age after age. He comes to protect the devotees – those who have dedicated themselves to a life of spiritual service – and He comes to obstruct those who try to prevent others from taking up the Godly life.
So if there are many incarnations of God, what makes the Narasimha avatar so special? And why do the followers of His Divine Grace A.C.Bhaktivedanta Swami Prabhupada always sing two songs about Narasimha after every arati in every one of their temples all over the world?
Well, perhaps the most important reason is that the founder and spiritual master of the worldwide Hare Krishna movement asked them to, and in one sense, that is reason enough. As disciples, they did not get to choose which items of sadhana-bhakti were meant to be performed; rather they were given selected songs and rituals as part of the spiritual master's instructions.
Very early on, he told them that these two songs are for the protection of the guru and for the protection of the guru's mission, the movement he started to spread bhakti around the world. And ever since then, his followers sing those songs and worship Narasimha.
The form of Narasimha – the 'man-lion' or 'one with the form of both man and lion' – came once only, and that for a very short time compared to other avatars. Narasimha outwitted Hiranyakashipu, who thought that he had been blessed to never die in each one of a series of eventualities. Thus His appearance shows us that the soul can never outwit God – even when that soul has been blessed to become the most powerful. Power has a distant origin in God Himself, and because God is completely free to do anything He likes, He can also strip a soul of all power too.
The form of Shri Narasimha shows us that even though the form of God may not always meet our expectations (even the gods and angels were bewildered at the sight of Narasimha) still He can come in any form He wishes, whether He conforms to our personal notions of God or not. He is always capable of surprising His dear devotees – and often at the most surprising times.
Timing was everything for the incarnation of Narasimha, since He appeared in the world just when His devotee needed Him the most. Hiranyakashipu had reached the end of his patience after all his attempts to kill his son Prahlada had been thwarted. In desperation he shouted out to the boy the famous question: "Where is the God who protects you?" to which the lad replied: "He is everywhere, father." "Is He in this pillar?" "Yes, father."
In the Bhagavad-gita, Lord Krishna explains the vision of such a great devotee as Prahlada: "For one who sees Me everywhere, and sees everything in Me; I am never lost to Him, and he is never lost to Me." Krishna is the protector of those who have adjusted their consciousness to that of being protected by Him. And when the same Lord comes as Narasimha, He is coming to fulfil His promise to His devotee who fully expected His protection.
The Vaishnava acaryas have commented that Narasimha is paradoxical, in that He is both the very personification of anger, yet the very emblem of gentleness. They have cited the natural example of the lioness, which can fight a maddened elephant with all the fury of a wild cat, yet the lioness can take a few minutes out in the middle of the battle to suckle her cubs. Therefore, say the saints, no-one is as furious as Narasimha, yet there is none so gentle.
When Lord Narasimha appears from the stone pillar, one of His eyes is filled with rage, while the other is looking with love towards His devotee Prahlada. The sharp nails on His hands are just like steel chisels, and they dispatch the demon very quickly, but the palms of the same hands are as soft as lotus flowers.
Through coming to save His devotee in this way, the Lord demonstrates that He is saulabhya or accessible, to even a child who loves Him; and by removing the cruel Hiranyakashipu He shows that there can be no obstacles on the path of bhakti for one who truly takes shelter of Him. Thus He is known as Bhakta-pala, the friend of the devotee, and Bhakti-vigna-vinasana, or one who removes all obstacles on the path of devotional service.
He appeared at twilight, neither day nor night, and therefore the Vaishnavas observe fasting up until this time.
"I offer my respectful obeisances unto Lord Nrsimhadeva, the source of all power. O my Lord who possesses nails and teeth just like thunderbolts, kindly vanquish our demonlike desires for fruitive activity in this material world. Please appear in our hearts and drive away our ignorance so that by Your mercy we may become fearless in the struggle for existence in this material world. May there be good fortune throughout the universe, and may all envious persons be pacified. May all living entities become calm by practicing Bhakti Yoga, for by accepting devotional service they will think of each other's welfare. Therefore let us all engage in the service of the supreme transcendence, Lord Sri Krsna, and always remain absorbed in thought of Him."
Srimad Bhagavatam 5.18.8-10
For an old Indian film clip of Prahlada teaching and singing to his friends click here.
And for a short film of puja to Shri Narasimha with the two songs, here
aya nrsimha sri nrsimha jaya jaya sr nrsimha
prahladesha jaya padma mukha padma bhringa
Come celebrate Lord Nrisimha's appearance day this Wednesday evening, May 26th.
We will offer abhisek to Lord Nrisimha's foot and Sri Salagram sila. Everyone will be able to participate.
Also, if you feel inspired, please bring an offering of flowers, drawings, or a preparation cooked at your home for Lord Nrisimha's pleasure.
We will offer Lord Nrisimha his feast at 6:30 pm. You can also bring something to be offered during the day for the Raja bhoga (Noon) or Dhoop (4 pm) offering
The schedule is as follows:
5:30 pm – bhajans
5:45 pm – abhisek (everyone can participate)
6:30 pm – Nrisimha pastimes by Sankirtan prabhu
7:00 pm – arati
7:30 pm – feast
If you have any questions, please call.
Thanks!
ys,
Sikhi Mahiti das
304-843-1600 x105 office
sikhimahiti(at)gmail.com
Growing up I remember the loud and eerie night time cries of the loon, especially in lake country in Minnesota.
While a recorded sound is only faintly indicative of the impact of the real thing out in the woods at night, you can check it out here.
Learn about loons and watch one nesting here:
http://www.mnbound.com/live-loon-cam/
"The tinkling of Krsna's ankle bells surpasses the songs of even the swan and crane, and the sound of His bangles puts the singing of the cataka bird to shame. Having allowed these sounds to enter the ears even once, one cannot tolerate hearing anything else."
CC  Antya 17.43
Filed under:
Cows and Environment
and His wonderful protective attitude towards His pure devotees on the day preceding His appearance.
"All living bodies subsist on food grains, which are produced from rains. Rains are produced by performance of yajna [sacrifice], and yajna is born of prescribed duties." [Bhagavad-gita 3.14]
The basis of "Simple Living and High Thinking", the norm for civilized human beings, lies in the acceptance of village life centered on the performance of sacrifice, yajna, which is born of prescribed duties as delineated in the scientific system of varnas (social orders) and ashramas (spiritual orders). Such a social system, being very intimately connected with land, cows and higher consciousness, namely Krishna consciousness, is the most perfect and holistic way to live. When human society, due to neglect, bad leadership or misfortune (all based on lust, anger, greed, illusion, madness and envy) deviates from this established norm, a norm scientifically designed and created by the highest of authorities, Lord Krishna Himself, a norm meant to uphold, protect and foster the universal principles of dharma or religiosity, we should know for certain that only chaos will prevail and immense suffering must follow.
In any discussions on varnashrama dharma, the importance of village life and social organization are a must. Village life needs to be clearly outlined and strongly promoted. Vedic leadership that will give shape to social organization needs to be explained and strongly advocated. As we have heard Srila Prabhupada many times explain, the very foundation of varnashrama dharma begins with cow protection, for without cows the brahmanas cannot perform their duties within the varnashrama system and without following the various samskaras (rituals) within the varnashrama system, the aim of life cannot be realized, the result of which are varna sankara (confused progeny) and ugra karma (exploitive activity) at its worse. In such a degraded condition the dependent members of society, namely the cows, the brahmanas, the children, the women, the diseased and the elders cannot be protected:
"Without protection of cows, brahminical culture cannot be maintained; and without brahminical culture, the aim of life cannot be fulfilled. The Lord, therefore, is described as go-brahmana-hitaya because His incarnation is only for the protection of the cows and brahmanas. Unfortunately, because in Kali-yuga there is no protection of the cows and brahminical culture, everything is in a precarious position. If human society wants to be exalted, the leaders of society must follow the instructions of Bhagavad-gita and give protection to the cows, the brahmanas and brahminical culture." [SB 8.24.5]
What follows are quotations from various sources which support the basic premise enunciated above, i.e. without the majority of people taking up the simple standard village lifestyle which allows for a natural execution of prescribed duties [traditional occupations largely connected with land and cows] and which in turn favours the appearance of regular rainfall that guarantees the production of natural and wholesome food grains, no society can prosper or maintain itself for long, no society can protect its citizens from even simple calamities, and no society can lead its members to the goal of life, self-realization. In brief, no society can consider itself to be civilized. Hence the great need to remain in or return to the traditional village lifestyle as enjoined in the scriptures and as advocated by all spiritual mentors and all responsible social leaders.
Srila Prabhupada [ISKCON Founder-Acarya]
Our philosophy is that you produce your food anywhere you stay, and keep cows, take milk, produce vegetables, food grains, and chant Hare Krishna. That's all. This is our philosophy. Make your life successful. By becoming Krishna conscious, you become free from all these troubles of material condition. This is our education. Don't be after these motorcars, television, and all nonsense things, sporting, wine, women. Don't be after these. Simply eat sufficiently, keep your health nicely, chant Hare Krishna, realize Kåñëa, and go back to home. This is our philosophy. [Conversations: May 25, 1974, Rome]
In the above exchange, Srila Prabhupada clearly stresses the need to produce our own food and to learn to be satisfied with this more simplified rural lifestyle. In other conversations, Srila Prabhupada makes it abundantly clear that life will be more healthy and peaceful if we learn to depend on agriculture produce and live in the villages. He discourages people from leaving the villages:
Nobody should take to very hardship labor. The modern civilization has discovered severe types of dangerous industries, and laborers are attracted for high wages. But they should not accept such work. Then naturally there will be less capitalistic idea. Because the laborer cooperates, therefore demoniac persons they take advantage and make unnecessarily increase of artificial demands of the body. Better one should be satisfied with agricultural produce than go into large cities to be engaged in industry. Peaceful life depending on agricultural produce can bring him real happiness and prosperity, not otherwise. The more persons will be satisfied at their home, with home economics, not to go outside the home; that is peaceful life. In India, Mahatma Gandhi tried to organize villages in that way so that not to drag the people to the town. So, peaceful atmosphere can be attained only when there is large scale village organization, actually village life. Not to borrow the ideas from the cities in the village life; poet Cowper said that country is made by God, and the cities and towns are made by man. So that is the distinction. [Letter to Rayarama dasa, 17 October, 1968, Seattle]
Ethics of Chanakya (On Principles of Provincial and Local Governance)
As we know, Chanakya Pandit was a great diplomat and wise moralist whose writings are greatly appreciated by politicians, educators and people in general. In the book "Ethics of Chanakya," the author summarizes some of Chanakya's thoughts regarding the importance of statesmanship in terms of village self-governance, village sustainability and village autonomy:
While an effective control was kept on towns, villages were free from the active jurisdiction of royal officials. They were rather autonomous bodies and were administered by local men. They were not only self-sufficient units economically, but politically, they were self-governing. Under such a system, villages continued to exist as self-sufficient little republics, which remained the basis of higher political existence. They survived successive turmoil or changes of fortune, and continued to maintain the prosperity of the people, in spite of the change of dynasties or the rise and fall of empires. The village was regarded as a co-operative social unit, and its head was the Gramika. From the evidence of one passage, this man seems to have been invested with minor magisterial authority and was empowered to expel thieves, criminals, adulterers and other undesirable persons. [Ramesh, T. Y. Ethics of Chanakya, Sahni Publications, New Delhi, 2000, p. 178]
It is clear from the above descriptions that villages were the norm for most people and that these villages prospered following principles of self-governance and self-sufficiency.
M.K. Gandhi [Extracts from VILLAGE SWARAJ]
As often quoted by Srila Prabhupada, Gandhi was a strong advocate of village organization:
In the future set-up we shall have only two things, the village and the world. We may have the names of countries on the map for the sake of convenience, but in reality, there will be no intermediary between the world and the village. All the authority concerning the material side of life will rest with the village. The village will have power to order its own life. The power of moral advancement of the whole world will rest in the world centre. The districts or the States will only be the agents of the village community. Thus we shall have the village at the base and the world Authority at the Centre. Human society will be organized on the basis of small village communities of say, 2 to 3 thousand souls each. There would be real fraternity and co-operation in the village community. There would be no private ownership. The village will be a model of corporate life. The world centre will be the ultimate co-ordination link between these primary communities.
and from Preface....
The experience of mankind testifies to the fact the collective life is more genial, varied and fruitful when it is concentrated in small units and simpler organizations. It is only small units which have had the most intense life. Collective life diffusing itself in vast areas would be wanting in cohesiveness and productiveness.
Ancient Greek City States and Village Republics of India provided specimen of all-round development of rich and puissant life. Pandit Jawaharlal Nehru wrote: "This system of village self-government was the foundation of the Aryan polity. It was this that gave it strength. So jealous were the village assemblies of their liberties that it was laid down that no soldier was to enter a village except with a royal permit….
As late as 1830 a British Governor in India, Sir Charles Metcalfe, described the village communities as follows: "The village communities are little republics having nearly everything they want within themselves and almost independent of foreign relations. They seem to last where nothing else lasts. This union of the village communities, each one forming a separate little State in itself… is in a high degree conducive to their happiness, and to the enjoyment of a great portion of freedom and independence."
Independence must begin at the bottom. Thus, every village will be a republic or Pancayat having full powers. It follows, therefore, that every village has to be self-sustained and capable of managing its affairs even to the extent of defending itself against the whole world.
I want to resuscitate the villages of India. Today our villages have become a mere appendage to the cities. They exist, as it were, to be exploited by the latter and depend on the latter's sufferance. P. 83, from Village Swaraj.
I am convinced that if India is to attain true freedom and through India, the WORLD also, then sooner or later the fact must be recognized that people will have to live in villages, not in towns, in huts, not in palaces. Crores of people will never be able to live at peace with each other in towns and palaces. They will then have no recourse but to resort to both violence and untruth.
Nepal Villages
In a recent conversation with a former Gurukula boy from Nepal, the following description was given. "Even today many villages in Nepal have their own blacksmith, their own barber, their own tailor and other skilled workers. They serve the villagers as and when needed throughout the year. When harvest time comes these different labourers come to the land and are remunerated with grains and other produce from the land. This simple lifestyle and this simplified economics still prevail in many villages of Nepal today. It is the remnants of the ancient Vedic varnashrama system."
Benjamin Franklin (one of the founding fathers of America):
There seems to be three ways for a nation to acquire wealth. The first is by war, as the Romans did, in plundering their conquered neighbours. This is robbery. The second by commerce, which is generally cheating. The third by agriculture, the only honest way, where a man receives a real increase of the seed thrown into the ground, in a kind of continual miracle, wrought by the hand of God in his favour as a reward for his innocent life, and his virtuous industry.
Daniel Webster (American lawyer and politician with great interest in agriculture):
Let us never forget that the cultivation of the earth is the most important labour of man. Man may be civilized, in some degree, without great progress in manufactures and with little commerce with his distant neighbours. But without the cultivation of the earth, he is, in all countries, a savage. Until he gives up the chase, and fixes himself in some place and seeks a living from the earth, he is a roaming barbarian. When tillage begins, other arts follow. The farmers, therefore, are the founders of human civilization." [Speech delivered to the Massachusetts Legislature (Boston, 13 January 1840) [http://yogaofecology.blogspot.com]
Conclusion
The meaning of varnashrama dharma and its practical application will remain largely concealed as long as individuals do not leave their present comfort zones in the cities. This requires the accommodation of another paradigm, the village lifestyle paradigm. Only by spending quality time in the villages will the inner truths and secrets of varnashrama dharma become revealed. The principle of self-sufficiency and sustainability will only become manifest when one learns to live in a localized way. As boldly stated by Srila Prabhupada, one must learn to live "on the lap of material nature."
This will require tremendous courage and determination on the part of those taking up the mantle given to us by Srila Prabhupada. The varnashrama mission or daiva varnashrama dharma means re-introducing village lifestyle as the norm within all of societies, the most ideal norm which can best facilitate the advancement of our Vaisnava practices in devotional service. Education and training at the village levels must be re-introduced and for this reason both Gurukula (devotional primary school) and Varnashrama Colleges are of paramount importance. The Varnashrama Shikshalaya programs introduced in India are meant to serve as forerunners to these educational reforms.
Let us know, let us realize and let us demonstrate the importance of village life. Let us become convinced that village life, based on the eternal principles of Krishna consciousness, is indeed part of our eternal philosophy, our eternal education and our eternal lifestyle.
The author can be contacted at: bhakti.raghava.swami@pamho.net
HG Jayananda Prabhu turns negative to positive

"HG Jayananda Prabhu would always turn a weird situation into doing benefit for the other person. Like the Fisherman's Wharf episode, when the lobster-murder stand people threw hot and stinky fish water at the devotees' feet as they went by on harinama. I would have gotten into a fight with them, like yelling and shaking fists, but Jayananda Prabhu was in control of his senses and approached them with cookies and said, "Thanks for doing such a nice service of cleaning the sidewalk." This genuinely affected them.

Similarly, he was always trying to give prasadam to others, like visitors of the temple, or taking out extra prasadam to the streets for the bums, and so forth. He was found to be cooking prasad for drunks in a bar. He was always asking wandering hippies to help with the carts, not just to get their labor, but to engage them in service for their benefit, knowing that even a little service brings transcendental eternal blessing."
Nitaj-Gauranga Festival 3/9 Czech deity installation

If you have any pictures of His Holiness Prahladananda Swami please send them to us.
More Recent Articles
---
Click here to safely unsubscribe now from "Planet ISKCON" or change your subscription or subscribe

---
---
Unsubscribe from all current and future newsletters
powered by
FeedBlitz
---
Your requested content delivery powered by FeedBlitz, LLC, 9 Thoreau Way, Sudbury, MA 01776, USA. +1.978.776.9498