PLANET ISKCON


Here are the latest updates for
posted by
HTdasa | July 05, 2010
"Chant Hare Krishna and be happy! Kirtan led by Maha Vishnu Swami who is our own English sannyasi. Always friendly, always chanting Hare Krishna and never missed a mangala arati. Also featuring Rupa Vilasa, Jaya Laxman, Ragudvaha and Prahladananda Swami. All in all it was a wonderful day. Hare Krishna! All glories to Srila Prabhupada!"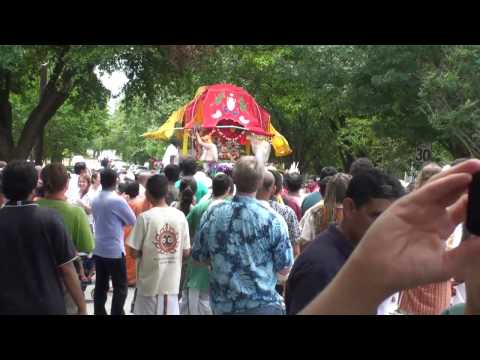 Rathayatra Parade in Dallas.  Kirtan led by many devotees including Nityananda das, Chaitanya Chandra das, Enadhi das, Amala Kirtan das, Hari das, Giriraj Swami, Advaita Acharya das, others.
Dallas, TX
2010-05-22 
Download:
2010-05-22 - Dallas Rathayatra - 01 - Parade.mp3
One wall of tile grouted, one item crossed off the punch list.
Below are pics of our el cheap-o American Olean white gloss 3 x 6 subway tiles, $.23 a tile @ Lowe's. The guys used Mapei Pearl Gray un-sanded grout. Looks like a million bucks, but it cost only $1.84 a square foot!
I went with the gray grout with white subway tile to evoke a very classic look. Totally, you know, subway. Across the galley, the small glass mosaic tiles simultaneously echo that classic feel while making good on their modern aesthetic.
Another great thing about the subway tile is that it was a cinch to install. KD got it set very flat. Lotus and KD faced some challenges with the Hakatai Classic Mosaics I purchased. They are cheap and thin and, apparently, a PITA to work with. Thankfully, despite my pickiness, I am always up for some wabi-sabi, organic, human made -ness. Nothing is perfect in the material world, unless  you are ready to embrace the imperfections as signature beauty–unique and unrepeatable. Much like Anjelica Huston's face. This may be why I was never a successful pujari when I lived in the temples, pleased to always include a sad, wilted flower in the Deities' garlands–after all, every living entity deserves a chance to be loved and cherished. This mentality makes for a much better teacher/lover/artist/cook than perfectionist.
So, if you are looking for pics of gray gout, white subway tiles, marble countertops, cream cabinets…well, look on! More pictures are promised once the faucets go in, which should be tomorrow. Please note that the grout has yet dried in these snaps, so it should be a shade lighter tomorrow. However, without much natural sunlight on this wall, I don't know how well the camera would even pick up on that.
On Rama Navami, March 24, 2010, His Holiness Radhanath Swami
awarded sannyasa to HG Devamrita Prabhu.

There are four new ISKCON sannyasis this year:
Devamrita dasa: Bhakti Rasamrita Swami
Nitai Caitanya dasa: Nitai Caitanya Goswami
Makhanlal dasa: Bhakti Madhurya Govinda Swami
Siddharta dasa: Siddharta Swami
     We wish them all success in their preaching and their new ashrama.
Your servant,
Prahladananda Swami
Srimad Bhagavatam 11.22.10 - There cannot be any speculation regarding the two spiritual elements found in this universe, namely the individual soul and the Supersoul.
| | |
| --- | --- |
| | With Ratha Yatra season in full swing and ISKCON devotees all over the world celebrating the ancient Chariot festival in honor of Jagannath, this month will see one of the largest events in North America—Toronto Ratha Yatra. |
| | |
| --- | --- |
| | A brand new 84-book series to be released this September promises to teach children how to read English in a Krishna-centered way, while utilizing top-quality professional materials and teaching methods. And it has more than a few surprises up its sleeve. |
| | |
| --- | --- |
| | This August, 350 "Kulis," or members of ISKCON's second generation, from France, England, Italy, Spain, Germany and Belgium will converge on the rural community of New Mayapur two hours south of Paris, France. |
As a result my chanting was hampered and not so quick, but I remained determined and kept fighting to keep attention and devo tion in harinama. I have chanted about eleven rounds. I was able to keep focus on the syllables and not become panicky.
From
Bhajan Kutir #3
The strict, regulated, focused regime of an ascetic yogi is difficult to relate to. In an age of temptation and distraction, such a path of self-realisation appears far from easy. In the 6th chapter, Krishna discusses that ancient practice known as astanga-yoga, the mystic 8-fold path. Millions of people worldwide practice elements of this path even today (hatha-yoga, pranayam etc.), but the chapter gives a more detailed explanation and elucidation of the process. Essentially, Krishna describes it simply to show it's impracticality for the modern age, and concludes the chapter by explaining the easy (and topmost) path of self-realisation.

E – Enemy or Friend? (Verses 1-9) - On our sojourn in this world we are perpetually accompanied by the 'voice within.' Yes, we have all experienced it, the devil on one shoulder and the angel on the other, each giving their own advice to the confused personality in-between. The mind is that 'voice within'; essentially a storehouse of memories and experiences, acting as one's friend or enemy. An uncontrolled mind will agitate, misguide and entangle the soul within this world, succumbing to the dictations of our 'lower nature' of lust, anger and greed. The controlled mind, on the other hand, acts a friend on the spiritual journey, helping us make progressive and healthy choices which will bring us closer to God. When one controls and befriends the mind, one experiences tranquillity, peace and freedom from the worldly dualities which taint our journey in this world.

A – Astanga Yoga (Verses 10-36) - One way to achieve this control of the mind is through the process of astanga-yoga (which includes dhyana-yoga, the practice of meditation). Krishna explains exactly how the ancient path was practiced in bygone ages. Living in seclusion, practicing celibacy, and under strict regulations of eating and sleeping, the yogi would sit in a perfectly erect position, focusing his consciousness on the Supreme Soul within. Despite the distractions of the mind and body, the yogi would continue his focused meditation for many years, maintaining stillness and complete silence. Hearing this strict discipline, Arjuna admits his amazement – "this practice seems impractical and unendurable!" he exclaims, "to discipline the mind is more difficult than controlling the wind!" Krishna reassures Arjuna by explaining the means and process to discipline the mind. He has noted Arjuna's reservations, however, and will later explain that there is a yoga process which is more practical and applicable for the general populace.

S – Success and failure (Verses 37-45) - Hearing about this difficult process triggers Arjuna to ask another question. What happens if one takes to this yogic process with faith, but then falls away without perfecting his spiritual consciousness? Arjuna is worried that the unsuccessful spiritualist is left in no-mans land - failing to attain spiritual satisfaction and simultaneously squandering his 'opportunities' for worldly pleasure. Krishna explains that whoever takes up this process is eternally benefited even if they don't perfect it. Our spiritual journey continues over many lifetimes, and if we do not complete it in this life, we carry on in the next life from the same point. Every individual is going through their own spiritual evolution.

Y – Yogi (Verses 46-47) - After explaining the difficult process of dhyana (meditation) and astanga-yoga, Krishna concludes the chapter by throwing out a rope of hope. He explains that the perfection and goal of all yoga systems is to become fully consciousness of God at all times. While all yoga systems are certainly beneficial, the easiest, most efficient and essential path of yoga is known as bhakti- yoga (the yoga of devotion). In this age, the central practice within bhakti-yoga is known as mantra meditation, or chanting the names of God. Through this process anyone from any background can attain the desired spiritual perfection and experience all the benefits as described in this chapter and others.
Try to always study our books and see our philosophy from different lights of directions, become convinced yourself of this knowledge and without a doubt all of your difficulties of mind will disappear forever and you will see Krishna face-to-face.
>>> Ref. VedaBase => Letter to: Bhagavatananda -- New York 8 July, 1972
'The transcendental vibration established by the chanting of Hare Krsna, Hare Krsna/Krsna Krsna, Hare Hare/ Hare Rama, Hare Rama/ Rama Rama, Hare Hare is the sublime method for reviving our transcendental consciousness.
As living spiritual souls, we are originally Krsna conscious entities, but due to our association with matter from time immemorial, our consciousness is now adulterated by the material atmosphere. The material atmosphere, in which we are now living, is called maya, or illusion. Maya means "that which is not". And what is this illusion? The illusion that we are all trying to be lords of the material nature, while actually we are under the grip of her stringent laws. When a servant artificially tries to imitate the all-powerful master, he is said to be in illusion. We are trying to exploit the resources of material nature, but actually we are becoming more and more entangled in her complexities. Therefore, although we are engaged in a hard struggle to conquer nature, we are ever more dependent on her. This illusory struggle against material nature can be stopped at once by revival of our eternal Krsna consciousness.
Hare Krsna, Hare Krsna/ Krsna Krsna, Hare Hare is the transcendentl process for reviving this original, pure consciousness. By chanting this transcendental vibration, we can cleanse away all misgivings within our hearts. The basic principle of all such misgivings is the false consciousness that I am lord of all I survey.
Krsna consciousness is not an artificial imposition on the mind. This consciousness is the original, natural energy of the living entity. When we hear this transcendental vibration, this consciousness is revived. This simplest method of meditation is recommended for this age. By practical experience also, one can perceive that by chanting this maha-mantra, or the Great Chanting for Deliverance, one can at once feel transcendental ecstasy coming through from the spiritual stratum.
In the material concept of life we are busy in the matter of sense gratification, as if we were in the lower, animal stage. A little elevated from this status of sense gratification, one is engaged in mental speculation for the purpose of getting out of the material clutches. A little elevated from this speculative status, when one is intelligent enough, one tries to find out the supreme cause of all causes – within and without. And when one is factually on the plane of spiritual understanding, surpassing the stages of sense, mind, and intelligence, he is then on the transcendental plane. This chanting of the Hare Krsna mantra is enacted from the spiritual platform, and thus this sound vibration surpasses all lower strata of consciousness – namely sensual, mental and intellectual. There is no need, therefore, to understand the language of the mantra, nor is there any need for mental speculation nor any intellectual adjustment for chanting this maha-mantra. It is automatic, coming from the spiritual platform, and as such, anyone can take part in the chanting without any previous qualification. In a more advanced stage, of course, one is not expected to commit offences on the grounds of spiritual understanding.
But there is no doubt that chanting takes one immediately to the spiritual platform, and one shows the first symptom of this in the urge to dance along with the chanting of the mantra. We have seen this practically. Even a child can take part in the chanting and dancing. Of course, for one who is too entangled in material life, it takes a little more time, but even such a materially engrossed man is raised to the spiritual platform very quickly. When the mantra is chanted by a pure devotee of the Lord in love, it has the greatest efficacy on hearers, and as such this chanting should be heard from the lips of a pure devotee of the Lord, so that immediate effects can be achieved.
The word Hara is the form addressing the energy of the Lord, and the words Krsna and Rama are forms of addressing the Lord Himself. Both Krsna and Rama mean "the supreme pleasure", and Hara is the supreme pleasure energy of the Lord, changed to Hare in the vocative. The suprem pleasure energy of the Lord helps us to reach the Lord.
The material energy, called maya, is also one of the multienergies of the Lord. And we, the living entities, are the marginal energy of the Lord. The living entities are described as superior to material energy. When the superior energy is in contact with the inferior energy, an incompatible situation arises; but when the superior marginal energy is in contact with the superior energy, Hara, it is established in its happy, normal condition.
These three words, namely Hare, Krsna and Rama, are the transcendental seeds of the maha-mantra. The chanting is a spiritual call for the Lord and His energy to give protection to the conditioned soul. This chanting is exactly like the genuine cry of a child for its mother. Mother Hare helps the devotee achieve the Supreme Father's grace, and the Lord reveals Himself to the devotee who chants this mantra sincerely.
No other means of spiritual realization is effective in this age of quarrel and hypocrisy as the chanting of the maha-mantra: Hare Krsna, Hare Krsna/ Krsna Krsna, Hare Hare/ Hare Rama, Hare Rama/ Rama Rama, Hare Hare.
A.C. Bhaktivedanta Swami Prabhupada – from the LP 'Krsna Consciousness'
Dear Vijaya Prabhu,
Please accept my humble obeisances. All glories to Srila Prabhupada.
Just wanted to let you know that I posted your lecture video on youtube.com as a playlist: http://www.youtube.com/view_play_list?p=26BA48BBE5F82B84 It says 1of 5 video clips etc. although currently there are only 4 clips. This is because I plan to add a clip with you distributing books. I haven't finished editing it yet.
Your servant, Ganga das
Dear Vijaya Prabhu,
Please accept my humble obeisances. All glories to Srila Prabhupada.
Just wanted to let you know that I posted your lecture video on youtube.com as a playlist: http://www.youtube.com/view_play_list?p=26BA48BBE5F82B84 It says 1of 5 video clips etc. although currently there are only 4 clips. This is because I plan to add a clip with you distributing books. I haven't finished editing it yet.
Your servant, Ganga das
www.sdgonline.org.
3:47 A.M.
To be perfect is very hard,
seemingly impossible.
But to make partial achievement
is highly satisfying. I
accumulate my rounds in the
and attentive to the Names.
To perform the act is very
easy, just the repetition
of the sounds,
but to do it with love is an elusive
attainment. You relax and
kind of ecstatic emotion described
in the chanting of Caitanya Mahaprabhu
is far away, like a star
high in the predawn sky. I
merely look upon it from
my space on the ground and
yearn for the day when
my taste will increase,
and I can rise to the star.
www.sdgonline.org.
Prabhupada Smaranam
www.sdgonline.org.
www.sdgonline.org.
Free Write
It is nearing mid-July and there's heavy green vegetation and a heat wave in upstate New York. Someone said it was a hundred degrees Fahrenheit. It is even hotter in Vrndavana, India. I have an air conditioner in my window, and my room is fairly comfortable. I wear only a T-shirt and a dhoti. When I go out for a walk at 5 P.M., sweat pours off my face. But in a few months this same place will be uncomfortably cold, and we will be seeking every way to keep warm.  In the Bhagavad-gita Krishna states, "O son of Kunti, the nonpermanent appearance of happiness and distress, and their disappearance in due course, are like the appearance and disappearance of winter and summer seasons. They arise from sense perception, O scion of Bharata, and one must learn to tolerate them without being disturbed" (Bhagavad-gita 2.14). So there is a life-lesson in this present heat wave and the inevitable bitter cold weather we will experience in the winter in upstate New York. In the purport to this verse, Srila Prabhupada writes that a person has to take his bath early in the morning even in the cold months of January and February, and one cannot hesitate to cook in the kitchen in the hottest part of the summer season. Similarly, "One has to follow the prescribed rules and regulations of religious principles in order to rise up to the platform of knowledge, because by knowledge and devotion only can one liberate himself from the clutches of maya (illusion)." In Bhagavad-gita, Krishna is teaching Arjuna he must not abandon his duty of fighting, even though it is against his family relatives. For us who are not on a battlefield, we have to prosecute our daily bhakti-sadhana, no matter whether it is extremely hot or cold, or whether there is some personal upheaval in our life or in our health.  One has to be tolerant, or dhira, sober-minded, and stick to one's duty. These unbearable summer days will soon be a memory, and so they should not be a cause for complaining or suspending our bhajana. In fact, they should be an impetus for working harder to stay cool and transcendental.
By Ananta das
Yesterday we've started with our 9th annual Padayatra festival called Eco-caravane 2010. This is the festival of experiencing the sweetness of the process of bhakti in various form of acitivity and especially giving it to others.
Sadagopan: Could you please let me know of any devotees from ISKCON who live in any one of these three towns: Medford, Oregon Eugene, Oregon Redding, California
"The prosperity of humanity does not depend on a demoniac civilization that has no culture and no knowledge but has only gigantic skyscrapers and huge automobiles always rushing down the highways.
"The products of nature are sufficient. When there is a profuse supply of milk, yogurt, honey, food grains, ghee, molasses, dhotis, saris, bedding, sitting places and ornaments, the residents are actually opulent. When a profuse supply of water from the river inundates the land, all these things can be produced, and there will not be scarcity. This all depends, however, on the performance of sacrifice as described in the Vedic literature."
Purport from Srimad Bhagavatam 5.16.24 by His Divine Grace A.C. Bhaktivedanta Swami
"We live in a time of no room, which is the time of the end. The time when everyone is obsessed with lack of time, lack of space, with saving time, conquering space, projecting into time and space the anguish produced within them by the technological furies of size, volume, quantity, speed, number, price, power and acceleration."
Thomas Merton, Raids on the Unspeakable (New York: New Directions, 1966). p. 70.
Filed under:
Cows and Environment
,
Thomas Merton
The difference between self-satsifaction and pride and marriages at Bhaktivedanta Manor.
last saturday I gave a talk on spiritual happiness at the urban yoga center in melbourne city, here is the powerpoint combined with the audio recording! chant and be happy! :)
As I was walking around on campus today trying to take care of some business I passed through the busy Turlington Plaza lined with different students groups trying to promote their events and recruit members.
There was a large contingent of Christians passing out free water and flyering for their "pool party and bible study" event. I gratefully accepted the water because it was close to a hundred degrees out and I was dehydrated. On my way back through again I didn't stop to talk but we had a little exchange as I walked by and they remembered me.
I wanted to stop and try and talk to them about God and religion, they seemed so nice, but of course I knew that having a productive conversation is almost impossible so I just kept walking but in my mind I had this conversation.
Christian: Are you a Christian?
Me: Not exactly, I'm a philosophy student but I believe in God. You might consider trying out philosophy, it can really help you better understand certain beliefs and practices in your religion.
Christian: Well, philosophy is dangerous, it usually leads to atheism, most philosophers are atheists.
Me: Well, philosophy just gives you tools to evaluate certain ideas and beliefs. It is certainly not inherently atheistic and although it isn't privy to certain things that revelation is, it is certainly useful. I once heard Marcus Borg, a prominent christian theologian speak and afterwards he was asked if he believed in

substitutionary atonement

and he responded I don't believe in a God who would demand substitionary atonement. While it is true that many philosophers have been atheists most have believed in some form of God. From Plato to Kant and to many contemporary philosophers the majority have believed in God and many have been Christians. I don't think philosophy harmed Origen, Augustine, Kant, or Kierkegaard in their practice of Christianity. Atheism certainly doesn't follow from the pursuance of philosophical questions.
Christian: Well, a lot of people leave the church when they start asking certain questions.
Me: What church do you belong to?
Christian: Southern Baptist (or whatever).
Me: Is that a form of Protestantism?
Christian: Yes.
Me: Well, the protestant movement was founded by Martin Luther, a german theologian who left the church he was a part of because he felt it wasn't true to the teachings of the Bible, so the church you are a part of was created by someone who was originally branded a heretic for leaving the Catholic Church, which at that time was the only Church in existence. So questioning church doctrine seems to be a fundamental part of your religions tradition.
Christian: Hmmm. . . Never thought about that.
I recently watched a documentary about Martin Luther, which I really enjoyed. As a person he was incredibly strong, internally to pursue his convictions and follow his conscience where ever it led him, and externally to risk almost certain death on the charge heresy. He single handedly faced off against and defeated the most powerful institution in existence at the time, the Holy Roman Empire. But nothing is more powerful than the truth and at meeting with the delegates of the Church there was a huge mob assembled and it is said that nine out of ten people were chanting "Luther! Luther!"and the tenth was chanting "Death to the Pope!"
On a philosophical level I really appreciated his core doctrine that grace cannot be achieved by any of the things that the church required its followers to do. At the time there was a very strong emphasis on renunciation in the Catholic Church, and of course loyalty to the Church itself. Luther Himself was a monk for many years and performed very intense austerities during this time. He would later say "If there was ever anyone who should've gone to heaven by their monkery it was me." But he came to realize that faith is more important than works. (In Gaudiya Vaisnava language we would say devotion over renunciation)
Although I think modern protestants take this idea to a ridiculous level. One of the things that appalled luther was the gluttony of the Vatican and much of the priesthood and I'm sure he would be equally appalled at the hedonistic consumerism of the West.
Sridevi dasi: The North American Grihastha Vision Team (GVT) offers a FREE teleconference facility every month for devotees who are seeking help with or more information about relationships
By Radhanath Swami
According the the Mahatmya of this place, it is described that Vedavyas was telling one great muni that this place of Kurmakshetra is very, very sacred and he told the story of this temple
I was fortunate to be invited as a speaker at the European Premiere of the new film, 'Lost Village', [see http://www.lostvillagemovie.com/about.htm] on April 21 2010 in Prague, Czech Republic.
It features HH Lokanatha Swami and his home town Aravade (pronounced Arav day).  Its a Krsna conscious take on the lost values of the village culture and economy, and a peek at the impending crisis of big city life like Mumbai.
I was asked by Director Bhaktivaibhava Swami
to attend and say a few words about the illusion of consumer economics. He had filmed me two years ago at the Czech Rep. summer camp and included a couple of comments I made in the film.
Briefly: consumer economy is a cheating system because the propaganda is that by always buying new goods we will become happy. Yet the very impetus for buying new goods is dissatisfaction with the ones we already have-otherwise why would we replace them? The whole advertising industry is geared to creating dissatisfaction with what we already own so we will go out and spend, spend, spend. So the driving force to sustain consumerism is unhappiness, the very opposite of what it claims to deliver.
Getting to Prague proved to be a bit traumatic. Without boring you with the details, I was supposed to leave Delhi right when the Icelandic volcanic ash scare began.
I went out to the airport to catch a 1.50AM flt. to Vienna and a connection to Prague.
When I arrived at the airport, all European flts. had been cancelled, except mine. Considering myself fortunate, I duly checked in, went through immigration and patiently awaited a boarding time of 1.00AM.  The appointed hour came and went with no sign of airline staff. At 1.30AM they finally informed us the flt. was cancelled. We had to go back through immigration and have our exit stamps cancelled, and then collect our bags back. By 2.30AM we were all ready for bed. No such luck. The airline (Austrian) against European rules, informed everyone they were on their own and no hotels would be provided. We were unceremoniously dumped in the airport. Bad form considering the several families with little kids that were travelling.
I was lucky. I headed off to the Delhi temple, managed to contact the guest house manager and by 3.30AM I was gratefully ensconced in a clear air conditioned room (did I neglect to mention that the day time temperatures were 42 deg. C?)
I tried rearranging the booking but to no avail. The ticket was booked through Air India — forget it!
Prague also informed me that unless I arrived on the morning of the Premiere they would have no choice but to cancel the ticket. Since I had arranged to visit several other countries after Prague, I was rather keen that that didn't happen. So on the second night, the one before the event, I decided to just front up at the airport and see if I could get on wait-list. Of course the airport was unbelievably crowded since several thousand other hopeful fliers were there doing just the same thing.
I waited in three separate lines for 1.5 hrs. before I even go in through the doors to the airport. At the Austrian counter hundreds of travellers were lined up, but at least the flt. was on 'go'. The wait-list line was 50+ so I dutifully joined it, praying to Krsna for a little travel mercy.
At midnight they opened up the wait-list, and I confess to jumping the queue ahead of 50 others and making sure I got my name listed. At 12.30AM, when the confirmed passengers had all booked in, they announced the first ten lucky wait-listers, and I wasn't one of them. Then at 1:00 AM they called for another batch, and to my great relief I was on.
I booked in, went through customs again, and we finally boarded about half an hour late. I settled into my economy class seat to contemplate a night of discomfort, trying to snatch some sleep sitting upright before arriving for my engagement.
After 15 mins. the head stewardess approached me. "Mr. Harrison? I am sorry but that's not your seat, you have been double booked!"  Then she smiled and handed me a new boarding pass. "This is your new seat. Pls. take your bags and move there." I looked at the seat number — 1C. I was hoping it was what I thought it was. Grabbing my bags I went forward and as I passed the stewardess she smiled brightly "Enjoy!"
Sure enough, it was the front row of the business class. Great!. The seat was wide and had multiple tilt options, even a built in massager. After a few minutes we were in the air, and I was fast asleep, laid flat out on a fully reclined seat. I could have slept all the way through the flight, but Krsna has a sense of humour (or at least He makes sure we do!)
After two hours I suddenly awoke–with a bowl of hot tomato soup soaking into my lap! Business class has its own chef, complete with his white hat and tunic.
You get a variety of options for meals. I wasn't going to bother, but I got served anyway. On his way past my row the hapless fellow tripped and gave me a hot shower.
He was of course very embarrassed and apologetic. The stewardess offered to take my pants and wash them. (Don't even think about it!) I asked her what would I wear. "Oh we can give you a towel." And do you have a washing machine or something back there in the galley? "No, I can wash them by hand in the sink."
So I told her not to bother, went back to sleep and woke up just before landing in Vienna with dry pants and a deep stain from waist to knees.
Because the connecting flight from Vienna to Prague would only arrive at 11.00AM, one hour after the premiere, the Prague temple sent a car to pick me up and drive me there. As soon as I stepped of the plane we whizzed off down the highway at 160 kms. an hour for the three hour trip to Prague.
We got there just on 10.00AM at exactly the appointed time. I was still ten minutes late because I had to rush into a local Debenam's store and buy some new trousers. But I made it in time to give my scheduled 10 mins. talk to a small but crowded theatre full of press members and well-wishers.
I gave a little spiel about the evils of consumerism,
B. Vaibhava Maharaja spoke eloquently about the need to return to simpler more spiritual values, and then the film was shown, to great appreciation.
Later I spoke with a famous local TV actress who told me how much she appreciated what I had said. She is a friend of the devotees and immediately volunteered to do the Czech language narration. Other visitors of note were a multi-millionaire who organizes a local millionaires club; the head of the Sociology department at the Prague University, a dozen members of the press etc.
B. Vaibhava Maharaja was very pleased with the turnout and counted it a success. He is working hard to get the film out to the general public. He and his crew have contacted 52 different film festivals and gotten some favourable comments and responses.
So that was it.  I spent a couple more days in Prague catching up with jet lag and sleep at the temple and then headed out to my next engagement, in Rijeka, Croatia.
Its been a while (over 2 months in fact) since my last posting. Since then I have been on a short tour to Europe and Canada which I'd like to share with everyone. But before that, here's a Mayapur TOVP update:
Govinda prabhu, one of our key construction managers, informed me that yesterday the construction company, Gammon, hammered in the 1,000th pile for the foundations (out of 2,600+). Things are going well, with the five pile drivers on site hammering away from 5:00 AM to 9.00 PM. Its a comforting sound, knowing that Srila Prabhupada's biggest challenge to the western, materialistic science-based view of the universe is now underway.
Another milestone: yesterday the first above ground column was started, on the central area of the main temple. This is two months ahead of schedule. No photos since there isn't much to see since the last posting.
By DAN BARRY from the New York Times


24hr Kirtan ISKCON Coventry HG Haridas Prabhu

More Recent Articles
---
Click here to safely unsubscribe now from "Planet ISKCON" or change your subscription or subscribe

---
---
Unsubscribe from all current and future newsletters
powered by
FeedBlitz
---
Your requested content delivery powered by FeedBlitz, LLC, 9 Thoreau Way, Sudbury, MA 01776, USA. +1.978.776.9498
TABLA - FUENTES - FONTS
SOUV2
Balaram
ScaGoudy
FOLIO 4.2
Biblica Font

Disculpen las Molestias
Planet ISKCON - 2010
·
Planet ISKCON - 2011