PLANET ISKCON


Here are the latest updates for
Sriamd Bhagavatam 11.23.51 - The five progressive stages of controlling the mind which leads to the liberation.
From 5pm AEST today I'll be broadcasting the Brisbane Sunday Feast, as part of the technology ramp up for the New Gokula 24 hour kirtan on October 2-3, 2010.
These photos are from the Canberra 2010 Vyasa Puja for Srila Prabhupada.


See the rest of the photos uoploaded to Facebook by Vrindavanchandra Das
Share this story your way:
By Antony Brennan. On Saturday, September 4th, 2010, the devotees at Sydney Temple organised Janmastami for kids. All of the children in our community, and their parents were invited to attend. Here we all are in the Kirtan. All the kids got to participate in bathing the deities, as you will soon see, their was a big feast after the abhisheka, and then there was a play about the Syamantaka Jewel.
The temple room became filled with children of al ages, and their parents.
Many of the children have been attending the Temple sunday school where they learn about many of the things that go on in the temple around them.
Prananatha dasa read out the cards that the children had made to offer to Krishna on His appearence day. The children paid great attention to this especially when there card was read out.
Some children wanted to read their own cards to the deities and to the congregation
"I get by with a little help from my friends"
Sri Sri Radha Gopinatha enjoyed every minute of the festivities.
Then the abhisheka began
Everyone lined up, little kids on one side, big kids on the other
You hold your conch and the pujari pours in the liquid oblation
Carefully and nicely you pour the sweet, spiced, liquid all over Radha and Krishna.
All the kids lined up and took their turn, pouringthe offering with great concentration
It was great fun also.
Somne of us needed a little help
Some of us were just happy to be there
Everyone had a great time. Hare Krishna. Janmastami Kids Day Ki Jay
Share this story your way:
I am in Udupi, in South India, uniting pilgrimage, lecturing and health
treatments, and so I thought, "I am serving as co-chairman of the GBC
Organizational Development Committee; I should do some research on the
organizational structure and dynamics of the Madhva Sampradaya,
headquartered here."
This morning I went to see HH Sri Vishvapriya Tirtha Swamiji (in the photo),
the Matha-adhipati (acarya or pontiff) of the Admar Matha, one of the
traditional eight mathas (monasteries).
He kindly and patiently offered the information I requested. He appears very
scholarly and austere (every morning we see him energetically chanting on
japa and worshiping the main Deity, Krishna, with great intensity).
Obviously he is not accustomed to communicate in English but his terminology
is exact. When he couldn't understand my accent, my wife, Sri Radha Govinda
Dasi, whose mother-tongue is the local language, Kannada - supplied him with
translation. Without getting into too many details, he offered some very interesting new
information and also confirmed and elaborated on other facts I already knew.
Organizationally, I found very relevant to hear that actually Madhvacarya
originally kept all his eight sannyasis in the Krishna Matha (even at
present the main temple in Udupi). Madhvacarya also established the that
each sannyasi would be entrusted with the worship of the main Krishna Deity
for two months, in a rotation system. It was only two-hundred years later
that Vadiraja Tirtha directed the disciplic descendants of those eight
sannyasis to establish eight different temples/monasteries around the main
temple. He also changed the length of the "paryaya" - the rotation of the
worship - from two months to two years. Only an extremely empowered and respected acarya could engender such crucial
transformation in the sampradaya (a sampradaya not known for innovation and
adoption of new ideasi). The day before I had seen a book (in English, almost a rarity here) on
Vadiraja Tirtha and after this conversation I went to buy it, to know more
about this outstanding personality. I just started reading the book and I
have already learned that Vadiraja Tirtha is considered to have been, in
Krishna lila, the brahmana to whom Rukmini Devi entrusted the letter in
which she requested Lord Krishna to come and rescue her from the marriage
with Sisupala. Back to the conversation on the Madhva Sampradaya set-up; I also learned
that the jurisdiction of the various Mathas is not established along
territorial or "zonal" lines: each Matha's jurisdiction and authority is
restricted to its monasteries' and temples' premises; all sannyasis can
travel and preach in any area and can establish new temples wherever they
like. The congregation (brahmacaris and grihasthas) are generally connected to a
particular matha, but there are not hard and fast rules, it seems, in terms
of practical engagement. My wife's family, for instance, although
'belonging' to the Uttaradi Matha, interfaces more actively with the Palimar
Matha, which runs a temple near their residence. I asked the Swamiji if there was any organism overseeing all the eight
Mathas and I learned that the Mathas are largely self-determining, but that,
especially in emergency cases, the heads of all Mathas (Matha-adhipatis),
convened by the seniormost sannyasi, come together to discuss philosophy and
other matters. The majority decision is considered binding on the singles.
The Swamiji told me that that topmost gathering had recently taken place to
discuss what to do with a head of one Matha, a Swamiji that had broken the
rules. His fault? He had crossed the ocean to go to preach in America. "So,
we boycotted him" the Swamiji said with a gleeful smile.
With permission, I am serialising some superb recipes by my cooking guru, Yamuna Devi. Here's the first. Before attempting to cook any of her recipes, make sure you are aware of the difference between US measures and Australian/metric measures. Confused? See below*
Simple Potato and Green Pea Stew (Aloo Hari Matar Foogath) by Yamuna Devi
This dish is popular through out North India. If you use ¾ cup (180 ml) of water, the texture should be dry. If you want a stew like consistency, add more water. This is an accompaniment to steamed rice.
Preparation and cooking time: 30-40 minutes Serves: 6
3 tablespoons (45 ml) ghee or vegetable oil, 1 tablespoon (15 ml) scraped, finely shredded or minced fresh ginger root, 2 hot green chilies, seeded and minced (or as desired), ½ table spoon (7 ml) cumin seeds, 1 teaspoon (5 ml) black mustard seeds, ¼ teaspoon (1 ml) yellow asafetida powder (hing), 8 curry leaves, preferably fresh, 2 medium-sized tomatoes (about ¾ pound/340 g), peeled, seeded and chopped, 1 ½ pounds (685 g) waxy new potatoes, peeled and cut into ¾ inch (2 cm) thick fingers, ¾ teaspoon (3.5 ml) turmeric, 1 tablespoon (15 ml) ground coriander, ¾ - ½ cups (180-360 ml) water, 1 ½ cups (360 ml) fresh peas (1 ½ pounds/685 g) in pods or one 10-ounce (285 g), package of frozen baby peas, defrosted, 1 ¼ teaspoons (6 ml) salt, 3 tablespoons (45 ml) chopped fresh coriander or parsley,
Heat the ghee or oil in a heavy-bottomed 5-quart/liter pan, preferably nonstick, over moderate heat. When it is hot but not smoking, add the ginger, chilies, cumin seeds and black mustard seeds and fry until the mustard seeds turn gray and pop. Immediately add the asafetida and curry leaves, and with in seconds add the tomatoes. Fry for 2-3 minutes or until the ghee separates from the tomato puree.
Add the potatoes, turmeric, ground coriander and water and bring to a boil. Reduce the heat to moderately low, cover and cook for 15 minutes.
Add the fresh peas, salt and half of the fresh herb and continue cooking, partially covered, until the potatoes are soft but not broken down. If you are using frozen peas, add them in the last 2-3 minutes. Garnish with the remaining fresh herb and serve.
*Note that since Yamuna wrote her recipes using US measurements, the weights are in US with metric in brackets.
More importantly, her tablespoons are US (15ml) whereas Australian/metric tablespoons are 20ml. So if you follow these recipes using metric measures, your tablespoons should be scant.
Similarly, the US cup is 240ml as distinct from the Australian/metric 250ml cup. The same scant measuring should thus apply to Australian/metric cup users.
The teaspoon is a universal 5ml.
We are expecting His Holiness Veda Vyasa Priya Maharaja to visit Melbourne from Wednesday the 8th. till Thursday the 16th. of September.



By Srimati Radharani's arrangement Maharaja's visit should include Her appearance celebrations.

So please take the opportunity to join us in hearing from one of ISKCON's most senior devotees.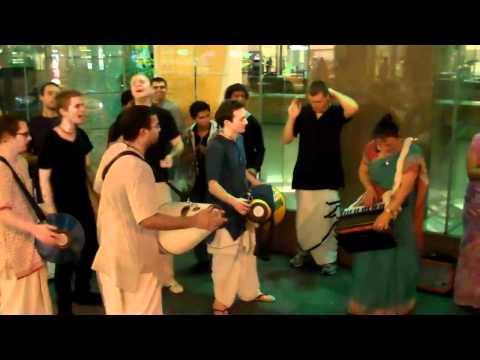 Explosion of Harinam Sankirtan continues to rock Brisbane and here's the video to prove it!
Share this story your way:
Fellow Kulis, Vaishnava youth, devotees of Krsna, and associates,
Kulimela France has come and gone and by all reports it was an excellent gathering so congratulations to the entire team who organised and pulled off that event and made it what it was, and to all of the people who attended and participated in it.
It is now time to start looking forward to the Australian Mela at the end of this year/start of next year. It is not too early to start planning ahead for your journey down under and now would be a great time to book flights as there are a number of very cheap flights available ($1000 return from LA as an example) so it would be wise to book early to save your dollars to give you more spending money for when you're over here.
Just a reminder that the Kulimela week will be from the 3rd to the 9th of Jan 2011 while the week before that (27th of Dec to 2nd of Jan) will be packed with tours and adventures and give everyone a chance to get to know each other while exploring this beautiful country. There will be day trips to the pristine beaches, a trip to the national parks, local wildlife adventures, bushwalking, sightseeing and a number of other activities to keep you entertained while the international Kulis get over their jet lag and acclimatise to our wonderful summer.
We would like to encourage people to come in that first week as it will be a great way to begin to get to know each other and an easy way for you to see some of the local attractions. A full schedule for both weeks will be announced shortly but so far our plans for the first week are:
Monday the 27th of December – Registration, relaxation
Tuesday the 28th of December – A day trip to beautiful Byron Bay with options for surfing lessons, snorkelling or scuba diving
Wednesday the 29th of December – A trip to Currumbin Wildlife Sanctuary where you will get an opportunity to get up close and personal with Australia's unique wildlife, followed by a trip to the nearby rock pools for a refreshing swim.
Thursday the 30th of December – Climb nearby Mt Warning – an extinct volcano with spiritual significance to the local Aboriginal people.
Friday the 31st of December – A trip up to the sunny Gold Coast with opportunities to check out many of the pristine beaches, Surfers Paradise, and the nearby theme parks followed by bhajans on the beach through till midnight to bring in the new year in an auspicious manner.
We have many exciting plans and special guests already for the Mela week, including; HG Dina Bhandu Prabhu, HG Sruti Kirti Prabhu, hopefully Radhannath Swami, cooking with Kurma workshops, valuable and relatable seminars, and a long list of quality entertainment and music with names such as: Gauravani, Sri Prahlad, The Ghost Brothers and Azitiz already confirmed as attending with many more local and international acts yet to be confirmed.
We would like to welcome people to start getting in early and expressing their interest to attend so that we can start to formulate a rough guide of numbers. If you have any special need or requirements or would like to arrange a particular level of accommodation, please contact us as soon as possible so that we can point you in the right direction. I have a list of local motels, hotels, hostels and caravan parks so if you would like to book accommodation at one of those places I suggest you get in early and let me know so I can pass the information on to you, or it's all on the Kulimela Australia Facebook group page.
We still require a number of volunteers to head up different areas and we need representatives from all parts of the globe to help us promote this event. So if you would like to get involved in any way please let us know and we will be sure to put your talents to good use. Whether you would like to conduct a seminar or workshop, perform on stage, participate in the fashion show, put your art on display, sell your products, help man the registration booth, help out with decorating, sing some bhajans in the kutir, or help cook or distribute prasadam, any and all offers will be much appreciated and will contribute towards the overall success of this Mela.
This event is for us and by us so it is important for its success that we all get involved and help out where we can. It is about bringing us all together so even if you can not attend yourself it is a worthy cause so I would still encourage you to get involved in some way – even if it is just volunteering to put up a poster at your local temple.
We have a website in the final stages of production that should be up and running in the next week or two so once that is going we will upload all of the info to that and begin processing registrations. At this stage we are anticipating the festival fee to be AU$108 for the full week for the early birds with that price rising slightly as we get closer to the dates. So prepare to get in early and register as soon as possible.
We will send out a message once the website is running and once we figure out accommodation costs. The majority of the accommodation will be camping – in either small one or two man tents or bigger capacity 10 man ones, so if you require a higher level of accommodation, please let us know as soon as possible so that we can try and help you out.
I think that's enough info for one day, and hope that you have read it all up to here.
Stay tuned for further updates in the coming weeks as we finalise more of the details and please let us know of your attendance plans as soon as possible so that we can provide all of the facilities required for the number of people attending.
Please don't hesitate to get in touch with us if you have any questions or concerns.
Your servants,
the Kulimela Australia organisation team.
Advaita Chandra Das
advaitamyler@hotmail.com
For additional information and regular updates, please visit:
Kulimela Australia Facebook Page
Kuli Mela Association Facebook Page
Here is a slide show of the Deities' candlelit darshan at midnight, the time of Lord Krishna's transcendental appearance.



Thank you everyone, whether you were guest, sponsor, volunteer, or all three. May you relish the truth of Sri Krishna's words:

'Although I am unborn and My transcendental body never deteriorates, and although I am the Lord of all living entities, I still appear in every millennium in My original transcendental form'. (Bhagavad-gita 4.6.)

See you at Radhastami on Wednesday week!

Here is a slide show of the Deities' darshan during Their evening arati.



Just to get Their glance, devotees queued throughout the temple campus, down Danks St.and along Boyd St.

Dear Prabhus,
Please accept my humble obeisances. All glories to Srila Prabhupada.
As many of you know by now there was a terrible explosion at the Leicestershire temple in England in which a third of the building was destroyed. The cause was a gas tank explosion, fortunately no one was seriously injured. Earlier this year we lost Aindra Prabhu in a similar way. Many sankirtana devotees use gas tanks (myself included) in their vehicles for cooking and heating. Please be extremely careful with these potential bombs, if you smell gas then make sure to turn all the gas switchs off and if you still smell it then there is a problem. You need to find out where it can be repaired and repair it. Since were on the topic of safety. We have lost a number of sankirtana devotees that were driving late at night trying to save time, went to sleep while driving and crashed. We don't hear so much of that happening now but in the 70's and 80's there were a number of such incidents. If you are driving and find that you're tired then either have someone else drive or pull over and take some rest.
your servant, Vijaya das
Dear Prabhus,
Please accept my humble obeisances. All glories to Srila Prabhupada.
As many of you know by now there was a terrible explosion at the Leicestershire temple in England in which a third of the building was destroyed. The cause was a gas tank explosion, fortunately no one was seriously injured. Earlier this year we lost Aindra Prabhu in a similar way. Many sankirtana devotees use gas tanks (myself included) in their vehicles for cooking and heating. Please be extremely careful with these potential bombs, if you smell gas then make sure to turn all the gas switchs off and if you still smell it then there is a problem. You need to find out where it can be repaired and repair it. Since were on the topic of safety. We have lost a number of sankirtana devotees that were driving late at night trying to save time, went to sleep while driving and crashed. We don't hear so much of that happening now but in the 70's and 80's there were a number of such incidents. If you are driving and find that you're tired then either have someone else drive or pull over and take some rest.
your servant, Vijaya das
Tattva Jnan: At the time of his departure, Sriman Bhakti Prema was only 36 years old. Raised in the UK in a pious Indian family, he came to India to take shelter of Sri Srimad Gour Govinda Swami.
Here is a slide show of the Deities' darshan from Janmastami morning.



Devotees queued outside and then packed the temple room to see the Lord on His Appearance Day, so there was standing room only.

Outside of loving God there is no possibility of loving. Rather, there is lusty desire only. Within this atmosphere of matter, the entire range of human activities -- and not only every activity of human beings but all living entities -- is based upon, given impetus and thus polluted by sex desire, the attraction between male and female. For that sex life, the whole universe is spinning around -- and suffering! That is the harsh truth. So-called love here means that "you gratify my senses, I'll gratify your senses," and as soon as that gratification stops, immediately there is divorce, separation, quarrel, and hatred. So many things are going on under this false conception of love. Actual love means love of God, Krsna.
>>> Ref. VedaBase => SSR 7d: Protecting Oneself from Illusion
www.sdgonline.org.
3:48 A.M.
From Namamrta by A.C. Bhaktivedanta Swami Prabhupada:
"Chanting of the Hare Krishna mantra revives one's dormant, eternal Krishna consciousness:

"Hare Krishna, Hare Krishna, Krishna Krishna, Hare Hare is the transcendental process for reviving this original, pure consciousness. By chanting this transcendental vibration, we can cleanse away all misgivings in our hearts. The basic principle of all such misgivings is the false consciousness that I am the lord of all I survey.
"Krishna consciousness is not an artificial imposition on the mind. This Krishna consciousness is the original, natural energy of the living entity. When we hear this transcendental vibration, this consciousness is revived. This simple method of meditation is recommended for this age…No other means of spiritual realization is as effective in this age of quarrel and hypocrisy as the chanting of the maha-mantra, Hare Krishna, Hare Krishna, Krishna Krishna, Hare Hare/Hare Rama, Hare Rama, Rama Rama, Hare Hare." (The Science of Self-Realization)
This is a famous, memorable, early speech by Srila Prabhupada. I've always remembered the description of the revival of the original pure conscious. It sounds so primeval, so much raw energy, so devoid of the concept of a sectarian, historical religion. We have an original consciousness. It gets revived when we chant Hare Krishna. Hare Krishna is a timeless chant, and it's been introduced in this age afresh by Lord Caitanya. When I chant Hare Krishna I should be aware that it's eternal, not a newly-invented mantra. And I should be aware of the illusion I'm in, trying to control the material energy. Take all these things as facts because they come from guru, sastra and sadhu. The whole thing is described in this simple space, that is, the source of our spiritual energy, and the thing that's blocking us from it now. Chanting of Hare Krishna is the panacea.
This morning I got up from bed at 12:30 A.M. and began my chanting after subduing a headache. The chanting mantras were all in a row with no interruption. I chanted round after round, all 16. But lately I've been feeling a lacking in the devotional attitude towards the chanting. I want to overcome it. I want to chant with more feeling. It seems it's always a struggle, but it's a good fight and one I must continue to keep up with hope of victory.
Uncovering the original energy
like the energy in the sun.
We each have it within us,
unadulterated by any designation,
or nominal belonging to a religion.
It's a pure source, like
the pure spring water
they advertise for, "Poland Spring"—
the clear, rare source
of the only clear origin.
It's covered over by a
sense of being the controller
instead of the servant of
the Lord.
It's contaminated
by the mixture of the
material modes of nature.
It all gets cleared only
by the chanting of the names
which are themselves the
original consciousness
of the living being.
www.sdgonline.org.
One Hundred Prabhupada Poems (#18)
I was worried
that when I give my talk on Prabhupada
they might not laugh at the funny parts,
something will get lost in the translation
and I'll be left pulling a huge horse cart
all alone and I won't even know
I need their help.
But I'm ready if it happens.
I'll keep diving into the memories.
I gave Prabhupada a mango every day
because he spoke of them.
He said, "This is love, this is Krishna consciousness."
I said to him I am feeling hopeful
and this Krishna consciousness seems very strong.
I said I have to go for the weekend to my parents'
home, but not without telling you
because you are my guru and you ought to
approve of my movements or at least know
why I am missing from your sight
for a few days.
Yes, he smiled, that is all right." And he let me go and come back.
If they don't laugh, that's all right.
Maybe it's not even funny.
Just tell it, what you said and what the Swami said.
I said the buildings don't frighten me any more.
Swamiji, I saw a man drunk or maybe crazy in the
street
He was directing traffic. That same man
had attended the temple kirtana the night before.
"Oh, he was a madman?" Swamiji said.
He lived in New York
above the noises, anger,
a lotus floating on the water,
plain transcendental goodness he wanted from us—
respect the holy name, no meat or intoxication,
no illicit sex. Just chant with us.
Maybe the devotees here know all this
from Prabhupada-lilamrta.
But I'll tell it again.
Under the tree at 6 P.M., they can laugh
or listen or look off and
think of their own work.
I will tell and be satisfied.
I will desire that someone
become a pure devotee of my spiritual master.
www.sdgonline.org.
1.
This is a poem about
Stuyvesant Falls written
in 2003. Some of it's
fictive, some of it's as
true today as it was
then. It's a very nice
place, and a house across
the street from where I
used to stay has now
become my home.
Let's look at the poem
and see if there is anything
we want to say.
2.
It's titled "Names:"
"Chipper, Frisky, Kaulini picks
out the names of the people born
here and animals too. I'll let her
get my cat's name, but I will keep a secret
pet name. It will evolve.
"Then he'll be quiet and love
me even more and be allowed
to go outside. But if he runs away…
he knows, 'My food
is back in that creep's house,
"'the one who doesn't chant
Hare Krishna very coherently.'
"How kind Saci is to me despite my wooden leg.
"At the time he chose me he didn't
know I was so inactive
and in pain or contemplating
of it suspected.
"Ask him, 'If you had
to do it over, would you?'
No, don't embarrass him.
"He's got D.D. Swami and a lovely
family. Plus he likes
to lay out my pills.
"Holy Mary. My wall's now decorated,
it has pictures of Mt. Aspiring
and lots of pine trees and print
and a fire extinguisher,
and I'm looking for God and
He's in my heart and
also in the hearts of all and
the mice and cats of Vrndavana."
3.
It's true Kaulini used to pick
out the names, but I never
had a cat at Stuyvesant
Falls. There are two
cats in the family but
neither are mine. I haven't had a cat
since California
over five years ago,
and I don't want one now.
4.
Saci was always kind to me,
and now he's bought me
a house of my own which
I share with Bala and Nara.
Saci never had regrets
that he took me in,
despite the fact that
I am inactive and
"despite my wooden leg,"
(a reference to my ankle
and the headaches).
He was asked again
just a year ago if
he'd take me in, and
he gladly did and
I'm a laid-back
member of the extended family.
I love the family
and D.D. Swami too.
And Kaulini Mataji.
And the Viraha Bhavan.
Narayana, T.J., Brian,
Mikey, men from the Carib
have come here and refurbished
the old house so it's sturdy-new.
The walls are decorated with
paintings of my own plus
pictures of favorite Deities
and our own murtis on altars.
I'm still looking for God
especially in the chanting
and Vrndavana is distant
except in readings,
we try to live there
in the mind.
www.sdgonline.org.
Free Write
I turned at random to Srimad Bhagavatam 3.13.10. [Lord Brahma to Svayambhuva Manu:] "O hero, your example is quite befitting a son in relationship with his father. This sort of adoration for the superior is required. One who is beyond the limit of envy and who is sane accepts the order of his father with great delight, and executes it to his full capacity." Lord Brahma was mortified when his sons, the four Kumaras, disobeyed him and refused to beget progeny. But they were relieved from the offense of disobedience because they followed the higher cause of celibacy. But Brahma was consoled when his son Svayambhuva Manu was obedient and willing to marry. The general order is that the son should obey the father.
In Kali-yuga, things are topsy-turvy. My father forbid me from joining the Krishna consciousness movement, and along with my mother, they disowned me when I surrendered to Srila Prabhupada. They blasphemed him and the path of devotional service. In such an instance I was not obliged to follow my father's order. In fact, to do so would have ruined my chances for spiritual life. Prabhupada assured me that the material father was not important and that he was my eternal father. I'm grateful to have a liberated, magnanimous spiritual master for my father, and I pray to obey him and satisfy him.
Jayadvaita Swami has left for New Jersey, London, Sweden, Africa, India…He, Dhanurdhara Maharaja and I spent time together on Janmastami and Vyasa-puja and spoke our homages to a group of about 30 on Janmastami and a dozen on Vyasa-puja. It did not matter that there were not huge crowds. They were quality people, devotees, and yogis and interesting people. Shyam das spoke after I had gone to bed, but Jayadvaita Maharaja said he was very good, interspersing his talk with bhajanas on the harmonium, and his talk was "straight Bhagavatam." On Vyasa-puja afternoon, I watched a Yadubara film, "Following Srila Prabhupada," at Kaulini Mataji's house. It was about 26 Second Avenue and the first visit to San Francisco in 1967. Brahmananda, Gargamuni, Jadurani, Govindadasi and others spoke vintage memoirs revealing secrets of how the Dictaphone was introduced, how Swamiji's name was changed to Prabhupada, etc. It was sweet to see Prabhupada in his earlier years with his beautiful smile and compassionate glances. Baladeva did a lot of cooking for the feasts and said it is his favorite way to participate in festivals. Trivikrama dasa is visiting and told me about his fascinating job of working with autistic children and engaging them in musical therapy. As I write this, T.J. and Brian are hammering away on the floor below, installing a "mud porch" to the front of the house so we don't have to walk into the house with dirty, snowy shoes in the winter. They also put a winter door on the front of the house. T.J. and his wife Melinda brought their two-week-old baby, Tulasi, to the Janmastami festival. T.J. was a proud father, taking many snapshots of his baby on her first outing  from the house.
Trivikrama regularly reads the journal Viraha Bhavan and encouraged me it is important service. I am reaching people all over the world. If I traveled, it would interrupt the writing, and the regular readers would be disrupted. This way I'm reaching more people than if I traveled to Africa, etc.  Jayadvaita Maharaja told me the wonders of e-books. He said he's buying one for himself at Christmas. He advised I publish my books on e-books. It is a little new to me, but I will consider it. 
By Parasuram das
Last week the Deities Sri Sri Nitai Gaurasundra traveled out of Bhaktivedanta Manor on their Padayatra Chariot to benedict any random living entity who happen to be on their path. We were fortunate to have their association and the association of HH Mahavishnu Swami who danced his way everyday through the busy streets of London
While the sastric conclusions about homosexuality are eternal truths and the ultimate source of our knowledge, it is clear that some have difficulty applying this knowledge to their daily lives, and others also experience difficulty understanding it in a practical and compassionate way. The GBC recognizes these challenges, and suggests that rather than trying to adjust sastric teachings or Srila Prabhupada's definition of those teachings, we should simply endeavour to purify ourselves of all our various inebriety's that are obstacles in achieving the ultimate goal of human life
This years' Vyasapuja celebrations were the best I have attended in a long time.
The management and devotees decided to have four days of glorification instead of one. Considering the size of the Mayapur community we knew that one day would not be enough for all the devotees to get the chance to glorify His Divine Grace so four separate days were designated for the event.
On Monday August 30 the 650 children and teachers from the Bhaktivedanta National School held a pandal on their school grounds, with individual presentations from the children and a drama. The culmination was a talk by HH Jayapataka Swami, who had just returned from a preaching tour in Bangladesh, and a wonderful feast.
On Tuesday August 31 it was the turn of the Mayapur householder community. Over 200 devotees gathered in the Mayapur Community Hall in the late afternoon to hear glorifications from Srila Prabhupada's grand-disciples. Once again Jayapataka Swami illuminated the event with his presence, and another wonderful feast of over 130 preparations cooked in the homes of the devotees was distributed.
On Wednesday September 1 the Sri Mayapur International School (SMIS) hosted the senior devotees at midday.  One of the highlights was the talk by HG Naru-gopal prabhu, who is the chairman of the Mayapur Administrative Council.
Naru-gopal came to Mayapur in 1983 as a 9 years old student, joined the SMIS asrama and spent 14 years there before moving into responsible service as manager of all the guest houses, and then chief administrative officer of the Mayapur temple. He is a prime example of the success of Srila Prabhupada's mission to educate young boys and train them for a life time of service and leadership in ISKCON. Once again, HH Jayapataka Swami graced the event and afterwards another succulent feast was served.
Thursday September 2 was Janmastami (see other blog entries).
Friday September 3 2010 saw the culmination of four days of glorification of His Divine Grace Srila Prabhupada.
Devotees designed and built a wonderful lotus asana for Srila Prabhupada in the Panca-tattva temple.
Srila Prabhupada sat resplendent surrounded by a pond, with swans and lotus flowers, complete with a fountain in front.
Behind him a star burst emulated a shining effulgence
and the whole set up was bedecked with gorgeous flower arrangements. It was at once elegant and simple and a reflection of real love and appreciation of all he has done for us.
The morning began with Srila Prabhupada singing the samsara prayers at mangala-arati. Then after greeting the Deities at 7.00AM we held the regular guru-puja, with Srila Prabhupada sitting magnificently on his regular Vyasasana surrounded by cushions and bolsters newly covered in gorgeous silks and cottons.
Rama-sraddha prabhu, one of a few young Indian boys who joined in Hyderabad in the mid-1970s, led an exuberant kirtana.
At 8.00AM we sat before a screen and watched the DVD "Following Srila Prabhupada" Vol. 1 while listening to a brilliant lecture by Srila Prabhupada given on the disappearance festival of his Guru Maharaja Srila Bhaktisiddhanta Sarasvati Thakur in Hyderabad in December 10 1976.
Srila Prabhupada spoke on the first four verses of his famous poem "Adore Adore ye all the happy day, blessed than heaven, sweeter than May, when he appeared in Puri the holy place, my lord and master, His Divine Grace." The lecture brought back special memories for me because I was fortunate to have recorded it. [This will be published shortly in Transcendental Diary, Vol. 6 due for release at Gaura Purnima 2011]
The video was riveting, seeing Srila Prabhupada in the earliest days of the movement dancing and chanting like Lord Caitanya in the Jarikhanda forest, awakening the hippies and animalistic men of America with the holy names. A feat which still strikes me as astonishing, unrepeatable and inconceivable.
At 9.00AM the program began in the Panca-tattva temple and went through to midday with individual glorifications presented by Srila Prabhupada's disciples from around the world.
We then held an abhishek of His Divine Grace
before the traditional puspanjali offering, and arati peformed by HH Jayapataka Swami.
After a great feast, we gathered again in the temple in the early evening. At 6.00PM the children put on a drama about Srila Prabhupada's journey to the west in 1965 called "Swamiji at Sea". Then after evening arati, we continued with offerings until 9.15PM, when the festivities ended with the serving out of generous helpings of a gigantic birthday cake in honor of Srila Prabhupada.
All in all it was one of the most satisfying celebrations we have had, and next year the glorifications by different segments of the community will spread over one whole week. Don't miss it! Mark Mayapur as the place to be for Janmastami and Vyasapuja in 2011.
Around 4000 devotees and pilgrims take part in the midnight Maha Abhisheka, which was broadcasted in the local T.V. channels and the internet. HH Jayapataka Swami's presence made the festival all the more special. Kirtan was roaring and the devotees became so ecstatic when flower abhisheka began. Posted below are few pictures of Abhisheka. More pictures are posted in the gallery.
As always, Janmastami was memorable. One thing Mayapur knows how to do is put on festivals.
I was asked along with Jananivas prabhu to give a class.
Jananivas prabhu on the left (or is it the right?)
Jananivas spoke from 6.30AM – 7.30AM and I spoke from 7.30AM – 8.30AM. We both chose the 3rd chapter of the 10th Canto. Jananivas prabhu told a very interesting story about Srimati Radharani's interaction with Krsna's Kaustubha gem.
My particular focus was the real meaning of the scientific speculations about dark matter and dark energy and a recent report that the universe would continue expanding unlimitedly but become a cold, dark desolate place devoid of life. Both these talks can be heard on www.mayapur.tv in the archives section for September 2 2010.
In the afternoon, after a refreshing bath in the Ganges, I attended a special program hosted by some of the 90 Russian residents we have in Mayapur. We were joined by HH Jayapataka Swami half way through and I was impressed that Maharaja was making the effort to give his association to this small group of householders.
Maharaja had a few words of encouragement for some newly arrived devotees from China. They have never been out of their country before and are now resident in Mayapur.
Despite his physical limitations Maharaja has been inspiring all the devotees by attending all the different functions throughout the festival. He is still the tireless preacher he always was, albeit he does it mostly from a wheelchair now.
Late in the evening I went over to the temple for the transcendental abhishek of chota Radha Madhava.
Abhisheks are  spectacular in Mayapur and this one was no different. However the special feature was that HH Jayapataka Swami offered all the primary ingredients while a packed temple crowd viewed with transcendental pleasure as Their Lordships were covered with yogurt, ghee, honey, sugar water, various fruit juices and many other substances, culminating with bin fulls of flowers.
The full size Deities were dressed resplendently in new evening outfits for the occasion.
By Radhikakrpa dasi
If there had ever been a dark age in the history of the 5000 years old Hindu religion, it was during the reign of Aurangzeb. It would not be an exaggeration to say that they were just "existing and not living."
Craig Venter's laboratory cell violates the divine law of recreation, says Kanchi Sankaracharya Jayendra Saraswati, who believes that creating life in a laboratory is an act of defiance against God, as man is created based on his deeds in his previous birth. "Venter's work violates karma, which alone decides the nature of life for all humans and, besides, creating life in lab could cause cultural degradation as it eliminates the need for marriage and family values," the swami told DC when his attention was drawn to the creation of synthetic cells in Venter's laboratory in Rockville, Maryland.

This kind of scientific advancement could be used to provide vital needs like water, the pontiff said, welcoming the use of research to make vaccines and biofuels. "But if a man is synthetically created, he would not be guided by past karma and would behave just like a machine. This should be avoided," he advised. Asked if the Venter success did not mean achieving greater hei-ghts in decoding the mysteries of life, he shot back, "God first created the entire world and made man and animals. He ensured man benefited through his creations. The synthetic cell will affect all of creation and should be stopped."

In lighter vein, pointing to a newspaper advertisement on astrological predictions, the seer said, "Even this would be affected." - Deccan Chronicle

Yesterday's gas explosion and fire at the Hare Krishna temple in Leicester was a fearful and devastating event for the community, and a great loss of much-needed physical resource. They had worked so hard to raise funds and local support to make their temple in the suburbs an attractive place for worship and devotional service. But it could have been a lot worse. As it was, everybody was evacuated just before the explosion and only four devotees sustained minor injuries. The day before – Janmasthami – there were 1500 at the temple; at 2.40pm yesterday when it happened there were just 30 celebrating Vyasa Puja.
However, an explosion at a place of worship in an English city with a large Hindu population generates its own publicity and the media reports immediately following the event traveled much faster than the flames did at the temple. By the time night fell the facts of the matter had reached comical levels of distortion.
Sky News first reported it as a suspected terrorist attack on a Hindu temple, while the BBC Radio 5 reported that there was a 'search for survivors' underway.
Of course, the internet knows no time restrictions, and ISKCON shortly got a phone call from Pakistan. It was The Pakistan Herald asking for comments on the 'terror attack.' This was followed up by a call from the Indian High Commission in London.
It was time for the evening television news in India, and a report went out from a station in Calcutta about the terror attack. But they didn't have any stock video footage of Leicester to show, so they used some footage of Leicester Square which seemed linguistically pretty close. Sadly, Leicester Square is in London, exactly 99 miles away. But you can't hold up the television news for the sake of a small detail like that and so they broadcast what they had, and threw in some images of devotees singing along Oxford Street, London.
Then came several alarmed phone calls from ISKCON leaders in India asking about the terrorist attack on the temple in London. Devotees in London, who still knew nothing about what had happened, were puzzled.
Over on the other side of India, media outlets in Bombay broadcast news of a bomb which had gone off in a Hare Krishna temple in London. But they didn't have any pictures of our temple in London, so they used a picture of Bhaktivedanta Manor instead, and that produced another wave of phone calls.
The sad fact of the matter is that anywhere where people gather can be the site of the next terrorist attack, and even places of worship are not immune. Temples, synagogues, even mosques can be targets. And it is a fact that our Hare Krishna temple in Imphal, Manipur, right over in the far north-east of India was attacked by grenade-throwing terrorists during Janmasthami celebrations there in 2006. At that time four devotees were killed and several were injured. The threat level remains high at every temple.
But the old maxim is still true: don't believe everything you read in the papers – and on the internet of course. People are people and they make mistakes. They also have a political viewpoint for their media outlet with a corresponding editorial bias. It depends who is paying for the existence of that media outlet. There may also, rarely, be a personal score to settle between the journalist and the individual or group that he or she is reporting. The same is also true, naturally, for those websites which purport to give the visitor 'the truth' about ISKCON.
For those who are genuinely after the truth – and that is everyone who considers themselves to be a vaishnava, the following questions have to be asked:
1. What is the source of this information?
2. Are the facts correct? Can they be corroborated? Are all the facts being presented?
3. What is the political viewpoint and editorial policy of this reporter/news outlet? (Note: there is always a political viewpoint of some kind, even from outlets and writers that claim to be free from bias)
Please keep the Vaishnavas of Leicester in your thoughts and prayers. For the story and pictures of what happened (hopefully correct) you can visit HERE
For Krishna, on His appearance day on wednesday, I made two-tiered carob cake with carob vienna icing. The recipe was taken from Great Vegetarian Dishes book written by Kurma Dasa (a disicple of Srila Prabhupada).
Below is the recipe
125 g(4 ounces) butter, room temperature
1 cup (250 ml) caster sugar (i used regular sugar)
1 teaspoon (5ml) vanilla essence
1 cup (250 ml) carob powder
1/2 cup (125 ml) hot water
2 teaspoons (10ml) imitation chocolate essence (optional)
2 teaspoons (10ml) fresh lemon juice
1 cup (250 ml) milk
13/4 (435 ml) plain flour (all-purpose flour)
1 teaspoon (5ml) baking powder
1 teaspoon (5ml) bicarbonate of soda
pinch of salt
Carob Vienna icing
1. Cream the butter , sugar, and vanilla until light and fluffy. Blend the carob powder in the hot water, add the imitation chocolate essence, and mix to a smooth paste. Gradually add the carob powder to the butter and sugar mixture.
2. Add the lemon juice to the milk to sour it.
3. Sift the flour, baking powder, bicarbonate of soda, and salt and add it to the creamed mixture alternately with sour milk. Mix thoroughly.
4.Spoon the cake mixture into two buttered 20 cm (8-inch) cake tins and bake in a moderate oven (180 deg C/355 deg F) for 30 mins or until the tops spring back when lightly pressed.
5. Allow the cakes to cool in their tins for 10 mins. Turn out and allow to cool completely. Fill and ice with Carob Vienna Icing
125 g (4 ounces) butter
21/2 cups (625 ml) icing sugar (confectionery sugar)
4 tablespoons (80ml) carob powder
2 tablespoons (40ml) hot water
1. Beat the butter until creamy. Sift eh sugar. Blend the carob powder with the hot water and chocolate essence. Add the icing sugar to the butter alternately with the carob mixture until it reaches a spreading consistency. It should not be too thin or thick.
SRS: I considered this article helpful guidance in our present days when devotees readily criticize other devotees. Read more…
After about 2 years, I am uploading a recipe post. It is a well known fact that Srila Prabhupada relishes kachoris. Coming from southern part of India, I have never tasted kachoris in my life till I made it myself this thursday for Srila Prabhupada on his appearance day. I wanted to do this because I know he likes kachoris.
Below is the recipe.
Srimad Bhagavatam 11.23.50 - The happiness and distress pertain not to the soul but to the interactions of material bodies.
By Vrindavan Vrajavasis
On the holy occasion of Balaram-Jayanti to Janmashthami from 24 August 2010 to 2 September 2010, His Holiness Radha Govind Goswami Maharaj enlightened the devotees of the Krishna-Balaram Mandir and the Vrajavasis of Vrindavan with his nectarine Bhagavat Katha— Govardhan Lila
By Nityananda Ram das
First time in our small ISKCON Preaching Centre at Najafgarh, New Delhi (India) we celebrated Sri Krishna Janmastami Mahotsava on 02nd September,2010. Here I would like to share some of the highlights with some photographs with all of you
Damodar Nityananda Dasa: Today I recieved my 3 volume set of SRI BHAKTISIDDHANTA VAIBHAVA by Bhakti Vikasa Swami.It is a very nice contribution to history and the Glory Of Srila Bhaktisiddhanta!
Madhavendu (das) SSM (Vrindavan - IN): Today 2nd September Lord Sri Krishna Janmashtami tithi is celebrated IN SRI RADHA MADHAV MANDIR ISKCON KANPUR in the devotion of Lord kishna with full of joy and pleasure. Devotees amazed the guests by organizing devotional Krishna bhajans, especially during Abhisek
mdas das: The first day of the Janmastmi festival was celebrated IN SRI RADHA MADHAV MANDIR ISKCON KANPUR in the devotion of Lord kishna with full of joy and pleasure
Dvija Priya Dasi: The forecast said, HEAVY THUNDERSTORMS, as it had for the last three weeks or so, but that didn't stop the Rath cart team from getting an early start on their way to the festival site
Parsada devi dasi: The ISKCON Vrindavan Goshala makes an urgent appeal to its worldwide community of devotees, the goshala which houses over 385 cows, bulls and calves are in urgent need of 30 acres of grazing land, winter and summer sheds, upgraded medical care,and other facilities
Food For Life Global: August 31, 2010 – Hot vegan meals are now being distributed by Food for Life Global affiliates, Sri Krishna Bhakti Parivar (SKBP) and Pakistan Food for Life to the survivors of the recent flooding. "The people are swarming to get these delicious meals," said SKBP co-coordinator, Vanamali Das
Damodara dasa: Ayonija Devi dasi and I were friends in Los Angeles in the 1980s and early 90s. Since then we've lost contact. If you are Ayonija, or know her, I'd be grateful to reconnect with her again
By The Bhaktivedanta Archives
The Bhaktivedanta Archives would like to announce that it is now functioning as a "charity" model, focusing on conservation, preservation, and digitalization of all the collections housed at the Bhaktivedanta Archives
By Pusta Krishna das
Some of the names I will present in this article might irritate some of you, but my intention is to let you know what Srila Prabhupad was in fact like
By Chirag Dangarwala
For those who have faith and logical thinking can ponder on the information given in the ancient Vedic Writings like the Srimad Bhagavatam about the construction and constitution of this material universe of which our earth is but a tiny speck
By Janmastami Dasa
In 1966 Srila Prabhupada told his followers, "Always remember that this Krsna consciousness is a sort of declaration of war with this illusory material nature. So there is war. She will always try to get you to fall down. It is very strong, powerful. How you can save yourself?" This is an issue we all need to resolve, and here's an approach you may find helpful.
This July 23rd, 24th and 25th saw the fifteenth annual Krishna Valley Fair held at ISKCON Hungary's 660-acre sustainable farm.
Five thousand people visited New Vraja Dhama—also known as Krishna Valley—over the long weekend, which is advertised as an Indian festival.
People flooded in at 10:00am and stayed until 7pm to shop at the stalls, eat prasadam food, and watch the stage show featuring martial arts exhibitions, yoga presentations, an Indian wedding, spiritual music and dance, short speeches, and a children's play.
Especially popular was the Hare Krishna Reality Show, which attracted long lines and saw 500 people participate over the duration of the Fair. "Contestants" entering the four-section, 1,000 square foot tent had no idea what to expect—only that as with most reality shows, they were about to experience how others live.
Entering the first room, the men were given dhotis and the women saris, and all were dressed in the traditional robes and adorned with sacred tilak clay. In the second room, devotees gave them japa beads and taught them how to chant the Hare Krishna mantra, and they chanted one round together.
In the third room, they learned how to make and fry their own puris—traditional Indian bread-like snacks. Warned that the puris were not eatable, they kept them on paper plates and walked to the fourth room, where they offered them at an altar of Lord Krishna. As they waited for the offering, they filled out a questionnaire, leaving their contact details with Krishna Valley devotees. They then received and ate the puris that they had fried and offered themselves.
Visitors were also given a demonstration of the simple lifestyle from a past age that the devotees live. They learned how to work oxen, how to cut grass with oxen-driven equipment, and how to plow. They took guided tours of the goshala (cow barn), organic garden, and the temple, where they saw Radha-Shyamasundara and purchased Prabhupada's books in the thousands on their way out.
Established in 1993 by ISKCON guru and GBC Sivarama Swami, Krishna Valley is a sustainable farm community of the kind that ISKCON founder Srila Prabhupada encouraged devotees to establish all over the world.
The 150 devotees that reside on the property produce all their own food—the only things that they have to buy are rice, sugar, salt, and some Indian spices.
They plant more than sixty different varieties of vegetables manually, using natural methods such as coupling. "Just as with human beings, some plants naturally like others," explains Radha Krishna Dasa, who moved to Krishna Valley five years ago with his wife and mother. "For instance, we plant marigolds between cucumbers, and basil between tomatoes. This attracts the useful flies that pollenate the vegetables, and creates a larger crop."
The community also has more than 600 fruit and nut trees which yield apples, peaches, pears, plums, walnuts, and much more. Its 2,000 square foot storage cellar, built three years ago, keeps vegetables and fruit throughout the winter so that devotees never have to get produce from outside sources.
Although they eat ten times more than the average Hungarian, they have ten times more grain than they need, and more than enough honey. All the grain required by the community is produced with an oxen-drawn cart—only excess grain, from which the devotees make and sell cereals, is produced with the use of a tractor.
And since Krishna Valley is an eco-farm, all this is planted without the use of any pesticides, chemicals, or artificial fertilizers. "Instead we use compost, cow dung, and different kinds of home-made liquids that nourish the soil," says Radha Krishna Dasa. "For instance, we soak stinging nettle in rainwater, using our rainwater harvesting system, and pump it through the drip irrigation system, so it nourishes the plants and keeps away bugs and insects."
As well as its 600 fruit trees, the community also keep over 400 different indigenous Hungarian fruit-tree types, as part of a gene bank that keeps indigenous species alive. There is also plenty of forest on the farm—during the seventeen years of Krishna Valley's existence, devotees have planted a quarter of a million trees.
As well as the grain it sells, the community also makes income from the 30,000 paying tourists that visit every year and eat at its Govinda's restaurant (which does use produce from outside sources).
"Last year we launched our own line of Govinda's organic drinks, which have proven quite popular," says Radha Krishna. "They come in three flavors: William
Pear, Peach, and Vitamix (pumpkin and carrot), and have 100% fruit content with all-organic ingredients including an organic sugarcane sweetener."
Krishna Valley also has its own zero-energy, zero-chemical reed-bed waste treatment system, and each family has its own water well. Meanwhile, a pipeline is under construction that is expected to provide devotees with their own drinking water from a 1,300 foot-deep mineral water well within the next year. Since it is owns all this outright, the community will not have to pay anything for either its water or sewage system.
As the only Eco Village in Hungary that shows actual long-term results in social, economic, and environmental sustainability, one of Krishna Valley's main goals is to help others develop their farms and agriculture. This autumn, community members will hold a workshop for two fledgeling Hungarian farms, and are developing training courses for other such efforts.
Three years ago, devotees also started the Eco Valley Foundation as a means to reach people all over the world—especially those at high levels of society—with their message.
"Last year, I gave eighty presentations around the world, five of which were at a United Nations NGO meeting attended by thousands of people during the Cop15 Climate Change Conference in Copenhagen," says Radha Krishna. "I spoke on self-sufficiency, self-sufficient farm communities, economic sustainability, and about how to start a sustainable farm."
Such presentations have attracted interest from very high profile people. One of the top three scientists sent to Copenhagen as representatives of Hungary, Professor Dida, told Radha Krishna: "Whenever you have anything that I can participate in, please let me know." Other university professors, botanists, and ecologists, have become part of the Eco Valley Foundation.
Last year, Krishna Valley held a scientific conference with 2,450 attendees including university students, professors, top scientists, politicians and businessmen. This year, they will hold three conferences, one of them an international one on sustainability. They are working with the Hungarian Science Academy on soil research and other research programs, and hold regular sustainability open days for interested members of the public.
They also work in cooperation with many universities—these currently include one in India, one in Dubai, and eight in Hungary. "The universities organize, advertise, and provide the venues for us to present ecologic workshops, and we just go there," says Radha Krishna. "Some universities also send their students to come to our farm for several semesters of their BSc studies."
Radha Krishna explains the importance of spiritual, self-sufficient farm communities like Krishna Valley: "There are many economic, environmental and social problems in today's world," he says. "And to quote Albert Einstein, 'The significant problems we have cannot be solved at the same level of thinking with which we created them.' So we need to change our approach, and we need a fixed base on which to do so, guided by Srila Prabhupada through his teachings and representatives such as Sivarama Swami."
Radha Krishna suggests that other ISKCON projects aiming for this goal take things step by step, and take advice from ISKCON farm communities that already have results.
"We are always happy to share our experience, and the problems we have gone through, to help others on the road to success," he says.
http://www.opencreative.hu/panorama/virtualis-tura/kris...
Radhanath Swami – Srimad Bhagavatam Class – ISKCON Mayapur – Part 4/4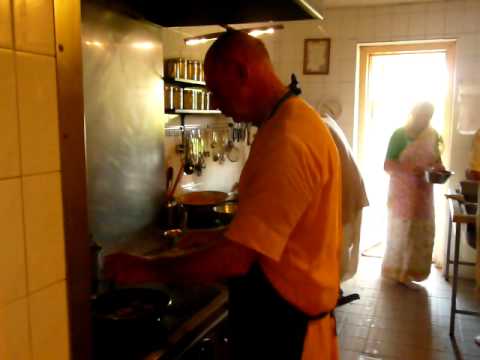 There would be similar typical scenes at temples and centres all over the world. No-one ever seems to lose their footwear.
Here are The New Govardhan Natyashakti dancers strutting their stuff on the farm on Janmastami night.
Devotees at Brisbane temple recieving darsan during Janmastami. Devotees all over the world are raising their hands and their voices in glorification of Lord Sri Krishna and his appearance in the world.
Krishnapada dasa (facebook)
Incredible wall hanging in Mayapur during Janmastami
Offering their devotion to the Lord on His day of apprearance.
What happened where you are this Janmastami? Let us know where you have posted your photos so we can share them with the assembled devotees. Leave a comment or link below.
Share this story your way:
More Recent Articles
---
Click here to safely unsubscribe now from "Planet ISKCON" or change your subscription or subscribe

---
---
Unsubscribe from all current and future newsletters
powered by
FeedBlitz
---
Your requested content delivery powered by FeedBlitz, LLC, 9 Thoreau Way, Sudbury, MA 01776, USA. +1.978.776.9498
TABLA - FUENTES - FONTS
SOUV2
Balaram
ScaGoudy
FOLIO 4.2
Biblica Font

Disculpen las Molestias
Planet ISKCON - 2010
·
Planet ISKCON - 2011