PLANET ISKCON


Here are the latest updates for
1965 July 30:
"Mr. J.M. Choksi today handed over me the following documents:
1. The Passport.
2. "P" Form passed Dt 27/7/65
3. Original letter & no objection certificate from Gopal P. Agarwal.
4. Copies of letters for Calcutta office Scindia Steam Navigation Co.
5. International Certificate & vaccination. (3 years & 6 months)."
Prabhupada Journal :: 1965
1972 July 30: "Make the children into Vaisnavas. We are not going to abide by the government schedule. They should be taught our books as soon as they can read. Rise early, mangal arati, go on sankirtana, like that, and a little ABC, mathematics, geography, history, that's all."
Prabhupada Letters :: 1972
1972 July 30: "These children are given to us by Krishna, they are Vaisnavas and we must be very careful to protect them. These are not ordinary children, they are Vaikuntha children. This is very great responsibility, do not neglect it."
Prabhupada Letters :: 1972
1972 July 30: "Sriman Lalita Prasad Thakura has not fulfilled his promise. So I don't want you to mix with him further. I do not like this idea, I don't know where these ideas are coming from. No one should go there any more."
Prabhupada Letters :: 1972
1972 July 30: "I want that we shall excel the Caitanya Math. They have been struggling for 50 years and we shall surpass them in two. If I defeat my godbrothers, then I am worthy to be called the Guru of the Americans. Even in spiritual life there is competition."
Prabhupada Letters :: 1972
1975 July 30: "As the leader there you should not have allowed this dissension to take place. Expert management means to engage all of the devotees and not allow them to split into different parties. Why have you taken this rash action without consulting me?"
Prabhupada Letters :: 1975
1975 July 30: "It may appear that superficially you disturb them, 'Please take this Krishna book.' In coming to your country, no one invited me. But I came and I preached aggressively, and therefore you are now my disciples."
Prabhupada Letters :: 1975
1975 July 30: "If you are completely aggressive on Sankirtana, there should be no material aggression or pride remaining. Being completely absorbed in such aggression to spread Sankirtana purifies us of all sense gratification."
Prabhupada Letters :: 1975
1968 July 29: "The position of high-grade devotee should never be imitated. We should not try to imitate. We should not be satisfied remaining in the third grade platform. But we should try to elevate ourselves in the second grade platform."
Prabhupada Letters :: 1968
1969 July 29: "I understand you are also selling BTG very nicely. As Krishna sees you are working very seriously to bring His other children back to the Spiritual Kingdom, then He will become very pleased and will bestow all blessings upon you."
Prabhupada Letters :: 1969
1970 July 29: "The Bhaktivedanta Book Trust is for the purpose of publishing manuscripts and literatures made by me and to establish Temples throughout the world, specifically Mayapur, Vrndavana, and Jagannatha Puri."
Prabhupada Letters :: 1970
1972 July 29: "I am eager to come there. Wherever Krishna Katha is spoken, that is Vaikuntha. And wherever I go to my branches, you my good devotees turn it into Vaikuntha and I wish to be there where my disciples are."
Prabhupada Letters :: 1972
1972 July 29: "Sannyasi must be independent and not rely upon temples to pay his expensive travelling costs, simply he must take Krishna's mercy whenever and wherever it is offered."
Prabhupada Letters :: 1972
1975 July 29: "Regarding your being depressed, you are becoming older, but so also am I an old man. But, you should not be depressed on account of advanced age. But, for you this feeling of insufficiency is good for progress."
Prabhupada Letters :: 1975
1975 July 29: "Regarding your wanting to leave your family and take sannyasa, what is your family? You live aside from your wife, and you have no children, so you are already sannyasa. Anyway we can consider later on. First we have to push this movement. That is most important thing."
Prabhupada Letters :: 1975
1975 July 29: "You cannot sell the house. It is a good house, and I do not approve selling it. What will be gained by selling the house? I do not like this idea. I do not want any of our houses to be sold."
Prabhupada Letters :: 1975
By the grace of my beloved spiritual master, His Divine Grace A.C. Bhaktivedanta Swami Prabhupada, I've got a message which can deliver the entire world from all varieties of suffering conditions. Therefore on his order my life is fully dedicated to broadcasting this message as far and as wide as possible so that everybody can become free from misery...
They were hampered by the pain and by a little inattention, but I kept mainly in the groove and did my sacred duty. Chanting early in the morning is a blessed state, and I don't like to sacrifice it for anything.
From
Bhajan Kutir #24
Srimad Bhagavatam 11.22.40 - Logic alone can prove the existence of the soul and the Supersoul, but not the personal feature of God.

http://www.youtube.com/user/akruradasa
After celebrating a grand Festival of India (Ratha-Yatra), we thought its time to have some fun! And what better way to have fun than by having a day dedicated for the younger bhakti-yogis in the Hare Krishna Community! Imagine a day full of games, laughter, delicious prasadam and a chance to make new friends!

ISKCON Toronto is providing just that and more and especially for the younger congregational members with the fourth annual Gopinath's Kids Camp!

This year, the fourth annual Gopinath's Kids Camp will be held on Saturday, August 7th from 8:30am-6:00pm, for kids aged 5-12 years. The purpose of this one-day camp is to provide an opportunity to ignite the spiritual spark in the children while doing fun and interactive activities that they enjoy.

In addition to outdoor games, some of the primary activities being planned for the day are Mantra Meditation Sessions, fun cooking classes, learning how to play different musical instruments, sumptuous prasadam and many fond memories.

All this and much more for registration fees of only $20!

Click here to register your children now!!

For further information, please feel free to contact us at info@torontokrishna.com or psenatoronto@gmail.com. You can also contact Shyama-Mohini dasi at 416.844.2937 or Mahasundari Madhavi dasi at 647.284.7010. We look forward to seeing all our enthusiastic younger devotees at the Gopinath's Kids Camp this year on August 7th!
Intelligence refers to the power to analyze things in their proper perspective, and knowledge refers to understanding what is spirit and what is matter. Ordinary knowledge obtained by a university education pertains only to matter, and it is not accepted here as knowledge. Knowledge means knowing the distinction between spirit and matter. In modern education there is no knowledge about spirit; they are simply taking care of the material elements and bodily needs. Therefore academic knowledge is not complete.
>>> Ref. VedaBase => Bg 10.4, Bg 10.5, Bg 10.4-5
Only one who is actually engaged in Krsna consciousness and devotional service can understand what Krsna is. University degrees are not helpful.
>>> Ref. VedaBase => Bg 18.55
| | |
| --- | --- |
| | Every day in the Holy land of Vrindavana thousands of pilgrims flock to visit the sacred spots where Lord Krsna performed His earthly pastimes. For those around the world who cannot travel regularly to Vrindavana, ISKCON temples and communities provide spiritual shelter from regular material society. Govindadvipa in Ireland is another community that has modelled its rural surroundings on the original Vrindavana geography. |
| | |
| --- | --- |
| | Hinduism must find voices that express religious and traditional concerns in a manner that steers it away from the literalism and fundamentalism that have dogged other religions. |
| | |
| --- | --- |
| | I agree with the Moral Naturalists that it is possible to better understand human nature through the study of animal behavior. Beyond that our paths diverge sharply. |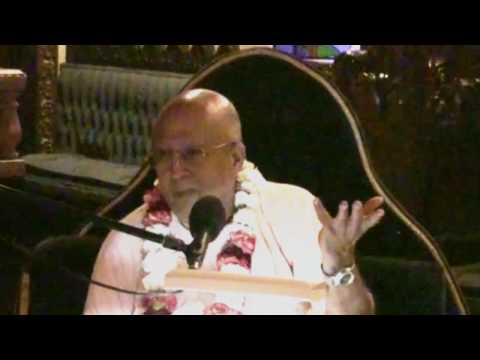 Sunday Feast Lecture on Bhagavad Gita 7.18 by Veda Vyas Priya Swami.
Dallas, TX
2010-06-13
TRANSLATION
All these devotees are undoubtedly magnanimous souls, but he who is situated in knowledge of Me I consider to be just like My own self. Being engaged in My transcendental service, he is sure to attain Me, the highest and most perfect goal.
PURPORT
It is not that devotees who are less complete in knowledge are not dear to the Lord. The Lord says that all are magnanimous because anyone who comes to the Lord for any purpose is called a mahatma, or great soul. The devotees who want some benefit out of devotional service are accepted by the Lord because there is an exchange of affection. Out of affection they ask the Lord for some material benefit, and when they get it they become so satisfied that they also advance in devotional service. But the devotee in full knowledge is considered to be very dear to the Lord because his only purpose is to serve the Supreme Lord with love and devotion. Such a devotee cannot live a second without contacting or serving the Supreme Lord. Similarly, the Supreme Lord is very fond of His devotee and cannot be separated from him.
In the Srimad-Bhagavatam (9.4.68), the Lord says:
sadhavo hr?dayam´ mahyam´
sadhunam´ hr?dayam´ tv aham
mad-anyat te na jananti
naham´ tebhyo manag api
"The devotees are always in My heart, and I am always in the hearts of the devotees. The devotee does not know anything beyond Me, and I also cannot forget the devotee. There is a very intimate relationship between Me and the pure devotees. Pure devotees in full knowledge are never out of spiritual touch, and therefore they are very much dear to Me."
Download:
2010-06-13 - Lecture - Veda Vyas Priya Swami - BG 7.18.mp3
| | |
| --- | --- |
| | The Swan Boat is one-of-a-kind. For a few years, the devotees used to enter the Swan Boat in parades and festivals in Wheeling, Charleston, Pittsburgh, and other places. The Swan Boat always won a prize. |
| | |
| --- | --- |
| | The Swan Boat is one-of-a-kind. For a few years, the devotees used to enter the Swan Boat in parades and festivals in Wheeling, Charleston, Pittsburgh, and other places. The Swan Boat always won a prize. |
An interview according to the Webster's,  is a formal consultation usually to evaluate qualifications (as of a prospective student or employee). Srila Prabhupada writes in the translation of Text 43 of the Antya Lila -Caitanya Caritamrita, Chapter 6: The Meeting of Sri Caitanya Mahaprabhu and Raghunath Dasa Goswami as follows, "In the village of Panihati, Raghunatha dasa obtained an interview
www.sdgonline.org.
3:21 A.M.
I woke up at 12:00 A.M. last night and was restless and couldn't sleep anymore.  I got up from bed at 1:00 A.M. and started chanting. A headache came and I took medicine, but the headache didn't go down. Nevertheless, I persisted in my chanting. It has been a successful session in that I have finished all my 16 rounds before 3:30. They were hampered by the pain and by a little inattention, but I kept mainly in the groove and did my sacred duty. Chanting early in the morning is a blessed state, and I don't like to sacrifice it for anything. I feel satisfied to have completed the quota, even thought it wasn't perfect. I could not chant with a very soft heart toward Radha and Krishna, but I steadily built up my numerical strength of Nama Prabhu and didn't flinch. So I can give myself some credit for that. Numbers increased steadily without any hesitation or drowsiness. I heard the syllables in my mind and prayed to Krishna to accept my humble offering.
Chanting with pain
hampers the session
but you bravely persist
and do not give up.
"Damaged goods" is less
than you'd wish,
but you fight like
in wartime and ignore
the pain, shoot down
the opposition. It is
not a pleasant or easy
session but one with
determination. You carry
out your assignment
despite the wounds.
Krishna is with you,
and I don't know why
I have to chant japa
with such difficult conditions,
but I accept it submissively,
without complaint. I
pray He will see some
good in me
www.sdgonline.org.
Prabhupada Smaranam
Here Prabhupada awaits outside an airport in America to be picked up in a car. His followers pack in beside him with intense devotion and worship. They worship him by chanting Hare Krishna, Hare Krishna, Krishna Krishna, Hare Hare/ Hare Rama, Hare Rama, Rama Rama, Hare Hare. That was the method he introduced and the sound he liked to hear. Prabhupada did not emphasize his own name and personality in his movement, but the name and personality of Krishna. Saksad dharitvena samasta sastrair. He accepted worshipable treatment because he was the direct representative of Krishna. He never claimed to be Krishna himself. Here he appears healthy and composed, patiently waiting for his car and standing in the midst of loud, enthusiastic kirtana. The symptom of the maha-bhagavata is that he reminds you of Krishna, and when you see him you spontaneously start chanting Hare Krishna. Prabhupada's disciples loved him and wanted to please him, to show gratitude for the life of Krishna consciousness that he brought them. Upon seeing him perhaps for the first time or after a long time, they wanted to greet him and welcome him in the best possible way. The Supersoul has spontaneously dictated to them to chant Hare Krishna, and Prabhupada approves them. When he first arrived in 1965, he asked himself would he possibly succeed in turning the hearts of the demoniac people of the West. He expressed doubt whether they would take to Krishna's message. But now without a doubt he has captured the hearts of some American youths, and it is going on on both the east and west coasts. After a hesitant start in New York, he now has temples on both coasts. On their own accord, the men have shaved their heads with sikha and wear Vaisnava dress, and the girls wear tilak and saris.  And when Prabhupada arrives in their city, they flock to the airport to give him an affectionate reception. No one told them this was the etiquette, they came because of their heart's spontaneous inspiration.
www.sdgonline.org.
Little Radha-Kalachandji
now stand on the altar in
Houston, and I gaze upon
a picture of Them on my desk.
A picture of Radha-Damodara
outdoors for the Swing Festival
is also in my room,
hanging on the wall above
the Prabhupada murti. 
I find it is too far to
travel to see these Deities
in person, and I stay
in my room and write my
journal.
I used to walk the
snow-covered back road
to visit Radha-Kalachandji
in the cabin of Indira
and Vamana until they
found pujaris and
Paramananda allowed Them
on the altar at Gita-Nagari.
Once Bimala-dasi broke
off Kalachandji's hand in
hasty service, and she
asked me what penance
she should do. I don't
think I gave her any
punishment because she was
serving so nicely. And
every morning at mangala-aroti
I'd see Radha-Damodara
and sing and dance before Them.
I'm retired to this room
but see Their photos
in repose and recall
the old days when I
was more active
and worshiped as a
guru on a vyasasana.
I was worshiped at too
high a level, more than
I could sustain. Now
I'm healing, serving in
separation, and expressing
my honest experience
in Viraha Bhavan.
As I write this poem, I think,
"Why not go to the
Ratha Yatra in Gita-nagari?"
But I've already decided
it's too much, and I'd
do better staying here,
steady at my trade.
I'll miss seeing Kaulini
and Radha-Damodara and
the Godbrothers  who might
attend and my few disciples
who live there, but
my writing schedule would
be interrupted for several
days, and that's a
factor too.
So you stay here in your
quietude, counting only
on the reaching out in
posted word and
peaceful pace, not
without Krishna.
Plug Away

Toronto, Ontario

Some people do struggle with their spirituality. They are wet or dry; wet meaning immersed, involved or engaged in their God consciousness, and dry meaning there is a lull period in spiritual progress. This could be a time of inactivity or even a time which is referred to as the dark hour of the soul.

I invited J. Kay to walk with me north on Yonge Street to his job. He was talking about his entrances and exits and how he wants to overcome them.

Desire is very strong. If you want something bad enough you are likely to endeavour to that end. In Sanskrit the saying is eko bahunam yo vidadhati Kaman. The All-powerful One can fulfill all desires. The thing is He also has desires. If we are sincere in our effort to make spiritual progress and yet a small desire creeps in and starts to fester, the Lord in the heart favours your continual spiritual growth over your mundane wishes and as policy helps to fulfill that which is best for the individual.

"You keep plugging away, J. Kay. Drdha-vrata, or determination is what you have going for you. It is like the road. It points in a direction. It may meander but eventually it makes it to a final line," I suggested.

Recently, a person saw me in the orange/saffron robes and asked, "Are you a member of the Dutch soccer team?"

"No!" I said, "I know they lost the game to Spain, but they were very determined, weren't they?"

10 KM
Detroit Hope

Detroit, Michigan

The major walking for the day was a back and forth pace in the Fisher Mansion, now a beautiful temple. According to one of the tour guides, Mr. Fisher, a major unionist for the auto industry, had this space as his ball room dance floor. While I am chanting in my pace the rest of our devotional drama crew was inside exploring hidden passageways in the building. "Let them explore", I thought, "it's a gem of a building. Let the 'child' come out of them. In a few minutes they (Nitai, Goura, Laghu and Nitai Priya) will take part in a fire ceremony for a first initiation.

The South Indian community shows real strength in numbers while there is a trickle of blacks and whites that come to savour in the joy of kirtan chanting. Today, Peter became initiated as Prthu Das. He has been coming for two years and has been expertly guided by Afro-American, Yugala Kishor.

Yugala tells me that he has been going down the street at the park by the edge of the Detroit River. Members of a gang meet there as the sun goes down. Bravely, Yugala comes armed with a mrdanga drum in hand. He sits himself down on the grass and starts his chanting. The gang members laugh – at first. Then Yugala talks to them. They are happy for the friendship. They intimate to him that they are saddened with the gangster image that has come their way. In fact, they reveal that they want to come out of it. When they hear Yugala talk about the science of higher consciousness, they become so hopeful.

I told Yugala that I would like to help him help these kids who at the moment are lacking in good positive extra-curricular activities.

There is hope for Motown.

0 KM
To and In Michigan

Novi, Michigan

It has been a good trip to Michigan so far. We are not anticipating any trouble. Our drama troupe had popped by to my memory lane. On the Canadian side we drove down Old Tecumseh Road, my first walking trail ever, to and from school. We stopped by that school which is still standing but no longer operational. St. Peter's Church, established in 1802 is right next to it and is still functional. We also took a break in Chatham, my birth place, and also a destination poinit for former African slaves and the end of the underground railway line. Jim Burgess, my bro-in-law, was manning his bookstore when we went in to do the human thing – see a relative – and with pleasure.




After the border crossing at customs (since 911 things arent' the same) we had practiced for today's performances at the Iskcon Fisher Mansion, then slept at the home of Bhakta Guru in Canton, Michigan.

The day did start with lightning, and its affiliate, rain. The Ratha Yatra festival got off to a wet start but with a dry invocation. The Mayor and city councilors participated with us indoors at the Novi Civic Centre. Monk, Romapada Swami and Bhaktivasudeva Swami with monkess Malati and I were all in a neat row. Overall, the festival was joyful, well managed by a great group of people.

At the end of the day, I felt something was terribly amiss. And that was that no walking other than the procession had occupied the day. So I was committed to trek for two hours towards the home of our host, Bhakta Guru. Sing Lung from Toronto took to my side. We were surprised by one thing, Michigan is relatively flat which is perfect for cycling and walking yet consistent ride-walks in these prim and proper residential zones are few and far between. A sidewalk will go two or three blocks and then abruptly end. It would manifest on the other side and follow the same pattern.

Michigan people are nice. The state is the bastion of the automobile but at present is not pedestrian friendly. I pray for the day when the whole globe can be a haven for pilgrims and their feet.

8 KM
One of the benefits of being married was getting to double the size of my library. One of the books Lacie had was called The Wisdom of Imperfection by Rob Preece. I didn't read the whole thing but I thought this passage was very accurate and it is something any spiritual organization would do well to keep in mind.
"It is evident from my work as a psychotherapist that these spiritual solutions do not always address the root cause. Many people on the spiritual path have more of a problem with their basic identity in the world than they do with their relationship to the divine. Likewise, spiritual organizations often attract distressed people seeking spiritual solutions that do not necessarily address their core suffering. It can take a sophisticated insight to understand the nature of our emotional wounding and the patterns and defenses that crystallize around it. Perhaps, therefore, it is unwise to assume that a spiritual practice will automatically resolve these deep psychological issues"
We often hear that Krishna consciousness is the solution to all our problems, which it is ultimately on a philosophical level, but this is true on a philosophical level, not necessarily on the practical level. While existing in the material world we have to do the needful to take care of our physical and mental bodies, while cultivating Krishna consciousness. Krishna consciousness doesn't automatically replace all these other needs because we have them as long as we have material bodies and dealing with them is often times a pre-requisite for performing devotional service. Krishna consciousness can only be executed from the liberated platform.
Practically speaking we have seen that devotees haven't fared well trying to ignore psychological issues, they usually end up hampering a persons progress in spiritual life, in the similar way that ignoring a physical illness
We shouldn't expect Krishna consciousness to cure a persons mental diseases just as we shouldn't expect Krishna consciousness to cure cure cancer, diabetes or any other physical ailments, yet as the author points out these are oftentimes the reason why a person takes to a spiritual path.
It is an interesting paradox. Many take to a spiritual path to not have to deal with certain painful emotions but we find that we can't really make progress until we do.
Of course Krishna consciousness is the ultimate solution and to loss sight of that and chase other solutions to the myriad of problems we face is pointless because even if we solve them all we still lose in the end. Krishna consciousness is the solution but Krishna consciousness doesn't replace all other social, political, economic, or psychological solutions, it is rather the underlying thread which ties them all together, it encompasses all of them in a way that leads one towards the ultimate solution.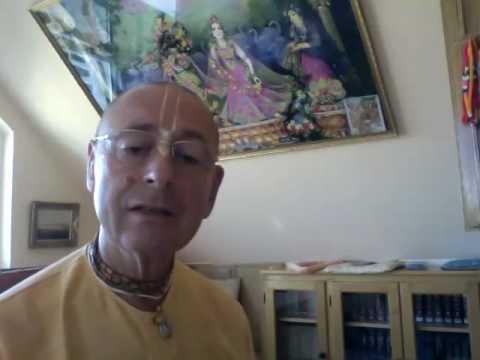 "One of Srila Prabhupada's repeated instructions to his followers was to read his books. And we can see practically that the more our devotees study Srila Prabhupada's books while practicing the process of Krishna consciousness, the more they develop enthusiasm to preach Krishna consciousness. Most of our devotees study Srila Prabhupada's books nicely when they are helped through some study program or course.
On 24th of July, Bengali course on deity worship, which included archana, deity dressing, cooking and on yajna procedures began at Mayapur Academy. Inaugurating the course, HG Jananivasa Prabhu welcomed the students and spoke on the importance of learning to worship the deities according to the standards of deity worship. He said that Mayapur Academy has been started on the instructions of Srila Prabhupada, who stressed on the importance of having a proper manual and standards set for deity worship. Around 40 students from Mayapur, Siliguri, Howrah and various regions around Bengal has enrolled for the course.
Chaitanya Mangala dasa: Prabhupada: You have to submit. You cannot remain independent. That is the first condition. Sisyas te 'ham,sisya. Sisya means voluntarily accepting the rules offered by the spiritual master. That is sisya: "Ah, yes, I agree to abide by your order."
Kapila dasa: I appreciate the recent discussion in regards to the recommended attire of a brahminical devotee. It is always good to be reminded of the most correct form, and to recognize standards which apply to temple environments
Published: July 11, 201o in the Editorial section of the New York Times

By Iskcon New Vrindavana
The 15-foot, 3,000 pound Swan Boat was created in 1987 by local artist Soma dasa of New Vrindaban. Swans are a common feature in Vedic art, which is based on the ancient Vedic scriptures of India
Chanting japa should be done early in the morning with full concentration preferably during the Brahma Muhurta time. Concentrate fully on the sound vibration of the mantra, pronouncing each name distinctly and gradually your speed in chanting will increase naturally. Do not worry so much about chanting fast, most important is the hearing.
Letter to Radhaballabah das - 6 January, 1972
One can attain Krsna consciousness or divine life at once, within a second — or one may not attain such a state of life even after millions of births. It is only a matter of understanding and accepting the fact.
- Srila Prabhupada
Gaura Vani & As Kindred Spirits

Bhakta Dasa, our Communications Director attended a Grant-giving ceremony on the 14th July at the Immigration Museum.



On behalf of the Hindu Community Council of Victoria, of which ISKCON Melbourne is a member, Bhakta Prabhu in his function as the secretary together with the Chairman, Abhay Aswathi, received two grants. These two Victorian Multi-cultural commission cheques were presented by the Premier of Victoria, Honourable John Brumby. The Grant-funding will be utilised for Multi-faith functions and Intra-faith projects.


BY BHAKTI PURUSHOTTAMA SWAMI Source: Mayapur.com One of Srila Prabhupada's repeated instructions to his followers was to read his books. And we can see practically that the more our devotees study Srila Prabhupada's books while practicing the process of Krishna consciousness, the more they develop enthusiasm to preach Krishna consciousness. Most of our devotees study [...]
More Recent Articles
---
Click here to safely unsubscribe now from "Planet ISKCON" or change your subscription or subscribe

---
---
Unsubscribe from all current and future newsletters
powered by
FeedBlitz
---
Your requested content delivery powered by FeedBlitz, LLC, 9 Thoreau Way, Sudbury, MA 01776, USA. +1.978.776.9498
TABLA - FUENTES - FONTS
SOUV2
Balaram
ScaGoudy
FOLIO 4.2
Biblica Font

Disculpen las Molestias
Planet ISKCON - 2010
·
Planet ISKCON - 2011