PLANET ISKCON


Here are the latest updates for
"One cannot become spiritually advanced without acquiring the brahminical qualifications and giving protection to cows. "
Srimad-Bhagavatam   6.18.52
Filed under:
Cows and Environment
Sunday 27th June, 2010.

Krsna wants to steal your love.
Srimad Bhagavatam 11.21.37 - Learn the glories of your Deities, take shelter of Them, and work for Them.

We are active beings. The mind is busy making plans for the future – our thoughts manifest in actions, repeated actions form habits, those habits make up our character, and that character determines our destiny. As Mark Twain famously commented, "we are not human beings on a spiritual journey, but rather we are spiritual beings on a human journey." Every journey starts with a step and in chapter 5 Krishna explains how to make a step in the right direction. There are steps leading to further entanglement in worldly complexities, but there are also steps leading to a life of liberation, freedom and tranquility.

S - Stay in the world (verses 1-12) - Arjuna is still confused. Despite Krishna's explanations in chapter 3, he still considers work and renunciation to be mutually exclusive paths. Krishna elaborates on how the worker in spiritual consciousness is automatically elevated to the platform of renunciation. Engaging in righteous work, all the while keeping an alertness to the ultimate goal, and simultaneously offering the results of that work to God, ensures that one's work becomes worship. For the majority of people it would be artificial and premature to sever themselves from worldly relationships and duties. Krishna, therefore, offers this progressive path of spiritual development whilst simultaneously staying in the world. Just as a lotus leaf is surrounded by water but remains completely dry, the spiritualist can stay in the world and simultaneously remain aloof of its influences.

T - Three doers (verses 13-16) - Whilst working in this world, however, there is another danger. One can get into the mentality that I am the achiever, the controller and the breadwinner. Thus, Krishna explains that we are not actually in control. What to speak of controlling the results of our activities, we cannot even control the ability to perform those activities. The individual soul can simply desire. That desire is then sanctioned by God (who resides within the heart as the Supersoul), and then the ability to perform that activity comes from material nature, which works under the agency of God. Just as an infant lacks the ability to ride a bike, but can still pretend to do so with the help of stabilisers, the individual soul in this world is constantly supported by the Supersoul in the heart, who provides all the knowledge, inspiration and facilities to function.

E – Equal Vision (verses 17-26) - Since the Supersoul resides in every living being, the advanced spiritualist is able to see every life form, be it plant, animal, or human, as a temple of God. In this way, utmost respect is given to every living being. Different bodies with different qualities are produced according to ones past actions, yet each entity is of the same spiritual quality. One who develops this equal vision, seeing the Supersoul guiding all activities and events, achieves an amazing sense of spiritual equilibrium and can find happiness in every situation.

P – Peace (verse 29) - Krishna has given great emphasis in this chapter on how we are simply in this world for a temporary duration. We come into this world with nothing and we leave with nothing. Problems arise, however, when we claim proprietorship and develop attachments to various objects in the interim. The one constant theme in this world is change – our relationships are changing, the environment is changing, our possessions and assets are changing. To the extent that we develop a sense of detachment, understanding the Supreme to be the proprietor and us simply caretakers, to that extent we can achieve a sense of peace within. Interestingly, this inner peace is what will actually bring global peace. A community of individuals who are free from attachment, greed, envy, and covetousness, is what this world really needs.
1967 June 27 : "My missionary work is a great challenge to the Western way of life. It is a great fight with the maya, and I may inform you that the maya has given me a great stroke recently between the heart and stomach."
Prabhupada Letters :: 1967
1967 June 27 : "At present I am recouping my health, but I am thinking of going back to India and some of my American disciples they can come and take training from me at Vrindaban. So your cooperation is greatly needed."
Prabhupada Letters :: 1967
1968 June 27 : "If diet and medicine are properly administered the disease of maya will be cured. But the physician must himself be healthy. Our preachers must be of highly elevated character, following strictly the rules and regulations."
Prabhupada Letters :: 1968
1969 June 27 : "The secret of success in Krishna consciousness is to render service to Krishna to the best of our capacity. There is no other alternative to this. The more we render service therefore, the more we are able to advance."
Prabhupada Letters :: 1969
1970 June 27 : "I was expecting your arrival here every moment. If you come during the Rathayatra festival it will be a great pleasure for me. So we shall have to chalk out the future program of our activities."
Prabhupada Letters :: 1970
1974 June 27: "The young Franciscan monks listened very respectfully. We never say our religious system is better but we speak on the principles of love of God. If they are at all sincere they are pleased to hear the Vedic conclusion."
Prabhupada Letters :: 1974
1975 June 27: "The money is there in the bank. The bank will guarantee payment. Why you are not completing the negotiation? I have given two lakhs of Rupees but I have not heard anything. How has it been spent?"
Prabhupada Letters :: 1975
1975 June 27: "I have not received any report from you. I gave you 1 1/2 lakhs of Rupees, and I want to know what you have done with it. How have you spent it, and what is the progress."
Prabhupada Letters :: 1975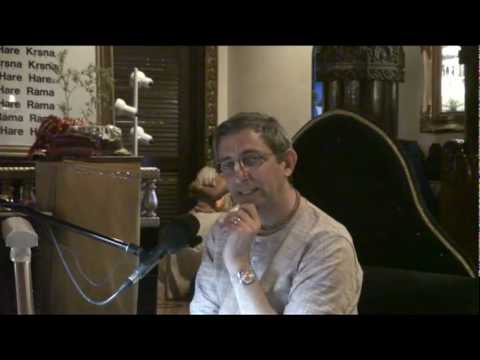 Sunday Feast Lecture on the topic of "What is Happiness?" given by Braja Bihari das.
Dallas, TX
2010-04-25 
Download:
2010-04-25 - Braja Bihari das - What is Happiness.mp3
A vaisya will find out some business. There is a practical story. One Mr. Nandi, long, long ago, in the Calcutta, he went to some friend that, "If you can give me a little capital, I can start some business." So he said, "You are vaisya? Mercantile?" "Yes." "Oh, you are asking money from me? Money's on the street. You can find out." So he said, "I don't find." "You don't find? What is that?" "That, that is a dead mouse." "That is your capital."
So in those days in Calcutta, plague was going on. So municipal declaration was any dead mouse brought to the municipal office, he'll be paid two annas. So he took that dead body of the mouse and took to the municipal office. He was paid two annas. So he purchased some rotten betel nuts with two annas, and washed it and sold it at four annas, or five annas. In this way, again, again, again, that man became so rich man. One of their family members was our Godbrother. Nandi family. That Nandi family still, they have got four hundred, five hundred men to eat daily. A big, aristocratic family. And their family's regulation is as soon as one son or daughter is born, five thousand rupees deposited in the bank, and at the time of his marriage, that five thousand rupees with interest, he can take it. Otherwise there is no more share in the capital. And everyone who lives in the family, he gets eating and shelter. But the original establisher of this family, Nandi, he started his business with a dead rat.
>>> Ref. VedaBase => Srimad-Bhagavatam 1.5.22 -- Vrndavana, August 3, 1974
So England go crashing out of the World Cup and in the small country were I live with a population of 3million a majority of us are breathing a sigh of relief as unless you can speak Welsh the news is controlled by England. Which brings me to a thought when we asked in the special [...]
By Giriraj Swami
One of Srila Prabhupada's early disciples, Malati dasi, saw a small figure in an import store, Cost Plus, and brought it to Srila Prabhupada. When Prabhupada saw the figure, his eyes opened wide. He folded his palms and bowed his head in respect
www.sdgonline.org.
3:45 A.M.
Chanting on another day,
peaceful and single-minded.
I wish you could say it was
true. The fact is I
say the names with low
energy. In my favor,
I can say that I march
ahead without stopping by
the wayside, I chant constantly
the chain of mantras
and add to my numerical
strength without impediment.
I can't help but think
I am only going through
the motions, but at least
I am moving through the most
sacred territory (with
my eye on the clock)
and completing my vow
at a decent rate.
read more from SDGonline - daily updates from The Yellow Submarine: My Bhajana Kutir journal 
www.sdgonline.org.
Prabhupada Smaranam
Srila Prabhupada performed many fire sacrifices. He did it all over the world and adjusted according to time and place. Sometimes he had to use wooden store cartons for fuel, and they didn't burn well. They would tend to sputter and go out. But he always managed to gather enough dry wood to keep a medium-sized fire going for about half an hour. He placed colored dyes in the flame, and they flared up in blue and red and green, etc. He asked the initiates to carefully place their bananas in the fire. He coached them not to throw the bananas on the edge of the flames but place them directly in the flames. This was considered auspicious. He would personally add pieces of wood to keep the flames rising. He had to be careful if he was in a place where the ceiling was low. He chanted mantras from the mangalacarana prayers and the devotees repeated each word after him. Sometimes he chanted the prayers of the Brahma-samhita. Prabhupada was an excellent priest, keeping everything neat and contained. When the fire died down he used some ashes from the wood with drops of ghee and made a mushy mixture. He had an assistant apply a dot of this ash to the foreheads of the devotees.
Before he began the fire he gave a lecture, usually about the advantage of becoming blissful and taking to initiation. He would often recite the ten offenses in chanting the holy names. He would hand out the names of the initiates. (Sometimes he would say what the name meant, or sometimes the devotees didn't understand the pronunciation of their names and would have to find out later.) Every ceremony was wonderful and successful. One considered himself very fortunate to have Prabhupada himself conduct the fire ceremony. A devotee was expected to collect alms before the day was over and present them to the spiritual master. When I received initiation, Prabhupada said in his speech that the daksina or obligation that the disciple owed the guru was to preach Krishna consciousness on his behalf. All glories to the fire yajnas performed by Srila Prabhupada. All glories to the vows the devotees accepted on that day and the spiritual names they received. All glories to the fires and the burning bananas and the grains thrown in and the dying embers. All glories to Srila Prabhupada.
www.sdgonline.org.
Krishna is my Lord.
He beats my heart.
When I am nervous
it's because I am not taking
shelter of Him.
read more from SDGonline - daily updates from The Yellow Submarine: My Bhajana Kutir journal 
www.sdgonline.org.
Free write
Summer weather has begun. The temperatures in Delaware are in the upper nineties. The other night a thunderstorm came and broke the heat, but now it is hot again. I used to go for my walk right after lunch, but now I wait until 5 P.M. hoping it will be cooler. But it is still very hot and sunny at 5 P.M. I wear a straw hat and sunglasses and just a T-shirt and dhoti. My face sweats up and is soon pouring with perspiration. But we walk the full distance of our prescribed exercise. When we return I have a glass of lemonade with ice cubes. I may not be so hot in upstate New York. Our plan is to move in a week. It is a very big endeavor. Baladeva will hire some workers to work with him, and they will load two trucks of belongings to drive up to Stuyvesant Falls. I will stay out of the way of the moving by transferring over to Sastra's house with Yadunandana Swami, and Vishnu-aradhanam will drive us to New York on July 4th. Sastra has warned us against driving on such a heavy-trafficked day, but this is the day Narayana and Baladeva have chosen.
None of this is very much inner life or preaching. It is the outer doings of my life. I will try to keep up my inner life by chanting devotedly and reading in these last days. I will plan to keep up Krishna conscious themes in my "Free Write" and "Prabhupada Smaranam." But there will be distractions. The townhouse is filled with empty boxes for putting books and furniture in. The lunches will be cooked by Yadunandana Maharaja, and I hope he'll be competent to send the journal onto the web. I will keep myself calm and cool. I will patiently let these final days pass in the Yellow Submarine without getting agitated. I will reach out in my writing and praise Prabhupada and Krishna and speak on Krishna conscious themes from these odd collections of pictures I have. I want to be a servant in the Krishna conscious movement and just function as a tiny, undisturbed voice for the positive. The flowers bloom in summertime, and some even start to lose their petals.
Rose-anne from Crows Nest, NSW Australia wrote me: "Hello Kurma. When I was in Vietnam I tasted a delish Avocado drink. Do you have a recipe? Cheers."
My reply: Yes I do!
Vietnamese Avocado Smoothie
If you've only ever tasted avocados in a savoury context, this drink will be a pleasant surprise. My first encounter with an avocado drink was in the highlands outside of Jakarta; I found it both comforting and filling. This is a popular version from Vietnam where it is known as sinh to bo. It is traditionally served very thick — you may prefer to add a little extra iced water.
PREPARATION AND COOKING TIME: 15–20 minutes, YIELD: enough for 4–6 persons
1⁄2 cup sugar, 1⁄2 cup water, 5 small or 2 large ripe avocados, about 800g, 2–3 cups iced water, 2⁄3 cup sweetened condensed milk, 1 cup crushed ice, extra crushed ice, extra iced water (optional),
Combine the sugar and 1⁄2 cup water in a small saucepan. Bring the syrup to the boil over moderate heat and simmer for 5 minutes. Remove the syrup from the heat and allow it to cool.
Cut the avocados in half and remove the stones with a sharp knife. Spoon the flesh into a blender or food processor, add the sugar syrup and 2 cups (500ml) iced water and blend to a smooth purée.
Add the condensed milk and ice and process again. If you find the consistency a little too thick for your taste, add a little more iced water and blend again.
Serve in tall, chilled glasses with the extra crushed ice.
Snana Yatra Mahotsav was celebrated at Sri Jagannath Mandir in Rajapur, Simantadvipa. Lord Jagannath, Baladeva and Subhadra rani were giving darshan glancing at everyone with lovely painted lotus eyes, gorgeous silk outfits & colorful turbans. Devotees joyfully carried Them to the Snana Mantap where many devotees were waiting in que since morning to bathe the Lord. The bathing of Lordships continued upto 1 p.m. Big prasdam distribution of Kitchuri, Jagannatha Kaja Prasada, papad and rasagolla continuously took place outside the temple.

Today is my girlie's fifth birthday! She was born at 6:56pm five years ago today at a birth center in Chapel Hill. We loved her from the start, although she definitely surprised us with her spunkittude.
Conceived in Philly, born in Chapel Hill, first year and a half in Hillsborough, NC, another two at Gita Nagari followed by our big move to Alachua almost two years back–this girl has seen her way around the east coast. She is the last vestige of our gypsy life. New baby will be stuck in Florida for at least a decade. Mm's birthday is definitely a big deal–she starts kindergarten in the fall. But, as my girth grows and I look forward to hearing new baby's heart beat in a few weeks, I realize my baby girl is soon to become a middle child.
*Sigh* She will make a great middle.
For her birthday, she has plans. Big plans. Mainly plans about directing plays. Plays adapted from coloring books. In all the plays, she's Radharani. Even if Radharani isn't in the coloring book. She has assigned roles to her friends, who have yet to be informed about their participation.
The plays, however, will have to wait. Although today is her birthday, we are unsure when the actual party will take place. I need countertops! Thankfully, we are able to purchase a vegan chocolate cake from Amaradha to celebrate this milestone.
Did I mention chocolate cake is part of Madhumati's birthday plan?
And B Jitender asks why only wealthy people patronize or are appreciated by ISKCON.
ISKCON COVENTRY VIDEO 24hr Kirtan Birmingham Visvambhara

More Recent Articles
---
Click here to safely unsubscribe now from "Planet ISKCON" or change your subscription or subscribe

---
---
Unsubscribe from all current and future newsletters
powered by
FeedBlitz
---
Your requested content delivery powered by FeedBlitz, LLC, 9 Thoreau Way, Sudbury, MA 01776, USA. +1.978.776.9498
TABLA - FUENTES - FONTS
SOUV2
Balaram
ScaGoudy
FOLIO 4.2
Biblica Font

Disculpen las Molestias
Planet ISKCON - 2010
·
Planet ISKCON - 2011