Here are the latest updates for sricaitanyamahaprabhu.juanymecky@blogger.com
The 24 Hour Kirtan starts June 19th at 12 pm (noon) to June 20th at 12 pm (noon). The main schedule will be posted in the next few days. There will be kirtans in the "Yajna Shala" outside the temple running on a self managed schedule. A signup sheet will be posted at the location.
Friday night there will be a special kirtan by Madhava (Switzerland).
Saturday morning there will be a lecture by Sivaram Swami on the topic of "24 Hours of Chanting – Preparing the Soul".
Tentative Schedule (will be changing):
Start End
12:00 PM 12:15 PM Ananta Govinda
12:15 PM 2:00 PM Madhava
2:00 PM 3:00 PM Acyuta Gopi
3:00 PM 4:00 PM Badahari Prabhu
4:00 PM 5:00 PM Amala Kirtan & Brazilian Party
5:00 PM 6:00 PM Gaura Vani
6:00 PM 7:30 PM Sivarama Swami
7:30 PM 8:00 PM Param Das
8:00 PM 8:30 PM Gauramani Devi Dasi
8:30 PM 9:30 PM Sitapati Das
9:30 PM 10:30 PM Kesavacarya & Kamaniya
10:30 PM 11:30 PM Ananta Govinda & Acyuta
11:30 PM 12:30 AM NJ Crew lead by Kalpavriksa
12:30 AM 1:30 AM Montreal Crew
1:30 AM 2:15 AM Abhay NV
2:15 AM 3:30 AM TBD
3:30 AM 4:15 AM Rupa NV
4:15 AM 5:15 AM Rupanuga Pr. NV
5:15 AM 6:00 AM Jahnavi Harrison
6:00 AM 6:45 AM Rasa Caitanya NV
6:45 AM 7:45 AM Varshana Swami
7:45 AM 8:45 AM Sarvajay
8:45 AM 9:30 AM Gaura Vani
9:30 AM 10:00 AM Acyuta Gopi
10:00 AM 11:00 AM Badahari Prabhu
11:00 AM 12:00 PM Ananta Govinda
If you have questions or comments about the schedule, contact Gaura Vani at 240.423.9108 or schedule@mantralogy.com.
Did Srila Prabhupada promote living dependent as consumers in New Vrindaban or living dependent on the land and cows?
Krishna by His practical example taught us to give all protection to the cows and that should be the main business of New Vrindaban. Vrindaban is also known as Gokula. Go means cows, and kula means congregation. Therefore the special feature of New Vrindaban will be cow protection, and by doing so, we shall not be loser.
Letter to Hayagriva 14 June 1968 (Montreal)
My idea of developing New Vrindaban is to create an atmosphere of spiritual life where people in bona fide order of social division, namely, Brahmacaris, Grhasthas, Vanaprastha, Sannyasis, or specifically Brahmacaris and Sannyasis, and Vanaprasthas, will live there independently, completely depending on agricultural produce and milk from the cows. The life should be simplified without being hampered by laboring day and night for economic development, without any spiritual understanding.  The New Vrindaban idea is that persons who live there will accept the bare necessities of life to maintain the body and soul together and the major part of time should be engaged in development of Krishna Consciousness.
Letter to: Hayagriva  –  Montreal 17 August, 1968
Gradually try to develop that place, there is immense potential and immense land for development. I saw so much land, but there were no men working the land or raising crops. That is our purpose for keeping so much land, to utilize it in the service of Krsna. So next year you can raise so many kinds of fruits and vegetables there and keep cows, and that will be the ideal Krsna Conscious community of living.
Letter to: Kirtanananda  –  Los Angeles 23 September, 1972
Prabhupada: Yes. Anyway, just inquire. These are our garden flowers.
Jayatirtha: Oh, very nice.
Prabhupada: This is also?
Bhagavan: Yes.
Prabhupada: Yes. Anything grown in the garden, that is hundred times
valuable than it is purchased from the market.
Room Conversation With French Commander — August 3,
1976, New Mayapur (French farm)
They have been advised to turn San Francisco gradually into New Jagannatha Puri, and I have advised Kirtanananda and yourself to convert West Virginia into New Vrindaban. I understand the spot is very beautiful, and the hills may be renamed as New Govardhana. And if there are lakes, they can be renamed as Syamakunda and Radhakunda. Vrindaban does not require to be modernized because Krishna's Vrindaban is transcendental village. They completely depend on nature's beauty and nature's protection. The community in which Krishna preferred to belong was Vaisya community, because Nanda Maharaja happened to be a Vaisya king, or landholder, and his main business was cow protection. It is understood that he had 900,000 cows and Krishna and Balarama used to take charge of them, along with His many cowherd boy friends, and every day, in the morning He used to go out with His friends and cows into the pasturing grounds.
So, if you seriously want to convert this new spot as New Vrindaban, I shall advise you not to make it very much modernized. But as you are American boys, you must make it just suitable to your minimum needs. Not to make it too much luxurious as generally Europeans and Americans are accustomed. Better to live there without modern amenities. But to live a natural healthy life for executing Krishna Consciousness. It may be an ideal village where the residents will have plain living and high thinking. For plain living we must have sufficient land for raising crops and pasturing grounds for the cows. If there is sufficient grains and production of milk, then the whole economic problem is solved.
Letter to: Hayagriva  –  Montreal 14 June, 1968
Filed under:
Cows and Environment
Srimad Bhagavatam 11.21.23 - All the Vedic injunctions are mere candy to bring us to the real medicine (nectar) of Krsna consciousness.
www.sdgonline.org.
3:55 A.M.
I slept peacefully last night with no headache. I woke up at around 2:30 and began my chanting. I've chanted only eight rounds so far, not the most inspired. I finished proofreading the book Japa Transformations, and it's an inspired book with constant emphasis on the all-importance of chanting japa. In the book I often refer to thinking of Radha and Krishna while chanting. It is as yugala-mantra, a mantra of Radha and Krishna combined, Hare and Krishna, but I do not always make the connection while I chant. Sometimes I chant mechanically, and I'm sorry for that. I will try to improve the balance of my quota this morning, and put some fervor into it. It is such a simple process; we sometimes mistake it because of its simplicity and forget how profound it is. Lord Caitanya has made it simple because we cannot do anything else in this age, but it is a very great thing, the greatest thing to offset sinful activities and maya in the age of Kali. I pray to improve.
Your first eight rounds
were not so great,
you didn't sink in
to pleading prayerful cries.
Chanting should be all
attentive, not done as a
side measure while your
powerful mind goes its
own way, roaming over
trivia. Work harder
to stay on the path
of the maha-mantra,
pumping them out
and staying on the japa trail. Think of
the great mantra chanters
who have gone before,
try to carry the torch.
Your time is short,
and your need is great,
please help yourself
and help others.
www.sdgonline.org.
Prabhupada wrote with a ballpoint pen or a fountain pen mostly just to sign his signature to his letters. Since 1966 he wrote by speaking directly into the dictaphone without an earlier draft of written notes, and his disciples edited the writing he did on the dictaphone. His disciples confined their editing to corrections in grammar and punctuation, and Prabhupada proofread their editing. He approved and appreciated their editing, but the major portion of the writing was a first draft of spoken words on the dictaphone. I have heard a few devotees say that Prabhupada's writing would have been better and more polished if he had taken more time on it and didn't basically accept his first draft as his finished product. But I do not agree with this. Prabhupada had a great skill in studying the commentators of the acaryas and the translation and composing the purports on his first attempt. He was so well acquainted with the acaryas commentaries and the verses of the sastras that he was able to speak them fluently without writing them down.  A perfect example of this is the Krishna Book. We have preserved copies of the dictaphone tapes he made on composing Krishna Book, and it's an extraordinary proof that he was speaking fluently, and it was coming out as polished prose. You can hear the "click" sound of the dictaphone made as he pauses briefly in between the sentences or within parts of sentences. The Krishna Book contains straight translations of the Tenth Canto verses as well as the commentaries of the acaryas weaved in, as well as personal statements of Prabhupada's own self-realizations. And all this is clearly done in a conversational tone, speaking freely into the dictaphone. His Srimad-Bhagavatam was composed in the same way. Prabhupada said his writing required great concentration, and so we know he studied the previous acaryas and meditated personally on what to say. But it all came out flowingly in his spoken word. This means he had an almost miraculous  facility to gather material and speak it on the first draft. There is nothing sloppy or rushed about it, but rather it comes out (as evidenced by Krishna Book) in meditative but conversational style.
www.sdgonline.org.
I jokingly asked Baladeva if
he could prepare all the items
cooked for Lord Caitanya
by Sarvabhauma Bhattacarya and Sathira-mata.
He said they were mostly Bengali
foods, and he was more familiar
with the Northern Indian menu, and besides
he couldn't even gather the ingredients
and he certainly couldn't cook it in
six hours. ("It takes me six
hours to prepare ravioli.")
Even Krishnadas Kaviraja, who was an
expert cook and distributor,
writes that he cannot mention all
the food they prepared. Lord Caitanya said he couldn't
eat so much, but Sarvabhauma argued that in His form as Lord Jagannatha,
Caitanya Mahaprabhu eats fifty-two
times a day and at the
annakuta Govardhan feast
He demanded "Aniyor!" More!
More! And ate an enormous amount. Sarvabhauma defeated
the Lord in this loving debate, and Mahaprabhu sat
down and prepare to eat
what they had made.
There was almost six pounds of rice
mixed with so much yellowish
and fragrant ghee that it began
to overflow the leaf. There
were a number of pots made
of the bark of the banana tree,
and they were filled with
vegetables on all sides of the
leaf. There were about ten
kinds of spinach, a soup
called sukta which was
made with bitter nimba
leaves (and which Prabhupada's
sister Pisima taught me to make to
his satisfaction)
Other preparations included eggplant
mixed with newly grown nimba
leaves fried together, light
badi, fried patola and
fried rounds of squash and pumpkin.
There were cakes made with
sour rice water, sweet
rice mixed with milk
another preparation of milk
and cakes to be licked
up and various cakes that Krishna
das Kaviraja says he is unable to describe.
"Indeed all the various eatables available
in Bengal and Orissa were prepared."
When Caitanya protested that He couldn't eat it all,
Sarvabhauma replied, "At Dvaraka You
keep sixteen thousand queens … in
Vrndavana You also have your father's
elder brothers … and there are many
cowherd boyfriends, and You eat
twice a day in the houses of each
and every one."
Lord Caitanya smiled and sat down to eat, but at this time
Sarvabhauma's faultfinding, blaspheming son-in-law
Amogha entered from the outer door. Seeing the quantity of food he
began to blaspheme. "This
much food is sufficient to satisfy ten or twelve men but this
sannyasi alone is eating so much!"
Sarvabhauma charged at Amogha
with a stick, but he could
not catch him. He returned and profusely
apologized to the Lord.
Lord Caitanya said what Amogha
has said is correct; therefore
it is not blasphemy." What
is your offense?"
After saying this, Caitanya Mahaprabhu
left and returned to His residence. Sarvabhauma followed Him
and said many things in self
reproach. The Lord pacified
him and went home.
www.sdgonline.org.
Free write
This is an optometrist's eye chart for testing eyesight. It can easily be read as far down as "THE MEANING OF LIFE IS QUITE SIMPLY…" but can't be read any further than that. Philosophically it is left as an  enigma. But a Krishna conscious person can add the missing words in a variety of appropriate and meaningful ways. It could end, "The meaning of life is quite simply to please Krishna." Or "The meaning of life is to end the transmigration of birth and death and attain liberation to the spiritual world, where there is no more birth, death, disease and old age. Or a message suitable for the present age of Kali could be"The meaning is quite simply to chant the Hare Krsna mantra and hear about The Supreme Personality of Godhead."
As I mentioned in one of last month's blogs, I'm currently re-reading Michael Pollan's interesting and useful little book "Food Rules". I told you I'd be publishing little bite-sized extracts of food wisdom. Here's the first:
Stop Eating Before You are Full
"Nowadays, we think it is normal and right to eat until you are full, but many cultures specifically advise stopping well before that point is reached.
The Japanese have a saying hara hachi bu - counseling people to stop eating when they are 80 percent full. The Ayurvedic tradition in India advises eating until you are 75 percent full. The Chinese specify 70 percent; and the prophet Mohammed described a full belly as one that contained 1/3 food and 1/3 liquid - and 1/3 air, ie nothing.
Note the relatively narrow range specified in all this advice: somewhere between 67 and 80 percent of capacity. Take your pick.
There's also a German expression that says: "You need to tie off the sack before it gets completely full." And how many of us have grandparents who talk of "leaving the table a little bit hungry"?
Here again the French may have something to teach us. To say "I'm hungry" in French you say "J'ai faim" - I have hunger - and when you are finished, you do not say that you are full, but "Je n'ai plus faim" - "I have no more hunger." That is a completely different way of thinking about satiety. So, ask yourself, not 'Am I full?' but, 'Is my hunger gone?' That moment will arrive several bites sooner."
- from Food Rules, by Michael Pollan.
ei kali-kale ara nahi kona dharma vaisnava, vaisnava-sastra, ei kahe marma
In this Age of Kali there are no genuine religious principles other than those established by Vaisnava devotees and the Vaisnava scriptures. This is the sum and substance of everything.
Cc Madhya 9.362
The 24 Hour Kirtan starts June 19th at 12 pm (noon) to June 20th at 12 pm (noon). The main schedule will be posted in the next few days. There will be kirtans in the "Yajna Shala" outside the temple running on a self managed schedule. A signup sheet will be posted at the location.
Friday night there will be a special kirtan by Madhava (Switzerland).
Saturday morning there will be a lecture by Sivaram Swami on the topic of "24 Hours of Chanting – Preparing the Soul".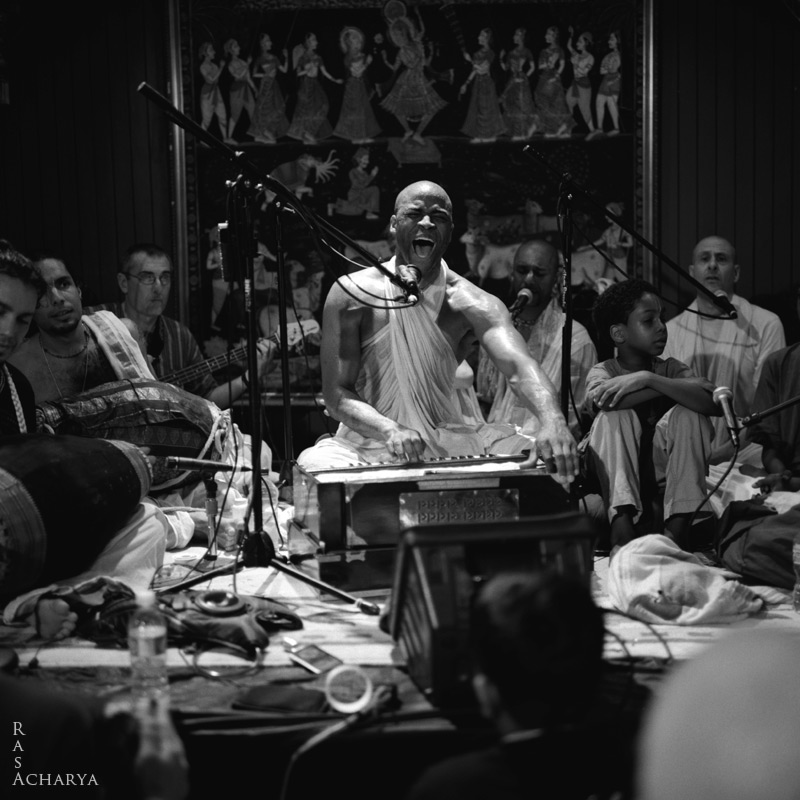 Tentative Schedule (will be changing):
Start End
12:00 PM 12:15 PM Ananta Govinda
12:15 PM 2:00 PM Madhava
2:00 PM 3:00 PM Acyuta Gopi
3:00 PM 4:00 PM Badahari Prabhu
4:00 PM 5:00 PM Amala Kirtan & Brazilian Party
5:00 PM 6:00 PM Gaura Vani
6:00 PM 7:30 PM Sivarama Swami
7:30 PM 8:00 PM Param Das
8:00 PM 8:30 PM Gauramani Devi Dasi
8:30 PM 9:30 PM Sitapati Das
9:30 PM 10:30 PM Kesavacarya & Kamaniya
10:30 PM 11:30 PM Ananta Govinda & Acyuta
11:30 PM 12:30 AM NJ Crew lead by Kalpavriksa
12:30 AM 1:30 AM Montreal Crew
1:30 AM 2:15 AM Abhay NV
2:15 AM 3:30 AM TBD
3:30 AM 4:15 AM Rupa NV
4:15 AM 5:15 AM Rupanuga Pr. NV
5:15 AM 6:00 AM Jahnavi Harrison
6:00 AM 6:45 AM Rasa Caitanya NV
6:45 AM 7:45 AM Varshana Swami
7:45 AM 8:45 AM Sarvajay
8:45 AM 9:30 AM Gaura Vani
9:30 AM 10:00 AM Acyuta Gopi
10:00 AM 11:00 AM Badahari Prabhu
11:00 AM 12:00 PM Ananta Govinda
If you have questions or comments about the schedule, contact Gaura Vani at 240.423.9108 or schedule@mantralogy.com.
| | |
| --- | --- |
| | London Ratha-Yatra will be streamed live simultaneously on Mayapur TV and krishna.com 20th of June 2010. The dates of European Ratha Yatra Festivals are announced. |
| | |
| --- | --- |
| | A pujari for ISKCON Puerto Rico is requested for two months during the summer time with option to stay longer. |
| | |
| --- | --- |
| | ISKCON of Las Vegas is looking for a person capable to invest in purchasing a temple building in Vegas. |
| | |
| --- | --- |
| | The Mayapur Academy Pujari training course in English for International devotees starts on the 1st November with the opening day on the 30th October. |
| | |
| --- | --- |
| | The Sankirtan department of ISKCON Mayapur is offering a special service for international devotees desiring to buy any devotional paraphenalia or Vaishnava literature in bulk quantity. |
Then I pulled out, and I started hearing the syllables of the holy names. I began to chant quickly and with the aim to get them done but in a good sense, quota bound. My mind is still flickering, but for the most part, it's concentrating on japa.
From
Bhajan Kutir #468
SB 01.11.23_The Degradation Of The Modern Society_1999-04-17 Lecture – Srimad Bhagavatam 1.11.23 The Degradation of the Modern Society 1999-04-17
SB 01.11.20_The Modern So Called Art & Science_1999-04-14 Lecture – Srimad Bhagavatam 1.11.20 The Modern So Called Art & Science 1999-04-14
SB 01.11.18_Sincerity In Spiritual Life_1999-04-12 Lecture – Srimad Bhagavatam 1.11.18 Sincerity in Spiritual Life 1999-04-12 Radhadesh
SB 01.11.14-15_The Auspicious Atmosphere Of The Vedic Culture_1999-04-09 Lecture - Srimad Bhagavatam 1.11.14-15 The Auspicious Atmosphere of the Vedic Culture 1999-04-09 Radhadesh
SB 01.11.11-12_The Values Of Simple Living_1999-04-07 Lecture – Srimad Bhagavatam 1.11.11-12 The Values of Simple Living 1999-04-07 Radhadesh
SB 01.11.10_Different Levels Of Consciousness_1999-04-06 Lecture – Srimad Bhagavatam 1.11.10 Different Levels of Consciousness 1999-04-06 Radhadesh
SB 01.11.09_Liberation From Entanglement In The Material Existence_1999-04-03 Lecture – Srimad Bhagavatam 1.11.9 Liberation From Entanglement in the Material Existence 1999-04-03 Radhadesh
SB 01.11.08_The Real Bhakti-lata_1999-04-02 Lecture – Srimad Bhagavatam 1.11.8 The Real Bhakti-lata 1999-04-02 Radhadesh
Sunday 23rd, December 2007. I woke up for another exciting day of Krsna consciousness. Everyday my enthusiasm was increasing. After the morning program, I quickly found myself in the office with Uddhava and Adam. They were using VedaBase to search some play scripts. They were going to do a drama for an upcoming festival. I was impressed how easily they had access to so many play scripts. I marvelled at the program, having only briefly used it in Gurukula for Vaisnava studies. I soon found that I wasn't of any use in their project so I decided to try find somewhere nice to chant.
I wandered up to Prabhupada's room. I felt a great serenity being in that room. It brought me great awe and inspiration. I would often go there to chant or simply look at Srila Prabhupada's Maha. I quietly opened the door. I was shocked when I saw that the whole room was packed to the walls with devotees. It was the whole Le Carnaval Spirituel crew and a few others, chanting japa together. A few eyes jetted up at me but then they kept on chanting. I decided I would chant with them and hoped maybe some of their spiritual shakti might spill off on me and improve my chanting. I could only find a place to sit at the far end of the room and so I plotted myself there. I slipped my hand into my bead bag and began to cautiously chant alongside the devotees.
It wasn't long before the door opened again. Some devotees entered and so did HH Indradyumna Swami! We all paid our obeisances and Maharaja paced his way across to the room. Virtually as I rose up from paying my respects, Maharaja sat down in a chair directly in front of me. I realized quite quickly that I had accidentally walked into a scheduled meeting. I stayed where I was and no one seemed to say anything about it. Maharaja seemed to look at me from time to time, maybe wondering why I was there but continued as if I wasn't. He began to talk about the troupe's upcoming trip to Sydney. It sounded like so much adventure - shows, kirtanas, harinams, meeting new devotees and life on the road. I felt like I was along with them for the ride as Indradyumna Swami went through the details. Not only did I feel like I was with them, now I wished I was going to be with them. My plane was leaving tomorrow, back home for the big Prasadam catering of Woodford, and they were heading off tomorrow to go to Sydney. Nonetheless the thought was burning into my mind and it wasn't going away.
I served the tour devotees Prasadam again. The thought of joining the tour group was rushing through my mind now but I didn't know who to ask. I didn't want to simply suggest it in front of the group and be rejected, I thought I should ask someone who was in charge or one of them individually. I wasn't familiar with any of them except Candrasekara Prabhu, who was nowhere to be seen. I decided I would go up to Prabhupada's room again, to finish the rounds that I had intended to chant when I had come before. This time there was only one person in the room, Dina Dayal. Dina Dayal Prabhu was a fierce warrior on stage and seemingly meek, fixed up brahmacari for the rest of the time. I wasn't sure what his mood was but I soon learned. I somehow clumsily mentioned I wanted to try join the troupe. I felt like a punk kid trying to join a rock tour or something and I presumed that plenty of other people had asked to come along already. Dina Dayal looked excited at my query. "That would be great" he said and it went from there.
I was in a strange situation now. I had to pull out on Woodford catering, join a Hare Krsna performing troupe and sort it all out before tomorrow, midday, when my plane was flying out. I called my parents to see what they thought. I was in the situation by their mercy and now I relied on their guidance. They seemed to relate to me that I should attempt to join the troupe but not to be attached to the result. I decided to try my best to work in this light. I managed to speak to Domonik Prabhu, one of the main organizers of the tour, and it seemed hopeful but still rather uncertain. I called Ajita Prabhu in regards to finding me a replacement for the catering. He was frustrated earlier, when another volunteer had pulled out. This had happened only a few days before and I felt bad putting this pressure on him. In the end if he said "no we need you" then I wouldn't hesitate. "I will have to call you tomorrow with my decision" he said and that was it.
It was one of those situations where one aspect relied on the other falling into place, which ultimately relied on the first aspect falling into place. If the group said I could come but I didn't know if Ajita had replaced me, than I couldn't really commit. With the pending uncertainty they might not think I am really serious. If I committed, worrying that I would miss the opportunity, and Ajita didn't replace me, then I would have to pull out on someone and that would be irresponsible. The final option was if the tour troupe said no and Ajita already cancelled me out - then I would just have two weeks of disappointment to look forward to. It was obviously a confusing situation so all I could do was pray to Krsna and try to appeal to his mercy.
Tonight was the final night of shows in Melbourne. I was meeting my ex-gurukula teacher - Dyuti Mataji and our old family doctor - Tarit Prabhu. I sat down with them and watched the whole show. At the end, I had to abandon them and jump in kirtana. From the time I was in gurukula until that point, I was really working on adjusting my spiritual position. For mother Dyuti, I think, it was a surprise from the start when she simply saw me wearing a dohti by my own free will. I danced, with the desire to join the troupe still in the back of my mind. I stayed around for pack up. I tried my hardest to be in the right place at the right time and be as helpful as possible. I worked on into the night, hoping to earn enough notice to simply be a humble yes-man. Tonight I would have a few hours to sleep on it and tomorrow the decision had to come through.
[http://maddmonk.wordpress.com]
Rabbi Menachem Mendel Schneerson – 'The Rebbe'
Today is the 16th anniversary of the death in 1994 of Menachem Mendel Schneerson, the spiritual leader of the Lubavitch Jewish community. Back in the 60s and 70s, when the Hare Krishna movement was just finding its feet, he inaugurated a ten-point campaign for Jewish people.
Those ten things were basic religious practises, or mitzvah, that all Jews could do to be more in touch with their religious and cultural identity. Simple things like lighting a candle on a Friday night, or keeping religious books in the home. Not everyone could do all ten, he said, but if they did one or two their life would improve and they'd come closer to God.
His disciples took this message all over the world and today the Lubavitch community is one of the dynamic forces for good in international Judaism.
I invite my faithful readers to come up with a 10-point campaign for restoring or introducing Krishna consciousness around the world, based on Srila Prabhupada's teachings. Which ten things would you ask everyone to do? Srila Prabhupada gave hundreds of helpful instructions, but what are the ten most important ones that people might do without too much difficulty?
Please write back to me with your suggestions. Yes, there must be 10 only.
If you need some stimulation please watch the Lubavitch film of the "10-point Mitzvah Campaign" 10 Absurdly Simple Ways to Live Higher by clicking right here.
(Please note: Watch the rather cryptic film first, then when it finishes, scroll down for an explanation of the ten points.)
Deepwater Horizon & the technology, economics and environmental impacts of resource depletion.
The End is Nigh
"There will be plenty of blame to go around, as events leading up to the fatal Deepwater Horizon rig explosion are sorted out. Even if further efforts to plug the gushing leak succeed, the damage to the Gulf environment and to the economy of the region are incalculable and will linger for a very long time indeed. The deadly stench from oil-soaked marshes—as spring turns to hot, fetid summer—will by itself ruin tens or hundreds of thousands of lives and livelihoods…"
"Once again, I must repeat: we're not even close to running out of oil, coal, gas, or most minerals. But we face a convergence of entirely predictable but severe consequences from the depletion of the concentrated, high-grade resources at the top of the pyramid: less affordable and more volatile commodity prices; worse environmental impacts—cumulative, mutually reinforcing impacts—both from accidents and from "normal" extraction operations; declining resource quality; declining EROEI [energy return on energy invested] for fossil fuels; and the need for massive new investment both to grow production levels, and to keep environmental consequences at bay. And all of this is happening just as investment capital (needed to fix all these problems) is becoming scarce. In short, the monetary and non-monetary costs of growth have been rising faster than growth itself, and it looks as though we have now gotten to the inevitable point where growth may in fact no longer be an option.
"The Deepwater Horizon disaster reminds us that, of all non-renewable resources, oil best deserves to be thought of as the Achilles heel of modern society. Without cheap oil, our industrial food system — from tractor to supermarket — shifts from feast to famine mode; our entire transportation system sputters to a halt. We even depend on oil to fuel the trains, ships, and trucks that haul the coal that supplies half our electricity. We make our computers from oil-derived plastics. Without oil, our whole societal ball of yarn begins to unravel.
"But the era of cheap, easy petroleum is over; we are paying steadily more and more for what we put in our gas tanks—more not just in dollars, but in lives and health, in a failed foreign policy that spawns foreign wars and military occupations, and in the lost integrity of the biological systems that sustain life on this planet.
"The only solution is to do proactively, and sooner, what we will end up doing anyway as a result of resource depletion and economic, environmental, and military ruin: end our dependence on the stuff. Everybody knows we must do this. Even a recent American president (an oil man, it should be noted) admitted that, "America is addicted to oil." Will we let this addiction destroy us, or will we overcome it? Good intentions are not enough. We must make this the central practical, fiscal priority of the nation…"
Filed under:
Cows and Environment
Be not angry that you cannot make others as you wish them to be, since you cannot make yourself as you wish to be.
- Thomas à Kempis
Dasaratha Suta Dasa: Dear devotees, the summer is here and in 3 weeks we are starting our new Harinam tour "Festival of India through Adriatic sea". The idea of the tour was born in 2004. and since then is continuously being performed every year. This will be seventh tour in a row
Those were the words of British Prime Minister David Cameron in the House of Commons yesterday as he gave an official apology on behalf of the government to the families of those involved in the 1972 Bloody Sunday shootings.
After the longest trial in British legal history – 12 years – involving 922 witnesses, and at a cost of £195 million, the findings of the Saville Inquiry were finally made public.
Tens of thousands gathered outside the Guildhall in Derry, Northern Ireland, and cheered as their family members who had been shot dead on British streets were fully exonerated of any suspicion. The British Army fired the first shot, said the report, and all but one of the 14 who died were innocent of carrying any weapons. Although one had been carrying a nail bomb, those who shot him had no knowledge of that fact.
I heard the news with great relief. Although I was not connected in any way it had been a dark, unresolved mystery for me, and I was glad to hear the results. I was shocked when at 16 I'd heard that our own British Army had fired upon British civilians in their own streets; and I learned more when I visited the same streets of the Bogside in 1976. After reading more about the events of Bloody Sunday and hearing that the first government inquiry had been dismissed as a 'whitewash' I wanted to know what had actually happened on that fateful day.
It was good news when Tony Blair, the then prime minister, had set the wheels of justice in motion again as part of the ongoing peace talks. But I never thought it would take this long. Anyway, however long it took – and sometimes good things do take a long time – the results have brought a lot of families and citizens of Derry some long-awaited peace.
Do you remember the little movie that was done in the begining of the movement about the effects of a book distributed? Here it is in case you missed it
From our friend Gauranga Kishore. Click here to read the full article


By contrast, the final triumph of Darwinian theory, although vividly imagined by biologists, remains, along with world peace and Esperanto, on the eschatological horizon of contemporary thought.
Evolution is a process, one stretching over four billion years. It has not been observed. The past has gone to where the past inevitably goes. The future has not arrived. The present reveals only the detritus of time and chance: the fossil record, and the comparative anatomy, physiology, and biochemistry of different organisms and creatures. Like every other scientific theory, the theory of evolution lies at the end of an inferential trail.
The fundamental core of Darwinian doctrine, the philosopher Daniel Dennett has buoyantly affirmed, "is no longer in dispute among scientists." Such is the party line, useful on those occasions when biologists must present a single face to their public. But it was to the dead that Darwin pointed for confirmation of his theory; the fact that paleontology does not entirely support his doctrine has been a secret of long standing among paleontologists. "The known fossil record," Steven Stanley observes, "fails to document a single example of phyletic evolution accomplishing a major morphologic transition and hence offers no evidence that the gradualistic model can be valid."
How much prasadam is prasadam and is machine made bread pure?
After last year successful outcome the school held its second Panihati festival. This festival celebrates the pastime of Raghunath das goswami receiving the mercy of Lord Nityananda that took place during Sri Caitanya Mahaprabhu time in the village of Panihati.
The festival is also known as Danda Mahotsav or festival of punishment. Lord Nityananda punished Raghunath das goswami by ordering him to hold a huge festival and distribute to everyone chipped rice and yogurt.
Oh Holy Name! You destroy all the sufferings of Your surrendered devotees. O Holy Name! You are the delightful form of concentrated spiritual bliss! To the residents of Gokula, You are an endless festival of happiness and joy. O Holy Name! You are the complete transcendental form of Krsna. I bow down and offer my respects to Your lotus feet.
Sri Krsna-namastaka verse 7
From the
Art Of Chanting Hare Krsna
by Mahanidhi Swami
Ramachandra Kaviraj @ Radhadesh Mellows 2010

Janice from Culver City, California writes:
Hi there Kurma, I was reading a tiny paperback cookbook from India and it mentions something called a bhagar. Is that a utensil or a method or an ingredient?
My reply: Hello Janice. It's a spice tempering technique. Read all about it here.
More Recent Articles
---
Click here to safely unsubscribe now from "Planet ISKCON" or change your subscription or subscribe

---
---
Unsubscribe from all current and future newsletters
powered by
FeedBlitz
---
Your requested content delivery powered by FeedBlitz, LLC, 9 Thoreau Way, Sudbury, MA 01776, USA. +1.978.776.9498