PLANET ISKCON


Here are the latest updates for
Here I am! all pregnant and hungry. During my first pregnancy, I craved cherries, apples, shrikand, chocolate cake, pancakes, spinach and nutrella (tvp). I loathed eggplant and didn't eat any cheese. Second pregnancy was all about grilled tofu and zucchini, eggplant parmigiana, spelt chapatis and salad and an avocado a day minimum.
This time around, I am yogurt and bananas and raw oats. Sweet apples. Cheese. Lots of cheese. Blended soup. Fettuccine. Garden tomatoes. And artichokes with brown butter. Seriously. I am.
Artichokes are a Babu food–a favorite of the husband. I make them for him on special occasions but I usually refrain from joining in on all that toothsome, scrape-y fun. But now I am  an artichoke eating pregnancy machine. Artichoke hearts, buttery artichokes–I'll take them any way I can get them…except marinated in vinegar. Burns my tummy.
I meant to cook artichokes yesterday for dinner, but we were out in the heat and, like the old pale woman that I am, got totally worn out by the exertion of existing in the sunlight. So, I made this:
Today I invited some lady friends over for lunch. It is difficult lunching with the ladies, because all the ladies have kids. Today's ladies only brought four kids with them, three of which were pre- or pre-pre-school age. Thankfully, it was only mildly exhausting. For their moms.
I stayed up late last nite, preoccupied with excitement over cooking lunch in my not quite yet put away kitchen. When my nite-owl children awoke from their angelic slumber, I told them we would walk to the store for food shopping. We departed the house many tens of minutes after the initial "Okay, we're leaving" was sounded. Despite the morning hour, I felt hot, humid and pregnant. Two large bags of groceries and some frustration with dawdling, rock climbing and lizard chasing later, we arrived home with one hour to spare before friends arrived.
My first real baking attempt was underway and it turned out to be a disappointment. I made brownies (recipe here), which somehow (chocolate) turn out pleasing no matter how imperfect they are. The vegan pound cake (recipe here), however, was a stodgy disaster. It tasted like something you would buy at Book Lovers Cafe. Okay, if you've ever eaten there, you know I am hysterically funny here. And that that cake must have sucked. I figured out why the oven stuff was goofy and that is because my convection oven is non-digital and I must manually increase the temp when the fan is on. I really need to get an oven thermometer.
Everything else turned out swell, despite my undersalting. Not a major catastrophe considering, when in a rush, one is more prone to disastrous red-sea-ification of dishes. After doctoring some things up with a little salt and spice, we had a very nice light lunch.
Our summer rolls contained shredded beets, carrots, marinated tofu, lettuce and avocado. The sauce was tamarind, peanut butter, soy sauce, water and green chili.
Soup was supposed to be Kurma's black bean soup, but I didn't buy any black beans (yes, i was going to buy canned). I know Mohini is a kindred blended soup spirit, so I just improvised with what I had on hand and gave it a boil. And then a whir with the stick blender.
What kind of friend invites you over for lunch and then has you assemble it yourself? Well, ask these gals who happily got lunch on the table.
Without conviction, I insisted the kids eat their rice before brownie time. They did a great job at rearranging the grains on their plate in order to skip ahead to dessert. At least I am getting a good jump on my organic compost pile. Thanks, kids!
For my husband's dinner, I repurposed the plain brown rice by tossing it with leftover pizza sauce, freshly picked basil and cubes of soft tofu. It tasted very yummy and my baby wanted more and more. That's right, I'm blaming it on the baby.
In addition to cooking, I also worked on cleaning up and putting away (that's why my back hurts, complain complain). Got stuff up on the shelves. Looks cute and I am sure this will be a revolving station of items over the years. The 40″ high base cabs make for a great spot to lay out serving dishes. Well, in this very informal case, pots and jars and plates of deliciousness.
And would you looky here? I finally made Babu his artichoke! After filling up on soup, I thought there was no way I would be hungry at dinner time. Think again. Babu generously shared an artichoke half with me. Thanks, Babu!

Our ingenious Hare Krishna devotees in San Jose, US have launched a campaign to place the 'Bhagavad Gita As It Is' alongside the Bible in hotel rooms. The group headed by their Temple President, Vaisesika Dasa, have set an objective of one million Bhagavad Gitas to be distributed through that campaign.

Here is a media coverage of the wave that this attempt has created. Srila Prabhupada would be so proud of them!

Srimad Bhagavatam 11.22.18
The live broadcast of the 2nd 12-hour Pre-Ratha-Yatra Kirtan Festival will begin at 10:00am EST on Friday, July 16.

Kirtan Schedule for Sunday
10:00 - 11:00 - Krishna Culture Festival Tour
11:00 - 1:00 - Tirtha Pada das
1:00 - 2:00 - Akinchana Krishna das
2:00 - 3:00 - Gaura Mani
3:00 - 6:00 - Madhava das and Gopal das
6:00 - 9:00 - Harinama down Yonge street!
9:00 - 10:00 - Ajamil das

Free live streaming by Ustream
BY MULAKARANAM DASA Watch the youth go full swing in all aspects of service, right from marketing, decorating, food distribution, books distribution, cooking, singing, dancing, chanting, and cleaning. Kudos to the youth of Malaysia. A job well done!! We are proud of you. More on Youth Wave in Cameron Highlands, posted with vodpod Tagged: Cameron [...]
When I was speaking in Berkeley University sometimes in the year 1966, one Indian student stood up and he said, "Swamiji, what this Krsna consciousness movement will do? We require now technology." So I replied, "Yes. You are after technology. So you are a beggar. I am not a beggar. I have come here to give something. That is the difference. I have come here to give some culture, and you have come to imitate the Western civilization by technology. That is the difference. You'll remain a beggar, I shall remain a giver. That is the difference." So still I am maintaining that position of giving, not taking.

- Srila Prabhupada
Allow me to offer my profuse thanks for your Srila Bhaktisiddhanta book trilogy. I read much of it in Sri Mayapur earlier this year. Truly an amazing work. Your hard labour on that will provide light for generations to come.
Human society in the name of civilization is creating one kind of trouble to avoid another kind of trouble. In contemporary civilization we see that there are many automobiles manufactured to carry us swiftly from one place to another, but at the same time we have created other problems. We have to construct so many roads, and yet these roads are insufficient to cope with automobile congestion and traffic jams. There are also the problems of air pollution and fuel shortage. The conclusion is that the processes we manufacture to counteract or minimize our distresses do not actually put an end to our pains. It is all simply illusion. We simply place the burden from the head to the shoulder. The only real way we can minimize our problems is to surrender unto the Supreme Personality of Godhead and give ourselves up to His protection. The Lord, being all-powerful, can make arrangements to mitigate our painful life in material existence.
>>> Ref. VedaBase => SB 4.29.33
Macaroni pasta with a creamy, cheesy sauce isn't health food. It's rich and fatty and comforting. Sometimes you just feel like that sort of indulgent sustenance. Am I right?
My mother used to cook it and add peas; broccoli is nice as well, and/or carrots if you wish. So you won't feel as guilty eating it. You know what I mean.
Tatchana Ramasamy wrote asking for a Macaroni Cheese recipe that I had published in one of my cookbooks. Here it is.
Traditional Macaroni Cheese
I remember growing up with macaroni cheese. Although it's a little out of fashion in today's multi-cuisine society, it still remains one of my favourites. Serves 4.
300g (10 ounces) tubular pasta, 90g (3 ounces) butter, 3 tablespoons flour, 2 cups milk, 1 cup cream, 100g (3 ounces) tasty cheese, grated, ½ teaspoon freshly ground black pepper, good pinch freshly grated nutmeg, 2 tablespoons grated Parmesan cheese.
Preheat the oven to 180° C / 350° F.
Cook the pasta according to the directions on the packet. Drain, and transfer to a lightly oiled casserole dish.
Melt the butter in a medium saucepan. Sprinkle in the flour and cook for 2 minutes, stirring continuously. Remove from the heat and gradually whisk in the milk and cream. Return to the heat and bring to the boil, stirring until the mixture thickens. Add the cheese, pepper and nutmeg, and mix well.
Pour the sauce over the pasta and mix thoroughly until evenly coated. Sprinkle the Parmesan cheese over the top.
Bake in the oven for 10 minutes, or until the top is golden brown.
Serve hot.
| | |
| --- | --- |
| | Sunday, July 11, 2010, is the disappearance day of Srila Bhaktivinoda Thakur an Acharya in our Gaudiya Vaishnava Sampradaya. ISKCON, Vrindavan also celebrated this festival. |
Most things in life require some research. Be it your next holiday destination, the choice of university for your undergraduate studies, or the restaurant venue for next week's birthday party, you have to exercise some discrimination. Gut feeling is not enough. In the same way, spirituality is not simply an affair of the heart but also requires exercise of the head as well. Einstein himself stated that religion without philosophy was simply sentiment, and in more acute situations, downright fanaticism. In chapter 7, entitled 'Knowledge of the Absolute', Krishna delineates certain philosophical truths to instill confidence and conviction in the head of reader.

H – Hearing (Verses 1-3) - Modern scientists often posit a notion of proving everything empirically, rejecting that which cannot be directly verified by our mind and senses. While this may seem to be a logical, objective and rational approach, it does have inherent limitations. How do you understand that which is beyond the purview of your immediate perception? If you wanted to discover who your father was, the most practical methodology would be to ask your mother. You could subsequently verify by a DNA test. If you wanted to find out what BBC1 was showing tonight, the most practical methodology would be to consult a TV guide. You could subsequently verify by physically watching the programs. In other words, accepting higher authority is a principle of knowledge acquisition, opening up further opportunities for direct perception. Krishna begins this chapter by stressing the absolute necessity of hearing from spiritual sources to understand universal realities. This is known as the descending path of knowledge.

E – Everywhere (Verses 4-12) - By hearing from spiritual sources one acquires profound knowledge of the divine. Anticipating the common challenge "Can you show me God?" the analogy of pearls strung on a thread is cited. The pearls are perfectly arranged and harmonized as a necklace, though the thread remains completely invisible. Similarly, God designs, creates and sustains the entire universe, yet is invisible to the immature observer. The extreme intricacy of the creation naturally indicates the presence of higher intelligence. Krishna further explains how he is also the essence of everything we experience in life – the taste of water, the light of the sun and the ability in man. In this way, through the eyes of knowledge, one can learn to see God everywhere.

A – Accept or Reject (Verses 13-19) - If God can be perceived everywhere and His existence is so strikingly obvious, why is there still wholesale denial of Him? Resisting forceful compliance, Krishna endows each entity with the free will to 'fly their own plane' and make their own decisions on where to repose their faith. He describes the four types of people who reject God, being preoccupied in worldly pursuits. Conversely, Krishna describes four types of people who do accept God, albeit under selfish intent. In conclusion, it's a rare soul in this world who is able to accept God free of ulterior motives, and simply enter into a selfless relationship of love. That level of spiritual purity, Krishna says, may take thousands of births!

D – Demigods (Verses 20-30) - Practically speaking, even a mere acceptance of God is a propitious achievement in this age. This acceptance, however, is not enough – one must have an accurate and precise understanding. If you were to be operated upon, you would insist the surgeon be well-versed in the details and intricacies of the process. It is, after all, a matter of life and death. Similarly, to simply believe in God is not enough - one must understand the nature and personality of God, since the vibrancy of one's spirituality depends on it. Towards the end of the chapter, Krishna clears up misconceptions about the nature of God. 'Demigods', although powerful entities in charge of the universal affairs, are in no way, shape or form equal to God. Monotheism is firmly established and dangerous misconceptions are cleared up, as they have the potential to impede the spirit of pure devotion.
| | |
| --- | --- |
| | Watch out kirtaniyas! The attractive power of musical chanting may soon be rivaled by those hankering to understand the benefits of chanting on beads.
 On July 4th, during the Krishna Festival of India on the National Mall in Washington, DC, congregational members of the local Hare Krishna temple set up a tent under a large canopy called "Mantra Meditation. |
| | |
| --- | --- |
| | As they disembarked the airplane in Guyana on June 20, 2010, and waited in line for the customs procedures, it certainly felt like they were eager, yet uncertain warriors. They were ten devotees who had encountered several challenges to make this trip and now were finally at their destination. |
" Spiritual life means to be in the association with the Supreme Lord and to exist in bliss and knowledge eternally. such eternal association means to play with Krishna, to dance with and love Krishna. Or Krishna can become your child __ whatever you like.....Unless one can love Krisna, unless one finishes with love for cats, dogs, country, nation, and society and instead concentrates his love on Krishna, there is no question of happiness...."
| | |
| --- | --- |
| | Viva Kultura's Festiwal Indii started it's 21st tour of Poland in June. Over 100 Iskcon devotees assembled in a school in the small village of Siemysl just south of Kolobrzeg, one of the Baltic Coasts largest tourist towns. The team of volunteers will put on outdoor festivals for the public 6 days a week right through the Summer until late August. |
The rounds were all in a row with out lag­ging although my mind occasionally went to other things. I took a break of half an hour to take a nap when sleepiness over came me. But then I rebounded and finished the quota.
From
Bhajan Kutir #9
| | |
| --- | --- |
| | It was refreshing when Prince Charles in a recent speech attributed our current environmental crisis to a "deep, inner crisis of the soul." Suggesting that we were becoming "de-souled" by consumerism, he said that the problems we now face cannot be solved simply by green technology. It required something deeper, a return to spiritual teachings. |
| | |
| --- | --- |
| | It was like sending a baby into battle that day. Mr. Leland was going to lead a school seminar about the dangers of drugs. It was a set up that no sane adult would have taken on. But Mr. Leland went head first into disaster. |

Last week we watched and discussed the first 30 minutes of a National Geographic documentary called "Human Footprint." From the very beginning of our lives, we are consumers. An estimated 27.4 billion (yes, billion) disposable diapers (yes, diapers) are used and thrown away each year. From milk cartons to soda cans and candy wrappers, old clothes, and everything else under the sun, we purchase it in a plastic bag, carry it home in another plastic bag, and ultimately throw it away in another plastic bag when it's taken somewhere to be deposited and compacted in the soil of our Mother Earth. To what extent are we aware of the impact we have on the world around us? Although the effects are material, the changes we may like to see in the world have to come on a deeper level of internal consciousness by learning to find inner, spiritual satisfaction that doesn't require a constant input of material possession.


| | |
| --- | --- |
| | Srimad Bhagavatam describes that there was a time in the universal creation when, as a result of a similar attempt to extract riches from the ocean, a great poison leaked from the ocean and rapidly spread throughout the universe, threatening the life of men, aquatics, plants, and animals. A willingness to taking responsibility is the first thing to be learned from this first historical "poison spill" incident. |
Dear devotees and friends, Please accept my best wishes. All glories to Srila Prabhupada. Ananda Caitanya prabhu and I arrived in Riga, Latvia, on June 20th, following the Palanga Rathayatra in Lithuania. We met with the devotees there and discussed my programme, and it became clear that there was a type of scheduling problem which was going [...]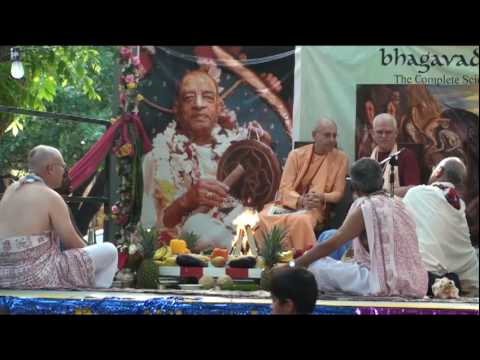 We were honored to have a double initiation ceremony by HH Giriraj Swami and HH Rtadhvaja Swami at the Dallas Rathayatra.
Dallas, TX
2010-05-22 
Download:
2010-05-22 - Dallas Rathayatra - 04 - Initiation Ceremony - Giriraj Swami and Rtadhvaja Swami.mp3
www.sdgonline.org.
3:42 A.M.
I am having a difficult string of headache days. Yesterday was particularly bad. I had headaches all morning and then the afternoon they turned to migraines. This is threatening my travel plans. During the migraines I chanted sixteen extra rounds. By night time the headaches cooled down, and I was able to sleep. I woke up again at 1:00 A.M. and got up from bed. I didn't particularly intend to get up so early, but I couldn't help it. I chanted my rounds well and have completed all the sixteen.
read more from SDGonline - daily updates Viraha Bhavan journal 
www.sdgonline.org.
Prabhupada Smaranam
Here is Prabhupada in the temple room at 61 Second Avenue in New York City. This was the second temple in the City, and Prabhupada did not visit there much. The devotees did not stay there long either but moved to an ex-convent on Henry St. in Brooklyn (that was in a tough Italian neighborhood and devotees sometimes had trouble with the neighbors, but it was a wonderful period of ISKCON history when many devotees joined). In this picture Prabhupada is sitting on a thin pillow on the floor instead of up at the lectern, because he is performing an initiation. Brahmananda, Kirtanananda and Jayadvaita are visible on the picture. It is around 1968–69. When Brahmananda purchased 61 Second Ave. he wrote to Prabhupada that it was "a palace," but it was not very big and not such an outstanding improvement over the 26 Second Ave. (By comparison in Boston we had just purchased a much bigger house, and Los Angeles was on the verge of obtaining their spacious Watseka Ave. complex.)
Prabhupada let his disciples manage and purchase buildings in America with a free hand. He said it was their money, and they were free to spend it as they saw fit. When he moved his operations to India he was much more hands on and a direct manager in all affairs of choosing or constructing buildings, but wherever he went and whatever his disciples provided him Prabhupada accepted it and gathered his children around him to direct them in Krishna Consciousness. Here, performing an initiation ceremony was one of his vital tasks. It was the way he increased the family of Bhaktisiddhanta Sarasvati. Prabhupada was not as interested in the buildings as he was in new devotees and giving them his association. And he was more interested in his writing, publishing and distributing his books. Temple life was also important for the association of devotees and congregation; and in America, he depended on his young, inexperienced men to find suitable buildings for headquarters.
www.sdgonline.org.
Lord Caitanya is starting
to teach Rupa. He begins
by saying: The knowledge is a
fathomless ocean and He
will give only a drop. Then
He says there are countless
living entities in 8,400,000
species of life. Prabhupada
begins a long purport about the
ignorance of the
so called scientists,
and that's all we read
so far. I'll tell you
when there is more.
Rupa Gosvami began his
most famous book by
saying he is not qualified,
but he has been permitted
by Caitanya Mahaprabhu,
to write books. My Prabhupada
told me and others to write.
Write about Krishna.
So I'll repeat what I've heard,
the sweet teachings of
the cowherd boy of Vraja,
the mighty Lord of all the worlds whose
energies expand in the material and the spiritual
realms. The anecdotes
and chapter stories are from
Srimad-Bhagavatam.
Have I lost the thrill and ability and memory
to tell it well?
What's abiding? A sincere desire to
pray to Him, to have him take me to Him.
I can give a simple lecture, but I'm out
of practice and have lost
the taste for the long
discourse.
Then you should at least
write down His Names
and remember something famous He's done:
like the subduing of the
Kaliya serpent.
He danced upon that
demon's heads and smashed
them bleeding until the
serpent realized it was the Lord
who was dashing
him and he became repentant.
His wives came forward and
begged the Lord, to whom they
were attached, to please
spare their husband's life.
Krishna acquiesced and told Kaliya
to leave the Yamuna's waters
and go live somewhere else.
And He would not have to
fear Garuda, the snake-eater,
because Kaliya had been
stamped by the Lord's lotus
feet, and Garuda would respect
that.
You can use your own
words, your voice to
speak of Krishna in His
pastimes and teachings.
Krishna and Prabhupada
want you to do that.
So don't be afraid
or shy or think
you are burnt out.
You can repeat what you've
said before and in a
different way. You are
qualified to do so, and
that's the purpose
of writing anything
at all. Be confident
people will hear you
and be glad.
www.sdgonline.org.
Free Write
This summer forest is similar to the one we walk through every afternoon here in Stuyvesant Falls. There are nature trails winding through it, and they are covered with grass and bumpy roots of trees. The only wildlife we have seen is birds and squirrels, although there may be shy animals hiding in the foliage. As we continue our walk through the changing seasons I will no doubt grow very familiar with these trails.
The area reminds me of the woods of Gita Nagari where I lived in late 1970s and early 1980s. Around 1979 I moved into the cabin on the bank of the Tuscarora Creek. There is a backwoods walk that winds alongside the creek, and it was always a quiet and meditative place to stroll. I gave it a name, Recovery Way, or something like that. By 1985 my headache crisis was full-blown and at the 1985 GBC meeting I decided (with advice from godbrothers) to devote my year to recovering my health, and to do so I would stay in one place, Gita Nagari. I started keeping a diary in January of 1985 and called it Journal and Poems. While in India forming the decision I wrote, "It seems as though as soon as I am free of headaches, for even an hour or two, I think I am perfectly all right. In Sanskrit it's called preyas, seeking temporary, material happiness… For me ultimate happiness means facing the fact that my health is poor, and I should take care of it instead of continuing to travel and work as if I could ignore the debilitation."
Then I settled in at the cabin at Gita Nagari, prepared to stay there for a year. I started noticing and appreciating the signs of spring in the country as winter ended. I defended farm life and devotional service of the Gita Nagari residents as spiritual and preaching. In my journal I proposed that I'll recover my health and travel again. I never recovered, yet I resigned from the GBC because of my headaches, I could not tolerate attending the meetings, and then I left Gita Nagari and traveled anyway, in a van. For the past few years I have limited my travels, but my headaches don't improve. I am more or less forced to stay in one place, but I reach out through cyberspace with my web-posted journal. And this Saturday I propose to do another live video of reading poems.
P.S. I am glad I live near the woods.
A few weeks back I accompanied Vidya, my wife, to the Pennsylvania Gourd Society Festival. It was held in Lancaster County, Pennsylvania which  is the original  Amish community in America. There are over 25,000 of them there so it is a pretty unique experience — it affects the ambiance.
They don't use electricity in their homes, but do use it for workshops and milking machines, like that.  Even then they don't hook up to the grid but use generators.
I asked the owner if they use generators, why wouldn't they use solar power. He pointed up on the roof of his shop and sure enough there were solar panels there.  It wasn't enough to run the electric for the festival and it would be cost prohibitive to set up a system that would, but it was enough to run office equipment (they are allowed to use copiers, no computers), some lights and a blower fan on a propane heater.
He had a big gourd washer that I could tell the solar panels were insufficient to power, so I know he must use a generator for that too, but it was interesting to me that he was using any solar panels.
I don't know if this is common amongst all Amish, or about as common as in is for us English, but it was an example that simple living can include solar power.
One nice thing about it being held on an Amish farm was they are strictly religious and so the show ended Saturday night.  We were able to get home and still make it to the 24 Hour Kirtan that was going on that ran from Saturday to Sunday noon in New Vrindaban, always a treat to see the young people so enthusiastic for kirtan.
I even got a chance to meet my blogging shiksa guru, Sitapati (he runs Planet ISKCON besides his personal blog(s)), who was visiting from Australia for the event.  We got to have a nice visit.
Filed under:
Cows and Environment
SRS: Govinda Swami suggested I put this on the site.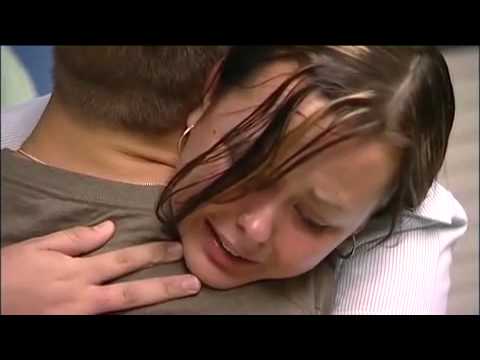 "The internet has not become the great leveller that it was once thought it could be," according to Harvard academic Ethan Zuckerman. Read more…
Why does Lord Siva chant on rudraksa beads as opposed to tulasi beads? Is there any difference between the two? And Vraja-kumara dasa asks: Some devotees say that Tulasi leaves can only be offered to installed Deities. Please could you clarify if grhastas can put Tulasi on their bhoga offered to Deities or pictures?
"According to a christian prayer evil is our false ego's tendency to be independent of Krsna" 1.

From The Tennessean. Click here to read the full article

Sergio Escafuller hopes to change the way people think about fruit and veggies.
He's landed his first job at The Veggie Project, which brings farmers' markets to communities that tend to have the lowest concentrations of grocery stores and poor produce selection.
The project is open for the season, having expanded to six locations this summer.
At eight years old, Sergio knows enough about cabbage, zucchini, green beans and Southern peaches to get customers to leave with an armful of produce.
"Eating fruits and veggies makes my body strong," the St. Edward student said. "Even if they look disgusting, they are still actually good."
Sergio is paid veggie bucks for time worked and uses them to buy produce like tomatoes, corn and peaches at the market.
"He is being reaffirmed about the value of vegetables," said Dalmus Sanchez, Sergio's mom. "He feels he has a job and is working for something he cares about.
"He wants to eat what he buys with more gusto than he would if I was feeding it to him."
According to a Christian prayer evil is our false ego's tendency to be independent of Krsna, but elsewhere it is said to be an opportunity – evil ways that is – to advance in KC. Is that true?
Ishvari Devi Dasi: In my entries Slaughtering Chastity and Twilight of Destruction, I wrote about some experiences that led me to lose my higher taste for chanting the holy names of Krishna. Chanting, the essence of our education, means three things: japa, kirtan and bhajans
More Recent Articles
---
Click here to safely unsubscribe now from "Planet ISKCON" or change your subscription or subscribe

---
---
Unsubscribe from all current and future newsletters
powered by
FeedBlitz
---
Your requested content delivery powered by FeedBlitz, LLC, 9 Thoreau Way, Sudbury, MA 01776, USA. +1.978.776.9498